5 Canadian Wilderness Getaways for a Secluded and Romantic Adventure Up North
Remote and Romantic Cabins, Cottages & Resorts in the Canadian Wilderness
Romantic Vacations Home › Canada › Canadian Wilderness
By Maureen Mattson, Staff Writer – Posted: Nov 15,2012
Canada is a huge and naturally beautiful country with 39 natural divisions and 36 national parks in a variety of ecosystems. It provides the backdrop for a truly memorable romantic vacation when you find a secluded spot to commune with nature and bond with your loved one. Here's 5 Canadian Wilderness Getaways to turn your vacation or honeymoon into a memory of a lifetime...
1. A Wilderness Getaway in Canada's Clayquot Sound
Clayquot Sound Wilderness Resort is a really unique set up. It's an "eco-safari" experience in an old-growth rain forest at Canada's westernmost point. Talk about seclusion and privacy! This area is accessible only by private plane from Vancouver or short (30 minute) boat ride from the small town of Tofino on the west coast of Vancouver Island. A beautiful remote and romantic retreat, but never fear, there is constant contact with the Canadian Coast Guard, a marine fleet, and all essential services. The best of all Worlds.
Open from May to the end of September, you can enjoy this pristine wilderness in the British Columbian summertime. And it's really not your old fashioned family camping trip. There are 20 prospector-style luxury tents, 12 of which even have ensuite bathrooms! You'll also find private hot showers, comfortable queen or king-sized beds, heated floors and antique furnishings.
After a day of hiking, mountain biking or whale and bear watching, enjoy fresh local and sustainable ingredients cooked into gourmet meals by the resident chef.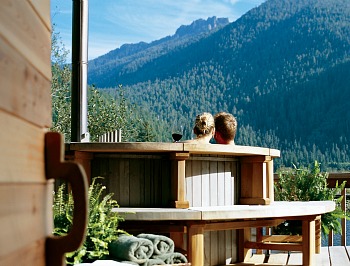 The cuisine is called "modern natural" and is influenced by what is available, fresh and delicious. How about some grilled Clayquot Sound Oyster Chowder or Prosciutto Wrapped Halibut Fillet? And finish off with caramelized apple tarte tatin with cinnamon ice cream. No, you're not "roughing it" here!
(Tip: for a really romantic evening, arrange for a candle-lit dinner for two in the games tent or couples massage overlooking the river, followed by a horse-drawn wagon ride. Keep in mind that the months of May and September are an ideal time for couples to visit, as the children are in school and fewer people are around the beach areas)
Other activities include horseback riding, kayaking, fishing, climbing zip-lining, shooting and archery. Day trips to nearby Flores Island or natural thermal pools can also be arranged, and massage or other therapeutic treatments are available at the Healing Grounds center.
There are two Lounge tents in addition to your private accommodation. One is for games, and the other is an Internet cafe with free wireless internet, as well as library and reading room. Housekeeping, nightly turndown and laundry services are available.
Rates are all inclusive, per person, and based on a 3, 4, or 7- night stay. Some packages are available and include transportation and transfers. Three nights in a deluxe Outpost tent start at $4750.00 . Luxury Ensuite Tents go for, $3025.00 for three nights. Seven-night stays range from $4725.00 to $6050.00. Applicable taxes and 10 percent gratuity are added to this.
Is this an inexpensive Canadian wilderness getaway? No, but it's guaranteed to be a romantic adventure you will never, ever forget.
2. Canadian Wilderness Getaways in Ontario
If the Province of Ontario is more your cup of tea, go 2 hours north of Toronto to into the Halliburton Highlands to find the Oakview Lodge and Marina on Little Hawk lake. It's perfect for a romantic getaway in the Ontario wilderness, allowing you to meld luxury accommodations, spa services and lakeside dining.
The property has four acres of mature trees, well-kept gardens and a sandy beach.
Luxury rooms and six suites are inside the lodge and there is also a lakefront two-bedroom cottage with fireplace and full kitchen. The cottage is ideal for two couples to share for a weekend getaway and is even pet friendly. Use of the canoe or paddle boat is included.
The Gourmet restaurant at the Oakview Logde serves the best of gourmet food. Enjoy a romantic meal on the screened porch during summer months or inside the dining room in full view of Little Hawk Lake's pristine water when it's not as warm outdoors.
Whether you choose a summer or winter getaway, there are plenty of activities to interest everyone. From snowmobiling and ice fishing to golf, canoeing, hiking or sunning on the beach, Oakview has you covered.
Rates vary depending on what type of room or suite you desire, as well as day of the week and time of year. Check the website for details or call 1-866-292-6125 for more information. The cottage is available for seven-night stays. There are also several package deals that may be of interest. My personal favorites are the Ontario Spa Getaway Package, which is a wonderful Romance package for only $750 per couple. It includes 2-night's accommodation in the lodge, two gourmet breakfasts, two 4-course dinners and a couple's massage.
There is also an Ultimate Romantic Spa Package, Romantic Getaway Weekend Package and Gourmet Delights Package.
3. Romantic Canadian Rockies Wilderness Cabins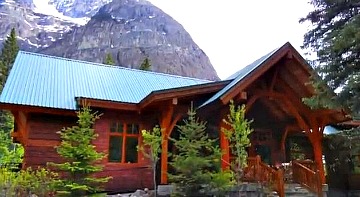 Banff National Park is world famous for its rugged beauty. Close by and also in the province of Alberta, are Yoho, Jasper and Kootenay National Parks. This is the backdrop for Cathedral Mountain Lodge. Set right in the Canadian Rockies, only 15-minutes drive from beautiful Lake Louise, and overlooking Kicking Horse River is a timber-frame lodge with 31 authentic luxury log cabins. Be awed by the views from your large private deck, and relax in front of a stone fireplace or in your own soaker tub.
Forget the phone, computer and TV for a few days (you won't find them here!) as you experience the beauty of this mountain sanctuary with the one you love. Take a guided hiking tour, walk to a waterfall, learn about local plants and animals, observe the abundant wildlife......rafting, horseback riding, canoeing, biking, golfing or fishing are all available.
Where do you rest your head at night? There's Premier cabins, Premier with Loft, Deluxe King or Queen, Deluxe Twin cabins (cozy for couples) or pet friendly accommodation. They all have vaulted ceilings, over-sized windows and spectacular views of this Canadian wilderness paradise.
Nightly rates vary according to your cabin choice and season. (Cabins are open from May 31 to September 30 only). Rates include breakfast in the main lodge, guided hiking tours and canoeing. Cost is between $235 and $395 plus tax. Savings are available on extended stays. Call 1-866-619-6442 for more information.
2014 Rating* for Romantic Canadian Wilderness Cabins
80%: Excellent / Very Good
There are some packages available, including the Romance By the River Package. It runs from May 31 to September 29, and varies slightly in price according to the calendar. Peak time is from June 22 to September 7 so that is when the rate is highest. But even then, $1435 is a good price for this romantic adventure. You get three nights in Premier cabin, one 3-course dinner for two, buffet breakfast each morning, wine and chocolates, a welcome gift on arrival, guided hiking tour with a Naturalist, and canoeing on Moraine Lake.
(Tip: try to see the Plain of Six Glaciers, which is only 20-minutes away from Cathedral Mountain Lodge. You will not believe your eyes!)
---
4. A Romantic Quebec Wilderness Resort
Over to La Belle Province now:
Montebello is a small village in Quebec, half way between Ottawa and Montreal. Here, on a 110 square mile area of land originally granted by the King of France back in 1674, lies the Fairmont Kenauk at Le Château Montebello Resort. It is associated with the luxury resort Fairmont Le Chateau Montebello, which is an historic building that has been in business since 1930.
Several cabins are located on a private fish and game reserve. Nearby lakes and various wildlife can be explored alone or with the help of a local naturalist and there is much to do in this wilderness area any time of the year.
Pack light! Just bring your clothes and some groceries and check into one of the secluded chalet cabins in the spectacular nature retreat on Papineau Lake. Each private cabin has from one to six bedrooms and ranges in size from 400 to 1900 square feet. (Note: the Papineau Suite is big enough for 18 people and is more suited to family reunions or corporate retreats than a couple's getaway) Each comes fully equipped with propane lights, stove, furnace, kitchen equipment and hot water for your comfort. Solar panels provide power. Most of the cabins have a screened-in porch and all have spectacular views. There is no cel service available, but communication through two-way radio is possible for safety and convenience.
(Tip: Ask about the Hidden Chalet. It's at the base of a waterfall and set in 15 miles from the entrance gate of the Fairmont Kenauk at Le Chateau Montebello. It has 600 square feet, 2 bedrooms and a wood stove as well as a spacious porch. A truly secluded and beautiful spot for your romantic getaway in the Canadian wilderness)
The nearby Fairmont Le Château Montebello's spa and health club is available for cabin guests, and there is also an 18-hole golf course. You are additionally entitled to full use of other sport facilities. Summer activities include hiking, horseback riding, tennis and volleyball. Winter activities such as guided snowshoe trips, dog sledding, cross-country skiing and curling can be arranged if you wish to leave the comfort of your cozy cabin for a while. Ask the staff for selected tour itineraries, such as 2 to 3 hours excursions, an evening or half a day.
Although the fully stocked kitchens are ideal for cooking your own meals, you may want to treat yourselves to a special dinner at the Aux Chantignoles, the main restaurant at Fairmont Le Château Montebello. Their Sunday brunch is spectacular!
You may also choose to have the pantry and fridge of your cabin stocked with food selections of your choosing in advance of your arrival. Arrangements can be made for this with the hotel's banquet office by calling in advance.
And the ultimate romantic dinner can be yours by making plans with the hotel for a chef. Have him come to your cabin and prepare a special dinner for the two of you. If you've been able to catch a fish, he can prepare that to your liking as well.
---
5. Romantic, Secluded Cottages in Canada's Maritimes
Thinking about Canada's Maritime Provinces for a secluded holiday?
The Forest and Stream Cottages in Murray Harbour are set in the Canadian province of Prince Edward Island (of Anne of Green Gables fame) where you will find a charm that is truly unique.
Just 45- minutes outside Charlottetown, in Murray Harbour, this establishment is a shining example of Canadian Maritime wilderness.
You can pick from their unique 1, 2 and 6- bedroom cottages, or enjoy a room in the Country Charm Bed and Breakfast. (Ask about the "Romance Room" on the second floor!)
All offer tranquility and charm as well as a chance to enjoy the Canadian wilderness and unwind as you sit together on the screened-in porch or enjoy a soak in the hot tub in the gazebo.
Cottages come well equipped with microwave, fridge, and all kitchen needs. Towels and linens are provided and laundry facilities are located close by. You also get free wireless internet, satellite TV and telephone.
The cottages are secluded, non-smoking and nestled beside a lake surrounded by 2- acres of verdant forest. You are also close to beaches, restaurants, golf, seal-watching, fishing and shopping. Rent a bike and peddle along Confederation Trail to visit the shops and have a bite to eat.
Other free on-site activities include boating, hiking, bird watching, fishing and swimming. Call 1-800-227-9934 for details and booking.
*Based on Tripadvisor.com Ratings & Reviews from Couples as of Jul 2014.
Excellent Romantic Vacations - Top Pages: