Charleston SC Romantic Hotels & Honeymoon Suites
Romantic Vacations Home › Romantic Hotels › Charleston SC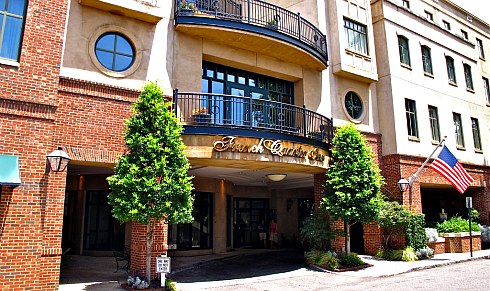 Entrance to the French Quarter Inn, One of Charleston SC's Most Romantic Hotels
By Maureen Mattson, ERV Staff Writer – Updated: Mar 20, 2013
Captivating Charleston, South Carolina is a fantastic spot for a romantic vacation or getaway. It's easily one of the top places for honeymoons and couple's vacations anywhere in the Southern USA! And it's even become a very attractive departure port for cruiseships as well.
Here's our latest report on Charleston SC romantic hotels and inns to help you with your honeymoon or getaway plans...
French Quarter Inn - Charleston's Most Romantic Hotel?
On our recent romantic getaway in Charleston, South Carolina, we spent a few nights at the French Quarter Inn. It's a terrific place to spend an anniversary or romantic getaway in SC. Here's our review:

What We Liked:

Extras including evening wine & cheese, cookies & milk
Fantastic Location - walk to shopping, dining, Charleston sights
Ambience, beauty of the furnishings, luxury feel, quiet rooms
Staff are outstandingly friendly and helpful
What Would Have Made it Even Better:
We've stayed at many romantic hotels in my time with Excellent Romantic Vacations, and I'm not normally an overly-effusive person. But I have to say that the French Quarter Inn is not just tops among Charleston SC romantic hotels, but it's one of my top three favourite hotels ever!
This lovely boutique hotel in Charleston SC is in the historic Market District, and just steps from the French Quarter of the city. Valet service for your car is available and parking costs extra. You probably better off without a car - parking is at a premium, and everything is within walking distance: restaurants, bars, shops, art galleries, museums, markets and Charleston tours.
Rooms at the French Quarter Inn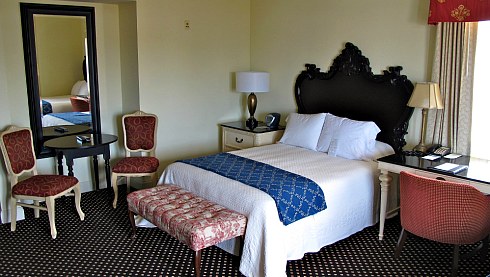 The French Quarter Inn is very elegant. Our room, on the third floor was all done in French toile and decorated Parisian-style with just the right accents. The balcony has wrought iron chairs and a table along with planter boxes. Free WiFi was an added bonus.
Champagne and ladyfingers are served on arrival and that's just the start of the star-treatment!
There is a free turn-down service at bedtime and we enjoyed coming to our room in the evening to find chocolates and kimonos set out for us. Breakfast is included in the price and can be delivered to your room on a cart (choose from 4 different options) or served in the common area on the first floor. We found it very generous and delicious.
Latest Deals & Best Rates at the French Quarter Inn. 
At 5 PM, wine and cheese is served next to the reception desk. We expected a closely-monitored dribble of wine and a few dry chips, but were very pleased with the variety of crackers, cheeses and fruit, as well as good quality wines. Tea, coffee and cold beverages are available all day.
At around 8pm, warm cookies and fresh milk are served too. For those with smaller appetites (like me), it's almost like an all-inclusive Charleston hotel! But a very romantic French restaurant called Tristans is attached to the hotel and, among other things, serves a five-course Chef's Tasting menu meal for $55. Room service from Tristans is also available.
Speaking of menus, there is a pillow menu available too. Choose from down, buckwheat, 5-foot body cushion, "snore- no- more" hypo-allergenic, double down surround or Swedish massage.
Right across the street we found the European-style markets with all sorts of interesting crafts and wares made by local artisans. A couple of horse-drawn carriage companies which provide rides and historical commentary are also right there.
The knowledgeable staff of the French Quarter Inn helped us decide on the right walking tour and phoned in a reservation for us as well. We were able to meet right outside the hotel to pick up the tour.
Charleston Weddings: Because the hotel is so beautiful, it makes an ideal setting for Charleston wedding photographs. Very small weddings can also be arranged, but the meeting room is limited in size and close to the guest rooms, so receptions cannot go late into the evening.
Romantic Charleston Hotel Packages are available at the Inn as well. The "Just the Two of Us" package, for example includes a gift certificate for Tristan Restaurant, a private horse drawn carriage ride, and champagne & chocolates delivered to your room, among other things. A nice touch to your honeymoon or anniversary getaway in Charleston.
All in all, the French Quarter Inn is our favorite of Charleston SC romantic hotels, and we can't wait to go back!

2013 Rating for Romantic Charleston Inns: 98% of Couples Rate it Excellent/Very Good
---
More Romantic Charleston Hotels & Honeymoon Suites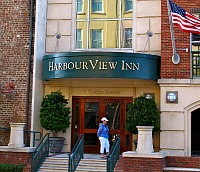 Harbourview Inn - many couples give the Harbouview a 5 star review. It's located close to Waterfront Park, with some of Charleston's most romantic restaurants just steps away.
The rooftop balcony has outstanding views, breakfast can be delivered to your room, and there's plush robes and evening wine & snacks. For your Charleston Honeymoon: whirlpool tubs and fireplaces in the Penthouse Rooms and The Suite. (2 Vendue Range, Charleston, SC 888-853-8439).
2013 Rating for Romantic Charleston Inns: 95% of Couples Rate it Excellent/Very Good
---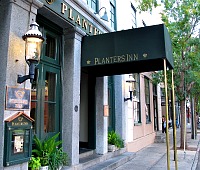 Planters Inn- another candidate for top spot among Charleston SC romantic hotels and inns. Epitome of Charleston ambiance and romance, the Planters Inn is right downtown with a Market Street location right in the center of it all.
Rooms feature four poster beds (Tip: For a quieter getaway, ask for a room facing the courtyard, not busy Market St). And just around the corner is shopping and fabulous Hyman's Seafood. (112 North Market Street, Charleston, SC 800-845-7082)
2013 Rating for Romantic Charleston Accommodation: 89% of Couples Rate it Excellent/Very Good
---
Romantic Wentworth Mansion - both the 5-Diamond Wentworth's Grand Mansion Suite and Suite Nine offer a splendid Charleston honeymoon experience, with large living areas, over sized whirlpool tubs, fireplaces, and Italian chandeliers in the Grand Mansion suite. (149 Wentworth Street, Charleston,SC 888-466-1886)
Charleston SC Romantic Hotels - Compare Rates & Today's Hot Deals
Video: The Romantic French Quarter Inn, Charleston SC
Excellent Romantic Vacations - Top Pages: