Romantic Hotel Plunge Pool Suites in the USA
Romantic Vacations Home › Romantic Hotels › Plunge Pool Suites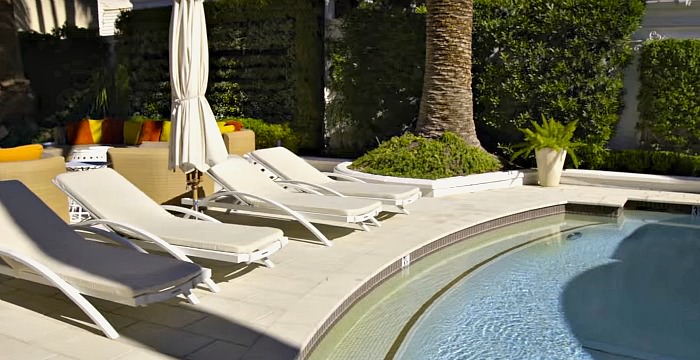 You Can Book a Room With a Plunge Pool Suite (like this one above) at all Kinds of Romantic Hotels in the U.S.
By Greg Mattson, ERV Editor - Posted: Nov 6, 2016
Excellent Romantic Vacations is proud to present our new guide to hotel suites with private pools in the USA.
When it comes to specialty types of romantic hotel rooms, among the most sought after (and often most expensive) for honeymoons and anniversaries are hotel suites with their own private plunge pools. They are easy to locate and book in the Caribbean, Asia and parts of Europe, but not so easy to find in California, Texas or Pennsylvania. 
So, enjoy this hand-picked selection of unique pool suites much closer to home here in the U.S. They range from affordable to ultra-expensive. Happy hotel plunge pooling!
(Disclaimer: This page is a general guide only. Hotel rooms and suites and their amenities can change at any time. Please make sure to confirm with the hotel first before making firm travel plans and arrangements.) 
Florida Hotels with Private Pool Suites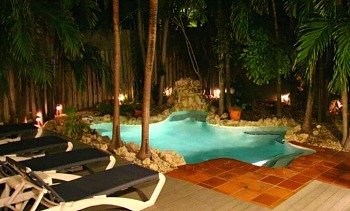 Tropical Plunge Pool Suite in Key West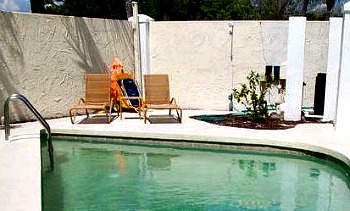 Private Pool Suite, Sarasota, FL
Miami:
W South Beach Miami - 20 floors up at the W, you'll have found the ultimate in South Beach hotel romance. It's here in the Penthouse Ocean View Suite, and the centerpiece is the fabulous private rooftop Japanese plunge pool. Reservations for this luxurious suite include VIP services such as concierge and complimentary luxury airport transfers. Certainly right at the top of luxury South Florida honeymoon suites. 2016 Rating* for Luxury Florida Suites with Plunge Pools: 96% of Couples Rate It Excellent/Very Good. (2201 Collins Ave, Miami Beach FL 305-938-3000)
Sarasota:
Sea Spray Resort - condo-style accommodation on Florida's Gulf Coast, and the Starfish Unit is completely romantic and perfect for honeymoons with it's own private pool. 2016 Rating* for Sarasota, FL Hotel Rooms with Private Pool: 98% of Couples Rate It Excellent/Very Good. (574 Canal Rd, Sarasota FL 941-822-0520)
Key West:
Suite Dreams Inn Key West - claim your own little piece of tropical honeymoon paradise at this romantic Key West inn. Their Hemingway Retreat is the largest suite, and it's got a lovely private pool surrounded by lush palm trees just waiting for you both. 2016 Rating* for Romantic Key West Inns with Private Pools: 96% of Couples Rate It Excellent/Very Good. (1001 Von Phister St, Key West FL305-292-4713)
*Looking for a Whirlpool Suite in Florida Instead? Check out our page on some of Florida's Most Romantic Hotel Jacuzzi suites and Inns with private jetted tubs.  
---
New York City Private Pool Suite
New York City Jacuzzi Suites - for the rest of us, and much more affordable, check out our guide to hotels with romantic in-room spa tubs in Manhattan, Queens and the Bronx. 
---
Hotel Plunge Pool Suites in the Eastern U.S & The South
| | |
| --- | --- |
| Inn of the Dove Private Pool Suite in PA | Romantic Plunge Pool in Pennsylvania |
Pennsylvania:
Inn of the Dove - experience the double pleasure of their Dove Swimming Pool Suite configured for your own exclusive access to a private heated pool. Guests in winter will love curling up beside the wood-burning fireplace. 2016 Rating* for Plunge Pool Suites in Pennsylvania: 85% of Couples Rate It Excellent/Very Good. (2225 Kohn Rd, Harrisburg, PA  717-540-5540) 
---
Midwest Private Pool Suites
Romantic Room at Syboris Pool Suites, IL
Plunge Pool at Syboris Suites in Illinois
Illinois:
Sybaris Pool Suites Frankfort IL - another destination for Sybaris' romantic plunge pool suites are here in Northern Illinois on the edge of suburban Chicago. Relaxation and romance are the theme of these rooms, with heated private pools and hot tubs. 2016 Rating* for Illinois Private Pool Suites: 94% of Couples Rate It Excellent/Very Good. (7500 W. Lincoln Hwy, Frankfort IL 815-464-5000)
Champagne Lodge & Luxury Suites - you want the Swimming Pool Suite here, with it's wet bar, mood lighting, rain forest shower and spacious pool. 2016 Rating* for Private Pool Suites Close to Chicago: 73% of Couples Rate It Excellent/Very Good. (16W621 S. Frontage Rd, Willowbrook IL 630-455-0555)
Indiana:
Sybaris Pool Suites Indianapolis - they call it the "Ultimate Romantic Experience", and your nights here will focus on your suite's private plunge pool heated to 92F. The Misting Steam Room and water slide from the loft bedroom are extra romantic touches.  2016 Rating* for Indiana Hotel Rooms with Private Pool: 93% of Couples Rate It Excellent/Very Good. (5466 W 86 St, Indianapolis IN 317-337-9000)
Ohio:

Belamere Suites - 3 plunge pool rooms to pick from at this adults-only Ohio inn, with the less expensive Presidential and Royal Suites more suited for staying within your romantic getaway budget. Special occasions may require the Grand Royal Swimming Pool Suite, with it's heated in-room private pool. Amenities don't end here, as you'll also love the suite's Jacuzzi tub for two, private sauna, walk-in shower for two, fireplace, complimentary Wi-Fi and European breakfast served in the comfort of your room. 2016 Rating* for Ohio Private Pool Suites: 97% of Couples Rate It Excellent/Very Good. (12200 Williams Rd, Perrysburg OH  419-874-2233) 
Wisconsin:

Sybaris Pool Suites Mequon - the name says it all, and Sybaris has made quite a name for itself, voted a top romantic getaway in the U.S. Suites here offer up a Private pool with their own tropical waterfalls, as well as hot tubs, fireplace and massage chairs. 2016 Rating* for Wisconsin Suites with Private Plunge Pool: 80% of Couples Rate It Excellent/Very Good. (10240 Cedarburg Rd, Hwy 57, Mequon WI 262-242-8000)

*More Romantic Bubbles: See our guides to Jetted Tub Suites in Illinois, Indiana and Ohio.
---
California Hotel Plunge Pool Rooms
Los Angeles:
Beverly Hills Hotel - 2 of the very high-end Bungalow Suites here have patios with private pools. Marble baths, fresh fruit & flowers on arrival and custom linen and toiletries are just some of what's in store at this legendary Hollywood Romantic hotel. 2016 Rating* for Los Angeles, CA Hotel Rooms with Private Plunge Pool: 94% of Couples Rate It Excellent/Very Good. (9641 Sunset Blvd, Beverly Hills CA  310-276-2251)    
Coachella Valley:
La Quinta Resort & Club - the desert heat of Palm Springs makes a private plunge pool very attractive, and that's exactly what several of the theme suites at this resort in La Quinta, California provide. 2016 Rating* for Palm Springs, CA Hotel Suites with Private Pool: 84% of Couples Rate It Excellent/Very Good. (49499 Eisenhower Dr, La Quinta CA 760-564-4111)
---
Western U.S. & Southwest
Marriott Camelback Plunge Pool Suite
Texas Pool Suites - Inn at Dos Brisas
Arizona:
JW Marriott Scottsdale Camelback Inn - beautiful luxury resort in sun-drenched Scottsdale, AZ. Both the Jackrabbit and Deluxe Pool Suite have private pools. 2016 Rating* for Phoenix area Hotel Plunge Pool Suites: 91% of Couples Rate It Excellent/Very Good. (5402 E. Lincoln Dr, Scottsdale AZ  480-948-1700)
Colorado:
Antero Hot Spring Cabins - three unique and romantic cabins in the Colorado's pristine San Isabel National Forest. There's wildlife viewing, scenic hiking, and treating yourself to soaks in a private hot spring pool just outside each unit. 2016 Rating* for Hotel Plunge Pool Suites in Colorado: 75% of Couples Rate It Excellent/Very Good. (Nathrop, CO 719-539-8204)
Las Vegas, Nevada:

MGM Grand 2-Bedroom w/Plunge Skyloft Suites - more than just the plunge pool is private in these luxury suites; you have a in-suite fitness room with weights totally to yourself, and a billiard or Foosball table for entertainment as well. 2016 Rating* for Las Vegas Strip Private Pool Suites: 77% of Couples Rate It Excellent/Very Good. (3799 Las Vegas Blvd, Las Vegas NV 877-646-5638)
The Palms - If price is no consideration whatsoever, we certainly recommend the Two Story Sky Villa at this romantic resort just off of the Strip in Vegas. Far too much luxury to describe in full here, but we're talking your own personal glass elevator, sauna, butler service, cantilevered pool with view of the Strip, all set in 9,000 sq ft of pure opulence. 2016 Rating* for Hotel Plunge Pool Suites in Las Vegas: 78% of Couples Rate It Excellent/Very Good. (4321 W. Flamingo Rd, Las Vegas NV  702-942-7777)
Cosmopolitan Bungalow Suite w/Jacuzzi Plunge Pool - this 3-level suite with 24 hr butler service includes walk-in showers for two, outdoor kitchenette and bar, and a beautiful private plunge pool. Call the resort for more info and to book this suite. 2016 Rating* for Las Vegas Plunge Pool Suites: 88% of Couples Rate It Excellent/Very Good. (3708 Las Vegas Blvd South, Las Vegas NV 702-698-7575)
Hard Rock Hotel & Casino - a couple of gorgeous suites here, the Nirvana and the Living Art Ultra Lounge, each come with their own private plunge pools. When making reservations, don't get these confused with the resort's Pool Villa Suites - they have views of the main pool, but not a private pool in the suite. 2016 Rating* for Private Pool Suites in Nevada: 70% of Couples Rate It Excellent/Very Good. (4455 Paradise Rd, Las Vegas NV  800-473-7625)
Texas:
Utah:

Amangiri Resort - selected suites at this Canyon Point, Utah resort include private plunge pools with great views of the surrounding desert.

 

2016 Rating* for Resorts with Plunge Pool Suites in Utah: 91% of Couples Rate It Excellent/Very Good. (1 Kayenta Rd, Canyon Point UT 435-675-3999)
---
Hawaii
Halekulani Hotel Orchid Pool Suite - certainly one of the most beautiful hotel suites in not only Oahu but in all of the Hawaiian Islands. Oceanfront, view of Diamond Head, private lanai and gardens, home theater, full kitchen and steam shower. To top it all off, there's a "deep steeping therapy pool" with relaxing garden views. Perhaps nothing can match this Honolulu suite for the very ultimate Hawaii honeymoon. 2016 Rating* for Private Pool Suites in Hawaii: 90% of Couples Rate It Excellent/Very Good. (2199 Kalia Rd, Honolulu HI 844-873-9424)
*Based on TripAdvisor.com Ratings from Couples as of Nov 2016
Excellent Romantic Vacations - Top Pages
---