Romantic March Vacation Spots for 2017
The Best Place for a March Vacation - Warm Weather, Beaches, Hotels & Resorts
ERV Home › Romantic Holidays › March

Escape Winter in a Relaxing & Warm Resort for Your March Vacation Getaway
By Greg Mattson, ERV Editor - Updated: Jan 7, 2017
It's time to start looking at some vacation ideas for March 2017. We've put together some tips on where to go for a great early spring getaway.
March of course is spring break time (in many, but not all places, from about Mar 4 - 25, 2017), and a zoo in places like Cancun, Mexico and Panama City FL. So in the name of R&R, we've chosen some March vacation destinations that offer a quieter and more relaxed getaway. And because it's high season, booking ahead is essential.
A Barbados Vacation in March 2017
Looking for a warm March vacation in the tropics? You can't go wrong with Barbados! The Caribbean is great most of the year, but March is a very nice time to be in Barbados. Perfect weather, relaxing sea breezes and some of the nicest beaches in the Caribbean make it a March destination of choice.
Since March is still high season in the Caribbean, booking in advance is essential if you hope to get a deal. Check out these deals on all-inclusive romantic resorts in Barbados and other Caribbean Islands.
3 Warm & Quieter Caribbean Resorts in March
Quiet Pool Time at El Dorado Maroma
Royal West Indies Resort, Turks & Caicos
Don't let the party animals ruin your precious vacation time in March. Here's 3 Caribbean resorts specially chosen for peace, quiet, and romance... 
Royal West Indies Resort, Turks & Caicos - 

What Other Couples Said: "Island Time in Paradise"... "Boutique Resort, Quiet & Charming"..."Awesome, with a Quiet Pool and Hot Tub". 

2017 Rating* for Romantic Turks and Caicos Resorts: 93%

 of Couples Rate It Excellent/Very Good. 

(Grace Bay, Providenciales, Turks and Caicos)
What the Weather is Like in March in...
London UK - expect some showers and clouds, a high temp of about 50 F (10 C)
Las Vegas - March is when it gets warmer in the desert, and you can expect highs of 68 F (20 C)
Hawaii - one of the "cooler" months in the islands, but you'll still enjoy the sun and an average 79 F (27 C) daytime high.
Italy - moderately dry, with cooler temps up north in the Alps (57 F or 15 C), and highs in the mid 60's (18 C) in Rome, Naples and Sicily.
Paris - still a bit cool ( 51 F, 11 C) but some sunny days and the blossoms of spring starting to appear.
New York City - some very early signs of Spring, daytime highs of 48F. Pack an umbrella though...
Bermuda - 69 F is the average daytime high, humidity is at it's lowest, and most rainfall is likely to be in the evening hours.
San Juan, Puerto Rico - March is Puerto Rico's driest month, and expect high temps around 85 F.
San Francisco - expect a high of about 62 F during the day, warming up a bit more as the end of the month approaches.
USA Hot Spot in March:
Miami, Florida - an average daytime high temp of 80 F
Want a "Warm but Not Hot" Place in March?
San Diego, CA - average daytime high temp of 66 F
Destin, FL - average daytime high temp of 70 F
Video: 10 Nice n' Warm March Vacation Destinations
Here's our video of ideas for March vacation spots. These romantic places have a nice mix of warm weather, sunshine, and relaxation - away from Spring Break '17 crowds! They include some of the holiday areas on this page, plus extra locations like Palm Springs CA, tropical Maui HI, and Tortola in the beautiful British Virgin Islands.
March Arizona Getaways
Want to visit the American southwest before it heats up? March is a great time for a getaway in romantic Arizona. This sunny state has to be one of the best places in the U.S. to travel to in the month of March. Arizona weather is comfortably warm in the early spring, with temperatures like:
Phoenix: average daytime highs of 77 F
Tucson: average daytime highs of 74 F
March is perfect for the enjoying the resorts, golf and destination spas Phoenix and Tucson are famous for. The south rim of the Grand Canyon is also very "visitable" in March, with fewer crowds and traffic. But take along a coat as it can still snow at higher elevations.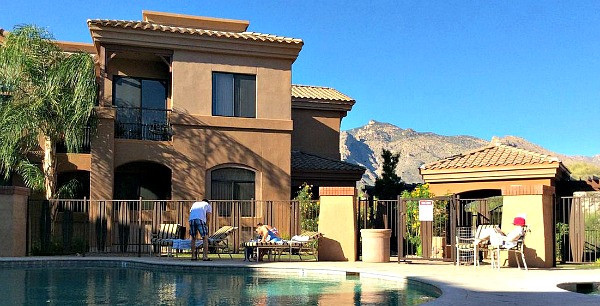 March is a Great Time to Visit Arizona and the Embassy Suites Paloma Village in Tucson
Embassy Suites Tucson Paloma Village

-

we had a great stay in this Embassy Suites hotel 

in the Northern foot hills of Tucson, AZ. With a beautiful pool and hot tub, free hot made-to-order breakfast, as well as perhaps the best complimentary beer, wine & snacks evening we have seen at any hotel, you're going to almost feel like you're in an all-inclusive resort! 

2017 Rating* for Romantic Tucson Hotels: 93% of Couples Rate It Excellent/Very Good. (3110 East Skyline Dr, Tucson, AZ  855-277-4940)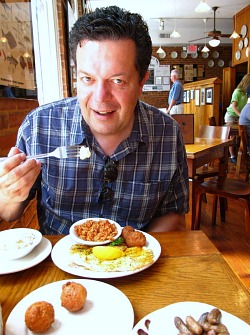 Southern Food at Hymans in Charleston, SC
Charleston, SC March Getaways
March is a fine time to book your romantic trip to Charleston and South Carolina. Expect the azaleas and gardens to be coming out in their full color, and comfortable temperatures during the day of about 66 F. March also means lower humidity, with not a lot of rain. And just because you chose the low-shoulder season of March doesn't mean there's nothing going on: check out Charleston's excellent Annual Festival of Houses and Gardens which runs from March 16 to April 22, 2017.
A Warm March Vacation in Queensland
The weather in Queensland, Australia in March is hot and sunny, which is one of the reasons why so many couples choose this time of year for a romantic vacation in Queensland.
For one of the best beach vacations in March down under, head to Noosa, Qld, a lovely spot about 75 miles (162 kms) north of Brisbane. There's great restaurants and all kinds of deals on romantic Noosa resorts and beachfront apartments. And of course, fabulous beaches with an ocean temperature of around 22 C, just perfect for swimming and water activities.
More Winter & Spring Vacation Ideas on ERV:
*Based on Tripadvisor.com Ratings & Reviews from Couples as of Jan 2017.
Excellent Romantic Vacations - Top Pages
---