Myrtle Beach Romantic Getaways & Romantic Oceanfront Hotels for Couples
Romantic Vacations Home › Romantic Getaway › Myrtle Beach SC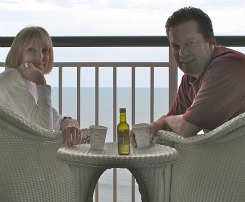 Oceanfront View in Myrtle Beach
By Greg Mattson, ERV Editor - Updated: Oct 31, 2015
Myrtle Beach, South Carolina is one of the most popular Atlantic beach resorts in the U.S. That is both good and bad if you're seeking a romantic vacation here...
Good: Lots of tourism means a wide range of affordable accommodation choices.
Not So Good: it makes it a challenge to escape the crowds, tattoo parlors and tacky gift stands, and find a measure of peace and quiet and…romance!
So based on on our time and experience, we offer our guide to helping couples find the best Myrtle Beach romantic getaways. Besides places to stay and attractions, we'll also describe some romantic packages being offered for an unforgettable honeymoon along the Grand Strand, SC.
First things first: a romantic place to stay…

Romantic Things to Do in Myrtle Beach SC
On our SC holiday, we found a number of romantic things to do & activities in Myrtle Beach for couples along the Grand Strand…
Myrtle Beach Resorts - leave the car parked, relax and enjoy many activities and romantic things to do right at your Myrtle Beach hotel or resort. Swimming, access to the beach, and if you pick an oceanfront room with a balcony, just kicking back and enjoying the gorgeous view of the Atlantic and the sunrise! Check here for Hotel & Resort Deals in Myrtle Beach Starting at Only $55/night.
Romantic Ferris Wheel Ride – the Myrtle Beach Sky Wheel, with it's air-conditioned gondolas and scenic views of the coastline, is one of the best places to propose in Myrtle Beach!
Sunset Cruise – the Barefoot Princess Riverboat departs throughout the week for Myrtle Beach Dinner & Sunset cruises from their dock at Barefoot Landing. Dancing, dinner, and great views along the Atlantic Intracoastal Waterway! (4932 Hwy 17 South, North Myrtle Beach, 800-685-6601)
Myrtle Beach's Quiet(er) Beaches – quieter pieces of beach for couples to relax can be found - we suggest hopping in the car and heading to North Myrtle Beach, and the beaches alongside 8th, 9th and 10th ave.
A Couple Enjoying a Quiet Walk along the Coast of North Myrtle Beach, SC
Bummz Beach Cafe – enjoy a glass of lemonade (or something with a little more punch!) with your toes in the sand from the comfort of a couple of Adirondack chairs at this beachfront bar and grille. (2002 North Ocean Boulevard, Myrtle Beach)
Myrtle Beach Boardwalk & Promenade - Grab your sweetheart and go for a walk down this 1 mile+ stretch of everything fun that's Myrtle Beach: sidewalk cafes, piers, people-watching, and various performers and live shows throughout the summer. (Between 2nd Ave & 14th Ave Piers, Myrtle Beach)
Barefoot Landing - spend an afternoon walking along the dock, catch a show at Alabama Theater, or get a fun "Old Tyme Portrait" done of you both. In the summer, there's entertainment and shows every night, including a fireworks show every Monday night. (4898 Hwy 17 South, North Myrtle Beach)

Exploring Market Common on a Rainy Day in Myrtle Beach
Market Common – explore the upscale shops and theatres, enjoy dinner at a romantic restaurant, and go for a stroll along the landscaped walking trails around a man-made lake. (4017 Deville St, Myrtle Beach)
Romantic Myrtle Beach Hotels & Resorts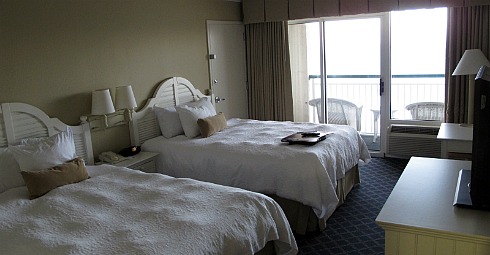 Oceanfront Room at the Hampton Inn & Suites, Myrtle Beach SC
Hampton Inn and Suites Myrtle Beach/Oceanfront, Myrtle Beach, SC - Maureen and I spent 3 nights at this romantic Myrtle Beach Oceanfront hotel, and we loved it. Why?
Clean & luxurious rooms (ours had a fantastic view from our 14th-floor balcony!) And we found them quiet, too, which can be rare in Myrtle Beach.
Your choice of swimming pools, the beach and ocean just a few steps away, or the mineral bath at the Sanctuary Spa.
Free parking in the attached covered garage, and very reliable wi-fi internet throughout the hotel.
Hot breakfast daily (go early to avoid the crowds, or bring it back to your room), and a great location close to shopping and dining.
Marriott OceanWatch Villas – a gorgeous & romantic resort in a quiet spot between North & South Myrtle Beach. Modern rooms have ocean views, and the outdoor pools are heated for vacation fun even in winter.
Myrtle Beach Romance & Honeymoon Packages
Here's a brief look at some hotel and resort packages put together for romantic getaways in Myrtle Beach, especially honeymoons and anniversary trips:
Grande Shores Romance & Honeymoon Packages - 2 different romance add-ons to your accommodation at this Myrtle Beach oceanfront resort, and they include amenities such as arrival wine and fruit basket, romantic dinner for 2, live entertainment, turn down service, buffet breakfast and more.  
Inexpensive Places to Stay for Myrtle Beach Romantic Getaways:
Myrtle Beach Romantic Getaways - Compare Resort Rates & Deals Here
Romantic Places to Eat in Myrtle Beach
Away from the buffets and chain restaurants, you can find romantic places to eat in Myrtle Beach at Greg Norman's Australian Grille (4930 Highway 17 S, North Myrtle Beach, SC) and at Martini's Continental Cuisine & Piano Bar (98 Highway 17 South, North Myrtle Beach).
Excellent Romantic Vacations - Top Pages: