North Carolina Jacuzzi Suites & Hot Tub Hotel Rooms in Charlotte, Raleigh NC & more 
Romantic Vacations Home › Jacuzzi Suites › North Carolina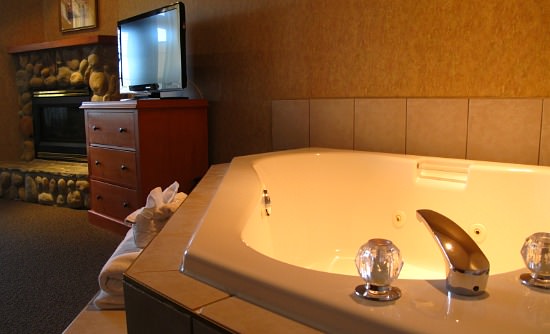 Book a Romantic In-Room Hot Tub or Jacuzzi Suite for your North Carolina Getaway
By Greg Mattson, ERV Editor - Updated: Nov 24, 2016
We're glad you here to check out our guide to some of North Carolina's Jacuzzi® rooms. These hot tub suites and in-room spa tubs in hotels, resorts and cabins are nicely located in some of the best romantic destinations in North Carolina, including oceanfront spots along the North Carolina Coast.
Why Our Listings of North Carolina Jacuzzi® Suites are Different: We select these suites ourselves, and don't rely on other 3rd party listings online that use software only. We only choose Jacuzzi® and Jetted Tub hotel rooms and suites where the tub is right in the room.  
Check out these rooms and have yourselves a great romantic getaway in North Carolina!
(Disclaimer: The use of the Jacuzzi® trademark on this page is for informational purposes only. No co-promotion, connection or affiliation with the Jacuzzi® companies is inferred or suggested. Hotel rooms and amenities can change at any time, so please make sure to confirm with the hotel first before making firm travel arrangements.)
Charlotte, North Carolina Jacuzzi Suites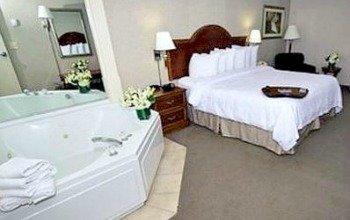 Hampton Jacuzzi Suite in Downtown Charlotte, NC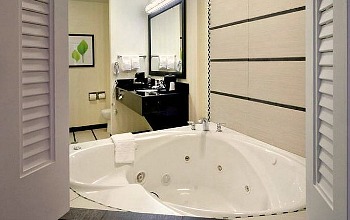 Whirlpool Suite at the Fairfield Inn Charlotte Matthews
Hampton Inn Charlotte-Uptown Jacuzzi® Suites – this affordable and romantic hotel in Charlotte-Uptown NC can welcome you into a Jacuzzi® Suite with King bed, and you'll enjoy a great location close to city center shopping and dining. 2016 Rating* for Charlotte, NC Jacuzzi Suites: 92% of Couples Rate It Excellent/Very Good. (530 Dr. Martin Luther King Jr. Blvd, Charlotte NC 704-373-0917)
Fairfield Inn & Suites Charlotte Matthews - beautiful, spacious Whirlpool tubs here, located in the master bath with shutter doors opening to the bedroom. Complimentary hot breakfast with fresh fruit, indoor pool and free Wi-Fi all included with your stay. 2016 Rating* for Charlotte, NC Whirlpool Suites: 93% of Couples Rate It Excellent/Very Good. (8540 E. Independence Blvd, Charlotte NC  980-245-9200)
---
Raleigh-Durham NC Whirlpool Suites
Renaissance Raleigh North Hills -

this luxury hotel in Raleigh's North Hills is all set for your getaway, with updated guest rooms and suites, indoor pool, restaurant and lounge. Their Spa King Room with a Whirlpool tub adds a nice touch of romance to your stay in Central NC. 

2016 Rating* for Raleigh-Durham, NC Whirlpool Suites: 90% of Couples Rate It Excellent/Very Good. (4100 Main at North Hills St, Raleigh NC  919-490-4949) 
Fayetteville NC Hotels with In-Room Jetted Spa Tubs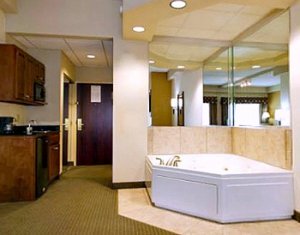 Jacuzzi Suite - Holiday Inn Express, Fayetteville NC
More NC Hotel Getaways:
North Carolina's Best Weekend Getaways - all new for 2017, our new guide to romantic hotels, Smoky Mountain cabins, and great spots for vacations, honeymoons and anniversary trips all across North Carolina.
Jacuzzi Suites in the NC Smoky Mountains
Asheville NC:
Asheville Cabins of Willow Winds - luxurious and secluded, this Smokey Mountain cabin has a private hot tub right outside the master bedroom for romantic nights under the stars. Lots of amenities for a perfect North Carolina weekend getaway, and a great location in Asheville NC close to the Blue Ridge Parkway. (39 Stockwood Road Exd, Asheville, NC  828-277-3948)
Whittier NC:
The Chalet Inn North Carolina Jacuzzi Suites - unique boutique hotel and B&B type accommodation available here. Both have romantic Jacuzzi

®

 suites with fireplace. These are the closest spa tub suites you will find to the Great Smoky Mountains National Park entrance. (339 Lone Oak Drive, Whittier, NC  800-789-8024)
North Carolina Beachfront Hot Tub Suites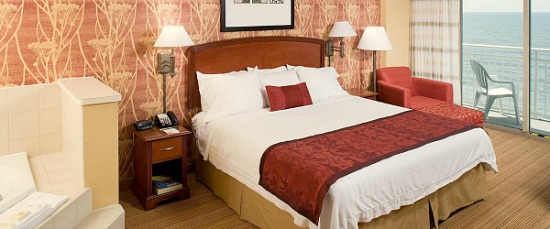 Marriott Courtyard Carolina Beach King Oceanfront Whirlpool Suite with Balcony
Carolina Beach:
Outer Banks, NC B&B with Whirlpool Suites:
More NC Spa Suites: Wilmington, Greenville, Greensboro
Wilmington NC:
Wingate by Wyndham Wilmington - fitness center, outdoor pool and a free hot breakfast are just some of the amenities this Wilmington NC hotel offers along with their King Hot Tub Suites. 2016 Rating* for Wilmington NC Jetted Tub Suites: 89%

 of Couples Rate It Excellent/Very Good

.

(5126 Market Street Bus 17, Wilmington, NC  910-395-7011)
Greenville NC:
Best Western Plus Suites Greenville - enjoy a free breakfast with your overnight in one of this Greenville Best Western's Jacuzzi

®

 Suites. Centrally located, with spacious and accessible rooms. 2016 Rating* for Greenville NC Jacuzzi Suites: 87%

 of Couples Rate It Excellent/Very Good

.

(2310 Greenville Boulevard NE, Greenville, North Carolina 800-780-7234)
Dobson NC:
High Point NC:
More Romantic Spa Suites Near NC:
*Based on TripAdvisor.com Ratings from Couples as of Nov 2016

Excellent Romantic Vacations - Top Pages
---