Romantic Places to Visit in Canada: Coast - Coast
Special Places to Visit in Canada for Honeymoons and Romantic Vacations  
Romantic Vacations Home › Canada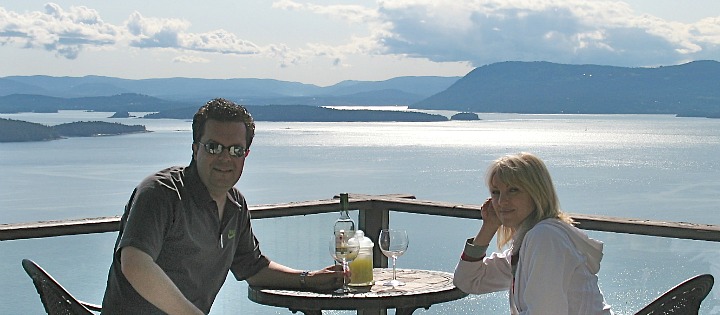 British Columbia's Gulf Islands - one of Many Romantic Places to Visit on Canada's West Coast
By Greg Mattson, ERV Editor - Updated: Aug 25, 2012
Canada, eh? Here's our reviews of romantic Canadian hotels and accommodation, destinations and attractions. Not in only the well known places like Banff, Vancouver and Niagara Falls, but also romantic spots like Quebec City and Victoria, B.C. Plus weather and related tips so you know the best time to head north for your getaway or honeymoon.
---
Our Top 5 Romance Destinations in Canada:
1. Victoria, BC - always green and impeccably clean, Victoria, BC is an oh-so-English romantic getaway in a tidy package! Horse-drawn carriages clip-clop past the flower shops and tea houses here. Make sure you get to the oceanfront here for the fantastic views across the Juan de Fuca Strait.
2. Quebec City, QB - want to escape to small-town France, but without the jet-lag? Try Quebec City! And winter getaways here are probably even more romantic, with the Carnival, Ice Hotel, and Aurora Borealis.
3. Niagara Falls, ON - immense popularity and crowds still don't dilute the fact that these incredible falls are still... incredible! Book a Falls view room, avoid middle of summer and weekends, and don't miss nearby Niagara-on-the-Lake.
4. Prince Edward Island - we can't think of a more peaceful place to visit in Canada! Stay a week in a cottage by the sea on PEI, explore the small villages on quiet country roads, and you'll feel like you're in an Anne of Green Gables novel!
5. Vancouver, BC - perhaps we're a bit biased to our home, but for great restaurants with views of the mountains and the Pacific, your pick of beaches to explore or relax by, and places to just sip coffee and people watch, Vancouver is fantastic. Just bring your umbrella and you'll love it!
Romantic Getaways in Canadian Destinations:
Romantic BC Getaways
Sun, fun and wine - that's the Okanagan Valley. We look at the resort towns of Kelowna and Penticton, where beaches, sunshine and vineyards await.

Vancouver
One of the world's most beautiful cities! We'll tell you all about our beautiful, clean and green home. Vancouver has some great accommodation for couples - see Vancouver Hotels Here.
Hotel Packages in Niagara Falls
The No.1 destination for a honeymoon in Canada is also a great place for a romantic escape anytime. Discover more, including some day trips around the Niagara Falls Peninsula.

Toronto, ON
Explore Toronto Islands, Kensington Market and the Lake Ontario waterfront, plus B&B's and romantic hotels.

Ontario Romantic Getaways
Fun romantic weekends in Ontario, including Niagara-on-the-Lake, Stratford and Cottage Country.

Romantic Edmonton Getaway - a guide to Edmonton, Alberta activities for couples, romantic hotels, honeymoon suites and restaurants in the province's capital city.
More Romantic Places to Visit in Canada
Romantic Oceanfront Resort in Western Canada
Wickaninnish Inn - Canada's Vancouver Island is a great spot for a romantic vacation or honeymoon, and the Wickininnish Resort & Spa is situated perfectly along the beachfront near Tofino, BC. Enjoy the beautiful British Columbia wilderness from the luxury of oceanfront rooms & suites of this lodge, complete with deluxe spa & fitness facilities, packages for storm watching, romance, elopement and more.
More Resources for Places to Visit in Canada:
You can find out more about the Best Places to Visit in Canada from the Canadian Tourism Commission, including culture, special events, food and wine, and more.
For some ideas on attractions, restaurants and hotels in the nation's capital, Ottawa Information Guide is a great resource for info on Ottawa, Ontario, Canada.
Sponsored Links:
Excellent Romantic Vacations - Top Pages: