Romantic Cruise Vacation Ideas & Tips for Your Getaway at Sea
Romantic Cruise Vacation Ideas, Q&A's, Reviews and more 
Romantic Vacations Home › Romantic Vacation Ideas › Cruises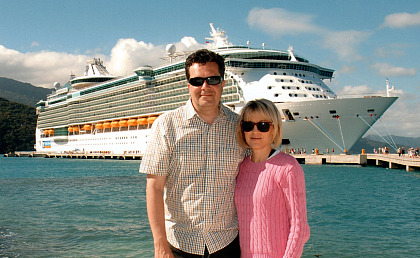 By Greg Mattson, ERV Editor - Updated: Nov 21, 2014
For many, their first idea of a romantic vacation is a cruise. But choosing and booking a cruise presents a challenge for many, with many unique aspects and decisions involved in this type of travel.
So Excellent Romantic Vacations collected these tips on the best couples cruise holiday. Whether it's a last-minute 3 night sailing, or a 12 night honeymoon cruise, we hope you'll find some ideas and inspiration here.
5 Romantic Cruise Vacation Q&A's:
1. Is a Cruise Good for a Honeymoon? They can be excellent for a honeymoon: less stress, so much taken care of for you, and the choice to be active or do very little and relax. Having said that, we would say that a honeymoon in not the time to cheap-out on your cruise. Unless you absolutely have to be on a budget, use the occasion to splurge a bit and treat yourselves to an upgraded cabin (certainly an outside one a little higher up) or even a suite with an outside balcony.
2. What Kind of Cruise is Right for Us? If you're not sure, we suggest trying a short 3 or 4 night sailing. That way you can see how you adjust to life at sea, on board a ship with others, and it gives you a small taste of the variety, atmosphere and pace of cruising.
3. What is the Best Couples Cruise? Silversea Cruises would probably rate as our No.1 pick of the main cruise lines for the best romantic cruise experience. Windstar Cruises and SeaDream Yacht Club are great for couples too as long as you're comfortable with smaller ships and have no problem with rough seas.
4. Which Honeymoon Cruise has the Best Food? Matter of opinion of course, but Crystal and Seabourn get excellent reviews. Seabourn Cruise Line has also been raved about for their fine dining.
5. Where is the Most Romantic Cruise Vacation? Tahiti & the South Pacific can be a wonderful destination for a honeymoon or anniversary cruise. Hawaii is another good choice, and the Caribbean, perhaps a little bit further away than the mass-market Bahamas/Jamaica scene and the overcrowded and overpriced private ports of some of the large cruise lines.
---
Caribbean Cruises
Best Time for a Caribbean Cruise: Basically, when you need it the most! Having said that, January to April is the high season for the Caribbean (on both water and land), so if you really want to avoid crowds, consider a Caribbean cruise during the off season (around June).
ERV's Choice:  Top 3 Most Romantic Caribbean Cruise Lines:
SeaDream Yacht Club - this is the romantic cruise vacation if you just hate crowds - max of 56 couples per cruise on a luxury mega-yacht!
Silversea Cruises - not mega liners, but smaller, luxury ships. No kids programs - they're aiming for couples and adults, and get rave reviews from honeymooners as a result.
Crystal Cruises - top notch food, entertainment, lounges and accommodation.
---
Romantic Alaska Cruises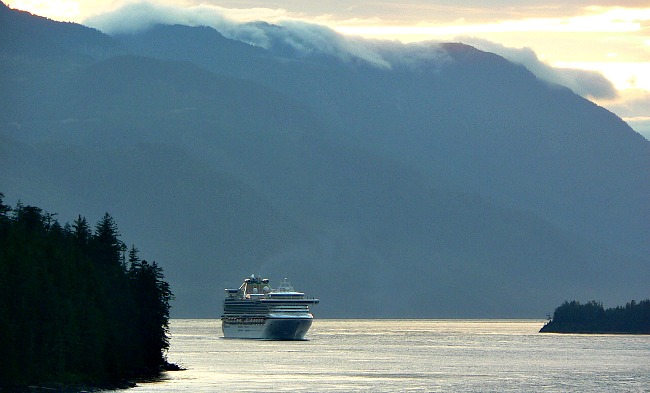 Aren't Alaska Cruises just for old people? Not at all! Go on any Alaska cruise today, and you'll see a mix of people of all ages - families, singles, as well as couples and honeymooners. 
Inside Passage Cruise: round trip departure from Vancouver, usually 1 week. You sail up the inside passage through the islands offshore from British Columbia and Alaska. Stops will probably include Ketchikan, Sitka, Skagway and Juneau. You'll spend about 2 days at sea, and another glacier viewing.
Gulf of Alaska Cruise (or Glacier Route Cruise): You sail one-way northbound from Vancouver or one-way south from Seward, Alaska. You'll see extra ice on this sailing in College fjord and/or Hubbard Glacier, plus an additional port or two.
Best Time for a Romantic Cruise Vacation to Alaska: Alaska cruise ships sail out of Vancouver and Seattle from May to September every year. The two best months for cruising to Alaska are probably May and September, when the ships are a little quieter, and likely when you'll get a better deal on your cruise too. The weather in the Pacific Northwest and on the route up the coast is mild, but bring some layers for cool evenings and glacier viewing. If you're an  whale-watching, June or July are usually the best months for Orca viewing in Alaska.
ERV's Pick: Most Romantic Alaskan Cruise Lines: 
Celebrity Cruises - a more upscale, sophisticated cruise line.
Silversea Cruises - ocean & glacier views from every cabin, 18+ year old passengers only.
Regent Seven Seas – each cabin has a balcony and bath. First class cruise experience.
---
Cruise Deals
3 Night Bahamas Cruises from $164

-

special savings on hundreds of romantic cruises with departures from ports close to home like Baltimore, Jacksonville FL, Galveston TX and Bayonne, NJ.
Cruisecompete.com Romantic Cruise Vacation Hot Deals

-

pick a cruise & departure port, select your date, and sit back while over 100 specialized cruise agencies battle it out to give you the lowest price! It's a superb, convenient way to cruise shop - you're notified by e-mail of new bids, check them out online, and best of all, it's free.
---
Money-Saving Tips for Your Cruise
Re-positioning Cruises - It's quite possible to find a cheap honeymoon cruise on a ship re-positioning. Example: Carnival, Holland America and Royal Caribbean offer shorter but deeply discounted cruises to Los Angeles and Mexico when re-positioning their Vancouver – Alaska cruise ships to the Caribbean.
Do it Yourself Shore Excursions - Consider exploring ports of call on your own instead of the pre-arranged land tours and excursions offered by the cruise line. Just make sure you get back to the boat well in advance of departure time!
Separate Air & Cruise Deals - An air & cruise package can look attractive, especially if they guarantee they'll hold the cruise ship for you if your arriving flight is late. Usually, if you buy a cruise package that includes air, it will most likely include transfers between the airport and your ship (or the airport and any hotels you book through them). The advantage of this is if your flight is delayed, the cruise line knows where you are and can look after you better when you do arrive.
But it might be cheaper buying the airfare separately. If you use a good discount airfare search engine like Kayak.com, you can find out right away what the cheapest airfare is to your cruise departure city. Just make sure you select an arrival time that gives you lots of "buffer time" before sailing (in case of delayed arrival, and to allow ground transfer to departure port).
We Recommend: Don't ever pay the "sticker price" for a cruise – it's inflated just like a new car's asking price. And when you see a cruise that's "50% off", it is almost certainly based on that sticker price. The outrageously cheap prices advertised are usually for 3 or 4 day sailings.