Romantic Disney Hotels for Vacations & Honeymoons in WDW
Romantic Vacations Home › Florida › Disney Hotels

The Grand Floridian Resort in Walt Disney World, Orlando, FL
By Greg Mattson, ERV Editor - Updated: Aug 24, 2013
If your romantic vacation or honeymoon plans include Walt Disney World in Orlando, Florida, you might like to know a little more about some of the romantic Disney hotels close to the Magic Kingdom.
Couples celebrating their special honeymoon or anniversary at WDW will generally find that these luxury resorts provide the best experience and most romantic .
Included in our feature on Disney resorts is a "statistical" look at which hotels at WDW are most suited to couples stays. We provide a brief listing of the resorts that got the best ratings and had the highest percentage of guests that were couples.   

We hope you have a great stay & memorable time at WDW...
3 WDW Romantic Resorts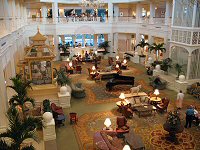 1. Disney's Grand Floridian Resort & Spa - with on-site facilities for Disney weddings and an elegant plantation atmosphere, the Grand Floridian is Disney's most romantic hotel. We loved the private white-sand beach and pool areas, and the Grand Floridian Hotel is close to the Magic Kingdom - just a 2 minute Monorail ride.
Rooms feature scenic views of the Lagoon, and there's romantic dining at Victoria & Alberts. Although it's certainly not cheap, we feel the grand Floridian is the best choice for Disney honeymoon vacations.
Tip: If you are on a honeymoon or anniversary at Walt Disney World Resort, mention it when you check in at the resort. We've heard reports of a few extra perks for couples here on a romantic special occasion!
2. Disney's Polynesian Resort - you'll be greeted with Polynesian music and a welcome lei at this romantic Disney resort. The tropical grounds and lakeside pool immediately grab your attention outdoors, while inside live Hawaiian music fills the lush courtyard and reception area.
Dining at the resort means trying some of the South Pacific specialties offered, like Tonga Toast, mahi mahi, or of course, the Polynesian luau. Reader's reviews of the Disney Polynesian Resort comment favourably on the island theme rooms, and as an added plus, the nightly Magic Kingdom fireworks can be viewed from the resort.
Most Romantic Disney Honeymoon Suite? The Grand Floridian Honeymoon Suites enjoy their own separate floor, private balcony and in-room whirlpool tub for two. (And for more romantic hot tub hotel rooms in Central & South Florida, see our guide to Florida Jacuzzi® Suites)
3. Disney's Wilderness Lodge - you'll love the National Park atmosphere at the Wilderness Lodge, and the clean and comfortable rooms, suites and villas come equipped with LCD TV's. The ferry service to the Magic Kingdom is a nice way to arrive at Disney World. Romantic views of the fireworks at night can be had from some of the room balconies on the higher floors.
The Wilderness Lodge is a luxury Disney hotel catering a little more to families than the Grand Floridian or Polynesian resorts. The pool and river area features a water slide - great for parents on a romantic vacation with the kids. If you're on a honeymoon or anniversary though, request a room in one of the wings a bit further away from the hustle and bustle of the lobby and check-in area.
---
Florida Disney Resorts: Ratings by Couples
WDW has over 20 resorts to pick from in South Florida. If you have your heart set on staying as close as possible to the Magic Kingdom (rather than just close by in Orlando), you might like to know just how other Disney hotels and resorts rate as far as couple and honeymooners are concerned. So...
Excellent Romantic Vacations has come up with a new twist on ratings of romantic stays at Walt Disney World: a unique compilation of aggregate data from Tripadvisor.com's ratings and reviews of Disney resorts exclusively by couples. Not just their level of satisfaction at each resort, but another important metric: the percentage of guests that are couples at each resort. That will give you a better idea of the demographic of each resort: how many families (and kids), singles (and parties...!), and so on.
Bear in mind of course, that this is Walt Disney World, not a spa on the Northern California coast!
Resort:

Port Orleans - French

BoardWalk Villas

Animal Kingdom Lodge

Villas at Wilderness Lodge

Boardwalk Inn

Grand Floridian

Yacht Club Resort

Pop Century

Wilderness Lodge

Saratoga Springs

Port Orleans Riverside

Beach Club Resort

Polynesian Resort

Rated Excellent/Very Good:

84%

88%

87%

98%

82%

86%

85%

80%

90%

85%

85%

85%

80%

% of Guests that are Couples:

34%

31%

30%

24%

30%

25%

25%

24%

20%

21%

16%

16%

16%
Cheap and romantic hotel room accommodation near Disney World, Universal Studios, EPCOT and SeaWorld in Orlando, Florida can be hard to find. So...

Excellent Romantic Vacations - Top Pages
---