Romantic Getaways in Georgia - Beaches, B&B's, Savannah & the Mountains
Travel Tips for Romantic Getaways in Georgia in Some of the State's Most Scenic Places 
Romantic Vacations Home › Romantic Getaway › Georgia
Exploring the Shops and Pubs along Romantic River Street in Savannah, Georgia
By
Greg Mattson
, ERV Editor - Updated: Feb 7, 2017
Mountains, beaches, oak trees and peaches - that's Georgia! A rich history and fine climate help make a Georgia romantic weekend getaway unforgettable.  
Savannah, GA
Savannah is easily one of the most romantic places in Georgia. Southern history and tradition come together in this eclectic city just 18 miles from the Atlantic. 

Romantic Things to Do in Savannah - one way to soak up the flavour of old Savannah is by a horse-drawn carriage ride. Carriage Tours of Savannah is easy to find on the corner of Jefferson St & W. St. Julian St (just west of Ellis Square).

If you prefer a motor in front of you, Old Town Trolley Tours does a pretty good circuit through the best parts of the city, with interesting commentary on the history and architecture of Savannah, and plenty of pick-up spots near hotels, etc. Out on the river, Savannah River Boat Cruises would love to have you climb aboard their historic paddle wheeler (Highly recommended: their Summer Moonlight Cruises - quite romantic, and at a reasonable price of only $19.95).   
River Street is an attractive historic district in Savannah where you'll find some interesting shops and cafes to explore. It's one of the stops on the Old Town Trolley Tour, and the River Cruises board right across the street. There's some nice options for romantic Savannah restaurants nearby, like the Olde Pink House (23 Abercorn Street, 912-232-4286).  
Places to Stay in Savannah: this city in Georgia is home to some very historic and romantic hotels and B&B's, like the Planters inn and Hamilton Turner Inn. Elegant & comfortable, these Victorian inns tucked away in the heart of the historic district. (You'll fall in love with all the luxury amenities, including fireplace and hot tub master suite).
Romantic Getaways in Georgia - Northern Mountains
Kennesaw Mountain National Battlefield Park - just a short distance from Atlanta (25 miles NW), and the views of Atlanta and the surrounding landscapes are worthwhile.
Helen, GA - this little Bavarian-style settlement is an easy day trip from Atlanta. It's even got it's own Octoberfest, along with some fun romantic activities like inner tubing on the Chattahoochee River and hikes in nearby Unicoi State Park.
Romantic Vacation Rental Cabin in North Georgia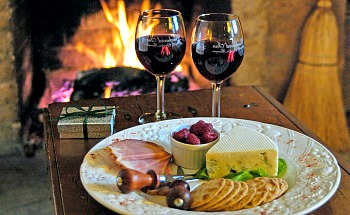 Wine & Cheese at the Romantic Beachwood Inn
---
Georgia Anniversary Packages
Just north of Atlanta, Georgia, between the little town of Dahlonega and the gorgeous Amicalola Falls, lies Forest Hills Mountain Resort. Their anniversary package starts with Champagne or sparkling cider when you arrive. (they will even customize the label for you according to the number of years you are celebrating!) You also get six long stemmed roses and a gourmet sampler basket with chocolates and hot beverages, as well as an hour-long couples massage at the spa.
As evening sets in, you'll indulge in a romantic candle-lit dinner at the Secret Garden Dining room. Daily breakfast is included, and a picnic basket lunch for two can be added. The staff can show you some great scenic spots close by where you can enjoy it together. Just call 800-654-6313 for rates, information and booking. 20146 Rating for Romantic Georgia Resorts: 75% of Couples Rate* it Excellent/Very Good (135 Forrest Hills Rd, Dahlonega, GA)
More Romantic Getaways Close to Georgia:
---
A Romantic Georgia Honeymoon
Barnsley Gardens is one of the most romantic resorts in Georgia. There's 1,300 acres of everything from golf and spa treatments to horseback riding and walking trails. Their luxury suites are nestled in the foothills of the Blue Ridge Mountains, just 75 minutes north of Atlanta, GA. (877) 773-2447
For your Georgia honeymoon, they have an all inclusive package in a luxury cottage, including champagne on arrival, a horse drawn carriage ride, couples massage, and all meals (even a picnic lunch for two).  
Romantic Getaway st the Ritz-Carlton Lodge At Reynolds Plantation - an awe-inspiring 26,000 sq. ft spa & wellness facility rated as one of the top resort spas in North America. The lakefront resort, 80 miles east of Atlanta, also incorporates championship golf and fine dining.
Romantic Getaways - GA Beaches & Small Towns
For romantic getaways in Georgia beaches, why not try: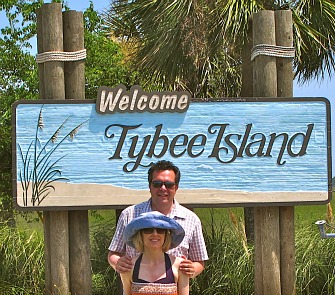 Tybee Island - an attractive ocean side settlement east of Savannah with a fine wide beach for swimming and relaxing. A climb to the top of the Tybee Island Lighthouse is one of the most romantic things to do in this part of Georgia, and you'll love the views of the islands and ocean.
Tybee Island Romantic Places to Stay: the DeSoto Beach Bed and Breakfast kind of gives you the best of both worlds: the hospitality of a small inn, with free access to the DeSoto Beach Hotel's pool next door! You can walk to the beach in about a minute, and you'll come home each evening to wine and cheese and some time to kick back on their great porch hammock. 
Brunswick - another must-see stop on the romantic Georgia coastline. Don't miss the picturesque Hofwyl-Broadfield Plantation, or a peaceful picnic on the dock at the Marshes of Glynn. 
Cumberland Island National Seashore - one of the more secluded spots in Georgia, and you'll discover stretches of beautiful shoreline here just perfect for long walks, beach combing and wildlife viewing.
St. Simons Island - certainly one of the most romantic small towns in all of Georgia, with lots of possibilities for romantic picnics, exploring boutique shops and just kicking back on the beautiful white sand. A stroll on the pier is fun, and the old-fashioned trolley ride is one of the finest in the South. 
*Based on TripAdvisor.com Ratings & Reviews from Couples as of Apr 2016.