Romantic Getaways in Vermont's Cozy Inns, Charming Villages and Scenic Drives
Romantic Vacations Home › Romantic Getaway › Vermont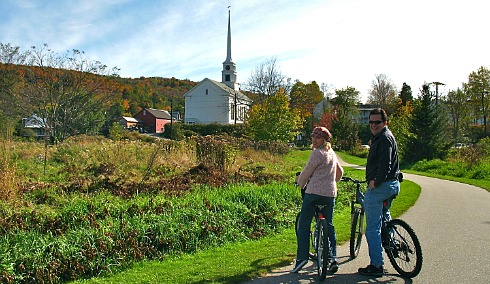 The Town of Stowe is a Terrific Spot in Vermont for a Romantic Getaway
By Greg Mattson, ERV Editor - Updated: Feb 9, 2015
Vermont would have to rate as one of our favorite places in the whole USA!
It may be a cliché, but as you may have heard, autumn here is especially fantastic. During our last trip here in early October, we hit the very best fall colors and enjoyed great weather.
Best Time for Romantic Getaways in Vermont: to see the best autumn foliage colors, we suggest early to mid-October (it can vary from year-to-year depending on weather).

Of course, this popular season means romantic Vermont hotels and inns are less affordable than at other times of year, but we would have to say the extra price is certainly worth it. Otherwise, Vermont is a great state for couples getaways in the winter, spring and summer. 
Romantic Places in Vermont
Just like the pictures show, there are some incredibly romantic places in Vermont! Picturesque small towns and villages like..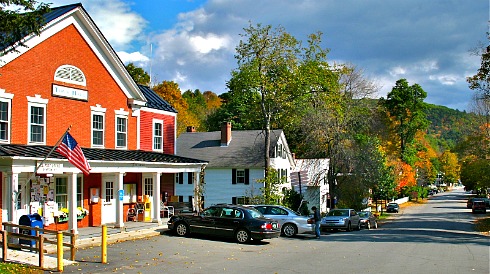 Autumn Colors Add to the Romance - Main Street, Grafton in Southern Vermont
Southern Vermont:
Grafton, VT – wonderfully restored Colonial village with a main street that will steal your heart! Check out the Grafton Village Cheese Company for some tasty cheddar, or the Village Store for a homemade sandwich.
Newfane, VT – picture-postcard village square with classic white church, court house and country store
Colorful Woodstock in Autumn, one of the Most Romantic Destinations in Vermont
Central & Northern Vermont:
Woodstock, VT – the classic beautiful covered bridge and nearby Sugarbush Farm are all attractions around this immaculately restored Central Vermont town.
Stowe, VT – all sorts of activities for couples wanting a Vermont outdoor adventure (cycling, hiking, golf and more) along with excellent accommodation and dining. Great spot for a ski winter getaway too.
---
Romantic Vermont Hotels, Inns and B&B's
Vermont has some of the most romantic inns inn all of the USA - here's just a few choices for your next getaway or anniversary trip...
Fourty Putney Road Bed & Breakfast
Forty Putney Road Bed and Breakfast - this B&B in Brattleboro has to rate as one of Southern Vermont's most romantic inns. We spent a night here in their Ripley Suite, and it's one of the most spacious New England B&B rooms we've ever been in!
Evenings at Forty Putney are great, especially on Saturdays when they host a local beer tasting & appetizer night in their pub downstairs by the fireplace (just $19, reserve in advance). You can go for walks behind the inn and explore right down to the River bank, or walk to downtown Brattleboro in about 10 minutes. 
2015 Rating* by Couples for Romantic Vermont B&B's: 99% Rate it* Excellent/Very Good. (192 Putney Rd, Brattleboro, VT  802-254-6268)  
The Inn at Weston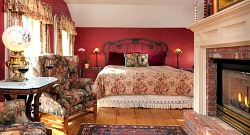 The Inn at Weston - our charming Vermont Village bed and breakfast is the perfect location for a romantic New England getaway.
Luxurious rooms here feature King feather beds, steam showers or whirlpool tubs. Just a short relaxing stroll away is the Weston Village Green with it's picturesque waterfall, as well as local shops and galleries. Our on-site restaurant features casual fine dining, perfect for a romantic dinner for two.
2015 Rating* by Couples for Romantic Vermont B&B's: 91% Rate it* Excellent/Very Good. (630 Main St, Rte 100, Weston, VT  802-824-6789)  
More...
All-Inclusive Resorts in Vermont

 – the 

Mountain Top Inn & Resort

 brings back the feel of a romantic Vermont country inn. They have a Northern Vermont vacation package with 3 nights lodging, breakfasts, a 3-course romantic dinner, picnic lunch, massages for two and a boat cruise on the lake.



Secluded Vermont Waterfront Getaway - nestled into the woods on the shore of Lake Champlain is the Middlebury Vermont Romantic Cottage, a private vacation rental perfect for a secluded weekend.
Romantic Whirlpool Suite - Green Mountain Inn in Stowe, Vermont
Stowe Romantic Inn - for a romantic Stowe, VT hotel, we checked into the Green Mountain Inn in Stowe, VT and enjoyed 2 nights in a very nice hot tub suite, complete with canopy bed and fireplace.
Romantic Spa Resorts - the luxury Topnotch Resort in Stowe is worth the splurge if you're needing a total spa, tennis and golf relaxation getaway
---
Scenic Vermont Drives
During our recent Autumn tour of Vermont, we found the most scenic routes and best roads for viewing the landscapes and foliage to be:
US Route 4 from White River Junction west to Rutland.
Route 100 between Rochester and Stowe
State Route 108 through Smugglers Notch State Park.
Vermont Weddings & Honeymoons
The Stonehill Luxury Inn specializes in romantic Vermont destination weddings and honeymoons. They have an elopement package for 2, plus can arrange canoe trips, wine tours and snowshoeing (they even have a package designed to help you propose in Vermont!) A great place for anniversary getaways too.
*Based on TripAdvisor.com Ratings & Reviews from Couples as of Feb 2015.
Excellent Romantic Vacations - Top Pages
---