Romantic Hotels in Palm Springs - Inns and Resorts for your Desert Getaway 
Reviews of Palm Spring's Best Boutique Hotels and Honeymoon Inns
Romantic Vacations Home › Romantic Hotels › Palm Springs, CA
By Maureen Mattson, ERV Staff Writer – Updated: Aug 1, 2014
Palm Springs & the Coachella Valley are great romantic getaway locations. Sunny skies and warmth you can count on, extensive dining options and a convenient location have made the area a go-to destination for romantic escapes and honeymoons in Southern California.
On your next visit to this part of the "Southern Cal" desert, you may want to consider going beyond the generic resort-style accommodations, and check-in to one of these boutique-style romantic hotels in Palm Springs...  
The Desert Riviera Hotel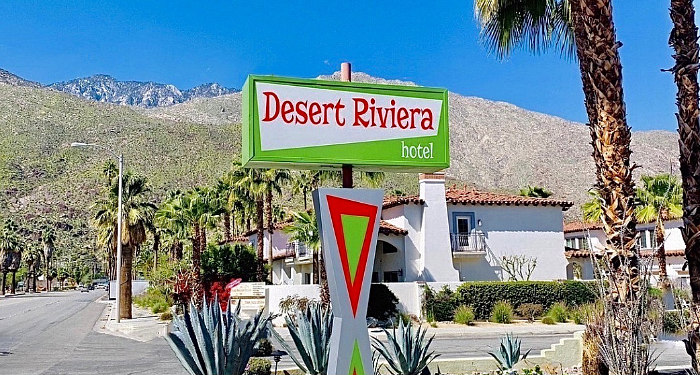 The Desert Riviera Hotel - Ranked as One of the Top Places for Couples to Stay in Palm Springs
Desert Riviera Hotel - the Desert Riviera Hotel is one of several romantic Palm Springs inns with with stunning views of the San Jacinto Mountains. It's called a "Garden Resort" for good reason. From the citrusy color scheme to the romantic night lights through the palm trees, to the outdoor grills and fireside conversation spots, this hotel is a wonderful escape for couples.
Considered a "boutique resort" this TripAdvisor-recommended hotel is really top-notch in friendly service and relaxation. And the spotless rooms and grounds certainly add to its appeal.
You can borrow one of the retro cruiser-style bikes during the day to tour around Palm Springs (try a tandem!) and then cool off by the pool when you return. Bring your iPad, because there's free WiFi. Or go retro and just borrow a movie, book or game from the library for the evening. 
Most rooms come with well-equipped kitchenettes and a gift basket upon arrival. I love the King Garden room, with its private patio and proximity to the pool, but there are several romantic suites. In-suite spa treatments can be arranged, as can tee times for golf. A great extra is the complementary Palm Springs airport pick-up service or chauffeur driven limo. Make arrangements to be taken to the restaurant of your choice and then picked up in style afterwards.
Other Couples Said: "an oasis of tranquility"..."a top-notch boutique resort"..."wonderful owners and staff"
Possible Drawbacks: some street noise
2014 Rating* for Romantic Hotels in Palm Springs:  99% of Couples Rate it Excellent/Very Good. (610 E. Palm Canyon Dr, Palm Springs, CA 866-270-8322)
Room Price Range: $109 - $179 
The Willows Historic Palm Springs Inn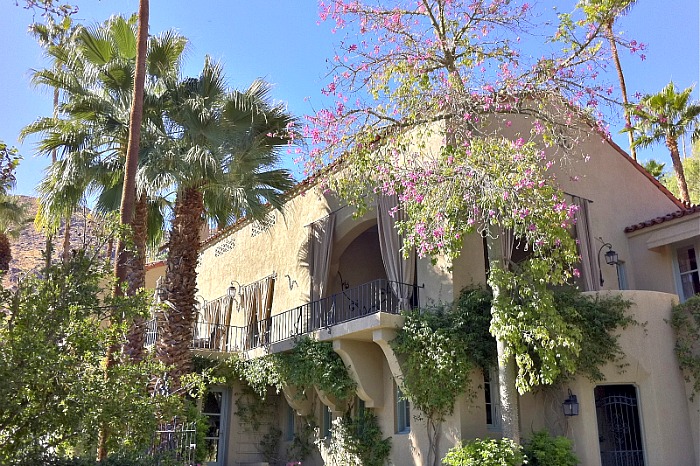 The Willows Historic Palm Springs Inn, one of the top Honeymoon B&B's in the Coachella Valley
The Willows Historic Palm Springs Inn - this romantic Palm Springs Inn was built in 1924 as a home for actress Marion Davies, and has been beautifully restored to its Spanish Mediterranean Revival glory. It's one of the city's ten oldest structures and is a well-known landmark in this area. 
Located in Old Palm Springs and across the street from a fine French restaurant, the Willows also offers it's guests stunning mountain views. And it's only a short walk to the museum, art galleries and shopping areas.    
The Willows has eight luxurious guest rooms, each featuring lovely antiques, modern amenities, stone fireplaces, hand-made tiles, and private garden patios or balconies. I love the Einstein Garden Room because the famous scientist actually stayed there quite frequently, and because its got a claw-foot tub, Art Deco mahogany, French doors onto a private garden patio, and view of the waterfall.  
Accommodations include a full (three-course) gourmet breakfast, served on vintage china and silver. It's served either in the formal dining room overlooking the waterfall, or in your room or patio. And you are invited to an evening reception in the lounge where there's complementary wine and creative gourmet appetizers. If that's not enough, fresh fruit and ice tea are available poolside every day. 
Free gated parking and 24-hour security are also nice perks. Keep in mind that this inn is only open from September to May of each year and with only eight rooms available, things book up fast. 
Other Couples Said: "impeccable food and service"..."oozes luxury and comfort"..."tranquil and spacious"
Possible Drawbacks: price
2014 Rating* for Romantic Hotels in Palm Springs: 100% of Couples Rate it Excellent/Very Good. (412 W. Tahquitz Canyon Way, Palm Springs, CA 800-996-9597) 
Room Price Range: $325 - $525 
POSH Palm Springs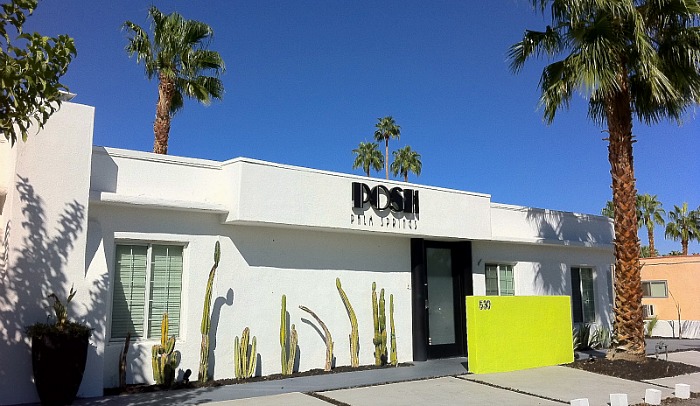 The POSH Luxury Boutique Inn Stands Out in the Palm Springs Afternoon Sun.
POSH Luxury Boutique Inn - POSH is a luxury boutique hotel that has been renovated in Art Deco style. Originally a building from the 1930's it's now a modern 10-room romantic oasis.   
Your stay includes three-course gourmet breakfast served poolside each morning, as well as a daily wine reception with Hors' de Oeuvres' and POSH martinis. Cookies and milk turndown service is also part of the experience.  
Each of the unique rooms is tastefully decorated, and there are three luxury suites. These include a sitting area and full kitchen. Many are poolside, but you may also choose suite number one if you are a light sleeper and prefer to be a little removed from the others. POSH is also one of the few romantic Palm Springs inns that offer wedding and honeymoon packages.
Views of the San Jacinto Mountains are stunning, and free parking is also available. 
Other Couples Said: "great innkeepers"...delicious breakfast"..."coming back for our anniversary"
Possible Drawbacks: small rooms
2014 Rating* for Romantic Hotels in Palm Springs:  89% of Couples Rate it Excellent/Very Good. (530 E. Mel Ave, Palm Springs, CA 877-672-6825)
Room Price Range: $139 (Low Season) to $259 
Colony Palms Hotel
Poolside at the Colony Palms Hotel in Palm Springs, CA
The Colony Palms Hotel - this Spanish colonial-style hotel has an interesting history, dating back to its early days in the 1930's.  In 2007, it was completely renovated and re-opened as a luxury four-star boutique hotel on three acres of property.  It's conveniently located close to restaurants and shopping, but in a quiet and serene setting with beautiful grounds.  
There are 49 rooms and seven "Casitas" (suites) all laid out in an "L" shape around the pool. These vary in size and features available, including claw foot tubs, fireplaces, and private patios with spa tubs. The finest suite is called the Winner's Circle and is so named because one of the previous owners of the hotel was also owner of the legendary racehorse, Seabiscuit. The Palme d' Or Residence has to be seen to be believed and has a grand piano and two private garden terraces, among other incredible features. But even the most basic guest rooms are luxuriously romantic and restful and are well stocked with quality items such as Italian linens and signature bath products and robes. 
Try the Purple Palm Restaurant and bar with its poolside terrace, and then indulge yourself with a treatment at the Moroccan spa or workout at the gym. Coffee is served poolside every morning starting at 6 AM. Self-parking is available close by, or you may valet your car. 
Other Couples Said: "hip"..."style and elegance"..."like a Moroccan oasis in the desert"..."great pool area"
Possible Drawbacks: resort fees
2014 Rating* for Romantic Hotels in Palm Springs:  84% of Couples Rate it Excellent/Very Good. (572 N. Indian Canyon Dr, Palm Springs, CA  800-557-2187)
Room Price Range: $129 - $1000+ 
*Based on Tripadvisor.com Ratings & Reviews from Couples as of Aug 2014.
Map of Romantic Hotels in Palm Springs
View
Romantic Palm Springs Inns & Hotels
in a larger map
Excellent Romantic Vacations - Top Pages: