Romantic Maryland Getaways & Travel Ideas for Couples
Things to Do on Romantic Maryland Getaways - Annapolis, Ocean City & more
Romantic Vacations Home › Romantic Getaway › Maryland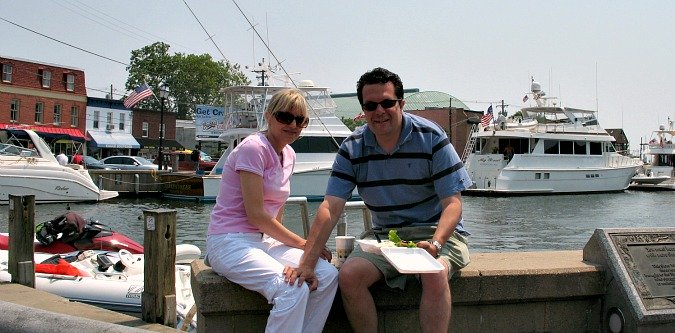 Lunch by the Harbor in Romantic Annapolis, Maryland
By Greg Mattson, ERV Editor - Updated: Mar 17, 2017
Couples on tour in the Northeast US will love Maryland. There's great food, miles of scenic coastlines, romantic waterfront dining and very attractive inns, B&B's and romantic hotels. And it's all strung together by short distances on good highways, making the most of a 2 or 3 day getaway weekend.
Best Time of the Year for Romantic Maryland Getaways: the months of May and June are some of the best times to see Maryland.

Summer can bring plenty of crowds and higher humidity to beach areas, so be prepared. Expect higher hotel rates during long weekends, especially in popular spots like Annapolis, Ocean City and Baltimore. Autumn foliage is usually at it's best during the month of October. 

Romantic Maryland Getaways in Annapolis, Ocean City & more
Annapolis, MD – any romantic vacation in Maryland should include Annapolis. This historic seaport town is just a 40 minute drive from Washington DC, and contains a very attractive downtown with cobblestone streets that wind their way towards a beautiful harbor. It's certainly one of the best spots in Maryland for things like couples getaways and anniversary weekends.
Romantic Things to Do -  include guided Colonial tours and Chesapeake Bay dinner cruises, a horse-drawn carriage ride on the red brick streets, or just enjoying a delicious crab cake picnic lunch by the harbor.
Romantic Hotels in Annapolis, MD
Springhill Suites Annapolis Studio King Room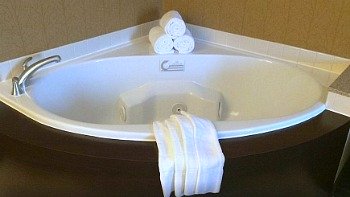 Romantic Spa Tub, Annapolis Springhill Suites
SpringHill Suites Annapolis - top-rated with new spotless rooms and king hot tub suites, with an excellent location just 10 minutes from downtown. 2017 Rating* for Romantic Annapolis Hotels: 91% of Couples Rate It Excellent/Very Good. (189 Admiral Cochrane Dr, Annapolis, MD  888-663-0094)
Gibson's Lodgings Inn - prefer something a little more intimate? Gibson's is a romantic honeymoon B&B in Annapolis MD with Victorian charm, and their Patterson 4 suite has a romantic whirlpool tub for two. 2017 Rating* for Romantic Annapolis B&B's: 96% of Couples Rate It Excellent/Very Good. (110 Prince George St, Annapolis, MD  877-330-0057)
Annapolis Waterfront Hotel, Autograph Collection - oceanfront honeymoon suites with Jacuzzi® tubs for two in marble bathrooms, plus room service, robes and luxury bath amenities. 2017 Rating* for Romantic Annapolis Hotels: 88% of Couples Rate It Excellent/Very Good. (80 Compromise St, Annapolis, MD  888-773-0786) 
Romantic Restaurants in Annapolis, MD: easy to combine dining with romance here, including Maria's Sicilian Ristorante (12 Market Space, Annapolis MD 410-268-2112). For waterfront dinners by candlelight, try Carol's Creek Cafe (410 Severn Ave, Eastport MD 410-263-8102).
Ocean City Getaways for Couples
Ocean City, MD – the vintage Ferris Wheel at the amusement park offers great sunset views and gets our vote as one of the most romantic places to propose in Maryland. You'll find Ocean City's famous Boardwalk a relaxing place for a stroll by the sea. Summertime brings free concerts and movies on the beach.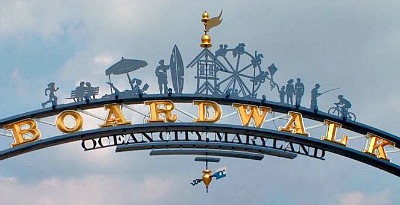 Holiday Inn Hotel & Suites Ocean City - for romance and oceanfront hotels, this Holiday Inn is a fine choice. Rooms have whirlpool tubs, free WiFi, luxury bedding, and private balconies where you can sip your morning coffee while watching the sunrise over the ocean. 2017 Rating* for Romantic Ocean City MD Hotels: 85%

 of Couples Rate It Excellent/Very Good.

 (1701 Atlantic Ave, Ocean City, MD  877-508-1786) 
Baltimore, MD - see our full page on romantic getaways in Baltimore here.
Swallow Falls State Park – great scenery, hike through deep forests, past gorges and waterfalls.
Maryland Wineries - the "boutique" wineries tucked away in the state's wine regions make for a fun romantic outing. For a complete listing of winery events, including tastings, food festivals and live music, see marylandwine.com. 
Great Falls, Potomac, MD – catch a ride along the Chesapeake & Ohio Canal aboard a mule-drawn canal boat!
More Romantic Hotels & Packages in Maryland
A few more suggestions on where to stay for your romantic Maryland getaways:
It's easy to find hotel romance packages in Maryland, but how many include a yacht cruise? The Royal Folly B&B gives you your choice of heading out to sea in a luxury schooner, or staying on dry land in a romantic carriage ride. (65 College Ave, Annapolis, MD  410-263-3999)  
Deals on Hotel Packages & Romantic Maryland Getaways
If you're interested in a romantic oceanfront Maryland resort, the gorgeous St. Michaels Harbour Inn offers waterfront suites, boat charters, spa services and more. (101 N. Harbor Rd, St. Michaels, MD 800-955-9001)  
Best Western Hotel & Conference Center Baltimore MD Anniversary Package - if you were putting together a romantic Maryland hotel package, what would you include? Probably close to what this Best Western has: champagne and chocolates on arrival, some deluxe bath crystals to put in your in-room Jacuzzi® tub, a romantic dinner with the option of going out or having it delivered to your room, and a hot gourmet breakfast the next morning. (To book this package, it's necessary to call the hotel directly: 410-633-9500.  5625 O'Donnell St, Baltimore, MD)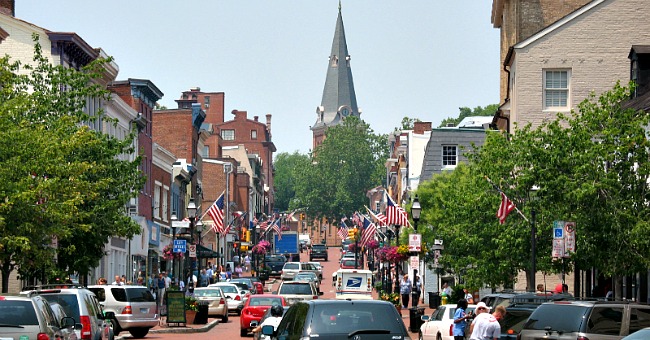 Busy and Colorful Downtown Area of Historic and Romantic Annapolis, Maryland
2017 Fun Dates for Romantic Maryland Getaways
Ocean City Restaurant Week - from April 23 to May 7, 2017. Some of Ocean City's best restaurants will create a range of special fixed-price meals. 
Baltimore Farmers' Market & Bazaar - every Sunday morning (starting April 23, 2017) from 7 till noon at Holliday & Saratoga streets in Baltimore, come browse through a wide range of food and produce, as well as vendors selling jewelry, arts & crafts, collectibles and more. 
More Getaways Near Maryland:
Maryland Travel Info
Driving Times & Distances to Maryland:
Distance from Philadelphia to Annapolis, MD: 130 miles, 2 hrs
Distance from New York City to Annapolis, MD: 215 miles, 3.5 hrs
Distance from Atlantic City, NJ to Annapolis, MD: 175 miles, 3 hrs
Airlines That Fly to Maryland: Southwest, Delta and United all fly into Baltimore/Washington International Airport (3-letter code: BWI).
*Based on Tripadvisor.com Ratings & Reviews from Couples as of Mar 2017.
Excellent Romantic Vacations - Top Pages
---