UK Jacuzzi® Suites & In-Room Whirlpool Tubs in Romantic Hotels & Inns
Romantic Vacations Home › Jacuzzi Suites › United Kingdom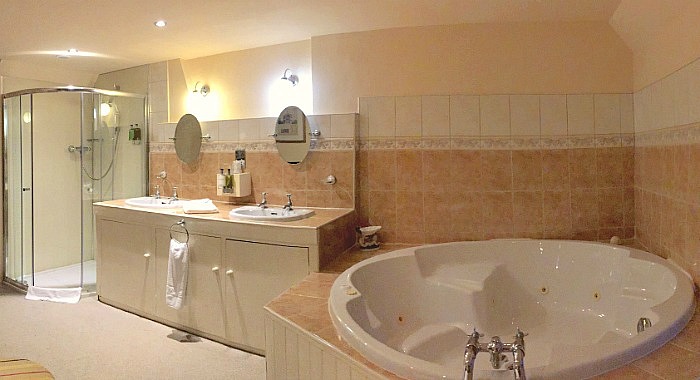 Reserve a Jacuzzi Suite for Your Honeymoon or Romantic Break in the UK
By Greg Mattson, ERV Editor - Updated: Sep 29, 2016
We're excited to offer our new 2016 guide to the best Jacuzzi® suites and hotel in-room Whirlpool tubs in the UK. Honeymooners and couples on romantic breaks in Britain will benefit from this carefully compiled selection of hotels and guest houses that offer everything from inexpensive rooms with air bath to luxury and honeymoon suites with spacious hydrotherapy tubs for two. 
This page features not only air bath and spa tub suites in romantic destinations in England (London, the Lake District, Cornwall), but also weekend getaway spots in Scotland and Wales. Have a great hot tub getaway in the United Kingdom! 
(Disclaimer: The use of the Jacuzzi® trademark on this page is for informational purposes only. No co-promotion, connection or affiliation with the Jacuzzi® companies is inferred or suggested. Hotel rooms and their amenities can change at any time, so please confirm with the hotel or inn of your choice before making firm travel arrangements.)
All Rates are UK £ and are approximate only. 
London, UK Jacuzzi® Suites
Whirlpool Suite at Hotel 41, London UK
Jacuzzi Tub at the Bentley Hotel
Hotel 41 - this 5-star inn's Conservatory Suite houses a marble bath with Whirlpool tub large enough for 2 people. Honeymooners will also enjoy the luxury bedding, bathrobes and evening turndown service. 

Rates from 

£

312/night. 

2016 Rating* for London, UK Whirlpool Suites: 98% of Couples Rate It Excellent/Very Good. (41 Buckingham Palace Rd, London UK. 44-020-7300 0041)
The Bentley Hotel London - a Jacuzzi

® 

tub plus separate walk-in shower await when you make reservations for one of the Junior Suites at this romantic hotel in London's Kensington district. 

Rates from 

£165

/night. 

2016 Rating* for London Jacuzzi Suites: 81% of Couples Rate It Excellent/Very Good. (27-22 Harrington Gardens, London UK  44 020 7244 5555)
Abbey Court Hotel - looking for a spa bath suite in London's Notting Hill? The Abbey Court has them, plus full English breakfast, flat screen HD TV's, free Wi-Fi, and a great location just --- minutes walk to Paddington Station. Rates from  £65/night. 2016 Rating* for London, UK Spa Tub Suites: 61% of Couples Rate It Excellent/Very Good. (20 Pembridge Garden, Kensington, Notting Hill Gate, London UK 44-207-221-7518)
---
Whirlpool Suites in the UK Midlands
Book a Whirlpool Suite For Your Next Getaway or Honeymoon in the UK Midlands
Birmingham

Moor Hall Hotel & Spa - honeymooners and getaway couples in search of a romantic hotel with an in-room Jacuzzi will love the Moor Hall Hotel. Luxury bath amenities, robes and slippers are also included at this inn which is only 14 km from Birmingham City Centre. Rates from

 £176. 

2016 Rating* for Midlands UK Jacuzzi Suites: 79% of Couples Rate It Excellent/Very Good. (Moor Hall Dr, Four Oaks, Sutton Coldfield West Midlands

UK  

0844 387 6031

)
Coventry

Nottingham
St. James Hotel - located in the Nottingham City Centre, the St. James' Four Poster Room has an air bath along with a Power Shower. Or for the ultimate in a luxury Midlands honeymoon, book the Penthouse Suite with it's Baby Grand piano and large Jacuzzi tub. 2016 Rating* for Nottingham Air Bath Suites: 83% of Couples Rate It Excellent/Very Good. (1 Rutland St, Nottingham UK 44 0 115 941 1114) 
Featured East Midlands Honeymoon Suite: Old White Hart Inn
Bede Superior Plus Room
Jacuzzi Tub for Two - Perfect for any Honeymoon!
---
Yorkshire Inns with Spa Tub Suites
Yorkshire Dales

Ashmount Country House - a luxury inn located in the heart of the Dales. Various rooms feature hot tubs; for example, the Honey Pot with it's fabulous 2-person Whirlpool and rain power shower. There's more: his 'n her robes and slippers, four poster bed, mood lighting, music and much more. 2016 Rating* for Yorkshire Dales Whirlpool Suites: 92% of Couples Rate It Excellent/Very Good. (Mytholmes Lane, Haworth, West Yorkshire UK 01-535-645-726)
Sheffield

Holiday Inn Royal Victoria Sheffield - honeymooners and roaming romantics will be looking for the Executive Spa Bedroom here, with a corner spa bath, a pillow menu, minibar and Wi-Fi. 2016 Rating* for Sheffield Hotel Hot Tub Suites: 80% of Couples Rate It Excellent/Very Good. (Victoria Station Rd, Sheffield UK 0114-276-8822)
Leeds

Woodlands Hotel Leeds - choose the luxury room when you reserve at this boutique hotel just 5 minutes SW of downtown Leeds. Awaiting will be a King bed, flatscreen TV, Wi-Fi, bathrobes and an air bath in the en suite bathroom. 2016 Rating* for Leeds, UK Air Bath Suites: 83% of Couples Rate It Excellent/Very Good. (20 Pembridge Garden, Kensington, Notting Hill Gate, London UK 44-207-221-7518)
---
Lake District Jacuzzi Suites
Spa Tub Suite at Aphrodites Lake District Hotel
Windermere Suites Hot Tub, Lake District UK
Aphrodites Lake District Boutique Hotel - home to certainly one of the Lake District's best honeymoon suites: The Love Suite & Hot Tub (name says it all!) with Whirlpool bath, steam shower and mood lighting. 2016 Rates start at 

£200 mid-week. 

2016 Rating* for Bowness-on-Windemere Hot Tub Suites: 86% of Couples Rate It Excellent/Very Good. (Longtail Hill, Bowness-on-Windermere, Cumbria UK  015394 45052)
Windermere Suites - one of the most romantic hotels in all of the Lake District has 8 differently-themed suites, all with something in common: a lovely airbath tub large enough for 2 persons, set in a luxurious bathroom offering heated floors and chromotherapy mood lighting. Windermere Suites also specializes in arranging honeymoon, babymoon and anniversary getaway packages. 2016 Rating* for Windermere, UK Jacuzzi Suites: 96% of Couples Rate It Excellent/Very Good. (New Rd, Windermere UK 01-5394-47672)
Keswick Park Hotel - make your Lake District romantic break extra-special in one of the Keswick's Executive Rooms, which are nicely equipped with four poster beds and Jacuzzi

®

 baths. 2016 Rating* for Keswick Hot Tub Suites: 48% of Couples Rate It Excellent/Very Good. (33 Station Rd, Keswick, Cumbria UK 01-7687-72072)
---
Hot Tub Suites in the Northwest of England
Manchester

Hilton Manchester Deansgate - make your reservations here for a King Executive Plus room with spa bath, complimentary breakfast & Wi-Fi, and panoramic 23rd floor views of the city. 2016 Rating* for Manchester UK Spa Tub Suites: 72% of Couples Rate It Excellent/Very Good. (303 Deansgate, Manchester UK 44-161-870-1600)
Liverpool

Signature Living Hotel Liverpool - staff at the Signature properties specialize in special occasion stays, and can custom-design a Liverpool getaway package in one of their spa tub suites. 2016 Rating* for Liverpool UK Spa Tub Suites: 92% of Couples Rate It Excellent/Very Good. (56-58 Stanley St, Liverpool UK 0151-236-0166)
Blackpool

Tiffany's Hotel - ahh, imagine being seaside in Blackpool for your special romantic break, enjoying one of the Tiffany Hotels' four poster bedrooms with Jacuzzi® tub! They can arrange for optional breakfast in bed and late checkout as well. 2016 Rating* for Blackpool, UK Jetted Tub Suites: 65% of Couples Rate It Excellent/Very Good. (250-262 North Promenade, Blackpool, Lancashire UK 01253-313414)
---
Cotswolds Inns with Spa Tub Suites
Castle Inn Hotel in Castle Combe
Jacuzzi Suite at the Castle Inn Hotel
Castle Inn Jacuzzi Suite, Castle Combe UK - tucked away in one of the Cotswold's most romantic villages, the Castle Inn offers couples and honeymooners cozy robes, Wi-Fi, on-site à la carte dining, and a Four Poster Room with Jacuzzi suite. 2016 Rating* for Cotswolds Hotel Jacuzzi Suites: 88% of Couples Rate It Excellent/Very Good. (Castle Combe, Wiltshire U

K 

01249 783030

)
Hatton Court Hotel - superior rooms and suites in this lovely Cotswolds country inn offer spacious Whirlpool tubs in the bathroom. Just 3 miles from Gloucester, with an on-site restaurant and brasserie. 2016 Rating* for Cotswolds Hotels with Whirlpool Suites: 70% of Couples Rate It Excellent/Very Good. (Upton St Leonards, Gloucester

 UK 

01452 617412

)
---
Hotel Rooms with Air Bath in the South of England
Cornwall

Rose In Vale - romantic and secluded country guest house situated on the north Cornish coast. Room 15 is the one you want here, with a romantic sleigh bed and Jacuzzi tub.  2016 Rating* for Cornwall UK Hotels with Jacuzzi Suites: 76% of Couples Rate It Excellent/Very Good. (Mithian, St. Agnes, Cornwall UK 44-1872-552-202)
Bristol

Holiday Inn Bristol City Centre - not your average Holiday Inn here; this Bristol City Center hotel has their spacious Executive Rooms with Whirlpool bath and a Power Shower. Other amenities include luxury glass bathrooms, bathrobes, a welcome chocolate bar and scenic views. 2016 Rating* for Bristol, UK Spa Tub Suites: 85% of Couples Rate It Excellent/Very Good. (Bond St, Bristol UK  44-117-924-5000)
Brighton 

Hotel Una - this boutique hotel's Aragon room boasts a Whirlpool tub AND sauna! Combine that with flat screen TV, Illy Espresso machine and King bed, and you're in for a wonderful getaway in (area of England). 2016 Rating* for Brighton Whirlpool Suites: 95% of

Couples Rate It Excellent/Very Good.

(55/56 Regency Square, Brighton UK 44-1273-820-464) 
---
Jetted Tub Suites in Scotland & Wales
Edinburgh & Area

Nira Caledonia - check into one of 3 relaxing Jacuzzi suites in this romantic Scottish hotel. Friendly staff and an excellent location set apart this Georgian-style inn. 2016 Rating* for Edinburgh Jacuzzi Suites: 92% of Couples Rate It Excellent/Very Good. (19 Gloucester Pl, Edinburgh UK 44-131-225-2720)
Barony Castle -  25 acre resort all ready for romantic breaks with thermal pool, on-site bar & restaurant, and suites with master bedroom & Jacuzzi combos. 2016 Rating* for Scottish Inns with Jacuzzi Suites: 62% of Couples Rate It Excellent/Very Good. (Eddleston, Scottish Borders 01721-730-395)
Wales
Craig-y-Dderwen - couples love this inn for tranquil North Wales getaways. It offers four poster beds, private balconies, and a room featuring an en-suite hot tub with excellent views of the Welsh countryside. 2016 Rating* for Wales Hotels with Jetted Tub Suites:

 

89% of Couples Rate It Excellent/Very Good. (Craig-y-Dderwen, The Riverside Hotel, Betws-y-Coed, Snowdonia, North Wales UK  01690 710293)

*Based on TripAdvisor.co.uk Ratings from Couples as of Aug 2016

Excellent Romantic Vacations - Top Pages
---