Dubai Romantic Vacation Guide - Things to Do, Hotel Packages, Honeymoons & more 
FTC: This page uses affiliate links. More. 

Dubai, UAE
Souk Madinat is Just One of Many Romantic Spots in Dubai
By: Greg Mattson, ERV Editor - Posted: Dec 7, 2018 

Dubai seems to just keep growing, both in size and popularity, and has quickly become one of the most romantic destinations in this part of the world. It's easy to see why: sunshine and warm temps year-round, the best hotels and dining, numerous flight options and cheap airfares, and a combination of astounding man-made attractions right alongside traditional Arabic culture.
For many honeymooners and couples on getaways, Dubai is one of the few places in the Middle East they would ever consider travelling to for a romantic vacation. We decided it was time again for a more exotic vacation, so we planned our romantic trip to the UAE (United Arab Emirates) in November 2015.
Best Time to Plan a Dubai Romantic Vacation - the months of October to February are the the best times weather-wise to holiday in Dubai and the UAE. Daytime temperatures reach about 27 C (80 F) on most days, making sightseeing quite comfortable. If you arrive in Dubai from March to June, you will have to spend all of your time here indoors, because humidity is high, and outside temps soar up to a searing hot 50C (122 F)!

Tips for Romantic Travel in Dubai - You'll notice signs in different public areas regarding proper dress, and advising against public displays of affection. It's not unusual to see a couple holding hands here, but we advise you to respect local customs. Also, any alcohol in public is against the law, so enjoy your drinks only in hotel lounges, etc.    
---
10 Romantic Things to Do in Dubai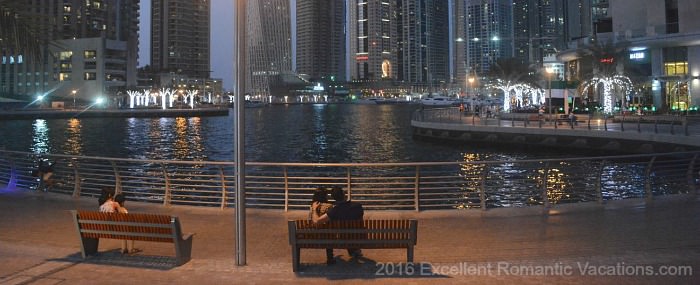 Couple Enjoying the Sights of the Dubai Marina Walk in the Evening
1. Do the Dubai Marina Walk - hopefully you choose you choose a hotel that's located along the Dubai Marina (like ours was). This attractive man-made waterway is lined with shops and restaurants, and the palm trees are beautifully lit up in the evening, making it one of the most romantic spots in all of Dubai. Even if you're staying in another part of the city, definitely set aside an evening to come out here, have dinner, do some people watching and just soak up the sights and atmosphere.

2. Take a Romantic Cruise - they're called dhows (traditional Arabic boats), and you shouldn't miss this opportunity to dine and see Dubai at night from the water. Lots of tour outfits offer them; just check at your hotel's front desk or concierge for more info and bookings.

3. Lounge Around Up High - with a skyline as sparkling and spectacular as Dubai, it's no surprise that there are numerous bars and lounges with amazing views of the city. Our pick of the most romantic ones includes:
At.Mosphere - start at the top! 122 floors high at the Burk Kalifa, serving cocktails, light lunch and an afternoon tea. It's a good idea to reserve ahead, so call 971 4 888 3828. 
Bahri Bar - at the Madinat Jumeirah, with gorgeous views of the Burj Al Arab and Arabian Gulf. 971 4 366 6750.
Neos - 63rd floor lounge at The Address Downtown Dubai hotel. A really romantic spot in the evening to watch the Burj Lake Fountain and Light Show.  971 4 888 3444. 
Bar 44 - the champagne, cocktails and music flow at this hip lounge on the 44th floor of the Grosvenor House Dubai. 971 4 317 6000.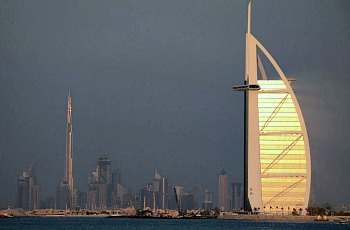 Burj Al Arab and Burj Kalifa at Sunset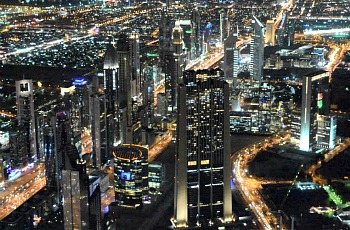 Evening View of Dubai from the Top of the Burj Kalifa
4. Splurge at the Burj's - here's two opportunities to really experience Dubai and feel like a luxury jet setting couple as well. The Burj Kalifa is the world's tallest building, so you shouldn't miss the opportunity to experience the ride up together. Book in advance online for the best prices, and try to time your arrival for sunset, the best time to view the city from 148 stories high!

Dubai is also famous for the Burj Al Arab, the opulent 7 star hotel just off the coastline that resembles a giant sail. Overnighting here is only for the most luxurious of Dubai romantic vacations, as rates to stay at the hotel start at over $1500/night! But, for the rest of us, there's this: their Skyview Bar is one of Dubai's most romantic lounges. They have an early evening special starting at 7 PM which allows you to ride up and enter on a minimum spend of AED 350/USD $95 per person.
5. Ride an Abra on Burj Lake - once you're back down at ground level, head outside Dubai Mall to Burj Lake. There you'll find a spectacular fountain & light show (think Bellagio in Las Vegas) held every 30 minutes in the evening, and you can even ride a 6-passenger Abra on the waters of the lake between performances.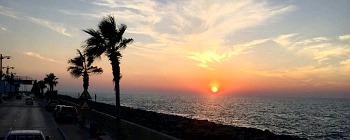 Romantic Sunset on Palm Jumeirah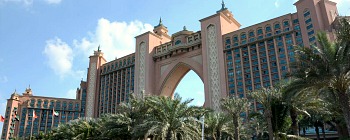 Atlantis Hotel & Resort on Palm Jumeirah
6. Visit Atlantis Hotel and Palm Jumeirah - the Atlantis is at the forefront of destination hotels in Dubai, which are worth seeing even if you're not staying at one. There's several ways to get here, including taxi, bus tour and monorail. The Atlantis is full of attractions and dining, and you'll discover several other high-end resorts along Crescent Rd on the outer edge of Palm Jumeirah. Sunset's here are some of the most romantic in Dubai.

7. Experience Dubai from a Helicopter Tour - city helicopter tours are nothing new, but an aerial tour over Dubai is really something else. Helicopter Tour Dubai and HeliDubai both offer scenic tours of varying length, and rates can start at around USD $165 per person.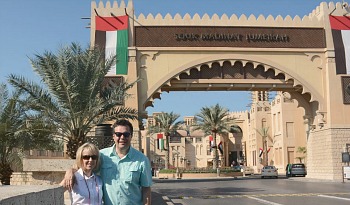 Ready to Explore Souk Madinat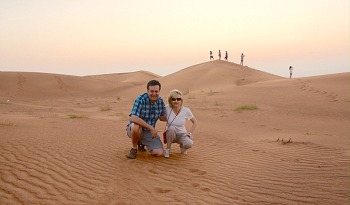 Leaving Tracks in the Sand on a Desert Safari
8. See Souk Madinat - recreated Arabian souk (market) lacks the aroma, energy and in-your-face experience of the Gold and Spice Souks near Dubai Creek, but you may prefer this more relaxed mix of shopping and dining by the water, with great views of the Burj Al Arab.

9. Book a Desert Safari - this 6 hour excursion out of the city in the desert sand dunes will be the highlight of any Dubai romantic vacation. Your professional driver first takes you "dune bashing", an exhilarating ride up, down and around the soft red sand dunes. After viewing the sunset and feeling the sand between your toes (smoother than flour!), it's time for a buffet dinner under the stars with Arabic dancing, camel rides and more.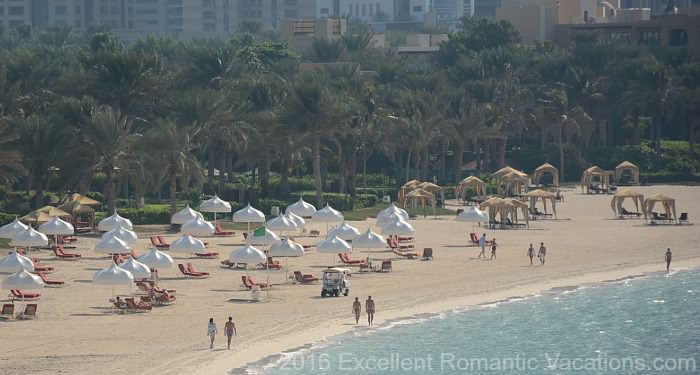 Relaxing at a Beach in Dubai is a Great Way to Enjoy Your Romantic Vacation Here
10. Go to the Beach - Dubai has a lot of coast, but not all of it is accessible to visitors. Several resorts have private beachfront areas for the exclusive use of their guests, and a few like the Golden Tulip Hotel hotel allow visitors for a set fee. For free beaches open to visitors, JBR Beach is a good spot for couples, as is Kitesurfing Beach.

---
Romantic and Affordable Dubai Hotels
Staying at a romantic Dubai hotel is very easy - if you have a lot of money! Finding a balance though between romance and affordability is much more of a challenge. Here's our top choices for romantic Dubai hotels in the budget-friendly, less expensive category (less expensive by North American standards, that is):

Marina Hotel Apartments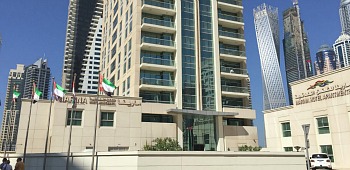 Marina Hotel Apartments - Dubai Marina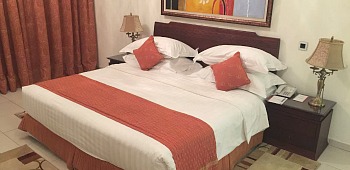 King Bed at Marina Hotel Apartments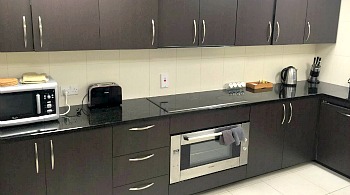 Kitchen in a Suite at Marina Hotel Apartments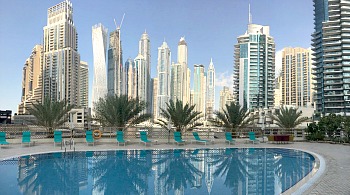 Pool with a View at Marina Hotel Apartments
Marina Hotel Apartments - great location right on the Marina Walk, and within walking distance to lots of restaurants, supermarkets, cafes and more. Suites here are clean and very spacious with full kitchens, and many look out towards the Marina and surrounding high-rise towers. The pool here has one of the most spectacular views of any city pool we have ever seen! What Other Couples Liked:

 Excellent Pool, Ideal Location...Lovely Marina Views, Restaurants Close By...Huge Suite, Friendly Staff.

2018 ERV Rating* for Romantic Dubai Hotels:

 85%

 - Very Good.

(Marina Walk, Dubai Marina, Dubai UAE  971 4 399 6644)
Dubai Marriott Harbour Hotel & Suites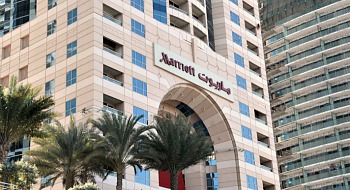 Dubai Marriott Harbour Hotel & Suites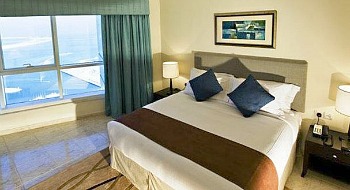 Dubai Marriott Harbour Hotel & Suites Bedroom
More Options for Romantic Dubai Accommodation:
Sofitel Dubai Jumeirah Beach - positioned perfectly in Dubai's very attractive Jumeirah Beach Residence neighborhood just a few minutes walk from the beach. Luxury rooms are finished in teak, and you'll love their swim-up pool bar.

2018 ERV Rating* for Romantic Dubai Resorts:

90% - Excellent. (Jumeirah Beach Residence, Al Sufouh Street 69, Dubai Marina, Dubai, UAE  971 4 448 4848)
Hilton Dubai The Walk - your choice of guest rooms, suites and loft apartments, some with very nice views of the Arabian Gulf. They also feature a very romantic late brunch each Friday night from their 35th floor Skyline Lounge.

2018 ERV Rating* for Romantic Dubai Hotels:

 88% - Very Good. (The Walk; Al Sufouh St, 53  Jumeirah Beach Residence, Dubai UAE  971 4 399 1111) 
Sheraton Dubai Mall of the Emirates - you may have heard of the mall in Dubai with an indoor ski hill. Well, this attractive Sheraton is attached to that mall! City and water view rooms are available, and their rooftop infinity pool has views out over the Burj Al Arab and coastline.

2018 ERV Rating* for Romantic Dubai Hotels:

93% - Excellent. (Sheikh Zayed Rd, Al Barsha 1, Mall of the Emirates, Dubai UAE  971 4 377 2000)  
Video: Romantic Dubai Sights
See Our HD Video of Romantic Dubai Vacation Sights
---
Dubai Romantic Vacation & Honeymoon Packages
Kempinski Hotel's Remarkable Honeymoon in Dubai - designed exclusively for newlyweds in Dubai, this 3 night package includes bubbly and strawberries arrival, lagoon suite accommodation, daily breakfast buffet, his n' hers spa treatment and a romantic dinner. 971 4 444 2000 
Supreme Yachts Dubai Romantic Cruises - located in the Dubai Marina, and ready to organize a luxury yacht cruise for your special romantic occasion. Packages include "Propose Under Stars", "Anniversary Celebration", "Honeymoon" and "Romance Under Moonlight". 971 43 697 253
Anantara The Palm Dubai Resort Honeymoon - celebrate your honeymoon in Dubai with their "Romantic escape" package consisting of room or villa accommodation, welcome chocolates, daily breakfast buffet and 20% off spa treatments. 971 4 567 8888
---
Romantic Dubai Dining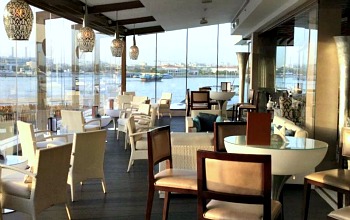 View from Sheraton Creek Vivaldi Restaurant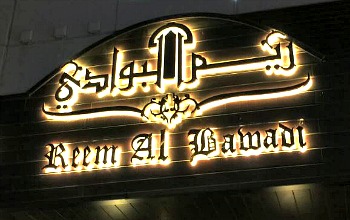 Reem Al Bawadi Restaurant on the Marina Walk
Sheraton Creek Vivaldi Restaurant - a useful dining tip for your Dubai romantic vacation from ERV Readers Ryan & Hazel B, former residents of Dubai:

"Visit Vivaldi Restaurant at the Sheraton Dubai Creek Hotel, and request a table outside on the terrace. There's patio seating where you can watch the creek and see the boats go by, all lit up at night time. In fact we would recommend to call the restaurant to find out when the fireworks display will be. During the shopping festival there is a display of firework 3 times a week directly in front of the hotel that you can see from the restaurant while having dinner. Its an unforgettable experience". 971 4 207 1717
Reem Al Bawadi - located at the north end of the Marina Walk. Delicious Traditional Arabic and Lebanese dishes, with great atmosphere and views of the Dubai Marina. 04 452 2525 

---
Travel To & Around Dubai
Save money. Travel to Dubai in Luxury with Emirates. Book Now

Flight Times to Dubai (DXB) From:

NYC: 12.5 hrs
Boston: 11.5 hrs
Washington DC: 13 hrs
Chicago: 12.5 hrs
Orlando: 14 hrs
Houston: 14.5 hrs
Dallas: 15.5 hrs  
San Francisco: 15.5 hrs
Los Angeles: 15.5 hrs
Seattle: 14.5 hrs
Toronto: 12 hrs
(Note: Flights returning from Dubai to North America average about 90 minutes longer due to winds, etc)
Airlines: from North America, Emirates Airlines offers the most frequent and direct service to Dubai. There's also United from it's Washington DC hub, and Air Canada now flies to DXB from Toronto. From the UK, British Airways can get you here from London Heathrow.  
Getting Around Dubai: the Dubai Metro system is fairly straightforward to use, and cheap as well. We don't recommend car rental in Dubai, as traffic can get nasty and fines for traffic infractions can be steep.
*ERV Rating: our unique, non-scientific ratings for romantic accommodation include:
Amenities: including Whirlpool bath or 

JACUZZI

®

Tub

,

scenic view, fireplace, lounge, etc
Location: proximity of hotel to restaurants, pubs, downtown, etc
Clientele: demographic the hotel attracts (couples, families, business travelers, etc)
Popularity: based social media & crowd-sourced reviews 
Value: product offered compared to room rate 
Please Note: percentage ratings are not absolute but for comparative use only  
√ COVID Safety Plan: identifies hotels and inns that clearly indicate they are taking measures to prevent the spread of COVID-19.
Excellent Romantic Vacations - Top Pages
---