Elope in Hawaii & Honeymoon in Paradise!
Elopements
FTC: This page uses affiliate links. More.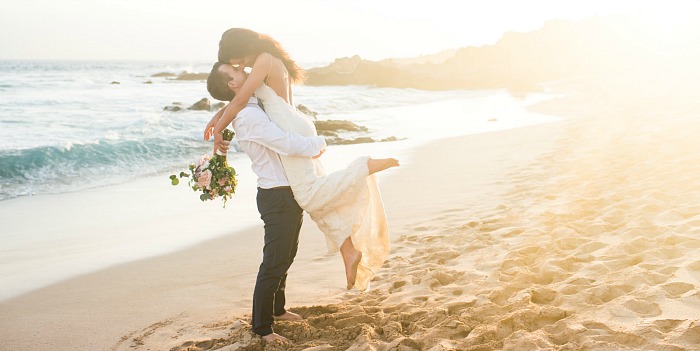 Maui Has some of the Most Romantic Beaches for Elopement Weddings in all of Hawaii!
By: Maureen Mattson, ERV Staff Writer - Updated: Jan 27, 2017   

Planning to elope in Hawaii? For many couples, this is THE place they have always dreamed of getting married. There are many great spots to tie the knot in the Hawaiian Islands, and as we are about to show you, it could be more affordable than you think.
Another advantage of a small, inexpensive wedding in Hawaii is this: after the ceremony, you're already in one of the best honeymoon spots on earth! And whether you choose Oahu, Maui, Kauai, Molokai or the Big Island of Hawaii, you're pretty much guaranteed ideal weather year-round. 

We've picked several different types of elopement packages in Hawaii that give you some ideas for where to tie the knot in paradise. There's everything from resort packages that include virtually everything to simple ceremonies performed by professional Hawaii wedding planners, starting in price from under $100.
Hawaii Elopement & Marriage Legalities for 2017: There are no state or U.S. citizenship requirements. The Legal age is 18, with proof of age required. Also, no blood tests are needed. The Hawaii state marriage license fee is $60 plus a $5 administration fee.
(This page is a guide only - wedding packages and suppliers are subject to change at any time. Please verify all info with local state offices and officials before making wedding plans.)
Romantic Elopement Packages in Hawaii
Featured Elopement: Simple Maui Wedding
Simple Maui Wedding - Romantic Beach Elopements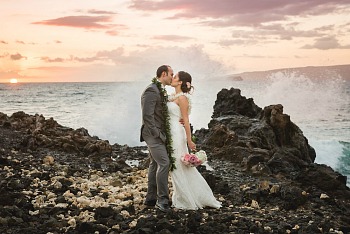 Maui is the Perfect Spot to Elope in Hawaii
Maui Wedding Bliss - find out about a romantic destination wedding at the tropical Jasmine House Bed & Breakfast in Kihei, Maui.
More Eloping in Oahu, Maui, Kauai & the Big Island
Elope in Hawaii on Oahu - The New Otani Kaimana Beach Hotel offers wedding packages on the quieter side of Waikiki beach. You can wed inside in the Sans Souci Room, under the trees of the Imperial Lanai, or right on Waikiki Beach! Ocean front accommodations are included, and weekday discounts are available. (808-921-7016)
Wedding in Honolulu - check out newlywed couples reviews of ther wedding stay at the Luana Waikiki Hotel & Suites.
Hawaiian Island Weddings - this Hawaiian Island wedding & elopement agency has four wedding packages that can be customized to your taste and budget. Choose your location - luxury resort, tropical gardens, or an unforgettable Oahu Waterfall Wedding. Full photography and video services available. (800-368-5502)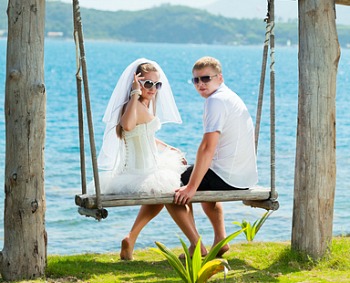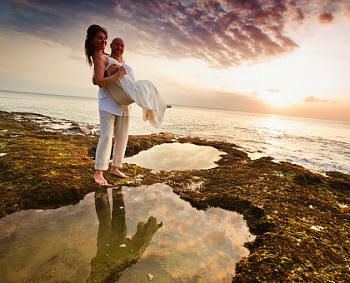 Kona Weddings & Elopements - Kona Weddings organizes daytime and sunset ceremonies in a wide range of locations - you can elope on a yacht, a Hawaiian ranch or on a secret beach location with white sand! Wedding packages start at $299. (866-933-5662)
Elope in Hana, Maui at Travaasa Hana - if your wish is an intimate, tropical wedding in a secluded spot on Maui, the famous Travaasa Hana resort on Maui's East Coast can make it come true. Their ultra-romantic elopement package is priced at $5000 (+ taxes), and includes arrival champagne, 2 nights accommodation in a Sea Ranch Cottage with jetted spa tub, all meals for two, spa treatments, officiant, services of a wedding specialist, flowers and much, much more. (888-820-1043)
Marriott Destination Weddings in Hawaii - combine your Hawaiian wedding with a luxury resort stay at one of Marriott's romantic luxury resorts like the Wailea Beach Marriott Resort & Spa in Maui or the Courtyard King Kamehameha's Kona Beach Hotel on the Big Island. 

Elope in Hawaii with a Quick & Cheap Wedding
If you just want a simple, affordable and quick wedding in Hawaii, here's 2 Hawaiian wedding planners that will have you hitched in paradise no time:
Beachwed.com (808-735-2933) and WedHawaii.com (800-942-4554)
Their low-cost elopement packages that start at around $95, and that includes assistance with picking a location, ceremony and minister, a "Married in Hawaii" certificate and processing of the marriage licence.
The Top Romantic Resort for a Honeymoon in Hawaii? See the No. 1 Hotel here... 

Excellent Romantic Vacations - Top Pages
---