Romantic Greek Island Vacation Ideas - Best Islands, Places to See, Hotels & more
FTC: This page uses affiliate links. More. 

Greek Islands
By: Greg Mattson, ERV Editor - Updated Oct 18, 2016 
The Greek Islands have, throughout the years, kept their charm, village feel and slower pace of life. On most of the islands, it's easy to find a nice quiet spot to relax and soak up the history and atmosphere.
Cost - you can actually holiday or honeymoon in Greece on a budget! Greece is one of the cheapest countries in Europe to travel in. And despite the economic troubles, Greece remains very affordable by North American and European standards. As long as you avoid the high-season months of July and August, you'll do fine.
Best Time for a Greek Island Vacation or Honeymoon - the summer heat in Greece can be very intense. And so can the crowds! On the other hand, a lot of tourism in Greece shuts down in the winter – hotels and restaurants close, and there are few travelers. This makes the spring (April, May) and autumn (September, October) the best time to visit Greece and the Greek islands.
Santorini - THE Most Romantic Greek Island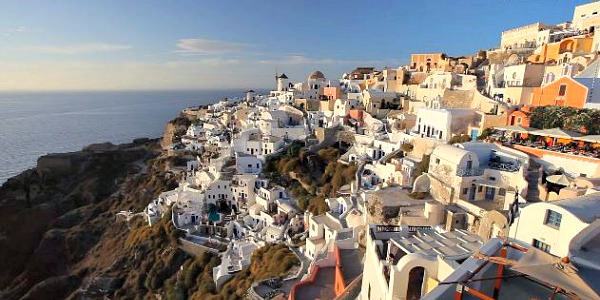 Perched on the side of a volcano, Santorini is perhaps the most romantic place in all of Greece
Santorini has to be the most romantic of Greek islands. It's one of those places in your travels you will never forget. There's no other word for it – it is just stunningly beautiful.
We arrived by ferry (as many do), and opted to make the long climb up the steep hill...by donkey! That's right, mules are waiting for those wishing to add some adventure to their arrival in Santorini.
Once up at Fira, the main town, you'll be captivated by the narrow walkways which wind their way past the sugarcube-white homes and small shops clinging to the side of the volcanic cliffs.
A romantic evening here is as simple as picking from one of the many restaurants perched on the edge of the cauldron, and enjoying your meal and drink together while the sun sets on the Aegean sea, almost 1000 ft below. You'll feel like you're in a movie, or brochure!
Santorini is Famous for Fantastic Sunsets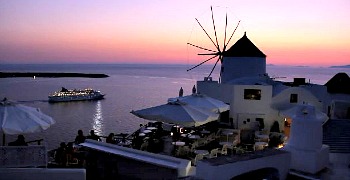 Romantic Dining with a View in Santorini
Santorini Sights: The best places to see in Santorini include the black volcanic sand beaches - check out Perissa Beach and Kamari Beach. The ancient villages of Pyrgos and Akrotiri are filled with history, and don't miss a chance to swim in the Volcanic hot springs (accessible by boat).
If you set sail from Athens with only time for one Greek Island, make it Santorini. And for romantic Greek Island accommodation, check out all the deals on Santorini Hotels with Ocean View.
Don't Miss: In Oia you'll be treated to amazing romantic sunsets - the best in Europe!!
Greek Islands Honeymoon Villas
Honeymoon Petra Luxury Villas - one look at these luxury villas on Santorini, and you'll know that you've come across one of the most romantic places for a honeymoon anywhere on the Greek Islands. 10 luxury apartments and honeymoon suites, many with astounding views. Cliff side breakfasts, unbelievable sunsets, and a large infinity pool and pool bar.

A secluded and very relaxing place for a romantic vacation in Santorini, located between Thira and Oia, and just a 5 minute walk to local shops and dining in Imerovigli.

2016 ERV Rating* for Greek Islands Vacation Villas: 93%

 - Excellent.
Crete
Fine beaches, captivating history, memorable villages and towns – that's Crete.
Chania (Hania) is where you will want to spend time in and base yourself. The Old Town is especially charming, and there are some accommodation and dining options with incredible character that will make your Greek Island vacation memorable.
Mykonos
Mykonos has a reputation as being the "party-central" of the Greek Islands. It's not surprising why when you see the number of bars, restaurants and cruise ships here in high season. It can feel like you're sharing this small island with ½ of Europe!
Basically, we would say stay away from Mykonos in July and August – the heat and the crowds are just not worth it. But a visit here in May or September can be rewarding – you can choose the restaurant you want, and enjoy wandering through Hora in a more relaxed way.
Paros
Many travelers who use the ferries to cruise around the Greek Islands end up in Paros for at least a few minutes, as the ferry port here is a major hub in the Greek Ferries system. But Paros is worth a stay of at least a couple days.
We love Paros for it's great beaches and it's relaxed pace. Maureen and I rented a scooter here too and rode our way over the hills and coastline to the picturesque village of Naoussa.
Best Deals - Romantic Athens & Greek Island Vacation Accommodations 
Romantic Greek Island  Vacation Tips
"Greek Time" – relax, you're in Greece! You will travel and holiday in a much better frame of mind when you take everything in stride. The wheels of bureaucracy here can turn quite slowly, and disruptions to ferries, flights and other transport are not unheard of. Give yourself plenty of time to get around.
Pack the Sunscreen – Maureen says: "One of the worst sunburns I've ever endured was on the Greek islands! Even the springtime sun can be a scorcher. Pack at least a SPF 25 or higher sun block. And in case of burn, we always travel with a small supply of aloe gel which really soothes a burn and helps it heal".
When to Eat – the Greeks are famous for eating late. If you'd like a quiet dinner for 2, you could have the restaurant to yourselves at 6PM. Or, if you'd rather experience a real Greek dinner hour, come back at 9PM when the ouzo will be flowing…
Greek Ferries - the most economical way to cruise around the Greek Islands is by sailing on the Greek Ferries. Numerous companies depart Athens for the islands. Fares are reasonable and service is good. Double check all fine print though - departure & arrival times, routes, etc.
*ERV Rating: our unique, non-scientific ratings for romantic accommodation include:
Amenities: including Whirlpool bath or 

JACUZZI

®

Tub

,

scenic view, fireplace, lounge, etc
Location: proximity of hotel to restaurants, pubs, downtown, etc
Clientele: demographic the hotel attracts (couples, families, business travelers, etc)
Popularity: based on social media & crowd-sourced reviews 
Value: product offered compared to room rate 
Please Note: percentage ratings are not absolute but for comparative use only  
√ COVID Safety Plan: identifies hotels and inns that clearly indicate they are taking measures to prevent the spread of COVID-19.
Excellent Romantic Vacations - Top Pages
---