Key West Romantic Resorts -  Photos, Reviews and Ratings of Hotels & Inns in the Florida Keys
FTC Disclosure: If you make a purchase through a link on this page, we receive a small commission at no cost to you. We only recommend hotels we have used ourselves or researched thoroughly.
Romantic Vacations Home › Romantic Hotels › Key West, FL
By Greg Mattson, ERV Editor - Updated: Nov, 2017
For a little taste of Caribbean weather and laid-back attitude in America, the destination is Key West, Florida. Just 3 hrs south of Miami on US 1 Overseas Hwy, Key West makes you feel like you are really on a romantic tropical holiday.

The geographic make-up this southern tip of the Florida Keys means that many of the Key West's most romantic resorts are not sprawling mega all-inclusives, but instead are rather smaller boutique-like inns and hotels with plenty of color and character.

We recently spent a very relaxing weekend here, and would love to show you some great spots for your Key West romantic getaway or vacation... 
Featured Resort: Southernmost Hotel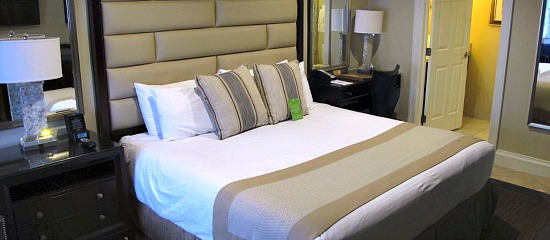 Southernmost Hotel - we spent 2 nights at one of Key West's most romantic resorts is located at the quiet end of famous Duval Street in Old Town Key West, and just loved it. It's 118 guest rooms have recently undergone a complete renovation, and the adult-only tranquility pool has also been upgraded. There's a second pool as well with a great pool bar, and if that's not enough, guests also have use of the ocean-side pool, tanning beach and private pier at the sister-property across the lane called Southernmost on the Beach.
Spa services and fitness classes are available for an extra fee. Light meals and cocktails can be purchased at the Pineapple Bar and complimentary coffee is served poolside from 6 to 9 am. Great restaurants, galleries and all that makes Key West famous are a short walk away, including Key Lime pie!
What Other Couples Liked: "Clean & Comfortable"..."25th Anniversary Getaway was Wonderful"..."Absolute Couples Retreat". 2015 Rating* for Key West Romantic Resorts: 90% of Couples Rate It Excellent/Very Good. (1319 Duval St, Key West FL  888-449-0633)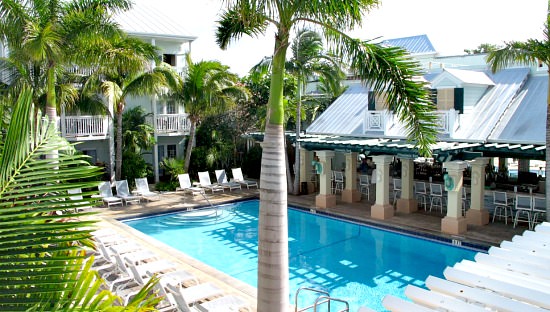 ---
More Key West Romantic Resorts:
Orchid Key Inn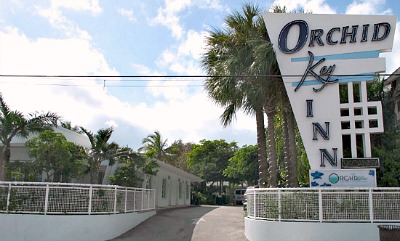 Orchid Key Inn - an award-winning romantic place to stay close to the heart of Key West. With only 24 rooms and suites, this cozy inn assures your privacy, yet keeps you just steps away from all the things that make Key West famous. The complimentary breakfast and happy hour are nice perks, as are the free WiFi and in-room fridge and microwave, coffee maker and turn down service. There is also a heated pool and spa, poolside bar and concierge service. Self-parking is just $10/day.
The word that comes to our minds when arriving at the Orchid Key is "peaceful", and who couldn't use a little more of that? From the water features to the soothing décor, it all promises a tranquil vacation. Soak up the sun at the pool or rent bikes and ride around town. Spend the day at the beach and return for sunset drinks and snacks by the softly-lit pool. Romantic Room Tip: Request a poolside room and away from the street.
What Other Couples Liked: "Romantic Boutique Hotel in Key West"..."Pool Area Immaculate"..."Relaxing Oasis". 2015 Rating* for Key West Romantic Resorts: 97% of Couples Rate It Excellent/Very Good. (1004 Duval St, Key West FL  800-845-8384)
---
Santa Maria Suites Resort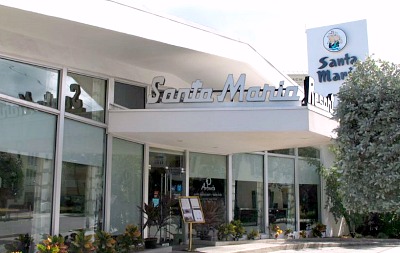 Santa Maria Suites Resort - this charming inn is one block from the ocean and famous Duval Street. It's a beautifully-restored hotel, where historical significance meets stylish elegance.  
The 35 one and two bedroom suites have full designer kitchens, spa-like bathrooms and in-suite washing machines and dryers, making it the perfect place for a extended stay. All suites have a private balcony or patio and are designed around a private garden with two heated pools and a relaxing tropical landscape. Grab a smoothie or some fresh fruit poolside. Towels and chairs are provided if you prefer to go to the beach for the day.
Since the location is so central to what you'll want to see, a car is not necessary. However, free parking is provided, as is a daily Happy Hour with complimentary glass of wine. Little extras like complimentary muffins, chocolates and ice cream, and an on-site Japanese restaurant all make the Santa Maria Suites ideal for your romantic Key West vacation. 
Tip: For a special romantic surprise, ask about the Romance Escape Package. This includes a rose petal turndown service, bottle of champagne and a couple's in-room massage.
What Other Couples Liked: "Quiet Resort at the End of a Busy Street"..."Lemonade & Smoothies & Fresh Muffins!"..."Luxury Resort for our Mini-Honeymoon". 2015 Rating* for Key West Romantic Resorts: 92% of Couples Rate It Excellent/Very Good. (1401 Simonton St, Key West FL  305-296-5678)
---
Casa Marina
Casa Marina -  a real landmark in old Key West, and the largest resort in the Florida Keys. A Waldorf Astoria property, this luxury accommodation is on the historical register and a beautiful example of 1920's architecture. It's known for its 1100 foot tropical private beach, but also boasts two ocean-front pools, a full service spa and three fine restaurants. A water sports center is available for the more adventurous guests; providing opportunities for para sailing, snorkeling, jet skiing, diving, kayaking or wind surfing. It's all just minutes away from the vibrant community and night life that is Key West.  
There are a variety of rooms and suites to choose from, most with terraces or lanais, and many with ocean views. Enjoy the sunset from your balcony or swing in a hammock to wind down after a day of fun. A Romance package can be arranged in advance which includes sparkling wine on arrival and breakfast buffet daily. Tip: Ask about the sunset sailboat cruise around Key West. Or get a couple's Ocean Breeze Massage.
What Other Couples Liked: "Babymoon at the Beach"..."Great Location, So-So Service"..."Beds Too Soft but A Tasty Breakfast Buffet". 2015 Rating* for Key West Romantic Resorts: 77% of Couples Rate It Excellent/Very Good. (1500 Reynolds St, Key West FL  305-296-3535)
---
Almond Tree Inn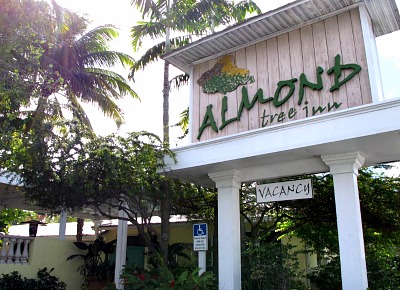 Almond Tree Inn - one of the highest rated of all Key West romantic resorts, this charming 22-suite inn is just a short walk from all the things you want to see in Key West. Just off Duval Street, this oasis is surprisingly quiet and serene. The rooms open onto lushly landscaped gardens, and include a small refrigerator, microwave and coffee maker.
A continental breakfast, nightly turn-down service with chocolates, wine or beverage and snacks at happy hour, plus WiFi in each room are among the complimentary extras. Parking is available at a rate of $10 per night. There's a well-maintained heated pool and spa, waterfall, koi pond, and "Hemingway inspired" décor. Bike rental is available across the street from this hotel.
What Other Couples Liked: "Very Clean, Great Staff"..."Spacious Rooms, Happy Hour Snacks!"..."Sweetest Vacation in Years". 2015 Rating* for Key West Romantic Resorts: 97% of Couples Rate It Excellent/Very Good. (512 Truman Ave, Key West FL  800-311-4292)
---
More Romantic South Florida on ERV:
Ocean Key Resort & Spa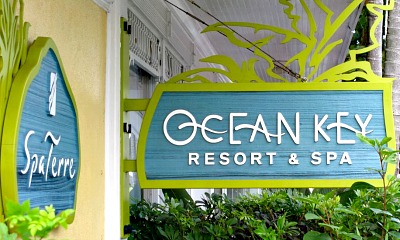 Ocean Key Resort and Spa - check into this romantic Key West hotel and you'll discover an expansive paradise with plenty of things to do. We suggest the very romantic Deluxe Oceanfront guest rooms, which have in-room Whirlpool tubs, private ocean-view balconies, mini-bar and cozy robes. Suites of various sizes are also available, as well as a penthouse that would knock anyone's socks off.
SpaTerre is open 7 days a week and offers relaxation treatments (how about a milk and honey body wrap?) and a well-equipped fitness center. There's also a pool and poolside bar.
Try some of the activities available at the resort:  sunset sailing, fishing, a guided kayak tour, dolphin watching, water sports of all kinds….Dine at the Hot Tin Roof restaurant, overlooking Key West Harbor. Or eat outside at any time of day at the Sunset Pier. The food and drinks are good and there is often live music. In-room dining is available for those intimate evenings in, or when you can't be bothered to take off that fluffy robe.
There are four very interesting and event-filled packages available at the Ocean Key Resort. The most popular is called Return to Paradise, so ask about it or check out the well-designed website for more information. 
What Other Couples Liked: "Luxury, Charm and a Hot Tub"..."A Little Pricey But Worth It"..."Nightlife and the Sunset Pier are Right Out the Door". 2015 Rating* for Key West Romantic Resorts: 90% of Couples Rate It Excellent/Very Good. (0 Duval St, Key West FL  305-296-7701)
---
A Note About Key West Resort Fees:
A resort fee is a daily surcharge that many hotels and resorts, particularly in the states of Florida, Hawaii and Nevada tack on to the listed nightly price of the resort. Theoretically, this fee is used to cover "extras" like pool use, towels, fitness center, newspapers and wifi. However, you pay this fee whether you use these extras or not. The resort is able to advertise a nightly rate without mentioning the additional charge, so certain resorts may seem like a better deal than they actually are. It's very easy to be misled, so ALWAYS ask about the existence of a resort fee and exactly how much it is before making your final decision. It can't hurt to ask management to waive the fee, but doing so is becoming quite rare. Also keep in mind the county sales tax and Florida State sales tax. 
*ERV Rating for Couples: our unique, non-scientific rating formula for romantic hotels which includes:
Romantic Amenities: such as an in-suite 

JACUZZI

®

tub or Whirlpool bath, scenic view, lounge, etc
Location: proximity of hotel to restaurants, pubs, downtown, etc
Clientele: demographic the hotel attracts (couples, families with kids, business travelers, etc)
Popularity with Couples & Honeymooners: based on variety of social media & crowd-sourced reviews.   
Excellent Romantic Vacations - Top Pages
---