Maui Vacation and Honeymoon Ideas for a Great Getaway in Paradise
FTC Disclosure: If you make a purchase through a link on this page, we receive a small commission at no cost to you. We only recommend hotels we have used ourselves or researched thoroughly.
Romantic Vacations Home › Hawaii › Maui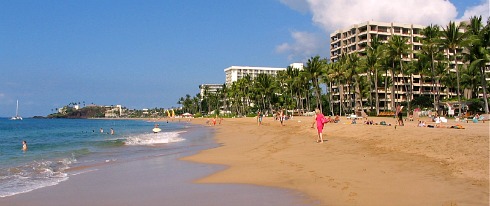 Kaanapali Beach, One of Maui's Best Beaches & Romantic Destinations
By Greg Mattson, ERV Editor - Updated: Jul 31, 2013
If you haven't been to Maui yet…what are you waiting for? For many couples who have honeymooned in the Hawaiian Islands, Maui remains their favorite. A sun-drenched pacific paradise far removed from the hustle and bustle of Waikiki, it is perfect for both sun seekers and the more active types. And you'll find the resort and dining options on Maui to be excellent.
Here's our Maui vacation info and romantic Maui attractions and travel tips, mostly along the south and western shores…
Romantic Things to Do in Maui
Most Romantic Maui Sunsets: So many locations to choose from! Anywhere along the west coast is fine. Two of our favorite spots are Wailea Beach and the Lahaina seawall. Speaking of sunsets...
Romantic Maui Sunset - Save $20 per Couple - set sail on the Pride of Maui for a sunset cruise to remember. Start with cocktails from their premium open bar, savor a gourmet dinner of seafood, chicken or ribs prepared by an on board chef, and round it all off with some live music and dancing in front of a perfect sunset.
Save $10 per person by booking online today, or reserve toll-free at 877-867-7433. Evening excursions (boardings at 4:45 PM) from Maalaea Harbor Public Loading Dock.
What to Do in Lahaina: Shopping on Front St, take a whale watching tour, or enjoy a mai-tai at one of the waterfront restaurants or lounges.
What to Do in Kihei: On the water, windsurfing, boogie boarding and kayaking. Inland, there's dining, entertainment and shopping to be found along S Kihei Rd. Canadians can check out the Captain Vancouver Monument!
Best Maui Beaches for Swimming:
Kapalua Beach: Calm & safe swimming, snorkelling.
Makena Beach: Just south of Kihei, a nice golden sand beach great for swimming and bodysurfing.
Kaanapali Beach: Around Black Rock you'll find safe summertime swimming and snorkelling.
Napali Bay: Gorgeous beach with mostly fine summer swimming.More on Maui Getaways & 
Honeymoons: Pride of Maui's Top 10 Things to Do in Maui for Couples, with pictures and videos of romantic activities in Maui including horseback tours, couples massages and a Haleakala Sunrise excursion.

Best Snorkelling Beaches in Maui:
Kaanapali: Black Rock, full of live coral.
Wailea-Makena: One of the better Maui snorkel spots for beginners, has good visibility
More Romantic Places in Maui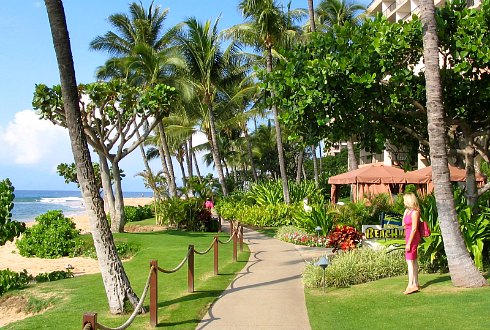 The Ka'anapali Beach Walk is a Great Place for a Waterfront Stroll on Maui's West Coast
Romantic Maui Beach Walk: Another attraction for couples is the Ka'anapali Beach Walk from the Hyatt Regency all the way north to the Sheraton Maui.
During the day, you can do a combination of swimming & relaxing, walking, and checking out some of the hotel beach bars. At night, it's especially romantic with the lit tiki torches and the pounding surf.
What to Do in Kaanapali: In Whalers Village, there's shopping, restaurants, Polynesian shows nightly, and the Whalers Village Museum. Take the free shuttle between Kaanapali hotels and check out the various evening torch-lighting ceremonies, hula shows & dancing. There's 2 18-hole golf courses and the Royal Lahaina Tennis ranch.
The Scenicly Wonderful (and Narrow) Road to Hana on Maui's East Coast
The Road to Hana: This has to be one of the most romantic road trips in all of the Hawaiian Islands. Be prepared for a curvy, hilly and extremely scenic journey for over 2 hours from Kahului to Hana. Along the way, you can stop to see the many scenic overlooks and waterfalls. We packed a picnic lunch, and a few roosters joined us too(!)...
The Road to Hana is great, but it's a very challenging, windy and narrow road. Solution: Valley Isle Excursions Luxury Van Tour to Hana. Professionals drive and give you a guided tour along this wonderful journey, complete with a buffet lunch and stops along the way for wine tasting, waterfalls, and swimming.
Romantic Maui Luau: one of the most romantic attractions in Maui during the evening has to be a sunset luau. Many of the large resorts (Marriott, Sheraton and the Hyatt) have lauas on their property, and there are others scattered around the island.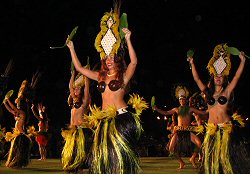 We chose the Old Lahaina Luau, and it was excellent! We heard it was one of the best diner shows in Maui, and everything was great. Dinner was a sumptuous feast of steak, roast pig and baked Mahi Mahi. And the torch-lit Polynesian Hula show after was great entertainment.
Want to know where to propose on Maui? We've collected some of the best romantic spots in Maui (and the rest of Hawaii!) on our Most Romantic Places to Propose in Hawaii page.
Haleakala
One of the most spectacular attractions on a Maui vacation is Haleakala National Park, home of a 10,000 ft. high volcano, Mount Haleakala (don't worry, it's dormant!) The views are utterly amazing, and well worth the 2 hour drive up to the top! Many come up in the wee hours to watch the sunrise from the top, a breathtaking experience.
During the day, gazing through the puffy clouds will reveal the bright blue Pacific and outer edges of the island. There are numerous Haleakala hikes, some which take you deep inside the volcanic crater. The trip up can be done independently or with a tour. If you do make the early morning expedition, dress well or bring a blanket for warmth.
Romantic Places to Eat in Maui
When looking for the best places to eat in Maui, there are several options. Most Maui resort hotels have fine dining restaurants. Check out the many properties in Kaanapali for not only dinner menus but also breakfast and lunch buffets.
A couple of our favorite romantic restaurants in Maui include the Five Palms Restaurant in Kihei (great oceanfront views, 2960 South Kihei Road, Kihei, HI 808-879-2607)and David Paul's Lahaina Grill (127 Lahainaluna Road, Lahaina, HI 808-667-5117), which has won the award for best restaurant in Maui for a number of years,
There are cheaper Maui restaurants in both Kihei and Lahaina, with everything from burgers and pizza to sushi, pasta and seafood. And here's a tip: If the desert menu looks just average, do what we do: find an ice cream vendor nearby and enjoy a chocolate sundae while walking along the beach!
Weather in Maui
In one word: Great! Like the other islands in the chain, the western side is mostly dry and sunny year-round, while the eastern part receives greater amounts of rainfall. December to March is when the island gets most of its precipitation, and the occasional storm.
Temperatures are consistent in the range of 28 to 31 Celsius ( 84 to 88 Fahrenheit) for daytime highs, with evenings cooler but very comfortable. To sum it all up: The best time to travel to Maui is anytime!
Air Travel to Maui
Hawaiian Airlines is the main carrier serving Kahului airport. They have flights from Honolulu to Maui virtually every hour during the day and evening. Mokulele Airlines and Island Air also offer inter-island flights.
From the mainland, Hawaiian, American, United, US Airways, Alaska and Delta all serve Maui from several different US airports. Flight time from Los Angeles and San Francisco to Maui is about 5 hours.
From outside the USA, Air Canada and WestJet offer direct service to Maui. They fly from Vancouver to Maui several times a week during the winter season, and also have lots of vacation packages to Maui available. Flight time from Vancouver to Maui is about 5 hours.
How to Transfer from Maui Airport to Kaanapali & Lahaina: Taxi is expensive ($50) and price for the airport shuttle is similar. A rental car booked in advance is probably the best solution price-wise and for convenience sake too.
How to Transfer from Maui Airport to Kihei: Taxi is about $25, and airport shuttle van is about the same.
Excellent Romantic Vacations - Top Pages
---