Paris Honeymoon Hotels, Packages and Trip Ideas  
FTC: This page uses affiliate links. More. 

Paris, France
By: Maureen Mattson, ERV Staff Writer - Updated: Oct 15, 2014

If you're fortunate enough after your wedding to take off on a Paris honeymoon, you will remember it for a long time. Paris is probably the most romantic city on earth!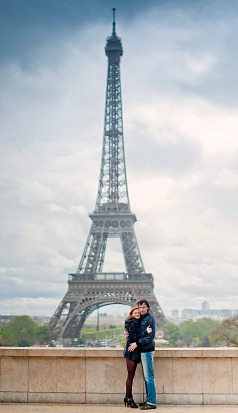 Although we cover Paris in our Romantic Europe Vacation pages, this report zeros in on how to choose the right place to stay and find the most romantic Paris hotel and honeymoon package.
Best Time for a Romantic Honeymoon or Vacation in Paris: Paris is at it's best in the spring and early autumn. Summers can get very warm, especially in August when many businesses close and many Parisians take off for holidays. 
Most Romantic Places to Stay in Paris
Which are the most romantic Paris neighborhoods?
Latin Quarter – just across from the Notre Dame on the Left Bank, and popular with young Paris honeymooners. Nice spots along the river for strolls and picnics. Lots of funky cafes and cheaper eats, including ethnic eateries.
Eiffel Tower – the area around Rue Cler is one of our favorites, with it's market street and cozy restaurants.
Champs Elysées - the 8th arrondissement is centered around one of Europe's most famous boulevards. Great area for window shopping, or climbing up the Arc de triomphe and enjoying the view.
Montmartre - Parisian old world charm with street painters, artists and café's.
Paris Honeymoon Hotels & Packages
It's not easy narrowing down the choice for the best Paris romantic hotels! But to celebrate your new life together, or for those on a second honeymoon or Paris elopement, here are our choices for the top honeymoon hotels in Paris...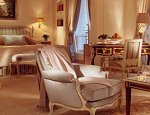 Plaza Athenee Hotel
One of the top luxury hotels in Europe. Opulent honeymoon suites enjoy views of Montmarte and the Eiffel Tower. Their Paris honeymoon package would suit couples splurging on a luxury vacation in Paris, and comes with in-room champagne breakfast.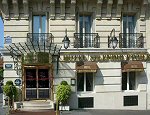 Splendid Etoille Hotel 
A small, 57-room romantic Paris Hotel, with views of the l'Arc de Triomphe and Place de l'Etoile. Rooms enjoy sound-proofing, gorgeous Louis XV styling, and amenities like mini bars and air conditioning. Close to all sorts of of Paris shopping (Louis Vuitton and Hugo Boss included)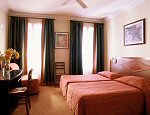 Grand Hotel Leveque
Located near the Eiffel Tower on Rue Cler, one of the best small market streets in Paris. We love the Leveque's clean, cozy rooms, friendly staff, and delicious breakfast croissants. Perfect for budget Europe honeymoon with several nights in Paris.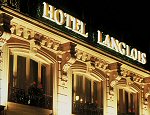 Hotel Langlois 
If you're looking for a romantic budget hotel on the Right Bank, check out the Hotel Langlois. There's 27 large, clean rooms, some with views. Close to the Metro, with lots of Parisian character and charm. One of the best cheap hotels in Paris!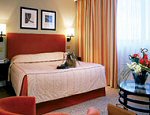 Warwick Champs-Elysées
Situated in a very romantic spot, just a half block from the Champs-Elysées. Stylish rooms have flat-screen TV and hi-fi CD. For your honeymoon, they have a Paris romance package with candlelight dinner, in-room champagne and chocolates.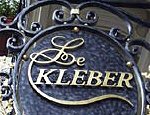 Hotel Kleber 
If you'd prefer a honeymoon hotel in Paris with a hot tub suite, the Hotel Kleber has rooms with a whirlpool bath. Located in a quiet and convenient spot between the Champs Elysées and the Trocadéro. Beautifully decorated, and very helpful staff.
Weddings and Elopements in Paris:
Want your honeymoon and wedding in Europe? If you plan to elope in Paris, France, the Paris Marriott Hotel has wedding and elopement packages in Paris.
Deep Discounts on Paris Honeymoon Hotel & Air Packages - choose from cheap flights to France and more than 300 romantic honeymoon hotels in Paris.
5 Romantic Paris Honeymoon Ideas:
Wondering what to do in Paris on your honeymoon?
1. Seine River Dinner Cruise – one of the most enchanting river cruises in Europe, or anywhere for that matter! Paris is at it's seductive best after dusk, and you'll be captivated by it's wonderful atmosphere as you float past historic buildings and under romantic bridges.
2. Climb the Steps of Montmarte – make it to the door of the famous Sacre-Coeur Basilica, and the views of the city behind you will inspire romance.
3. Go Up the Eiffel Tower at Night – another must-see for your romantic evenings in Paris. If you come during the daytime, a picnic near the tower is a must-do for Paris honeymooners.
4. Ille Saint Loius - this cute island on the Seine is more like a small French village than a part of Paris! Wander through the tiny streets here, or plunk down a couple of euros for the delicious Berthillon, a neighborhood ice cream found only in this part of Paris.
5. Best Place for a Romantic Picture in Paris - Pose at the Trocadero esplanade for your own "Kiss in Paris" pic! 
Excellent Romantic Vacations - Top Pages
---