Phuket Honeymoon on Kata Beach - romantic hotels, resorts, packages & more
FTC: This page uses affiliate links. More. 

Kata Beach, Phuket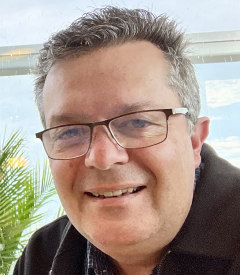 By: Greg Mattson, ERV Editor - Updated Dec 27, 2021
Thailand is undoubtably one of the most exquisite romantic travel and honeymoon destinations in the whole world. For an unforgettable honeymoon away from the tourist crowds but still affordable and within easy access to shopping, restaurants, the beach and attractions, Kata Beach in Phuket is our no.1 pick. 
Sunsets are One Reason Kata Beach is a Honeymoon Paradise
Best Time to Plan Your Phuket Honeymoon on Kata Beach: mid-January to mid-May sort of hits the sweet spot for Phuket weather; not to hot, very little rain, and overall very warm, comfortable and pleasant. We visited in early February and it couldn't have been better: solid sunshine most of the the time, with temps around 29 C (84F). 
5 Kata Beach, Phuket Honeymoon Resorts
1.Kata Rocks - Luxury Kata Beach Honeymoon resort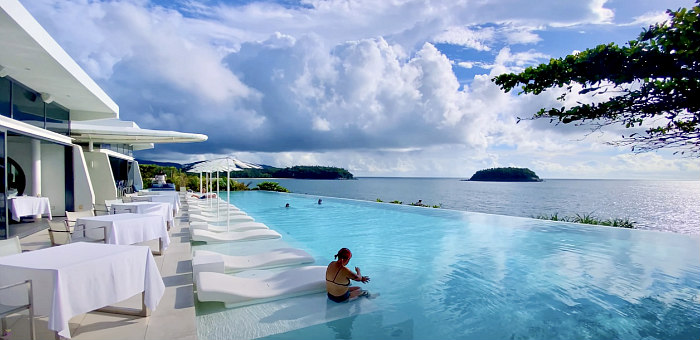 Infinity Pool at the Kata Rocks Resort
Kata Rocks

- A truly special place, and if you're thinking of splurging on a luxury honeymoon in Phuket, this is a strong option. Probably the most romantic honeymoon suite in Kata Beach is here: The One Bedroom Sky Pool Villas, with their own private infinity pool and terrace. Sun beds, Nespresso machines and walk-in showers with luxury bath products are just some of the amenities. Lower down, we think the infinity pool and the view from it (whether you're swimming in it or dining beside it at their fabulous Clubhouse restaurant) is an absolute 11/10 on the WOW scale! 2021 ERV Rating* for Kata Beach Honeymoon Resorts: 94% - Excellent. (

186/22, Kok Tanode Rd, 

Kata Beach, 

Phuket 66 0 76 370 777)
---
2.Chanalai Garden Resort - affordable & convenient
Pool with a View at the Chanalai Garden Resort
Chanalai Garden Resort

- This resort strikes a nice balance between luxury and affordability. We spent seven nights in an Executive Club Sea View Room, and enjoyed a spacious King bed room with great views, w

elcome cocktail drinks, 2 pools, and a hot buffet breakfast each morning. They've got an optional candlelight dinner for 2 they can arrange, and you'll love the fact that it is only a 2 minute walk to Kata Beach. Within 5 minutes walk either way of the resort you'll discover numerous cafes, restaurants, shops, Thai massage and more.

2021 ERV Rating* for Kata Beach Honeymoon Resorts: 88%

- Very Good.

(247 Kata Rd, Kata Beach, Phuket 66 0 76 285 211) 
Executive Club Sea View Room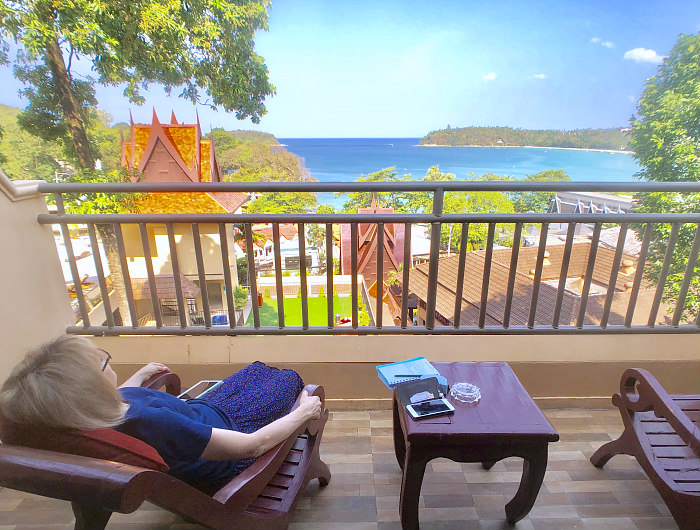 Balcony View of the Andaman Sea
---
3.Chanalai Romantica Resort - suite by the pool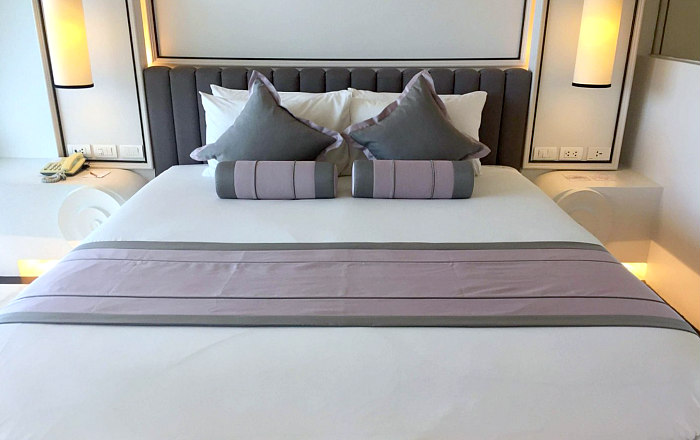 Room at the Chanalai Romantica Resort
Pool & Pool Access Rooms
Chanalai Romantica Resort

- Close to town and less than 10 minutes walk to the beach, this up-scale resort appeals to both young travellers and couples. Rooms and suites are comfortable and clean, with their 13 Pool Access Rooms starting at THB 3499 and offering A/C and sliding glass doors that open to your private balcony on the pool's edge. There's onsite dining, pool bar, Wi-Fi and more. Phuket Honeymoon Packages: get 20% discount on 3 nights accommodation, plus buffet breakfast for 2, private romantic dinner, welcome wine, chocolate cake & fruit platter, and more. 2021 ERV Rating* for Kata Beach Honeymoon Hotels: 92% - Excellent. (62 Kata Road, Tambon Karon Muang, Phuket  66 0 76 333 105)
---
4.The Boathouse Phuket - bliss by the beach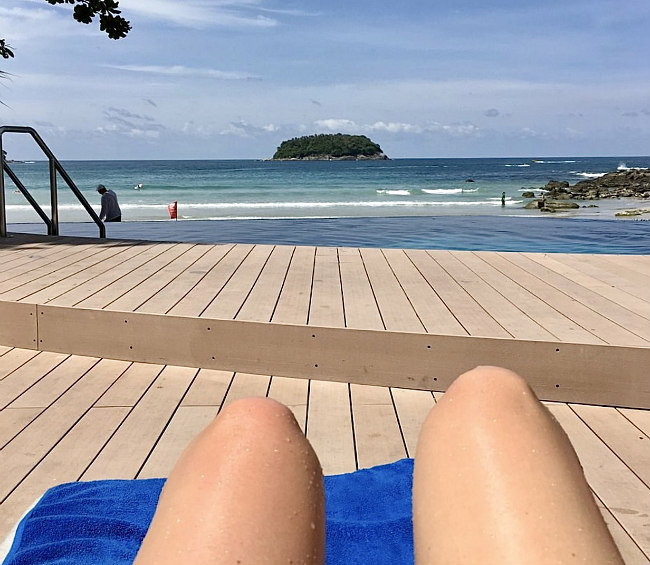 Relaxing at The Boathouse Phuket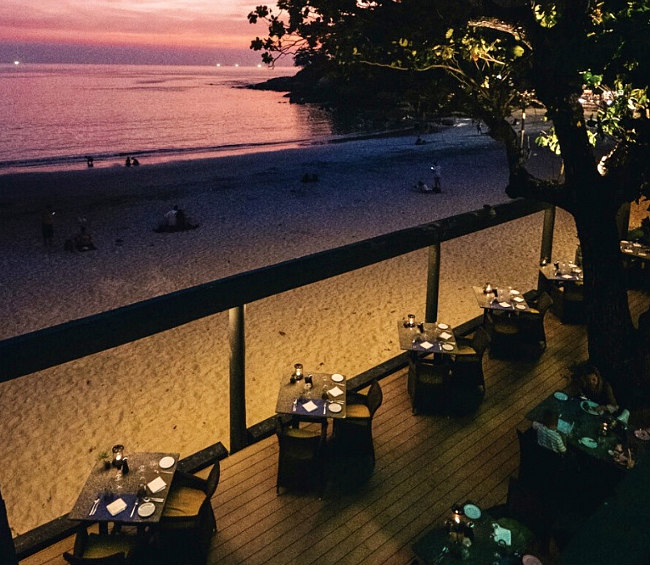 Beachfront Dining - The Boathouse Restaurant
The Boathouse Phuket

- A 39-room boutique hotel perfect for those in search of an affordable Phuket honeymoon on Kata Beach. Speaking of the beach, book into one of their Beachfront Rooms, and you'll have your toes in the sand of Kata Beach in a matter of seconds. All rooms offer A/C, espresso makers, flat screen TV's with on-demand movies, rain showers and views of the Andaman Sea. The Boathouse is also home to it's namesake beachfront restaurant, known for it's Thai and Western cuisine. The resort has an infinity pool & pool bar, plus there's fitness facilities, as well as Thai cooking and cocktail making classes. 2021 ERV Rating*: 94% - Excellent. (182 Koktanode Rd, Kata Beach, Phuket  66 76 330 015-7)
---
5.orchidacea resort - fabulous views
Orchidacea Resort

- overlooking the sand and sea, this 

is a great choice for a Thai honeymoon in Phuket at the quieter end of Kata Beach

. The lovely and bright Deluxe Rooms with Sea view come with Wi-Fi, A/C, mini bar, spacious private balcony with gorgeous ocean views, and complimentary pick-up and drop service between the lobby and your room at the top of the hill. Plus, there's 2 pools (one with a pool bar, and a separate kids pool), daily breakfast buffet, on-site Cattleya restaurant with Thai & international dishes, and a free shuttle to Kata Beach. 

2021 ERV Rating* 

for Kata Beach Honeymoon Hotels

: 82% - Very Good. (210 Khoktanod Rd, Kata Beach, Phuket 66 0 76 284 083)
---
Honeymoon sights - Kata Beach & Phuket
Kata Beach
Lots of Sun & Sand at Kata Beach in Phuket
Turquoise Blue Waters of the Andaman Sea at Kata Beach
Kata Beach - a great spot to enjoy the sun, sand and bathtub warm waters of the Andaman sea. Over 1 KM long, with soft sand and near-perfect conditions for swimming and sun bathing. You might get the occasional vendor walking by to see if you're interested in buying some sunglasses, but overall you'll find it a much more relaxing and hassle-free experience than many beaches in the Caribbean. 
Phi Phi Islands TOur
Speedboat Tours of the Phi Phi Islands
Phi Phi Island Excursion

- even though they have become a regular on many tourist itineraries, a day trip visit by speedboat to these idyllic islands is still a terrific experience, and you'll have no problem during the regular stops finding a nice stretch of sand to yourself as you bask in the breathtaking beauty of these remote beaches. 
Phuket Markets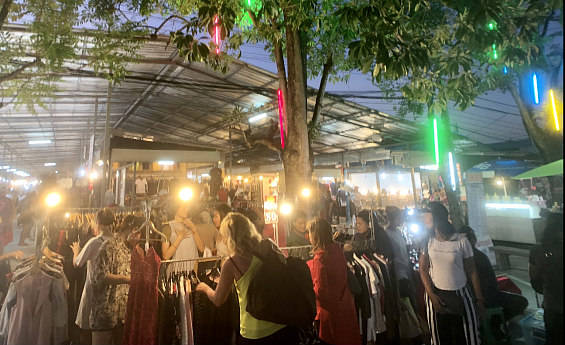 Evening at the Night Markets in Phuket
Phuket Markets - make sure you ask at the hotel about grabbing a taxi into town for the chance to sample Phukets famous evening and weekend markets. There's hundreds of vendors displaying a dazzling and tempting selection of delicious Thai street food, fruits and vegetables, clothing, souvenirs and much more.  
Thai Massage
Thai Massage
Thai Massage - don't settle for a Thai massage anywhere but...in Thailand! This world-famous body massage is available in all sorts of locations around Phuket and Kata Beach. Expect to pay around 500 THB for a 90-minute massage. 
romantic Kata beach restaurants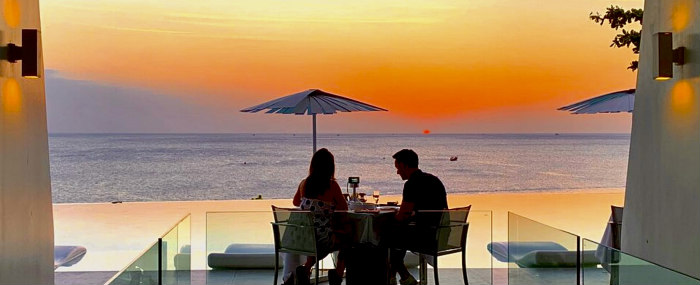 Kata Rocks Clubhouse Restaurant - Perfect Honeymoon Dining Spot
Kata Rocks Clubhouse Restaurant & Bar - if you're staying here at this luxury Phuket honeymoon resort we described above, you've already got the convenience of one of the most romantic and chic places to eat in all of Phuket right at your doorstep. There's tapas, Mediterranean, seafood and vegetarian options, and dining here during sunset will be one of the most unforgettable moments of your honeymoon on Kata Beach. (

186/22, Kok Tanode Rd, 

Kata Beach, 

Phuket 66 0 76 370 777)
More kata beach dining spots for honeymooners...
Portosino Restaurant - for pure quality of food, hard to beat. Seafood, Pizza, International. (

38 Soi Luang Phor Chuan Soi 1, Karon District, Amphur Muang, 83100 Phuket 66 76 302 660)
The Boathouse Restaurant- as mentioned earlier, great spot for delicious Thai dishes with an excellent beachfront location. (182 Koktanode Rd, Kata Beach, Phuket 66 76 330 015-7)
Kampong Kata Hill

- authentic Thai and seafood dishes along with great service, presented in a romantic setting with traditional Thai decore. (4 Karon Rd, Kata Beach Phuket 

66 85 478 4299)
More Exotic Honeymoons on ERV: 
*ERV Rating: our unique, non-scientific ratings for romantic accommodation include:
Amenities: including Whirlpool bath or 

JACUZZI

®

Tub

,

scenic view, fireplace, lounge, etc
Location: proximity of hotel to restaurants, pubs, downtown, etc
Clientele: demographic the hotel attracts (couples, families, business travelers, etc)
Popularity: based social media & crowd-sourced reviews 
Value: product offered compared to room rate 
Please Note: percentage ratings are not absolute but for comparative use only  
√ COVID Safety Plan: identifies hotels and inns that clearly indicate they are taking measures to prevent the spread of COVID-19.
Excellent Romantic Vacations - Top Pages
---