A Romantic Bellagio Italy Vacation on the Shore of Lake Como
FTC: This page uses affiliate links. More. 

Bellagio, Italy
Romantic Northern Italy at it's Best - Bellagio, on the Shores of Lake Como
By: Greg Mattson, ERV Editor - Updated: Mar 13, 2017 
If you've had enough museums and church tours in Europe to last you for a while, Bellagio can be a refreshing change. The mountains, lake and sunsets take center stage, and after a night or two here, you'll understand why it's called the "Pearl of Lake Como".
The best part: you don't have to pretend its day 12 of European History 101! Bellagio is terrific spot in Italy to just relax and soak up the atmosphere, especially if you've been on the go & bustling around other busier Italian destinations like Venice, Florence or Rome. 
Best Time to Visit Bellagio: May to early October is fine, although August can get crowded as Italians from other parts of the country come calling for summer holidays. For itinerary planning, we would recommend 5 nights as just right for a honeymoon or romantic vacation in Bellagio.

---
Romantic Bellagio Hotels & Inns
Hotel Metropole Bellagio
The Hotel Metropole Bellagio - A Romantic Place to Stay on the Shores of Lake Como, Italy
Hotel Metropole Bellagio

- one of the most captivating and romantic places we have ever stayed in Europe.

Waterfront rooms have lake views from a small balcony (e

ven our bathroom had a view!). Grab a bottle of wine, some bread and cheese, and head upstairs to the rooftop terrace and enjoy the amazing Northern Italy scenery. Breakfasts are delicious, and the hotel restaurant below has some very romantic tables on the waterfront (hotel guests receive a 10% discount).

What Other Couples Liked: Scenery That Will Take Your Breath Away...Fantastic Views, Fantastic Location...Sea View Balcony Doubles. 

2017 ERV Rating* for Romantic Bellagio Italy Hotels:

91% - Excellent. (Piazza Mazzini, Bellagio, Italy. 39 031 951534)
Hotel Bellagio
Hotel Bellagio – lake view rooms, some with balcony, air conditioning, and a beautiful roof top garden are the highlights of this romantic boutique hotel. What Other Couples Liked: In a Great Location...Clean and Modern. 2017 ERV Rating* for Romantic Bellagio Italy Places to Stay: 89% - Very Good. (Salita Grande, Bellagio, Italy  39 031 95 22 02)
Hotel du Lac
Hotel du Lac - although young for an Italian hotel (opened in 1956), the Hotel du Lac already has a rich history in Bellagio. Magnificent lake views, free Wi-Fi and romantic dining are some of the highlights. What Other Couples Liked: Delicious Breakfasts...Staff Spoke Very Good English...Wonderful Views. 2017 ERV Rating* for Romantic Hotels in Bellagio IT: 90% - Excellent. (Piazza Mazzini, Bellagio, Italy  39 031 950 320)
Romantic B&B - Borgo Le Terrazze
Views of Lake Como from the B&B
Romantic Pool at the Borgo Le Terrazze
Borgo Le Terrazze - gorgeous B&B with an infinity pool overlooking Lake Como. Rooms are modern and updated, and there's a free shuttle to downtown Bellagio. What Other Couples Liked: A Perfect Romantic Getaway...Beautiful Room, Breathtaking View...Very Relaxed, Good Value. 2017 ERV Rating* for Romantic Bellagio Bed and Breakfasts: 95% - Excellent. (Via Panoramica 3, 22021 Bellagio, Italy  39 031 950 049)
---
Romantic Things to Do in Bellagio
Explore the narrow lane ways, steep stairways and tiny shops of Bellagio. 
Hire a water taxi for a great open air ride on the lake.
Enjoy at least 1 dinner at a romantic restaurant by Lake Como - a table with a water view is a must!
Spend another evening dining in the grand Hotel Tremezzo.
Ride the ferry to other destinations on the shore of Lake Como - the "terrific triangle" as we call it of Bellagio, Mennagio and Veranera. Distances across the water are short, the views are fantastic, and the tiny little lakeside towns are a delight to explore. 
Gotta mention one more dinner: take a scenic lakeside walk for about 1 km to the tiny village of San Giovanni and dine at the romantic Ristorante Mella    
Places to Propose in Bellagio
Travelling to Bellagio & Lake Como to propose is not such a bad idea! It's actually hard to find a spot that's not romantic. Here's 3 places where you can turn your European vacation into a romantic Italian engagement: 
1. Roof top of the Hotel Metropole Bellagio - just a gorgeous view of the Lake and mountains, a memorable place to get engaged!
2. On the grass in Punta Spartivento - just a short walk from town, listening to the waves of Lake Como arrive
3. Aboard a ferry to one of the other lakefront destinations. The ferry terminal is about a two minute walk away from the town center.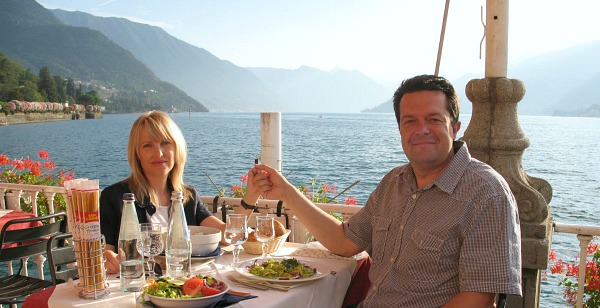 Dining at a Romantic Lakefront Restaurant, a Highlight of any Vacation in Bellagio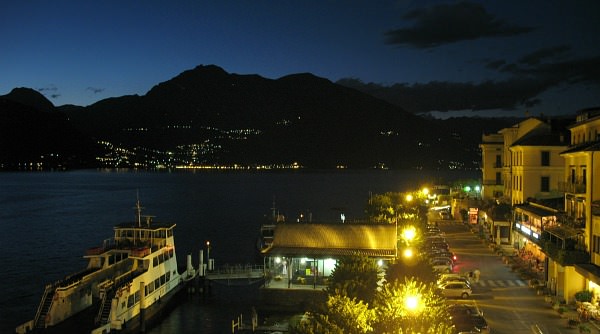 Downtown Bellagio along the Waterfront at Night
Bellagio - Romantic Travel FAQ's:
What are the top Romantic Restaurants in Bellagio? Ristorante Bilicus, Ristorante Salice BLU, and San Giacoma. 
Best Tips for 3 day Bellagio Itinerary? Explore Bellagio, take a ferry ride to other lakeside villages, but most importantly, just relax!
Can You Holiday in Bellagio in the Winter? Many hotels and restaurants are closed from November to March, so plan carefully.
---
More on Travel to Bellagio, Italy
Driving to Bellagio: If your travelling from Milan to Bellagio via Como, be advised that the SS583 Hwy is an extremely narrow roadway in spots (often only wide enough for one car!).
We don't recommend drivers look anywhere other than the road, but a quick glance away from the hairpin turns for just a second looking left, and you'll see stunningly beautiful lake views.
Don't like driving or being a passenger on winding, tight roads? Then it's best to leave the driving to someone else and look into paid transport or a tour to lake Como and Bellagio.
The closest major airport to Bellagio is Milan's Malpensa International Airport (MXP). You can fly to MXP from most major airports throughout Europe on many different carriers. From North America, American has flights from JFK, and United flies in from Newark, NJ.

*ERV Rating: our unique, non-scientific ratings for romantic accommodation include:
Amenities: including Whirlpool bath or 

JACUZZI

®

Tub

,

scenic view, fireplace, lounge, etc
Location: proximity of hotel to restaurants, pubs, downtown, etc
Clientele: demographic the hotel attracts (couples, families, business travelers, etc)
Popularity: based on social media & crowd-sourced reviews 
Value: product offered compared to room rate 
Please Note: percentage ratings are not absolute but for comparative use only  
√ COVID Safety Plan: identifies hotels and inns that clearly indicate they are taking measures to prevent the spread of COVID-19.
Excellent Romantic Vacations - Top Pages
---