Romantic Big Island of Hawaii Vacation Guide for Getaway & Honeymoons
A Guide to Romantic Big Island of Hawaii Vacation Ideas & Things to Do
Romantic Vacations Home › Hawaii › Big Island
FTC Disclosure: If you make a purchase through a link on this page, we receive a small commission at no cost to you. We only recommend hotels we have used ourselves or researched thoroughly.
Enjoying the Scenery in Romantic Pololu Valley, Big Island of Hawaii
By Greg Mattson, ERV Editor - Updated: Jul 7, 2014
Big Island of Hawaii = Big Adventures! The largest of the Hawaiian Islands has a unique landscape and feel to it. Uncrowded and relaxing, it's the perfect outdoor adventure for your Hawaiian getaway or honeymoon. 
Weather: the western side of the island around the Kohala and Kona Coasts is quite sunny and dry, with the eastern coast near Hilo much wetter (In fact, Hilo get's a lot of rain - more than most places in the world - but much of it falls at night).

Driving: quite easy, and roads on the Big Island are uncrowded. However, they can be poorly lit at night, so be extra careful, especially on the windy portions around the southwest part of the island. 
7 Very Romantic Things to Do on the Big Island
Save the luau's and dinner cruises for Waikiki - you're on the Big Island now!
1. Go Stargazing – the night skies here on the Big Island are fantastic! Even the moon never looked so bright! Because they use low pressure sodium lights in the towns and highways here, there is very little light pollution, which means you can see the heavens very clearly at night.
If you want to take a romantic sunset and stargazing tour in Hawaii, we think that Mauna Kea Summit Adventures is one of the best. They have an excursion for $192 (2012 price) where they pick you up in Kona or Waikoloa, and drive you up to the the Onizuka Observatory for a stop to enjoy a boxed dinner and get used to the altitude. After that you continue driving higher, way above the clouds, to the top of the mountain which is the highest point in Hawaii. Your guide will explain some interesting things about the summit as you are standing near the observatories. Oh yes, you'll also witness one of the most amazing sunsets ever.

One of the scenic views from the top of Mauna Kea - sunset, clouds and telescopes.
After the sun sets, it's back in the van to descend down to the 9000 ft level for some hot drinks, a laser-pointed star tour, and a chance to do some "galaxy gawking" through Mauna Kea Summit Adventure's own telescopes. You'll see amazing things like the Andromeda Galaxy, storm bands around Jupiter, and a detailed look at the surface of the moon. Incredible!
The tour company supplies you with complete commentary as well as parkas for the summit. You need them, as it can get down to -3 or -5 with a wind (you'll have a hard time believing you're still in Hawaii!) The best nights for viewing the stars are generally evenings well before a full moon.(See more photos of this tour to Mauna Kea here)
If you have your own rental car, and the weather allows for travel on Saddle Rd, an inexpensive alternative is driving yourself up to the Visitor Information Station at Onizuka Center for International Astronomy (around the 9300 ft level). They have a free stargazing program every night with telescopes set up for viewing (we recommend that you don't attempt going up any higher up on your own, as the road to the top is steep, narrow, mostly gravel and washboard bumpy).
2. Try Zip-Lining: We spent a fun afternoon at Kohala Zipline zipping thru the lush Hawaiian forest (the longest of the lines is a twin side-by-side zip, so you can go down together!) The scenery is great, everything is up-to-date and super safe (the high-tech equipment is both comfortable and very quiet), and the staff are terrific.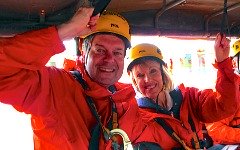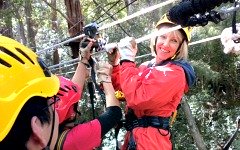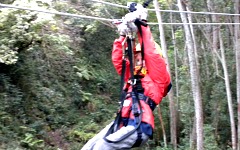 Fun Riding Through the Canopy at Kohala Zipline Near the North Tip of the Big Island.
Speaking of the guides...
Wouldn't you know it: my camera fell out & down 70 ft to the forest floor on the very first run! But the guides trekked down, retrieved it & had it back in my hands only 5 zips later! (54-3676 Akoni Pule Hwy, Kapaau, HI)
3. Dinner by the Campfire at Kahua Ranch - here's an opportunity to visit a working cattle ranch in the Big Island's High Country. After a delicious dinner and sunset there's live music, dancing and stargazing. (Reservations: 808-882-7954)
4. Drinks for 2 Down South - visit the southernmost Bar & Restaurant in the USA – Shaka at the bottom end of the island in Naalehu, HI.
5. Stroll Through Queens Marketplace - besides the shops and restaurants, make a point to stop at Island Gourmet Markets for a look at their impressive selection of beers, and a taste or two at their wine bar. (Waikoloa Beach Resort, Kohala Coast)
6. Swim in the Volcanic Warm Waters of the Puna Coast - about 40 minutes south of Hilo on the east coast, make the trek to this area for the Kapoho Tide Pools (best for snorkeling), or the calm fresh water/sea water natural pool at Ahalanui Park.
7. Hang Out at Hapuna Beach – one of the best beaches anywhere in Hawaii, or the USA for that matter! Beautiful soft golden sand, scenic setting, plentiful sunshine and not too crowded (Hapuna Beach Rd, Kohala Coast, HI).
Romantic Big Island of Hawaii Vacation Resorts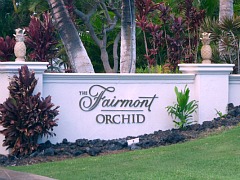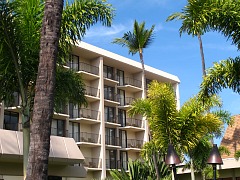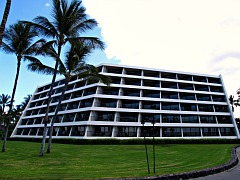 Romantic Big Island Resorts - You'll find the majority of luxury romantic resorts on the Big Island of Hawaii scattered along the eastern coast in 2 areas: the Kailua-Kona area, and further north around the Kohala Coast. 3 beachfront romantic resorts that really stand out are the Fairmont Orchid, Marriott King Kamehameha's Kona Beach Hotel, and the Mauna Lani Bay Resort.  
Best Places to Propose on the Big Island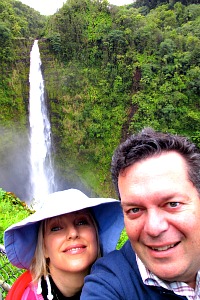 Got plans to get engaged on Hawaii's Big Island? Here's some location ideas:
Hawaii Volcanoes National Park – you may not be able to get down on one knee beside flowing lava, but there are many other remote spots with steam rising not too far away – an almost surreal beauty!
Black Sand Beach – you're holidaying on 5 volcanoes, so why not pop the question on the black sand of Punaluu Beach…
Akaka Falls near Hilo - gorgeous tropical waterfall (400 ft + drop!) on the east coast accessible with an easy 5 minute walk through the rainforest (or take the steeper 20 min hike down the trail for an even closer look). It's best to avoid the tour bus crowds from 11AM to 3 PM if you can. Tip: Park just before the entrance to the parking lot to get the reduced rate of $2.
Pololu Valley Lookout

– jump in your rent-a-car, follow Hwy 270 right to the very windy end, and you'll be blessed with one of the very best scenic views on the Hawaiian Islands.
Romantic Big Island of Hawaii Vacation Packages - Cheapest Deals This Week
Romantic Big Island Restaurants
Four Seasons Resort Hualalai - here's an idea for something ultra-romantic, like a Big Island honeymoon or 25th anniversary: your own private dinner on the beach! You select your menu in advance, live music or hula dancing is included, and there's even the option of a floral bath done up in your room for your return later in the evening. (Four Seasons Resort, 72-100 Ka 'upulehu Dr, Kailua-Kona, HI 808-325-8000)
Brown's Beach House – at the Fairmont Orchid, romantic dinner under the stars with live Island music. (1 North Kaniku Dr, Kohala Coast, HI 808-887-7368)
Honu's on the Beach Restaurant - one of Kona's most romantic dining rooms is part of the Marriott King Kamehameha's Kona Beach Hotel, close to downtown Kona. Nice beach & water views, indoor/outdoor seating, and a prime rib & seafood buffet on Friday and Sunday nights. (75 - 5660 Palani Rd, Kailua-Kona, HI 800-367-2111)
Kilauea Lodge & Restaurant – finish up your day of volcanic viewing with a romantic dinner around the "fireplace of friendship". Located just outside the Park in Volcano, HI (that's right, don't miss the chance to dine in a place called Volcano!), reservations recommended. (19-3948 Old Volcano Rd, Volcano, HI 808-967-7366).
Sunset Times on the Big Island

Romantic Hawaii and gorgeous sunsets - they go together! Don't leave home for the beach (or beachfront restaurant) without knowing when the sun sets!

Dates: Approx Time Range of Sunset:

Jan 1 – Mar 31: 5:50 PM – 6:30 PM

Apr 1 – Jun 31: 6:30 PM – 7:00 PM

Jul 1 – Sep 30: 7:00 PM – 6:10 PM

Oct 1 – Dec 31: 6:10 PM – 5:50 PM

Romantic Big Island Events

Kona Brewer's Festival - Mar 11-14, 2015 in the King Kamehameha Kona Beach Hotel Courtyard. Sample the Island's best craft beer along with gourmet snacks and entertainment. Tickets available online only at konabrewersfest.com.

Kona Coffee Cultural Festival - usually early November and lasting for 10 days in Kona, HI, with Kona coffee tasting & tours, art, cultural events and more.

Kona Orchid Show - May 9 & 10, 2014 at the Old Kona Airport in Kailua -Kona. Beautiful exhibition of colorful Hawaiian Orchids on display and for sale.
Map of Romantic Big Island of Hawaii Vacation Attractions
View
Big Island of Hawaii - Romantic Vacations
in a larger map
More Big Island Resources Online:
Hawaii the Big Island - from the Hawaii Tourism Authority 
Excellent Romantic Vacations - Top Pages
---