5 Romantic Caribbean Vacation Ideas
Caribbean
FTC: This page uses affiliate links. More. 

By: Greg Mattson, ERV Editor - Updated Dec 28, 2020
Dreaming of a Caribbean vacation or last-minute beach getaway? Here's just a few of the most romantic destinations and resorts in the Caribbean for couples holidays and honeymoons.   
1. Dominican Republic Romantic Beach Resort Getaway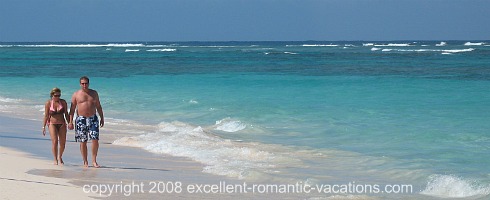 The Best Time to Travel to the Dominican Republic: the "DR" gets warm weather (28 to 32 C) all year-round. Summer sees more rain (May can be quite wet) and the hurricane season runs June to the end of October. So early December and the months from mid-January to April are perhaps the best time of the year for a romantic holiday.
Romantic Dominican Republic Resorts
Excellence Punta Cana Resort & Spa – a very romantic adults-only Dominican Republic resort. Luxury rooms come with four post canopy beds and a private balcony. Resort has 7 restaurants, 5 bars and would appeal to both active couples as well as honeymooners who may want to just relax peacefully by the pool. 2021 ERV Rating* for Romantic Dominican Republic Resorts: 88% - Very Good.
Iberostar Costa Dorada - a top Puerto Plata Resort that's loved by couples. Located on the beach of Costa Dorada, one of the most romantic places on the Dominican Republic North Coast. Resort has luxury ocean view suites, boutique shops and on-site wedding experts. 2021 ERV Rating* for Romantic D.R. Resorts: 86% - Very Good.
Package Deals for Dominican Republic Romantic Vacations 
Romantic Things to Do in the DR:
Explore medieval and European Altos de Chavon, on a hilltop just a few miles from Punta Cana. 
Day trip cruise excursion from your resort to Saona Island.
Enjoy the Caribbean Buccaneer Dinner & Show near Punta Cana. 
---
2. See What Makes Barbados So Special
Best Time to Travel  to Barbados - March to June is a great time for a getaway or honeymoon. Hurricane season: Aug through November.
Best Romantic Beaches in Barbados - secluded Bottom Bay Beach on the SE coast is a romantic place. Crane Beach's pink sand, calm waters and fantastic sunsets make it a great place to propose.
Romantic Barbados Resorts & Hotels
The Crane Residential Resort - an historic hotel with gorgeous rooms and a spectacular setting on a bluff 60 ft above one of the most dazzling strips of pink sand anywhere. The views, dining, sunsets and private plunge pools are unbelievable. 2021 ERV Rating* for Romantic Resorts in Barbados: 82% - Very Good.
Sandy Lane Hotel - for sheer opulence, it's hard to top the Sandy Lane, one of the finest luxury spa resorts in Barbados, with a fully-equipped heath spa, white sand beach, fine dining, shopping, recreation and luxury amenities galore. 2021 ERV Rating* for Romantic Hotels in Barbados: 88% - Very Good.
Romantic Things to Do in Barbados:
Stroll St. Lawrence Gap

 in the evening when it's restaurants and open-air nightclubs come alive.
Take the Mount Gay Barbados Rum Tour with free tastings and optional Bajan lunch tour.
Explore 

Andromeda Gardens

 lush plants, tropical pools and a romantic waterfall!
---
Most Romantic Caribbean Islands:
We took a non-scientific polling recently of 6 online sites, including Islands.com, Travel and Leisure.com, USA Today.com and the Telegraph.co.uk to find out which Caribbean Islands are rated the most romantic destinations to vacation in. Here are the results:
1. St. Lucia
2. Anguilla
3. Vieques, Puerto Rico
4. St. Barts
5. Jamaica
---
3. Explore The Sands of the Bahamas 
Best Time to Visit the Bahamas - summer time brings slightly warmer and wetter weather, with hurricane season from July to October. Overall, November to April seems to be one of the best times to travel to the Bahamas.
Pink Sands Beach (Harbour Island) - perhaps the best beach in the Bahamas, and one of the top Caribbean beaches. Wide with beautiful pink "seaweedless" sand, and perfect for swimming in the warm, coral protected calm waters. Relaxing, romantic and rarely crowded.
Cable Beach (New Providence Island) - not really one beach, but a stretch of resort-lined oceanfront west of Nassau. A rather exciting combination of sand, resorts, places to eat, Calypso music, dinner cruises, and other activities on land and water. A nice balance to the more secluded Bahamas beaches.
Romantic Bahamas Resorts & Inns
Sandals Royal Bahamian Spa Resort & Offshore Island - one of the best choices for a romantic vacation or honeymoon in the Bahamas. This ultra-romantic 5-Star all inclusive resort has honeymoon villa suites, along with gorgeous beaches, snorkeling, waterfalls and swim up pool bars. 2021 ERV Rating* for Romantic Resorts in the Bahamas: 78% - Good.  
Stella Maris Resort - a great choice for a vacation or even romantic weekend of seclusion and the beach. Bahamas wedding and honeymoon packages are offered here too. 2021 ERV Rating* for Romantic Resorts in the Bahamas: 90% - Excellent. (800-426-0466) 
A Stone's Throw Away B&B - conveniently located (10 minutes drive from Cable Beach, 20 to Nassau) with scenic views, luxury bedding and amenities, and a small weddings and honeymoon package. 2021 ERV Rating* for Romantic B&B's in the Bahamas: 80% - Very Good.  
Romantic Places in the Bahamas:
Nassau –

visit the Straw Market, or take an excursion to Blue Lagoon Island & Stingray City.

Harbour Island

 - the western side has some of the best sunsets in the Bahamas.

Eleuthera –

secluded island is perfect for a quiet and romantic Bahamas honeymoon.
---
4. Head South to Tobago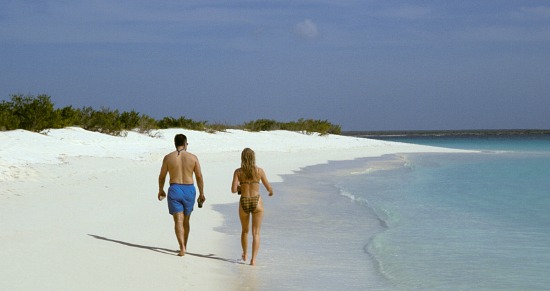 Where Exactly is Tobago? Tobago is 1/2 of the islands of Trinidad & Tobago, and is located deep in the Southern Caribbean just off the north coast of South America. Being located this far south keeps it away from the path of most hurricanes that affect other Caribbean islands.
Best Time to Travel to Tobago: The months from November to May offer an ideal time to travel to Tobago.
Romantic Tobago Resorts
The Coco Reef Resort & Spa - offers special packages for an all-inclusive holiday in Tobago. Suites and luxury vacation villas in this romantic Tobago resort enjoy ocean views and private sun decks. The resort is close to shopping and dining in Crown Point. They offer 5 day/4 night honeymoon packages in Tobago which includes daily breakfast and candlelight dinner, massage treatment, jeep hire, plus deluxe ocean view accommodation in one of the most exquisite honeymoon suites in Tobago. 2021 ERV Rating* for Romantic Tobago Resorts: 72% - Good.
Plantation Beach Villas - a romantic beachfront rental in Tobago, situated in Secluded Bay. These fully equipped self-catering gingerbread-style beach houses are ideal for a wedding & honeymoon in Tobago. 2021 ERV Rating* for Romantic Tobago Vacation Rentals: 96% - Excellent.
Romantic Places in Tobago
Romantic Tobago Beaches

include Englishman's Bay and Pigeon Point, while Castara has great sunsets.

Argyle Waterfalls is one of the most beautiful places where you can 

swim under a tropical waterfall!

Day Trip to Little Tobago

 on a glass-bottom boat cruise, full of lots of exotic bird life.
---
5. A Quiet Getaway in Turks & Caicos

Where are the Turks and Caicos? They're located in the West Indies east of Cuba and southeast of the Bahamas. There's two groupings of islands, the larger Caicos group and the smaller Turks. Providenciales and Grand Turk along with 6 others are the main islands in the group.  
Romantic Turks & Caicos Resorts
Ocean Club West - a good affordable choice for your vacation or honeymoon in the Turks and Caicos. You can dine on site or walk to restaurants, shops and the Graceway Gourmet grocery store. The resort has bikes, kayaks and snorkeling gear available, and they can even arrange a private boat ride to a romantic deserted island! 2021 ERV Rating* for Romantic Turks & Caicos Resorts: 88% - Very Good.  
Seven Stars Resort

 - sparkling clean quiet & relaxing, and voted best resort and most romantic hotel in the Turks and Caicos. Full kitchens and little in-room extras like Nespresso machines, plush robes and iPod docking stations. Oceanfront rooms with views include four-poster beds and soaker tubs. And twice a week, they light up a romantic evening beach bonfire. 2021 ERV Rating* for Turks & Caicos Honeymoon Resorts: 94% - Excellent.
Romantic Places on Turks & Caicos:
Grace Bay:

 award-winning 10 miles long white sand beach with usually only a few people.
Sapodilla Bay is a totally beautiful and quietly secluded piece of white sand on the southwest coast. 
*ERV Rating: our unique, non-scientific ratings for romantic accommodation include:
Amenities: including Whirlpool bath or 

JACUZZI

®

Tub

,

scenic view, fireplace, lounge, etc
Location: proximity of hotel to restaurants, pubs, downtown, etc
Clientele: demographic the hotel attracts (couples, families, business travelers, etc)
Popularity: based on social media & crowd-sourced reviews 
Value: product offered compared to room rate 
Please Note: percentage ratings are not absolute but for comparative use only  
√ COVID Safety Plan: identifies hotels and inns that clearly indicate they are taking measures to prevent the spread of COVID-19.
Excellent Romantic Vacations - Top Pages
---