Romantic European Vacations and Travel Ideas for Couples in the EU
Europe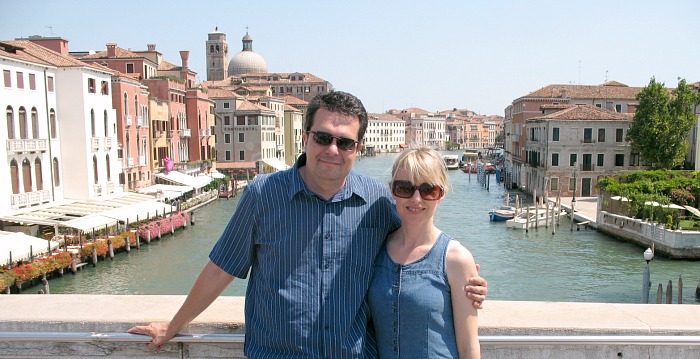 FTC: This page uses affiliate links. More. 

By: Greg Mattson, ERV Editor - Updated: Apr 1, 2016
When you mix romantic travel with cultural adventure, you naturally arrive at Europe! And with the recent decline of the euro in value, 2016 is shaping up to be a great year for European getaways and honeymoons. 
Got a bucket list of destinations you want to see? Narrowing down where to go on a 2 or 3 week Europe vacation can be the hardest part. Some of the romantic European vacations & destinations we've seen include:
Our Pick: Top 3 Romantic Places in Europe
It would be very easy to go with Paris, Venice and Rome as the most romantic places to holiday in Europe. But we looked through our photo album and came up with 3 incredibly romantic and slightly lesser-known destinations in Europe for an extraordinary vacation:
1. Santorini, Greece: one of the most breathtakingly beautiful places you will ever visit on earth! Imagine sipping drinks at a tiny restaurant perched on the edge of a volcanic cliff while the sun slowly sets over the Aegean sea.
2. Bellagio, Italy: away from the chaotic hustle and bustle of Rome and the hordes of tourists in Venice, tiny Bellagio is known as the "Pearl of Lake Como". Dinner by the lakeside here is one of our most memorable evenings anywhere in Europe.
3. Bruges, Belgium: you'll be hard-pressed to find a more immaculate example of a medieval walled city in Western Europe. Cobblestone rules here, and the main square is a delight to be in day and night. 3 don't misses: beer, chocolates, and waffles that are out-of-this-world delicious! 
Romantic European Vacations for Couples:
London
It's been said that if you're tired of London, you're tired of life! Here's just a few romantic London getaway ideas for your next journey to this mesmerizing city. 
The London Eye: The "Eye" has passenger capsules with 360 degree views of central London from a height of about 130 meters. They offer some excellent ideas for a romantic evening in London, like a Champagne Flight (35 GBP per person) and even more romantic (and expensive!) private cabins and the "Pimms and Strawberries" capsule with VIP entry, dinner and so on. The Cupid's Capsule option looks ideal for ideal for a London UK proposal location, with your own private ride up along with champagne and chocolates, priced at £ 325.   
Romantic Stroll along the Thames: Do the famous walk from Big Ben across Westminster Bridge (this is the place to pose together for your official "romantic London vacation" photo!) and over to the London Eye and Southbank. 
Drinks and the View at Vertigo42 Champagne Bar: astounding views from almost 600 ft up! One of the best times to go up is around 7:00 PM so you can experience the skyline of London in the late day and early evening hours. If your searching for ideas on romantic places to propose in London, keep this place in mind (it's a little cheaper than the London Eye as well).
---
Venice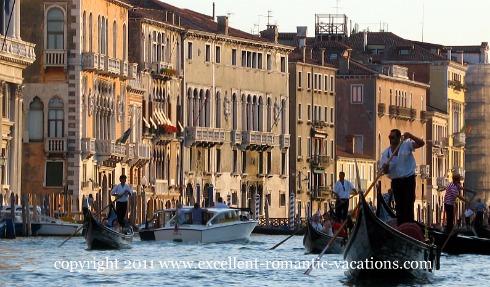 Even though it's decaying and slowly sinking into the Adriatic Sea, Venice (Venezia) will capture your heart like no other city in the Europe. Let's start with the obvious...
Romantic Gondola Ride - you can find a romantic gondola trip in Venice in lots of different places, starting with just in front of the train station (Stazione Ferroviaria S. Lucia). We found ours close to Piazza San Marco at Fond Orseolo. Expect to pay anywhere from €60 to €100 ($80 to $130 USD, higher if you want to serenaded by a singing gondolier!)
If your romantic break in Venice is on a tight budget and you just can't afford the Venice private gondola rides, there's 2 other options to consider: a Grand Canal boat ride in a vaporetto  (only about €7), or hop on a gondola-like traghetto for a 90-second, 75¢ ride across the water to the other side (near the train station and at several other spots along the Grand Canal).
2 More Romantic Activities in Venice:
The Rialto Bridge and the Bridge of Sighs - two of the most romantic places in Venice.
Bellinis for 2 at Harry's - one of the most famous bars in Venice (dress code applies).
AD Place Hotel - you'll love this adorable boutique hotel for it's romantic canopy beds, amenities that include free Wi-fi and in-room espresso maker, and a very nice breakfast in the morning. It's also fairly easy to find for a Venice hotel (can't say that about all of them!)
Best Western Bologna Hotel - Mestre Station - located not far off the motorway to Venice, and a short 15 minute walk to shopping and restaurants in Mestre, Italy. Reasons we loved this hotel: spotless, quiet rooms with a/c, WiFi and LCD TV, buffet breakfast each morning, and the super-convenient on-site car park. The train station is right across the street (10 minute train ride into Venice).
---
Paris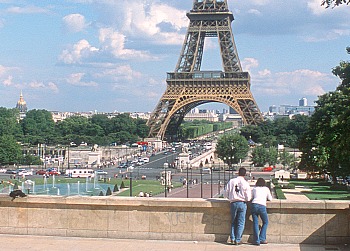 Romance and Paris go hand in hand. Paris is a beautiful city, and one visit is never enough. There is a personality, flair and quiet sophistication in Paris (and in France) unlike any other major city in the world. In a city overflowing with possibilities, here's 3 must-do's for a romantic trip or honeymoon in Paris:
Eiffel Tower - probably the only tower in the world that you would call beautiful! It's worth 2 visits while you're in Paris: 
1. Grab some cheese, bread, fresh fruit and a small bottle of wine, and find a nice spot on the Champ de Mars  lawn southeast of the tower for a romantic Paris picnic lunch.
2. Come back around sunset and ride the elevator to the highest observation platform (900 ft) for the sweeping views across the city. Floodlights light up the tower at night, which can be seen nicely from Trocadero Square, across the river and short walk northwest 
Seine River - If you only take one river cruise through a city in your life, make it this one. And to add to the romance, take it sometime in the early evening. You'll pass landmarks, monuments, the Notre Dame Cathedral, Eiffel Tower, and centuries old bridges where people just linger and watch you sail by. 
Rue Cler - a small pedestrian-only street just a few blocks from the Eiffel Tower. It's lined with butcher shops, fruit stands, cheese shops, bakeries, cafes and corner crepe stands. It's just the way you picture a Paris market street in your mind's eye, and a wonderful Parisian street for a romantic stroll.  
---
Germany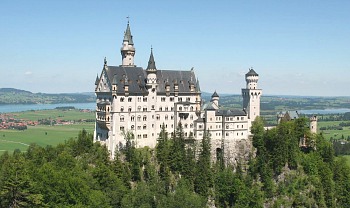 Germany's landscapes, medieval towns and castles make it one of the top romantic European vacations. Highlights include: 
Romantic Rhine Valley Villages – Along the Rhine River, small towns and villages like St. Goar, Bacharac, Oberwesel and Boppard are terrific places to see. Bacharac's waterfront has a lovely park perfect for relaxing and watching the boats go by.
The Romantic Road - A wonderful route that winds it's way through central and southern Germany. It's certainly one of the best road trips in Europe for couples, especially exploring and overnighting in small villages and towns like Rothenburg and Fussen.
Rothenburg ob der Tauber – This medieval walled town has postcard-perfect narrow cobblestone lanes, charming buildings, City Walls that you can walk on, and a local specialty you must try called "Schneeballen."
Neuschwanstein Castle - Perched deep in a fairy tale Bavarian setting, Ludwig's famous castle will add romance to your German vacation. Walking the trails through the woods and over the foot bridge above the gorge provides splendid views of the castle.  
Treff Hotel Luitpoldpark - a fine romantic hotel in Fussen, offering a choice of standard accommodation or a honeymoon suite. For a taste of luxury, try the romance package which includes a welcome cocktail, spa treatment and romantic dinner.
Hotel Hornburg – a fine choice for romantic lodging in Rothenburg just outside the city walls. This rustic B&B offers very clean rooms, well-equipped bathrooms, a great breakfast (one of the best we had in Germany!)and very friendly innkeepers.
---
Scotland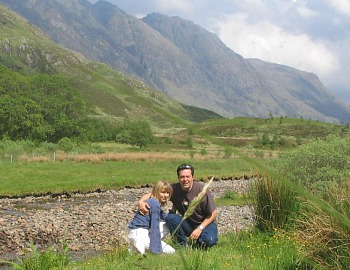 Scotland certainly rates as one of the most romantic places in all of Europe. You don't have to have Scottish ancestry or roots here to feel a special connection with the land and the people. And if you love to self-drive at your own pace when on holidays, Scotland will reward you with scenery that you will remember for a lifetime.
Edinburgh - The Castle is reason enough to visit, but don't miss the Royal Mile and Princes Street with plenty of restaurants, shops and places to load up on kilts and whisky!
The Highlands - No romantic vacation in Scotland is complete without the Highlands. You can explore castles, take a Highlands Boat Cruises on Loch Shiel or Loch Ness, drive the scenic Road to the Isles (A830) from Ft. William to Mallaig, and stop in picturesque Villages like Plockton & Loch Carron.
Isle of Skye - gives you a taste of the wild and remote "Islands of the Highlands". Dramatic scenery, expansive views of the Atlantic, and some seaside villages immersed in centuries-old Gaelic culture.
---
Amsterdam & The Netherlands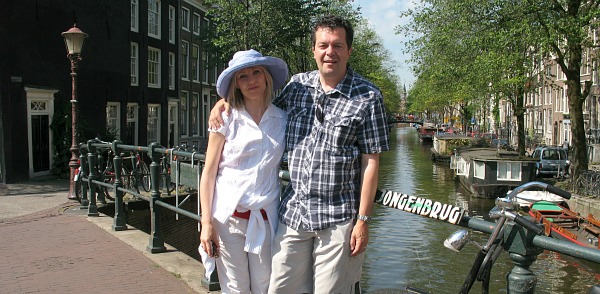 Many romantic travelers roaming around Northern Europe and the Netherlands soon find themselves in Amsterdam. It's an attractive city full of canals, cafes, bikes, interesting people...and interesting things! 
Amsterdam Canal Boat Tours - one of our most affordable and fun Amsterdam getaway ideas is the Canal Bus. It's a great hop-on, hop-off 24 hour ticket for exploring Amsterdam by water. Or you can get even more romantic with the Lovers Red Light Candlelight Cruise, a 2 hour evening cruise with wine & cheese, plus a guided walk through the Amsterdam's Red Light district.
Shopping - you'll find everything from pickled herring to perfume at the Albert Cuypmarkt. Closer to Central Amsterdam, the The Negen Straatjes are great for boutique and one-of-a-kind shops (we did some browsing at a toothbrush store!)
Windmills of Schermerhorn - close to Amsterdam (about 40 km north), Schermerhorn is a great spot to see these landmarks of Dutch culture up close. There's not a lot of windmills left in Holland, so make sure you visit these remaining ones and the nearby museum.
Hotel Moevenpick Amsterdam - We decided on this romantic Amsterdam Hotel for our 4 nights of accommodation here. The updated rooms we're great to arrive to after a long day on the road from Belgium, and the outstanding views of Amsterdam harbor we're amazing. This luxurious 4 star hotel is located just a short tram ride from Central Station, so travelling to major sights, neighborhoods and the Canals is quite easy. 2016 ERV Rating* for Amsterdam Honeymoon Hotels: 90% - Excellent. (Piet Heinkade 11, 1019 BR Amsterdam  31 20 519 1200)
Breitner House - If your Amsterdam vacation calls for a small, romantic inn that's close to everything, you'll love Breitner House, with it's theme suites, fresh flowers & fruit, champagne breakfast and terrific location in the city center near Oosterpark. 2016 ERV Rating* for Romantic Amsterdam Inns: 100% - Excellent. (Oosterpark 87-88, 1092 AW Amsterdam  31 20 6261809) 
---
More Europe Vacation On ERV:
Greek Island Vacation Ideas
We review Santorini, Mykonos and Paros tips for a romantic Greek Island holiday.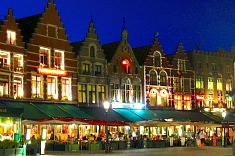 Honeymoon in Belgium - quiet Belgium is an ideal spot for a honeymoon getaway. We describe some memorable spots and romantic places to stay.
Bellagio, Italy - had enough of chaotic Rome? Try this relaxing & romantic resort village by the lake in Northern Italy.
Europe Vacation Travel Information - official site of the European Travel Commission.
*ERV Rating: our unique, non-scientific ratings for romantic accommodation include:
Amenities: including Whirlpool bath or 

JACUZZI

®

Tub

,

scenic view, fireplace, lounge, etc
Location: proximity of hotel to restaurants, pubs, downtown, etc
Clientele: demographic the hotel attracts (couples, families, business travelers, etc)
Popularity: based on social media & crowd-sourced reviews 
Value: product offered compared to room rate 
Please Note: percentage ratings are not absolute but for comparative use only  
√ COVID Safety Plan: identifies hotels and inns that clearly indicate they are taking measures to prevent the spread of COVID-19.
Excellent Romantic Vacations - Top Pages
---