A Romantic Getaway in New Zealand - Travel Ideas for an Aotearoa Adventure for 2
Travel Ideas and Itinerary Tips for a Perfect Romantic Getaway in New Zealand
Romantic Vacations Home › Exotic & Romantic Destinations › New Zealand
By Greg Mattson, ERV Editor - Updated: Jun 7, 2014
From the beautiful Bay of Islands to cosmopolitan Auckland, to Christchurch and the scenic South Island, New Zealand (Maori name: Aotearoa) has rare a mix of charm, solitude and out-of-this-world beauty.
Our Top 5 Romantic Places in New Zealand's North & South Islands: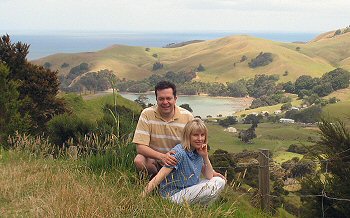 1. Akaroa, South Island - this small village 75 km east of Christchurch will simply floor you with it's beauty: surrounded by the high grassy hills of the Banks Peninsula, great ocean views, and a touch of French history centered around Rue Lavaud. Spend a sunny afternoon here relaxing at a waterfront pub with a Steinlager, spotting boats sailing by or sheep high up in the hills, and you'll see what we mean.
2. Dunedin, South Island - perhaps even more English than Christchurch, funky Dunedin is a romantic NZ destination you'll want to put on your list right away. There's great cafes and architecture, and a terrific day trip out to the Otago Peninsula. Some say this is New Zealand at it's best; it's hard to disagree.
3. Coromandel Peninsula, North Island - Auckland's a great city, but don't miss a excursion to this fantastic strip of mountains and coast. Along the hair-pin turns, you'll encounter hot springs ready for a dip, interesting little towns and cafes, and beautiful wind-swept beaches where you could very well be wonderfully alone!

4. Waiheke Island, North Island - another excellent destination for your romantic New Zealand itinerary, and just a short distance from downtown Auckland. Hop on a Fuller's ferry and 1 hour later you're surrounded by lovely beaches, picturesque vineyards diving into the ocean, and a compact choice of wineries and B&B's all ready to plan out your weekend away.  
5. Wellington, North Island - New Zealand's windy capital resembles a "mini-San Francisco" with homes perched on the sides of scenic steep hills overlooking the harbour. A really romantic outing is the cable car ride up to Kelburn, where you can relax at the restaurant and survey the excellent views of the city and the water. Wind your way down by foot with a walk through the Botanic Gardens, and back at ground level, Wellington's café, eating and art scene awaits. 
Romantic Places in Auckland NZ
Devonport - a quick 10 minute ferry from downtown on the city's North Shore, Devenport's a really cool little spot with cafes, bookshops, and some nice areas to walk along the water. 
Parnell Village - explore the shops and cafes in Parnell Village, sample the eating variety of Ponsonby Street, or head west to the wild coast at Bethells Beach.
Getaways for Two in Taupo:
Taupo - a romantic spot for a 1 to 3 night getaway in NZ's Central North Island (about 3 to 4 hour drive south of Auckland). The best part of Taupo is the Lake, and you don't have to go very far from the city center to enjoy it. We grabbed some takeaway from Brumby's Bakery on HeuHeu St, and picnicked on a grassy spot along Lake Terrace near Ruapehu St.
In addition to the romantic lakefront, there's nearby Huka Falls (and wine tasting at Huka Falls Resort's Café Pinot) as well as thermal soaks for two at Taupo DeBrett's Spa Resort. 
Romantic Place to Stay in Taupo NZ: Hilton Lake Taupo - we had a great time on a 3-night getaway here in one of their suites with a full kitchen. You'll find spotless rooms with flat-screen TV's, thermally-heated infinity pool and spa, fitness facilities, dining, plus great views of the lake and mountains from your private balcony. 2014 Rating* for Romantic Taupo Hotels: 89% of Couples Rate it Excellent/Very Good. (80-100 Napier Road, Taupo)
---
Airfare Deals on Air New Zealand, Qantas, United & more

New Zealand RTN from $1310 - latest seat sales on Air New Zealand, Delta, Qantas & more
Air New Zealand Specials: LAX & SFO to New Zealand - cheapest NZ airfares from the USA, including Premium Economy, Business Premier and vacation packages to Auckland, Queenstown and more.

---
Best Time for a Romantic Getaway in New Zealand
New Zealand's summer runs November to March, and brings warm weather throughout most of the country. This is one of the best times for a romantic getaway in New Zealand. The Bay of Islands is the only "tropical" part of the country, and it stays pleasant even through winter. In general, the North Island is a few degrees warmer than the South.
Winter can bring some snow, but mostly to higher elevations in the South Island. You can travel and enjoy your romantic getaway in New Zealand pretty much any time of the year. It has a maritime climate, with the western sides of both islands receiving more rain than the east.It's good to be aware of school holidays, as that is the time many New Zealanders become travelers in their own country and accommodation can book up fast. Major school holidays run from mid-December to the end of January, and also around the usual times such as Easter and Labor Day.
One of our favourite times of the year to travel to NZ? April (autumn) in the South Island, with it's fantastic fall foliage colours. 
Travel To and Around New Zealand
Auckland International Airport is the main gateway for overseas visitors to begin their New Zealand vacation.
There are a number of different international airlines with flights to Auckland (AKL) - Qantas, Air New Zealand, United, Singapore Airlines and JAL are some of the big ones.

Flying Times: Flight Time from Los Angeles to Auckland is 12 hours, and the flight time from Sydney, Australia to Auckland is 3 hours.
Air New Zealand is the main national air carrier and has flights between major centers. Also, there is an extensive bus network run by several different bus lines.
Driving in New Zealand is actually pretty easy once you master the art of driving on the left (if you're from the UK or Australia, you've got no problem of course!). If you've never done it before, it can be daunting at first! Try to start off slow, perhaps just driving around the block a few times to get the feel of steering the car from the other side. Your confidence will grow though, and pretty soon you'll tackle the motorways with ease!
New Zealand roads are good and generally uncrowded, especially in the South Island. Driving in Auckland can get a little hectic around rush hour though.
More Romantic NZ Online:
Top 10 Romantic Getaway in New Zealand Experiences - check out this list of romantic activities not to miss from NZ Tourism.
Excellent Romantic Vacations - Top Pages
---