Our Pick: The Most Romantic Hotels in Kauai 
Romantic Vacations Home › Romantic Hotels › Kauai Hotels & Resorts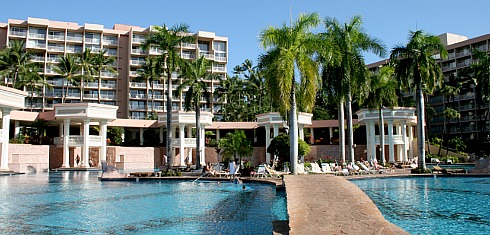 The St. Regis Princeville Resort on Kauai's Fabulously Romantic North Coast
By Greg Mattson, ERV Editor - Updated: Apr 1, 2017
On our last trip to Hawaii, we had the opportunity to check out some of the best honeymoon resorts in Kauai. 
Rather than spend time with a long list of places to stay for couples, we thought we would just narrow it down and present our ideas for the most romantic hotels and resorts in Kauai.
If you're thinking of spending some time on the Garden Isle for a romantic vacation or honeymoon, one of these accommodation choices will certainly make your trip to Kauai even better...
Romantic Resorts on Kauai's Eastern & Southern Coasts
Romantic Sunset at Marriott Kauai Lagoons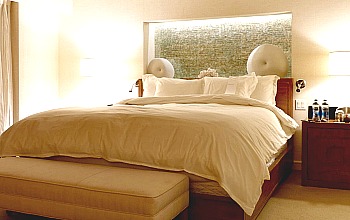 King Room at the Koa Kea Hotel in Poipu
Princeville Hotel - North Shore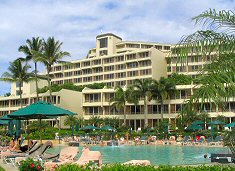 The St. Regis Princeville Resort, Princeville, HI - the 5-Star hotel in Kauai! Stunning views of Hanalei Bay and the famous Bali Hai greet you in many of the rooms and suites.

For special occasions or anniversaries in Hawaii, The Princeville Resort has some of the most romantic honeymoon suites in Kauai, with Whirlpool spa tubs, elegant furnishings and amenities. 

The resort also offers a special for couples called "Romantic Dinners" (your dream dinner on the beach in Hawaii!) where candles, torchlight and champagne await. You dine in privacy on a special menu, and soak up the incredible views of the sum setting over the waves of Hanalei Bay. 

2017 Rating* for Romantic Kauai Resorts: 84% of Couples Rate it Excellent/Very Good. (5520 Ka Haku Rd, Princeville, Kauai HI  808-826-9644)

Oceanfront Pool at the St Regis Princeville Resort on Kauai's North Shore
Grand Hyatt Kauai
If you want your Kauai resort accommodation to be truly memorable, and can splurge a bit for a special romantic vacation in Kauai, make it the Hyatt. The Grand Hyatt Kauai is a truly outstanding destination resort on Kauai's sunny south coast in Poipu.
The lavish rooms with private balcony, 13 different lounges and restaurants (including luaus) and on-site spa all combine to make this beachfront Hyatt one of the most romantic hotels in Kauai.
And the pools, lagoons and beachfront areas have to be the on of the most impressive water relaxation & recreation areas we have ever seen in any Hawaiian resort.
There's no doubt the Hyatt can be pricey, so shop for online deals on the Grand Hyatt Kauai and get this holiday of a lifetime at a discount.
Rating* for Romantic Kauai Resorts: 91% - Very Good/Excellent 
Visiting Other Hawaiian Islands on Your Vacation?
Kauai Romantic Inns & Oceanfront Cottages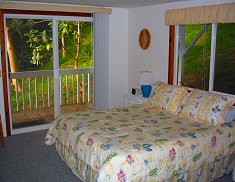 For affordable accommodation in Kauai that's great for couples on a budget, consider the Hale Kua B&B. This secluded place to stay near Kauai's south shore offers self-contained units and privacy, perfect for a bed and breakfast honeymoon in Kauai. (4896 E Kua Road, Lawai, HI  800-440-4353)
There's even little extras like board games, CD music and beach chairs included in the units. And hosts Bill and Kathy will make sure that everything is right for your stay. Rating* for Kauai Romantic Inns: 81% - Very Good/Excellent 
All-Inclusive Kauai Packages - unlike other tropical destinations, all-inclusive resorts in Kauai are hard to find (even in the rest of Hawaii). Independent tour companies sometimes put together packages, but most of the resorts have specials on wedding packages and Kauai hotel and air packages. 

Romantic Kauai Oceanfront Cottage Rentals - Coastline Cottages at Poipu Beach have six beachfront rentals on Kauai's sunny south shore.  
Kauai Romance Packages - The Sheraton Kauai Resort Romance Package includes a luxury welcome basket, turn down service and breakfast in bed. Call (866) 716-8109 and request the ROMANCE rate plan.
*Based on Tripadvisor.com Ratings & Reviews from Couples as of April 2017.
Excellent Romantic Vacations - Top Pages
---