Romantic Hotels in Ottawa for your Getaway or Honeymoon in the Nation's Capital
FTC Disclosure: If you make a purchase through a link on this page, we receive a small commission at no cost to you. We only recommend hotels we have used ourselves or researched thoroughly.
Romantic Vacations Home › Romantic Hotels › Ottawa, Ontario
By Maureen Mattson, ERV Staff Writer – Posted: Dec 9, 2014
Here's some ideas on romantic places to stay in Ottawa, ON for your getaway or honeymoon in Canada's Capital...
Featured Inn: The Swiss Hotel

Front Entrance to the Romantic Swiss Hotel on Ottawa, ON
The Swiss Hotel - We loved our stay at the Swiss Hotel, certainly one of the most romantic hotels in Ottawa. As the name suggests, this is a European style hotel, and it's newly renovated and very conveniently located in downtown Ottawa, about a 15-minute walk to Byward Market. This part of the city, near Daly Ave, is an historical district, close to the university and to many homes of former Prime Ministers of Canada. 
The Swiss Hotel is a newly–renovated award winning small hotel for adults only. Some of the 22 rooms have fireplaces and/or jetted hot tubs.  Each one has hardwood floors, free Wi-Fi, and an Apple i-pad to use during your stay. 
In the summer time, you can enjoy the use of a garden patio.  A full Swiss buffet breakfast is offered each morning for a cost of $15 per person, but you must book it the night before.  Parking is available on a first-come-first-served basis at an extra cost of $12 per day, but there are also pay parking lots close by.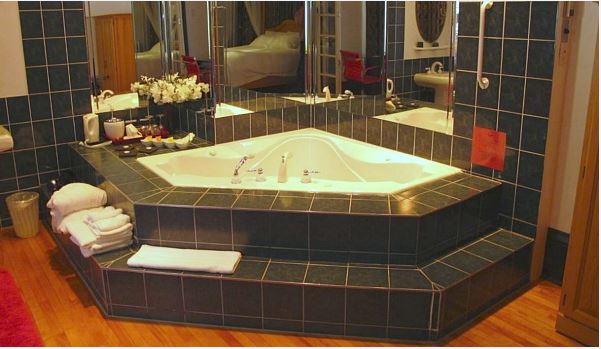 JACUZZI® Tub at the Swiss Hotel's Romantic Getaway Suite - Perfect for Honeymoons
We booked 2 night in the spacious Romantic Getaway suite located on the first floor, and it's one of the best honeymoon suites we've seen in Eastern Canada. It's got a romantic four-poster bed, an in-room JACUZZI® tub for 2 people, electric fireplace and deluxe bathroom. And a late check-out time means you get to enjoy it all even longer.
Tip: If you don't like stairs, request a room on the first floor as there is no elevator.  
What Other Couples Said: "Cozy & Warm, Great Breakfast"..."Welcome Change from Cookie-Cutter Hotel Chains"..."Super Cute Room, Lovely Boutique Hotel". 2014 Rating* for Small Romantic Ottawa Inns: 85% of Couples Rate It Excellent/Very Good. (89 Daly Ave, Otttawa 

ON  888-663-0000)
---
More Romantic Hotels in Ottawa:
The Albert at Bay Suite Hotel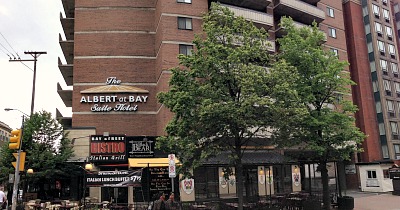 The Albert at Bay Suite Hotel - One of the best things about the Albert at Bay Suite Hotel: the rooms and suites are probably the largest of all romantic hotels in Ottawa. So you'll have plenty of space to spread out and enjoy your stay.
One and two bedroom suites are available, and city views improve on the higher floors.  All units come with a kitchen, including fridge, stove, and dishwasher, but c'mon, we're talking romantic hotels in Ottawa! So keep the stove off and opt instead for the Italian cuisine at the onsite Bay Street Bistro, or casual fare at the Black Bear Pub.  
Another notable plus to the Albert At Bay is it's downtown location. You can easily walk to Ottawa's greatest attractions, such as Parliament Hill, the National Arts Center, museums, casinos and parks. However, if you choose to stay indoors, the jetted tubs and fluffy robes will make this an Ottawa romantic getaway to remember. Although it's an older hotel, The Albert at Bay Suite has been very well maintained and currently offers newly renovated marble flooring in the bathroom with luxury bath products.  
Secure underground parking is available at an extra cost and in the spring and summer, the same time of year their airy rooftop patio is open. There's a fitness room (sorry, no pool) and 24-hour convenience store.  
For anniversary trips or honeymoons in Ottawa, they have a romance package which includes one night's accommodation, a bottle of sparkling wine and lunch or brunch at the bistro.  
What Other Couples Said: "Peaceful Area, Just Like Being at Home"..."Huge Suites are Like an Apartment"..."Balcony with View of the City". 2014 Rating* for Romantic Ottawa Hotels: 91% of Couples Rate It Excellent/Very Good. (435 Albert St, Ottawa ON  800-267-6644)
Fairmont Chateau Laurier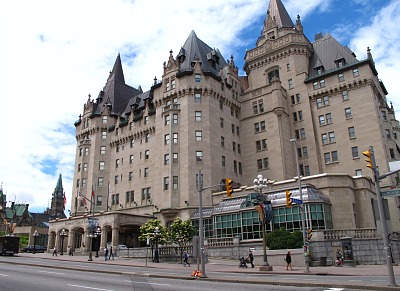 Fairmont Chateau Laurier - Known as "Ottawa's Castle" the Fairmont Chateau Laurier is an imposing limestone structure, complete with turrets and French chateau-style imposing charm. It is ideally located: right next to the Parliament buildings and at the famous Rideau Canal.
In the summer months, you can cycle and inline skate along the scenic trails here, and in the winter months, this canal offers the world's longest skating rink right outside the hotel door. You are also very close to shopping and restaurants, as well as other attractions Ottawa is known for. 
This historic hotel has 429 guest rooms, 33 of them being luxury suites. There is a lounge and restaurant, and in the summer, the La Terrasse patio is open. Explore a bit more and you'll find a health club with art-deco pool area, as well as exercise machines complete with their own flat screen TV's.  
A romantic couple's spa package is available starting at $419. It includes overnight accommodation and $100 for each of you to spend at the hotel spa, among other perks.  
Tip: Request a room on a higher floor, facing west, which will have views of Parliament or the canal.  North facing rooms have views of the Ottawa River. Lower floors facing the courtyard are just not as impressive. And if you have mobility issues of any kind, request a room that is closer to an elevator. 
What Other Couples Said: "Interior is Heaven!"..."Parliamentary Suite was Fantastic"..."Staff Helped Me Surprise My Wife on our Anniversary." 2014 Rating* for Romantic Ottawa Hotels: 80% of Couples Rate It Excellent/Very Good. (1 Rideau St, 

Ottawa ON  613-241-1414)
See More Romantic Ontario Getaways on ERV:
Lord Elgin Hotel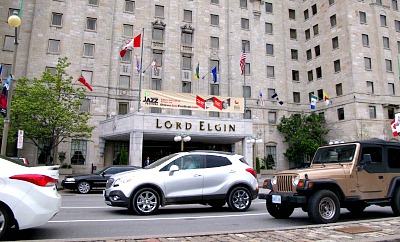 Lord Elgin Hotel - This elegant hotel is a landmark in downtown Ottawa.  It's got 11 floors, 355 guest rooms and 2 suites, and is located right across from Confederation Park and the National Arts Center.  It is also very close to the Rideau Canal, Parliament buildings and the famous Byward Market area, so there is no shortage of interesting things to do and see.  
In addition to it's convenient location, the Elgin hotel is a luxurious place to stay. From the cozy lobby with fireplace, to the whirlpool and sauna, to the Grill 41 Restaurant and Lounge, this is a truly romantic location for your next couple's getaway.  
Take a look at the Romantic Escape Package that includes breakfast in bed, chocolate truffles and sparkling wine.  
Tip: parking at the hotel is valet-only and costs $28/day plus tax.  If you are able to leave the car at home, you will still be able to walk to most attractions and restaurants.  
What Other Couples Said: "Surprisingly Large and Nicely Updated"..."A Weekend of Bliss"..."Friendly Staff, Clean & Quiet Rooms". 2014 Rating* for Romantic Hotels in Ottawa: 86% of Couples Rate It Excellent/Very Good. (100 Elgin St, 

Ottawa ON  800-267-4298)
The Westin Ottawa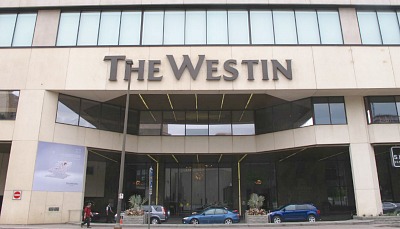 The Westin Ottawa - Right in the heart of downtown Ottawa and close to all of the attractions you'll want to see and experience is what the Westin is about. Compared to other romantic hotels in Ottawa, you'll find some of the best city views here too.  
There are four room categories from which to choose: Traditional, deluxe, junior suites and specialty suites. Our recommendation for a romantic stay would be to splurge on a junior suite. They are from 300 to 310 square feet in size, have double bathroom sinks, a living room area with sleeper sofa, king-sized bed and a second door to insulate you from hallway noise.  
Other parts of the hotel include an indoor saltwater pool, fitness equipment and an ingenious lending- program for the fitness gear you may have left behind.
Enjoy upscale shopping at the Rideau mall, which is attached to the hotel. You don't even have to go outside to get there! The hotel has two fine-dining and one casual restaurant, but there are plenty of other options close by.  
What Other Couples Said: "My Favorite Ottawa Hotel"..."Should Be a Category 5 Starwood Hotel"..."Beautiful Room and Huge Shower". 2014 Rating* for Romantic Ottawa Hotels: 86% of Couples Rate It Excellent/Very Good. (11 Colonel By Drive, 

Ottawa ON  613-560-7000)
*ERV Rating for Couples: our unique, non-scientific rating formula for romantic hotels which includes:
Romantic Amenities: such as an in-suite 

JACUZZI

®

tub or Whirlpool bath, scenic view, lounge, etc
Location: proximity of hotel to restaurants, pubs, downtown, etc
Clientele: demographic the hotel attracts (couples, families with kids, business travelers, etc)
Popularity with Couples & Honeymooners: based on variety of social media & crowd-sourced reviews.   
Excellent Romantic Vacations - Top Pages
---