Experience an Incredibly Romantic Kauai Vacation
Kauai
A Couple Walk Along the Scenic & Romantic North Shore of Kauai
FTC: This page uses affiliate links. More. 

By: Greg Mattson, ERV Editor - Updated: Sep 30, 2013

Kauai is incredibly beautiful and romantic. When it comes to natural, untouched beauty, we feel the "Garden Isle" is the best of the Hawaiian islands!
If you're planning a romantic vacation or honeymoon in Kauai, you made a great choice. There's a multitude of activities, romantic resorts, secluded spots and fine restaurants to choose from.
We found Kauai to be a relaxing paradise, not overrun with development at all (but home to a few wild roosters!) We think you'll love it too.
10 Must-See Romantic Spots & Attractions in Kauai:
1. Waimea Canyon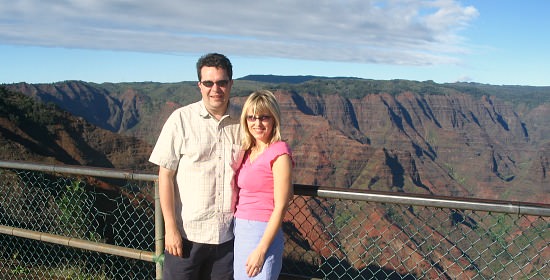 Waimea Canyon - awesome colors of red, green and beige standout in this "Grand Canyon of the Pacific". Good views and hiking here, and easily accessible by vehicle.
2. Hanalei Bay
Hanalei Bay and the North Shore - some of the best coastline in Hawaii, laid-back villages connected by one-lane bridges, luscious valleys and incredible beaches.
3. St. Regis Princeville Resort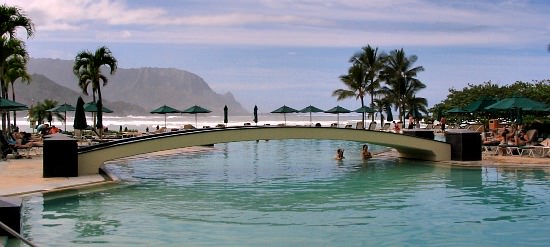 St. Regis Princeville Resort - have a drink by the pool, sit back, and soak up what has to be one of the most awesome settings for a swim anywhere! 
 4. Romantic Na Pali Coast
Na Pali Coast - no romantic Kauai vacation is complete without a look at this stunningly gorgeous part of the north coastline. Maureen and I both agree that this is Hawaii at it's most beautiful!
5. Poipu Beach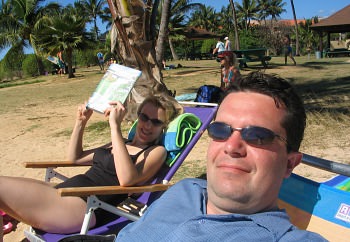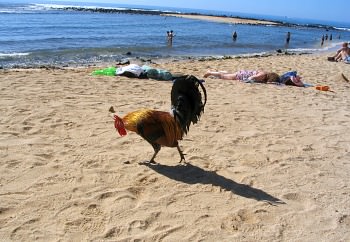 Poipu Beach - When the rest of Kauai is cloudy, the sun is probably shining down on Piopu beach and the rest of the south coast.
Plus...
6. Boat Tour or Kayak for 2 down the Wailua River - take a cruise in Kauai to a fern-covered rock grotto, where you'll enjoy gorgeous scenery and live Hawaiian music. One of the most romantic places in Kauai!
7. Nightly Torch Lighting at the Sheraton Kauai Resort - in Poipu.
8. Sunsets at Hanalei Bay
9. Swinging Bridge over Hanapepe River
10. Fern Grotto, Wailua River State Park
Kauai Romantic Hotels & Resorts - Up to 35% Off - reviews and discounts on vacation and honeymoon accommodation on Kauai's North, East & South Coasts. 
Kauai Beaches You'll Love
If you're looking for a romantic beach in Kauai, we suggest:
Tunnels Beach, Ha'ena State Park - in all of our travels, we've rarely seen such a captivating setting as this. Thundering surf, a rain forest almost dipping it's leaves into the ocean, and the towering Na Pali Coastal Mountains casting their shadow behind you. This is the spot for a romantic picnic or dinner on the beach in Kauai!
Hideaways Beach - a great strip of palms and sand on the beach in front of the Princeville Hotel. Stunningly gorgeous views of Hanalei Bay, and not too many other people around.
Poipu Beach - even though it's popular, this is a fun beach for swimming, sunning, snorkeling, and lazing around. A lunch or happy hour Mai Tai upstairs at Brennecke's Beach Broiler (just across the road from Piopu Beach Park) hits the spot nicely after a morning in the sun.
Pakalas Beach - on your way to/from Waimea Canyon along the south coast, Pakalas is one of Kauai's secluded beaches great for a romantic stroll along the surf. And, as a bonus, there's views of the "Forbidden Island" of Niihau off to the west.
Romantic Dining in Kauai
Here's just a few of many great romantic dining possibilities on Kauai. We've selected 2 romantic restaurants in Kauai on the south shore, one on the east side, and one in Hanalei Bay on the North coast
Gaylord's Restaurant - An historic plantation estate in Lihue where you can enjoy mountain views by day, and torchlit dining at night. Island specialities including fish and local produce areon the menu, and they have a Sunday brunch till 3PM. (808) 245-9593
Beach House Restaurant - Hawaiian regional cusine that's won all sorts of awards, with a great oceanfront location in Poipu.(808) 742-1424
Bali Hai Restaurant - very affordable, excellent seafood, and great views of Hanalei Bay. Sunset dining here is tops! In the Hanalei Bay Resort. (808) 826-6522
Cafe Portofino - A renowned Kauai restaurant for romantic/honeymoon dining. These Italian dishes have won awards. Nightly live music makes the Portofino a grear dining spot overlooking Kalapaki Bay, on the beach in the Kauai Marriott. (808) 245-2121
Getting to Kauai: Flights & more
The airport on Kauai is located in Lihue (airport code: LIH). Most Kauai resorts and hotels are only a 30 to 45 minute drive away.
Airlines that fly to Kauai include Hawaiian Airlines (from Honolulu), and Island Air which also flies direct from Maui. Cheap flights from Honolulu to Kauai are easy to get, and there are departures every hour or so. Flight time from Honolulu (HNL) to Kauai (LIH) is only 25 minutes.  
From the USA mainland, there's United and American Airlines with direct flights to Kauai from Los Angeles and San Francisco. Hawaiian Air also has seasonal service. Flying time from Los Angeles (LAX) to Kauai is about 6 hours. Flight time from San Francisco (SFO) to Kauai is about the same.
Excellent Romantic Vacations - Top Pages
---