Romantic Waikiki Vacation Tips - Hotels & Packages for 2021
Waikiki, HI

Romantic Waikiki Beach with a View of Diamond Head
By: Greg Mattson, ERV Editor - Updated: Nov 19, 2019

Romance and Waikiki? Granted, Honolulu may not be the No.1 place you go seeking a secluded getaway in Hawaii. But with just a little planning, you can have both a relaxing and romantic Waikiki vacation on Oahu.
FTC: This page uses affiliate links. More. 

5 Romantic Waikiki Beach Hotels
1. Trump International Hotel Waikiki Beach Walk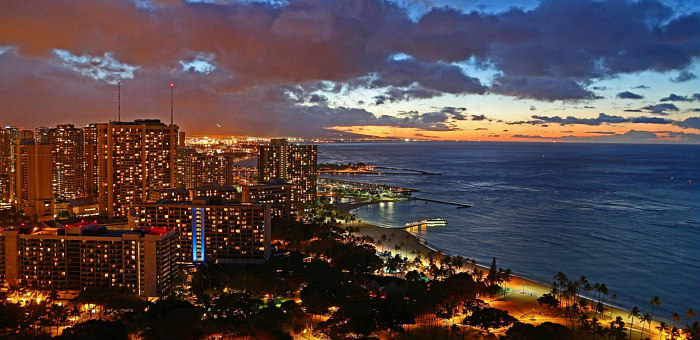 View of Waikiki from a Suite in the Trump International Hotel, Waikiki
Trump International Hotel Waikiki Beach Walk – although not beach front, the Trump International Hotel in Honolulu is a mere 2 minute walk to the Waikiki sand. It's not an inexpensive stay, but it is perfect for a special occasion honeymoon, anniversary or romantic Waikiki vacation. The infinity pool, while not as large as some of the other resorts nearby, is very nice and tends to be one of the quieter Waikiki hotel pool areas. 

The staff are super-friendly, rooms are spotless, have kitchens, and the location is excellent, just a few minutes walk from all the dining and shopping along Kalakaua Ave. 

(Booking Tip for the Trump International: The hotel is surrounded by streets on 3 sides. Ocean view rooms, which are those facing Saratoga & Kalia Rd on floors 15 and lower will hear more street noise, so if you're sensitive to this, consider booking a room higher up, or go with a studio unit facing Beach Walk.) 2019 ERV Rating* for Romantic Waikiki Hotels: 94%

 - Excellent.

(223 Saratoga Rd, Honolulu, HI  808-683-7777 )
2. Outrigger Reef on the Beach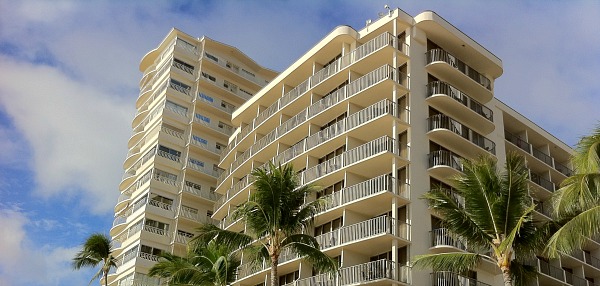 Sunshine, Palm Trees and the Outrigger Reef on the Beach Hotel in Waikiki
Outrigger Reef on the Beach – we spent 5 nights in Honolulu at this Outrigger recently (just across the street from the Trump), and we were very happy with it – good location, very good value for the money, busy but not overcrowded, and exceptionally friendly staff. And like most oceanfront Waikiki hotels, the pool and beach are only 3 minutes walk apart. 2019 ERV Rating* for Romantic Waikiki Hotels:

 

90%

 - Excellent.

(2169 Kalia Rd, Honolulu, HI  877-739-3199)
3. Halekulani Hotel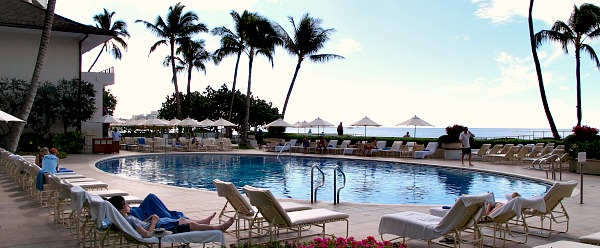 One of Waikiki's Quieter Pool Areas - the Halekulani Hotel's Oval Heated Pool
Halekulani Hotel – classy and very luxurious, with an atmosphere of total elegance. That describes the Halekulani, which in our opinion is perhaps Waikiki's only true 5-star hotel. Accordingly, it's also one of the most expensive Waikiki beachfront hotels, so celebrating a special occasion like a wedding, honeymoon, or anniversary can be expensive. 

Despite being in the center of it all in Waikiki, you can really relax at the Halekulani, and you won't be bombarded with loud ukulele music here (even loud hotel guests seem to be few and far between). The La Mer Dining room is jacket & tie romantic, and accommodation ranges from standard guest rooms to the jaw-dropping opulence of their Halekulani, Royal and Orchid suites. 

2019 ERV Rating* for Romantic Waikiki Hotels:

 

90%

 - Excellent.

(2199 Kalia Rd, Honolulu, HI  808-923-2311)
4. Sheraton Waikiki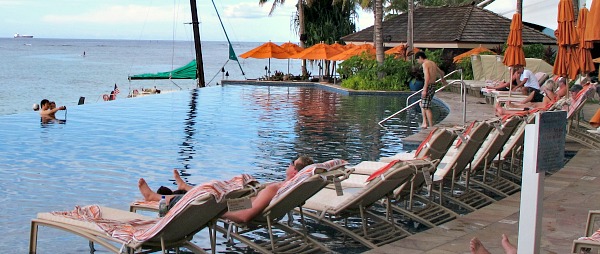 The Adults-Only Infinity Pool at the Sheraton Waikiki Hotel
Sheraton Waikiki – if you want your romantic Hawaii Holiday to be in a "super resort", try the Sheraton. There is shopping galore in and immediately around the hotel, and even poolside! 

They've got an awesome oceanfront lounge, 

RumFire

, and

the best

Infinity Pool in Waikiki (Adults only too). If you're a couple that likes being in a hotel that feels like the hub of activity, the Sheraton is for you. Best Rooms at the Sheraton: Ocean or Diamond Head view, 7th floor & up. 

2019 ERV Rating* for Romantic Waikiki Hotels:

 

76%

 - Good.

(2255 Kalakaua Ave, Honolulu, HI  808-922-4422)
5. Royal Hawaiian Hotel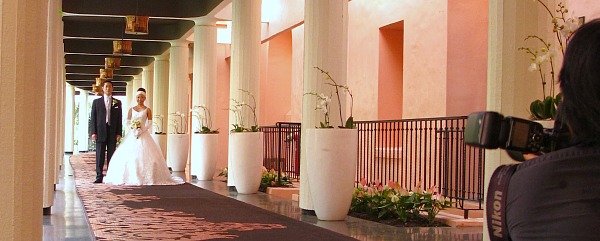 Photo Time for this Couple on their Romantic Wedding at the Royal Hawaiian Hotel in Waikiki
Royal Hawaiian Hotel – renovated just a few years ago, the Royal Hawaiian, like the Moanna Surfrider next door, exudes an atmosphere of old Hawaii. Their Mai Tai Bar is outstanding, and for room choice, the Tower is newer, but the older section has more of the Old Hawaiian feel. 2019 ERV Rating* for Romantic Waikiki Hotels:

 

80%

 - Very Good.

(2259 Kalakaua Avenue, Honolulu, HI  808-923-7311) 
Waikiki Vacation Packages & deals:
5 Romantic Activities & Things to Do in Waikiki
1. Watch the Hilton Hawaiian Fireworks Show – every Friday night around 7:45 PM. If you're not staying at the Hilton that's no problem – one of the best views from Waikiki is along the beach or pier in front of the Waikiki Shore & Outrigger Reef hotels (don't go to Ft.Derussy Beach Park – the lights ruin the view).
2. Dinner Cruise – the Star of Honolulu has romantic sunset dinner cruises, and one in particular perfect for honeymooners: the 5 star Sunset Dining & jazz, where you dine on French cuisine on a separate top deck private table (jackets recommended for men). More info: www.starofhonolulu.com
3. Walk & Window Shop the Waikiki Beach Walk – window shopping, happy hour at several restaurants (try the Yard House) cultural activities, and a free hula show Tuesdays at 4:30 PM (Lewers St between Kalia Rd and Kalakaua Ave).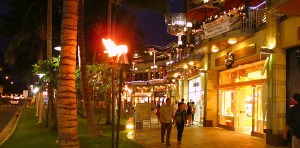 Waikiki Beach Walk at Night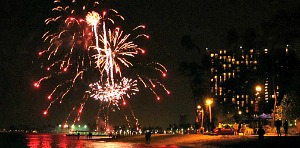 Fireworks at the Hilton Hawaiian Resort
4. Escape the Crowds at Kapiolani Park – a refreshing walk. Best to see weekdays as weekends usually means more people.
5. Enjoy a Sunset Together - it seems obvious (duh!), but actually, you can get caught up enough in sightseeing, tours, eating and shopping and actually miss this most romantic part of the day on the Hawaiian Islands. Sunset times in Waikiki vary (around 5:50 PM in the winter, 6:45 PM or so in the Spring). Best Spot: the beach of course...
Video: Romantic Waikiki Vacation Highlights
This is our video which shows the highlights of some of the romantic Waikiki vacation spots we describe on this page...
Best Places to Propose in Honolulu & Oahu: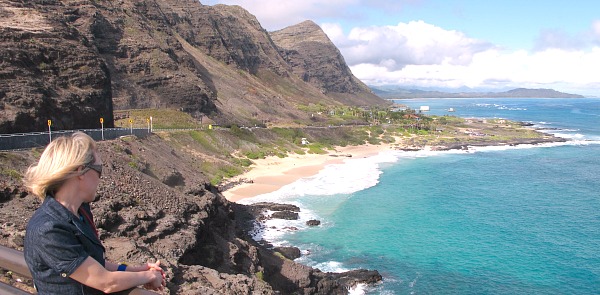 Great Views at Makapuu Lookout on the Eastern Tip of Oahu
If You Have a Car: Mount Tantalus has awesome views of just about everything and will be sufficiently un-crowded compared to the rest of Waikiki. Or up at the Makapuu lookout, with panoramic views of Waimanalo below.
No Car: We can't recommend anything better or more romantic than the Waikiki Beach itself – sunset is the best time naturally!
Romantic Restaurants in Waikiki: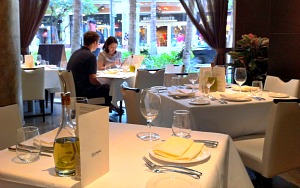 Taormina on the Waikiki Beach Walk
Don't spend your evenings at chain restaurants or with 300 people per table at an overpriced luau! Here's a few spots in Waikiki we checked out that meet the grade for romance…
Taormina: on the Waikiki Beach Walk, a nice fusion of Sicilian & Hawaiian cuisine, coupled with an impressive wine selection. Prices are very reasonable, and we enjoyed the quiet "oasis-like" feeling amidst the Waikiki hustle and bustle. They've also got outdoor patio seating which tends to fill up quickly near dinner hour. We stopped by during late afternoon and loved the $5 wine and appetizers happy hour (3 to 5 PM).
La Mer: an exquisite place (we're taking 5 diamond here!), the La Mer is a choice spot for special celebrations, like a honeymoon or 25th/50th wedding anniversary trip. Inside the Halekulani Hotel.
Surf Room at the Royal Hawaiian: Breezy, relaxing and romantic, and a perfect spot for a weekend morning brunch.
Arancino: a cozy, intimate little place tucked away quietly on – street. The Italian flags out front give it away, but expect your pasta to arrive with an almost Asian-fusion flare! The lobster bisque is the signature dish here.
Roy's: this Waikiki legend consistently gets 4/5 stars, and try the Ahi tuna if you get a chance. One other thing we noticed on the menu: they feature a number of Hawaiian specialities made with local grown produce.
Romantic Lounges & Places for a Drink in Waikiki – RumFire at the Sheraton Waikiki for their fire pits, rum selection and tasty "Bahawaiian" appetizers (oceanfront, awesome views of Diamond Head, $5 cocktails from 4 - 6 PM .)... or, sacrifice a bit of the beach for more altitude at Top of Waikiki's revolving restaurant – get there for their 5PM to 7PM happy hour and combine the $4 Martinis with the sunset views... The Shorebird restaurant is a great spot for dinner, with excellent food and views out across the water to Diamond Head, but it can get crowded at dinner hour. However you can sample the atmosphere for cheap anytime between noon and 5 PM with their $3.50 Mai Tai special. Alternatively, the Ocean House beside it has the same view and is a little quieter.
Map of Romantic Waikiki Vacation Spots
View
Romantic Waikiki Vacation Spots - Excellent Romantic Vacations
in a larger map
This map shows the locations of the various attractions we talk about on this page. Clicking on the blue bubbles reveals what each Waikiki destination is, address, and related details.
*ERV Rating: our unique, non-scientific ratings for romantic accommodation include:
Amenities: including Whirlpool bath or 

JACUZZI

®

Tub

,

scenic view, fireplace, lounge, etc
Location: proximity of hotel to restaurants, pubs, downtown, etc
Clientele: demographic the hotel attracts (couples, families, business travelers, etc)
Popularity: based on social media & crowd-sourced reviews 
Value: product offered compared to room rate 
Please Note: percentage ratings are not absolute but for comparative use only  
√ COVID Safety Plan: identifies hotels and inns that clearly indicate they are taking measures to prevent the spread of COVID-19.
Excellent Romantic Vacations - Top Pages
---