69 Vacation Planning Ideas for Romantic Getaways & Honeymoons
Romantic Vacations Home › Romantic Vacation Ideas › Vacation Planning
By Greg Mattson, ERV Editor - Posted: Feb 24, 2016
Do you find vacation planning hard? It can be, even for seasoned travels! So we've collected an extensive list of some of our favorite tips for romantic travel planning, all on one page. We hope you find something here that is useful for your next getaway...  
Online Travel Research, Planning & Booking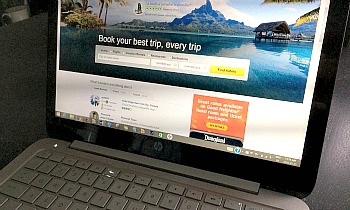 TripAdvisor is a Great Vacation Planning Tool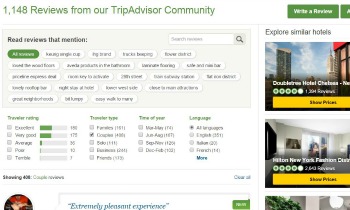 Hotel Review on TripAdvisor
TripAdvisor Tips:
1. On TripAdvisor's specific hotel pages, check out the hotel's special offers tab just below the name of the hotel at the top of the page for special promo codes, extra-night deals, and romantic little perks like a bottle of wine or chocolates on arrival.
2. To find out how hotels on TripAdvisor rate specifically for romantic getaways, click the box that says "Couples" under the Traveler Type section just above the start of the reviews. The page will re-load showing you only reviews by couples of that hotel or inn.

3. To get a better sense of exactly how a hotel rates on TripAdvisor, disregard the very best and very worst reviews, and concentrate on the "core opinions" in the middle. Also, consider how many reviews the hotel has. The more reviews, the more accurate the ratings will be. 

4. Notice the dates of hotel reviews on TripAdvisor. A not-so-good hotel or inn may have done some major upgrades since the last review was written, or had a change of management or innkeeper. Or, that once great place to stay may be having some issues of late. Recent reviews (within the last 4 or 5 months) can indicate a positive or negative trend that you should know about.
5. TripAdvisor Forums are a gold mine of travel info, especially if you are looking into a particular activity. To dig deep in to the forums, first locate the city or state forum for your destination, and then do a keyword search like "romantic walks" or "scenic view".

6. When you browse through hotel photos on TripAdvisor, it's good to know the difference between Management (or professional) Photos and Traveler's Photos. The management ones are staged, while Travelers Photos are "warts n' all" – exactly what others experienced in their stay there.
7. How to tell if review and reviewer on TripAdvisor can be believed: how many reviews does the reviewer have? Are they hung up on one issue about the hotel? If there were problems, did they try to resolve them with management? Or simply get mad, walk into the room and start photographing every little crack in the wall and speck of dust they could find.
Social Media Travel Planning:
8. Monitor the Facebook pages of hotels and inns at your destination. You'll frequently come across deals on those FB pages not available anywhere else.
9. YouTube can also be an excellent vacation planning tool. Just input your next destination or the hotel/resort you're interested into a YouTube search, and you'll often find videos showing lots of useful stuff, including very candid footage of the hotel and rooms.
10. Subscribe to the e-mail lists for major hotels and airlines. That way you'll get advanced notice of sales, and even exclusive offers and promo codes.   
11. Instagram,Twitter, Pinterest and Facebook are for more than just keeping up with friends - they can help you get excited about your getaway ahead of time! Explore social media for all sorts of things to do, places to go & stay, best beaches, deals, etc.
12. Your iPad can help you plan a great romantic holiday. Visit the App Store (or Google Play if you use an Android Tablet) and you will discover free or cheap downloadable travel guides & apps for your destination.  

---
Enroute: Tips for Flights & Drives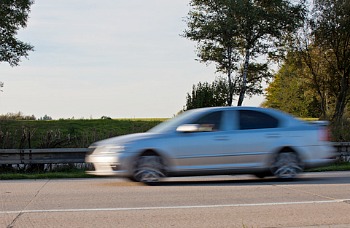 13. If possible, book all your flights for afternoon or evening departure times. Getting up before sunrise and coping with airport check-in and security line-ups is very un-romantic.

14. Here's 5 ways to turn a 7 hour airport layover into a fun break:
Buy a pass to an airline lounge
Take the train into the city (at airports with subway/train stations)
Get a day-rate room at an airport hotel
Find a nice pub or lounge close to the airport
Hire a taxi and request a quick tour of the city!


15. Road trips can be great getaways, but plan ahead. Nothing can take the romance out of a getaway more than endless hours behind the wheel, especially when it includes fighting traffic and trying to navigate strange cities.

16. Keeping deadlines to a minimum can keep your travel romantic. Having a flight departure at 11 AM in order to rent the car at 2 PM to beat the rush hour and catch the 4 PM ferry so you can check in before 6 PM is just going to load up your holiday with stress and pressure.

17. Instead of queuing up in a taxi line after you arrival at an airport, pre-book a limousine pick-up for your arrival! In some cities, they are virtually the same price as a taxi.



18. Renting a car? Check out the price for an upgrade to a luxury automobile. Small and mid-size vehicles are in demand by budget-conscious travelers, so you can sometimes score a more luxurious sedan or SUV for only a little more. It's especially worthwhile if you'll be doing some touring with it.
19. Buy a couple of airline lounge passes before your next flight. Even though they might not really be worth the money, it's surprising how much "luxury" they can add to your whole airport & travel experience. You can get them from the airline's own websites, or try ebay where they sometimes sell for up to 50% less.
20. Try booking 2 premium economy seats for your next vacation. For a small surcharge, it can replace that cattle-car crammed in feeling of standard economy with a more relaxed atmosphere.

21. Have you been collecting frequent for points for a long time (maybe even racked up a hundred thousand), but don't know what to do? You might be able to redeem them for a couple of transcontinental business-class seats on a major air carrier, which can give your holiday a whole different feel.
---
Tips on Hotels and Accommodation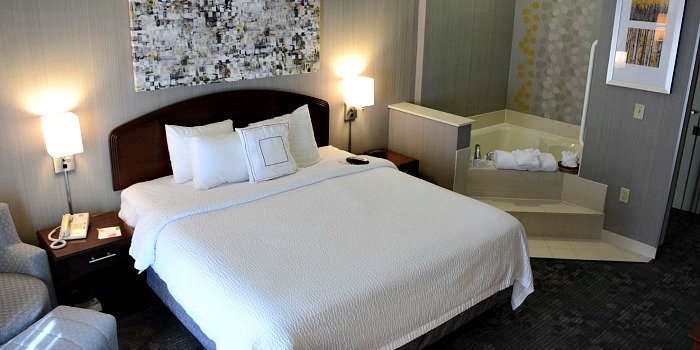 Romantic Hotel Suite with Jacuzzi at the Marriott Courtyard in Colorado Springs, CO
22. 5 things to look for in a B&B to make sure you're both comfortable with your stay there:
Will you be eating breakfast with 6 other people at the same table, or can you dine separately at a small table for two?
Is the B&B a small inn, or is it basically just someone's home? If they only offer 1 or 2 rooms, it's probably just their home.
What do the reviews say about the innkeeper(s)? Rude? Nice? Full of little rules? Pleasant hosts, or a bit too friendly and talking all the time? Do they accept late arrivals, or will the door be locked at 10 PM, no exceptions?
Double check to make sure you have your own private bathroom, not a shared one (more common in the UK & Europe).
Which credit cards do they accept?
23. Download the Hotel Tonight app, which has excellent deals for last-minute hotel rooms.  

24. Glamping is one of the newer trends in romantic travel. A few places that offer luxury accommodation "camping-style" are:
25. Book a hotel suite with an in-room hot tub.  
26. It's an old trick but sometimes still worth a try: When checking into a hotel, or when booking thru the hotel's own website and filling out the comments/request box, mention your special occasion (honeymoon, anniversary, etc). Who knows, a bottle of wine or rose petals awaiting you in your room.
27. Book a room with an unbelievable view. Las Vegas, New York City and San Francisco are 3 obvious choices for cities that have a good selection of hotel rooms with amazing views. 

28. Stay overnight in a castle. You don't have to fly all the way to Scotland to do it - here's several romantic "castle hotels" right here in the U.S.:
29. A treehouse, inside a cave, a Tipi, a riverboat and a railway car - just some of the
 out-of-the-ordinary romantic places to stay you'll find on our list. 
30. Book a romantic lodge for your next getaway. 3 that come to mind are:
31. While planning your trip, look for hotel rooms that have a walk-in shower. In most cases, they're big enough for 2 people, have one of those rain-shower heads, and can be very romantic!
32. When you check in to your hotel, ask the front desk staff about a late check-out on your final day. That eliminates scrambling to get up early, pack and leave, and makes it feel almost like a small holiday extension.

33. Keep the 1-night stands to a minimum. Ahem, let's clarify that: what we mean is, finding, driving to, and checking in and out of hotels and resorts can add stress to your vacation. While it's tempting to cram in 3 or 4 different destinations and hotels in a 1 week holiday, you'll relax a lot more by using just 1 hotel or resort as a base and planning day trips and excursions from there. 
34. Book a getaway near some waterfalls. The obvious location that comes to mind is Niagara Falls. But there are some other less popular (and crowded) locations that are even more romantic, such as: 
35. Instead of the usual cookie-cutter room, shop for a romantic hotel theme room. They're not quite as tacky as they use to be (well, not all of them), and some are actually located in very romantic destinations. 
36. Book a Romance Package. Lot's of hotels and B&B's offer these, and they can include things like champagne, chocolates, picnic lunch or romantic carriage ride. If you're planning a surprise getaway, make a request when you book to have the hotel staff keep it a secret until the right time. If you're having trouble finding one, just google "Romantic Package" + "name of your destination city". But remember to do the math: is it cheaper to get the wine & strawberries yourself? Perhaps. But remember, you're paying for the convenience and element of surprise too.
---
Autumn & Winter Vacation Planning Ideas
37. Hay or Sleigh? 4 places to go on a romantic horse-drawn ride in the autumn or winter time:
38. Consider a great winter getaway in Alaska (Northern Lights viewing, sled dog tours, Hot Springs Resort) or in Canada in Quebec City (terrific Winter Carnival, skating, Ice Hotel, cozy French restaurants). 

39. Try a storm-watching escape to the West Coast. Winter by the Pacific Ocean in the northern hemisphere can be incredibly romantic. 3 ocean-front resorts that are perfect for watching the waves by a cozy fireplace are: 

---
Hawaii
40. 3 things to make "just another trip to Waikiki, Hawaii" more romantic this time:
Watch the fireworks show at the Hilton Hawaiian Village
Rent a car for the day and explore Oahu's eastern and western beaches and coastline.
Go for an early dinner and enjoy a quieter happy hour at a number of restaurants.
41. Include a high-altitude adventure. You can find tours and packages for Maui's Haleakala and the Big Island's Mauna Kea that can make a thrilling and romantic escape from the usual beach holiday.
---
California
42. An after-dinner walk on a pier never fails. Where? Here's 5 great spots:
Santa Monica Pier
Coronado Ferrry Landing, San Diego
Sam Clemente Pier, Orange County
Still Water Cove Pier, Monterey County
Pier 41, San Francisco
43. Sunset dining with a view of the Pacific can't be beat. 3 places we recommend are:
Georges at the Cove, La Jolla CA
Chart House, Redondo Beach CA
Sutro's at the Cliff House, San Francisco CA
---
Florida & Disney World Romantic Vacation Planning
44. 3 romantic things to do at Walt Disney World in Orlando:
Ft. Wilderness Horse-Drawn Carriage Ride
Fireworks Dessert Cruise
Romantic Dinner at Victoria & Albert's
45. 3 romantic places to watch the sunset on Florida's fabulous Gulf Coast:
Clearwater Beach
The pier in Naples, FL
Captiva Beach, Captiva Island
---
More Planning Tips for Vacation Destinations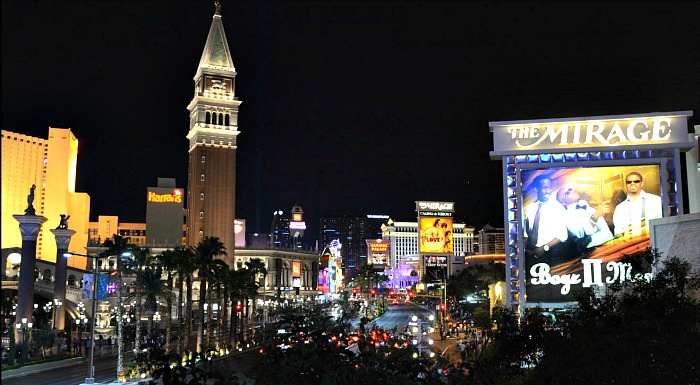 Spectacular Las Vegas Boulevard at Night
46. Go for drinks at a hotel lounge with a great view. Some that immediately come to mind are:
EPIC Hotel, Miami FL

Park South Hotel, New York City NY

Marriott Marquis, San Francisco CA

Mandarin Oriental, Las Vegas NV

Signature Lounge, Chicago IL.
47. 3 very romantic evening cruises in the USA: Miami Sailing Cruises in Miami FL, Classic Harbor Line Cruises in NYC, and the Pride of Maui Sunset Dinner & Cocktail Cruise in Maui, HI.
48. 3 of the most unforgettable romantic road trips you can take in North America:
49. Consider a small town getaway: Places like Galena, IL, Fredericksburg, TX and Mendocino, CA are home to very attractive main streets, gorgeous B&B's and small inns, and some interesting excursions and day trips to the surrounding area. 

50. Covered Bridges may be movie-sappy, but they're still romantic. Try Vermont, New Hampshire and of course, Iowa.
51. 2-person pedal boats are a nice break, and in some land-locked places, the only way to get out on the water! 

52. Some of the most romantic ferry rides we can think of in the U.S. and Canada:
San Francisco – Sausalito, CA
Seattle - Bainbridge Island, WA
Vancouver – Victoria, BC
St. Ignace/Mackinaw City - Mackinac Island, MI
53. Looking for an adventurous romantic destination in North America that is a little "off the beaten path"? Try Newfoundland, New Mexico, or Utah. 
54. Instead of just driving past the vineyards and stopping in at one winery for a sample, plan your next visit to a wine region the right way and book a full wine tasting tour that picks you up right from your hotel or close by. That way, you can do some serious sampling and not have to worry about driving. Shuttle van-style tours are OK, but if you can afford it, the pricier limo tours are the ultimate in romance. So is a tour by wine train, like the Napa Wine Train.

55. 5 Ultra-romantic places to propose, away from cities in the USA:
Whitaker Point in Arkansas
Watkins Glen State Park in NY State
Oneonta Gorge in Oregon's Columbia River Gorge
Mendenhall Glacier near Juneau, Alaska
Havasu Falls in Arizona
56. Find a swimming hole in your travels and jump in! 3 spots that immediately come to mind in the U.S. are Maui, HI, Texas Hill Country, and Cummins Falls, TN.
57. 5 top places for romantic star gazing in the US: Kitt Peak National Observatory in Arizona, Mauna Kea on the Big Island of Hawaii, The Headlands in Michigan, Natural Bridges National Park in Utah, and Cherry Springs State Park in Pennsylvania.

58. 5 of the quietest and most peaceful romantic destinations we know of to relax in:
Kauai, HI
Northern California Coast (Mendocino and Ft. Bragg area)
Uclulet, British Columbia
North Carolina's Outer Banks
Rural Vermont


59. 7 places in North America where it's easy pretend you're on a romantic European vacation:
The Gondolas at the Venetian Hotel in Las Vegas

the Old Town in Quebec City QB

Riding the top of a Double-Decker bus in Victoria BC

Cape Breton Island National Park in Nova Scotia

the French Quarter in New Orleans LA

Providence RI's waterways, canals and arched bridges

The 

Bavarian

 Town of Leavenworth WA 
60. 5 fantastic places to experience a romantic sunset in the USA:
Grand Canyon, AZ
Big Island of Hawaii
Naples, FL
Malibu, CA
Lahaina, Maui, HI
61. Include a movie at a Drive-in Movie Theater in your weekend getaway. There's only a precious few left, so plan well. Check out this complete listing of theaters (it's a couple years old, so double check what you find).

62. Make it an island getaway. If you can't make it to the Hawaiian Islands, no problem, there's some great islands closer to home waiting to be explored: Sanibel Island FL, Macinac Island MI, Catalina Island CA, and the San Juan Islands in WA. In Canada, romance reigns on Vancouver Island and Prince Edward Island.
63. Tubing down a gentle river together can be a great romantic outing. Where you ask? 
64. If you're planning a getaway by the water, try to budget for just one nice dinner at a waterfront location. Here's a few romantic restaurants by the water worth the splurge: George's at the Cove in La Jolla, CA, Kauai Grill at the St. Regis Princeville Resort in Kauai HI, the River Cafe in Brooklyn, NY, the Rusty Pelican in Key Biscayne FL, and Waterbar in San Francisco, CA.

65. 3 short and very scenic train trips for romance on the rails:
66. If you can't afford to actually travel away from home, you can always try a Staycation (where you have a holiday in your own city or town). And with the money you save on airfare, etc, you can splurge and stay in a luxury hotel suite! 

67. 5 of the best beaches we know for romantic walks: Cannon Beach on the Oregon Coast, Long Beach on Vancouver Island, BC, Kauai's Spectacular North Shore, Gulf Coast Florida, and 

68. Tandem and side-by-side surrey bike rentals are a healthy and excellent way for 2 to see the sights. Here's a few possibilities:
69. 5 romantic weekend  destinations for cheapskates - some of the most affordable spots to getaway to: Orlando, Las Vegas, Phoenix, Atlanta and Charleston SC.

Excellent Romantic Vacations - Top Pages
---