25th Anniversary Vacation Ideas - Plan the Getaway of a Lifetime
25th Anniversary
FTC: This page uses affiliate links. More.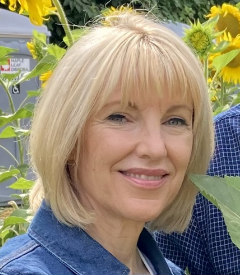 By: Maureen Mattson, ERV Asst Editor - Updated: Nov 25, 2021   

Congratulations on your 25th! A quarter century of togetherness means you need and deserve the getaway of your dreams. Whether it's budget or splurge, city action or no stress, close to home or exotic (as in overwater bungalows!), have a look at some of our newest ideas for a great holiday together...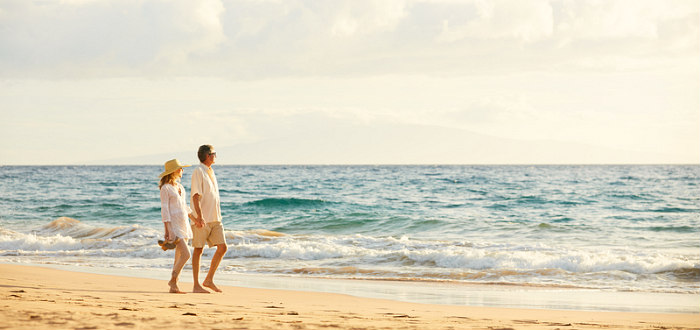 Experience a Memorable, Stress-Free 25th Anniversary Vacation on a Warm Caribbean Beach
25th Anniversary Caribbean Destination Ideas
Bahamas
Why the Bahamas is a Great 25th Anniversary Destination: Fantastic weather pretty much any time of the year- Great choice of accommodation - World-Famous pink sand beaches - Lots of delicious local food to try. 
Best Months for an Anniversary Getaway: January, February, March and April.
On Your 25th Anniversary Getaway in the Bahamas: Christopher Columbus called Long Island in the Bahamas "the most beautiful island in the world".  Take a walk along the 3-mile Santa Maria Beach with your toes in the powder-white sand. Time your romantic walk to end at the Santa Maria Beach Hotel where you can share a drink and watch the sunset.

Cape Santa Maria Resort & Villas, Bahamas
Sunset at Cape Santa Maria Resort
Cape Santa Maria Beach Resort & Villas -

ultra-romantic resort on Bahama's Long Island that offers up oceanfront villas and a beach that is nothing short of splendid. 

What Other Couples Liked: Beautiful Beach & Calm Water...Meal Plan with Delicious Bahamian and Continental Choices...Car Rental at the Resort. 2021 ERV Rating* for a Caribbean Anniversary Vacation: 96% - Excellent.
---
Barbados
Why Spend Your Anniversary Getaway on Barbados: Unique mix of British culture with laid-back Caribbean charm - Terrific music, nightlife and festivals - Very friendly and hospitable people.
Best Time to Experience Barbados: just about any time of year! Barbados rarely experiences adverse weather during hurricane season, so even if you're anniversary falls in August, September, October or November, consider holidaying here.
To Do In Barbados On Your Twenty-Fifth Anniversary: Take a picnic lunch and stroll through the hidden paradise of Hunte's Gardens. Listen to classical music as you discover unusual plants and animals.

Imagine a Romantic 25th Anniversary Getaway at the Hilton Barbados Resort
---
Antigua
Reasons for Celebrating Your 25 Year Anniversary on Antigua: Fine white sand, and calm, warm ocean water - Colourful, reggae-filled St. Johns - Terrific seafood.
Best Months to Spend Your 25th Here: escape the crowds and enjoy cheaper rates at resorts for a May, June or July anniversary trip here in the West Indies.
Make Your Anniversary Super-Romantic: Arrange for a private dinner on the beach at Galley Bay Resort. Or reserve the gazebo for a truly unique dining experience. You can even collaborate with the chefs on your menu.


Antigua's Beaches - World Famous Sand and Sunshine Destination Perfect for Any Twenty Fifth Anniversary
The Villas at Sunset Lane - a gorgeous and tropical boutique hotel wildly popular with couples, with premium suites offering JACUZZI® Tubs, and the option for all-inclusive rates featuring customized meals. What Other Couples Liked: less than 10-minute walk to the beach...delicious rum punch on arrival...quiet resort. 2021 ERV Rating* for Anniversary Trip in the West Indies: 96% - Excellent.
---
Warm Spots for 25th Anniversary Trips in the U.S.
Maui, Hawaii
What Makes Maui and Ideal Choice for your 25th Anniversary: Perfect balance of unspoilt beauty and world-class resorts and dining - Gorgeous beaches - Some of the best sunsets anywhere in Hawaii!
Best Time of the Year for a Vacation in Maui: anytime is good in Maui, but the months of April, May and August to October are top for sunshine, fewer crowds and reasonable prices.
Romantic Idea on Your Hawaiian Anniversary: Splurge on a romantic photo shoot on the beach so that you can take home the memories of this special occasion. Many professional photographers with creative ideas are available locally.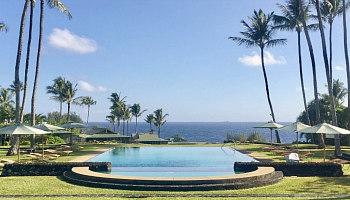 Infinity Pool at the Hyatt Hana Maui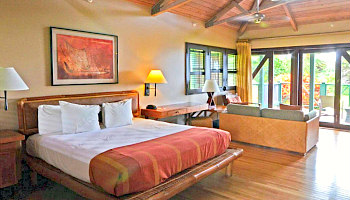 Secluded and Romantic Hana Maui Resort
Hyatt Hana Maui Resort - more than just a resort, a stay at this award-winning resort is a uniquely Hawaiian experience, and one that will make your 25 year anniversary vacation a most memorable one. What Other Couples Liked: Beautiful Cottages & Grounds...Activities like Horseback Riding and "Smoothie Classes"...pool and hot tub with ocean view. 2021 ERV Rating* for Hawaiian Anniversary Getaways: 84% - Very Good.
---
Naples, FL
Why Naples, FL for Your 25 Year Anniversary: it's the prefect answer to all the stress and crowds found in southern and central Florida. And don't worry, Naples has recovered very nicely from Hurricane Irma in 2017. 
Good Months to Be in Naples: best months for an anniversary trip to this part of the Florida west coast would be about February till mid-May, for the best balance of weather and prices.  
Celebrate 25 Years of Marriage in Naples, FL: Take a narrated sunset cruise on the Naples Princess. See the wildlife of the Gulf of Mexico and wealthy neighborhoods around Naples Bay.

A Terrific Destination On Your 25th Anniversary - Inn on 5th, Naples Florida
Inn on Fifth - one of the top-rated boutique hotels on Florida's Gulf Coast, with both beaches and downtown Naples just a short walk out the hotel front door. What Other Couples Liked: Rooftop Pool...Continental Breakfast and Daytime Snacks...Free Valet Parking. 2021 ERV Rating* for Naples, Florida Inns: 92% - Excellent.
---
More 25th Anniversary Vacation Ideas
Plunge Pool Suites - a complete directory to romantic suites with plunge pools right here in the U.S.
Bora Bora, Tahiti: Overwater Bungalows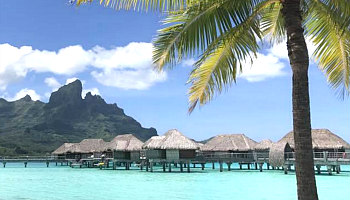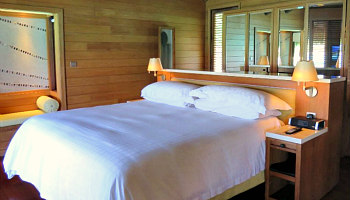 Four Seasons Resort Bora Bora - what a perfect 25th anniversary gift for your husband or wife: a surprise getaway to breathtaking Bora Bora, and a dream stay in an overwater bungalow at the luxury Four Seasons resort. What Other Couples Liked: Drinks at the Sunset Bar...Overwater Suite with Plunge Pool...Two-Person Tubs with Lagoon View. 2021 ERV Rating* for an Exotic Anniversary Resort: 96% - Excellent.
---
Wine-Lovers 25th Getaway: Temecula, CA
Best Time to See Temecula, CA: the harvest-season months of August, September and October would be a perfect time to plan your 25th anniversary here in sunny Southern California. 
Perfect To-Do On Your Anniversary Getaway: Arrange for a one or two hour horse-drawn carriage ride from Temecula Carriage Company. They offer private rides that showcase vineyard sunsets along with sparkling wine and a picnic basket for two.
Room at the Carter Estate Winery & Resort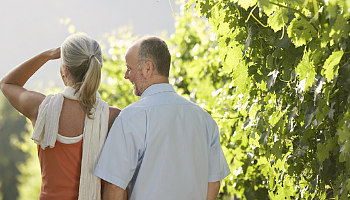 Add Some Wine to Your 25th Getaway!
---
Dingle Penninsula, Ireland
Best Months to Vacation in Ireland: if you're anniversary takes place in the spring or fall, this can be a delightful time to be in Ireland. March to May and September to October offer reasonably good weather, and shoulder seasons for travel which means fewer crowds and affordable prices. You can always count on some clouds and a shower or two, but remember that it never rains in the pub!  
For Your Ireland Anniversary Trip: Take in the spectacular scenery of the Dingle Peninsula on the Slea Head Drive. It's a shorter trip with fewer tour buses than the Ring of Kerry and offers great pubs and music in the small towns along the way.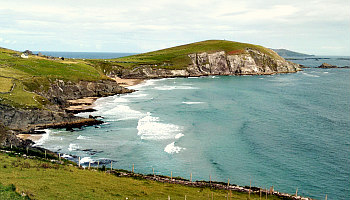 Ireland's Gorgeous Dingle Peninsula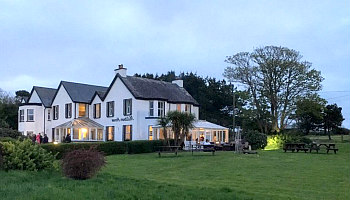 Romantic Irish Inn - Milltown House
---
Budget-Friendly & Romantic 25th Anniversary Hotel Stays:
New York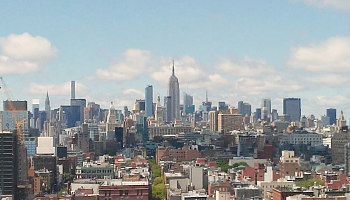 Chicago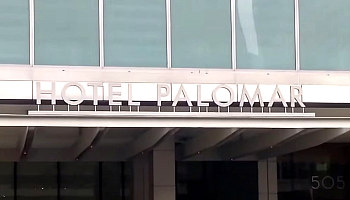 Los Angeles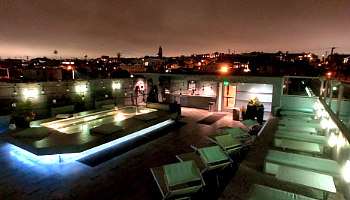 ---
Washington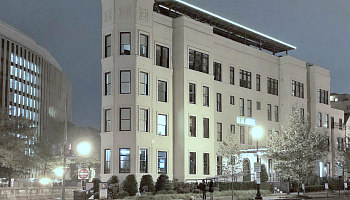 Dallas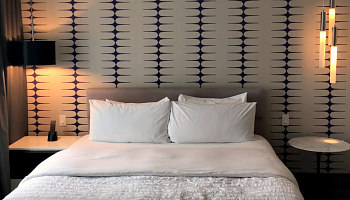 Atlanta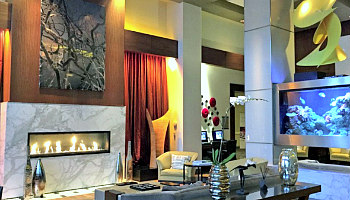 ---
Houston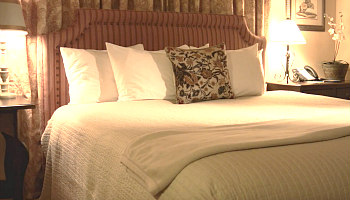 Boston
San Francisco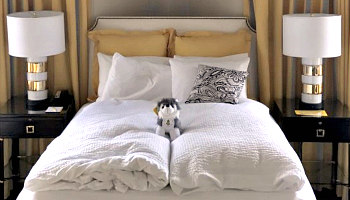 *ERV Rating: our unique, non-scientific ratings for romantic accommodation include:
Amenities: including Whirlpool bath or 

JACUZZI

®

Tub

,

scenic view, fireplace, lounge, etc
Location: proximity of hotel to restaurants, pubs, downtown, etc
Clientele: demographic the hotel attracts (couples, families, business travelers, etc)
Popularity: based on social media & crowd-sourced reviews 
Value: product offered compared to room rate 
Please Note: percentage ratings are not absolute but for comparative use only  
top hotels, getaways & packages on ERV
---