Hotel Walk-In Showers
Romantic Hotel Showers for Two in the USA 
---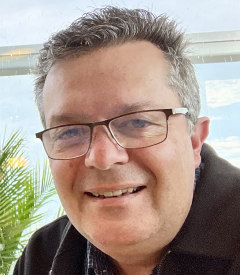 By: Greg Mattson, ERV Editor - Updated: Aug 8, 2022   

FTC: This page uses affiliate links. More. 

Tired of how bland your basic hotel bathroom shower is? 

Our Guide to Hotel Showers for Two Can Help You Find Romantic Rooms with 2 Person Showers
That's why we've carefully compiled our guide to romantic hotel showers for two in 20+ states and cities across the USA, including Hawaii.

These hotel and B&B rooms of course may vary in location and amenities, and range from cheaper chain-hotel rooms to luxury inns. While some have those fantastic rain-shower heads (or rainfall shower feature) and even side jetted body sprayers, they all have one thing in common: these hotel showers are large enough for 2 people to walk in and enjoy! 

(Please Note: This page is meant as a general guide only. Hotel rooms and amenities can change at any time, so please confirm with each hotel before making confirmed travel plans.)
Northeast Hotel Showers for Two:
new york state
Hotel Eventi Walk-In Shower for 2 ©TripAdvisor
New York City

Hotel Eventi NYC Walk-In Rain Showers - beautiful large marble walk-in showers for two with Rain Shower heads are just one of the room features of this attractive Kimpton boutique hotel in Chelsea, on Manhattan's West Side and only 2 blocks from Penn Station. 2022 ERV Rating* for New York City Hotel Walk-In Showers: 92% - Excellent. (851 Ave of the Americas, New York, NY 212-564-4561)
The Standard High Line New York City - The Liberty Suite is called "a wood paneled adult playground". There's a large walk-in rain shower for two, plus an adorable "teacup" bathtub big enough for you both. And check out the seven-foot round platform bed! Located in the famous Meat Packing District of The Big Apple, this suite also gives you great views of the Hudson River and downtown Manhattan. 2022 ERV Rating*: 82% - Very Good. (848 Washington St, New York NY 212-645-4646)
Upstate New York
The Fern Lodge in Upstate New York - All five of the suites here have what they call a "steam shower with deluge shower head and body sprays" in addition to the two-person deep soaking tubs. They've also got stone fireplaces, nightly wine and hors d'oeuvres, a turn down service that includes chocolate truffles, and a full breakfast. 2022 ERV Rating*: 96% - Excellent. (46 Fiddlehead Bay Rd, Chestertown NY 518-494-7238)
new jersey: doubletree tinton falls
DoubleTree by Hilton, Tinton Falls, Eatontown, NJ - Both the Presidential and the Governor's suites at this DoubleTree near the Jersey Shore are equipped with luxurious rain showers. Keep in mind that these suites require you to book a full two months before your arrival, so plan ahead. 2022 ERV Rating*: 70% - Good. (700 Hope Rd, Eatontown NJ 732-544-9300) 
philadelphia & pennsylvania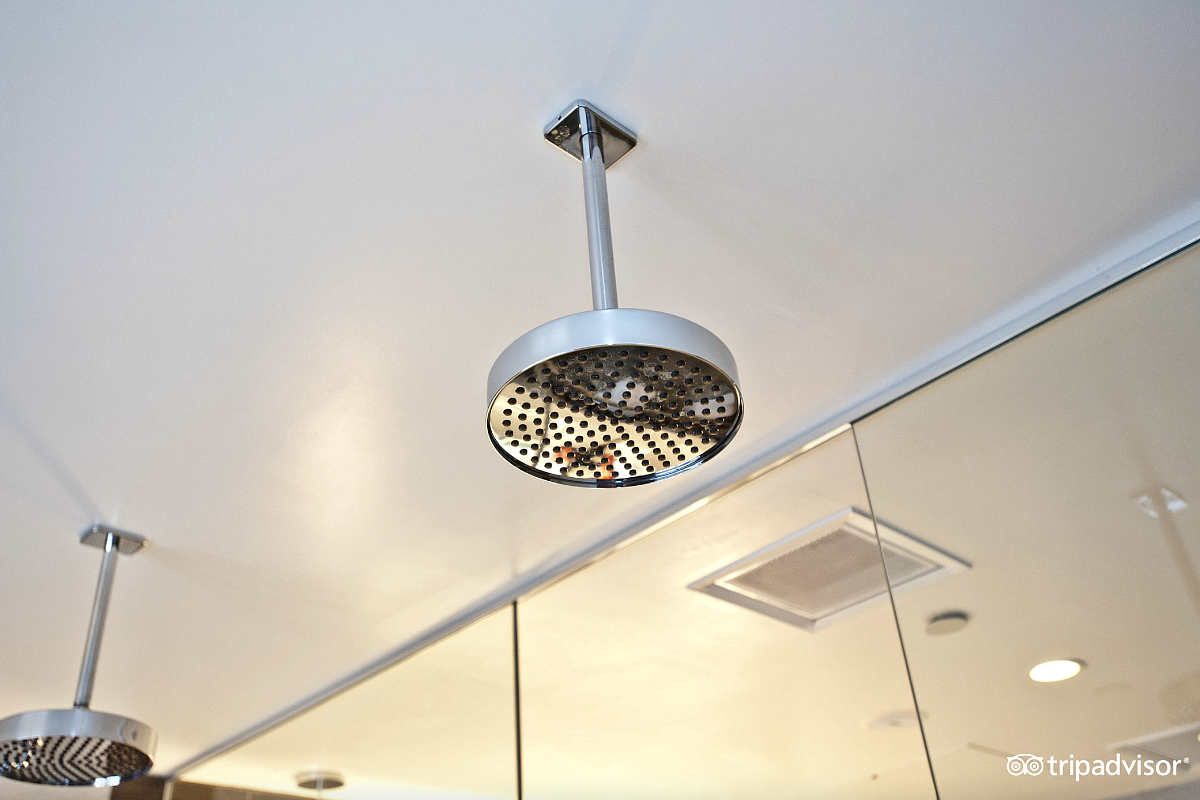 Hotel Palomar Philadelphia Presidential Suite Rain Shower ©TripAdvisor
Hotel Palomar, Philadelphia

 - This is a beautiful Art-Deco building from 1929 that has been completely restored. It's set in the trendy Rittenhouse Square neighborhood of Philadelphia. The Deluxe 1-Bedroom King Suite and the Presidential Suite both have walk-in showers. But the Presidential Suite has individually controlled body sprays as well as dual-controlled traditional shower heads. It's also got a TV in the mirror. 2022 ERV Rating* for Philadelphia Hotel Suites with Rain Showers: 92% - Excellent. (117 South 17th Street, Philadelphia PA 888-725-1778)
Penthouse Suite Shower - Inn at Bowman's Hill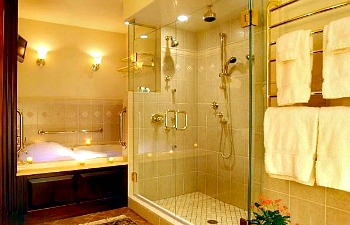 2-Person Shower, Inn at Bowman's Hill, PA
Inn at Bowman's Hill, New Hope PA

- The Penthouse Suite on the third floor has a shower like none other. Let's start with the "starlight ceiling" with its 300 fiber optic stars, and a shooting star that appears every 5 minutes. The huge steam shower numerous body sprayers (more water coming at you than we've ever seen outside a water park!), along with the rain head, after-shower infrared heat lamps, heated towel bar and cozy robes. Need we mention there is also a corner jetted tub for two?

2022 ERV Rating*: 96%

- Excellent. 

(518 Lurgan Rd, New Hope PA 215-862-8090)
washington dc
Hotel Zena Washington DC

- The unique attraction in the luxury suites here are the cocoon spiral walk-in showers in the marble bathrooms. The opaque Plexiglas and rounded edges give these showers a completely different and look and feel. Complete the experience with plush terrycloth robes and Gilchrist and Soames bath products. There's a rooftop lounge with pretty amazing views too. 2022 ERV Rating*: 86% - Very Good. (1155 14th Street, NW, Washington D.C. 888-550-0012)
More Romantic Accommodation in the Northeast:
---
Midwest Hotel Walk-In Showers
chicago, illinois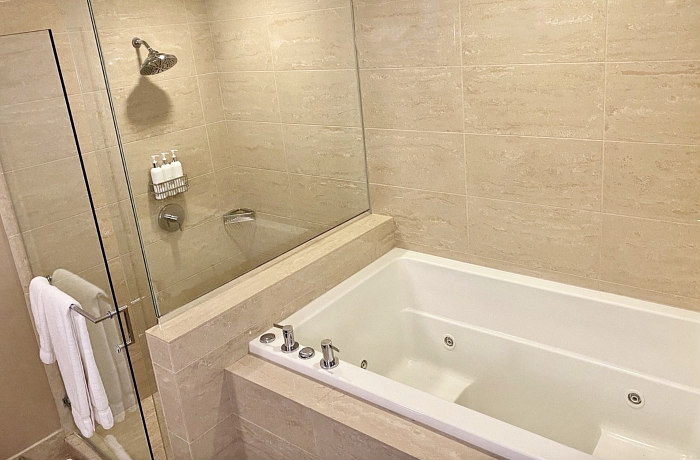 Royal Sonesta Chicago - Jetted Tub & Shower
Royal Sonesta Chicago River North - The King Spa Premier Room in this hotel has a marble two-person shower, as well as a whirlpool soaker tub. The location in River North, near Michigan Avenue, makes it a great location for your next romantic getaway in Chicago. 2022 ERV Rating* for Chicago Hotel Suite Showers for 2: 96% - Excellent. (505 North State Street, Chicago IL 877-731-0505)  
Galena, IL:
Best Western Designer Inn Galena - The designer Fantasy Suites really are straight out of a romantic fantasy! The electronic waterfall shower in the Crystal Cave suite has six different body sprays. The Heart's Delight suite has four sprays in its walk in shower as well as a heart-shaped Whirlpool for two. And the Roman Palace suite has 14 sources of water in its deluxe shower. Hint: Ask about the Romance Basket options available. 2022 ERV Rating*: 80% - Very Good. (9923 W. US Route 20, Galena IL  815-777-2577)
iowa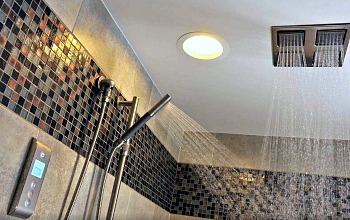 Des Moines Embassy Suites Rain Shower
Hilton Embassy Suites, Des Moines

- The Presidential Suite is 1100 square feet of romantic luxury. It has a private bathroom that includes a large walk-in Kohler water tile shower, a remote control, high efficiency toilet, large closet area, and great views of the city and Des Moines River. 2022 ERV Rating*: 80% - Very Good. (101 East Locust St, Des Moines IA 515-244-1700)
michigan
MGM Grand Detroit - The luxury guestrooms and corner suites have dual rainhead triple body wash showers in addition to deep soaker tubs.  Great places to eat, lots of live entertainment and a relaxing spa are some added perks to this one. 2022 ERV Rating*: 80% - Very Good. (1777 Third St, Detroit MI 877-888-2121)
ohio romantic hotel showers
Belamere Suites, Perrysburg OH - This romantic boutique hotel in Perrysberg Ohio offers 2-person walk-in showers in each suite. But check out The Presidential Pool suites! They've got private, attached, heated pools, jetted tubs and walk-in showers for two. You also get an attached garage, fireplace and fresh European breakfast. Truly presidential treatment! 2022 ERV Rating*: 96% - Excellent. (12200 Williams Rd, Perrysburg OH  419-874-2233) 
Hampton Inn & Suites Columbus Downtown - Ask for the 1 King Standard room with walk-in shower or the 1 King 1 Bedroom Deluxe with walk-in shower. They provide you with a special shower head and a curved shower rod that allows for more light and space in. The downtown location of this hotel, right across from the convention center, makes it convenient and there are over 120 restaurants within walking distance. 2022 ERV Rating*: 88% - Very Good. (401 N. High St, Columbus OH  614-384-8600)
Courtyard Marriott Cleveland University Circle - For the walk-in shower experience, ask for a room with two Queen beds. This hotel is close to shopping, dining and popular attractions like the Cleveland Orchestra, Rock and Roll Hall of Fame, and Little Italy. 2022 ERV Rating: 80% - Very Good. (2021 Cornell Rd, Cleveland OH  216-791-5678)
wisconsin
Canoe Bay Hotel

- There are 27 guest accommodations in 20 separate romantic structures in this private wilderness getaway. Many of the cottages have walk-in tiled or glass block showers and steam showers. Some have heated floors and separate Whirlpool baths. Canoe Bay does not allow children so it's perfect for honeymoons, anniversaries, or any kind of adult romantic celebration. 2022 ERV Rating*: 88% - Very Good. (W 16065 Hogsback Rd, Chetek WI 715-924-4594)
Plus: Check Out These Romantic Suites in the Midwest:
---
New England HOtels with Rain Showers
boston, MA: Seaport hotel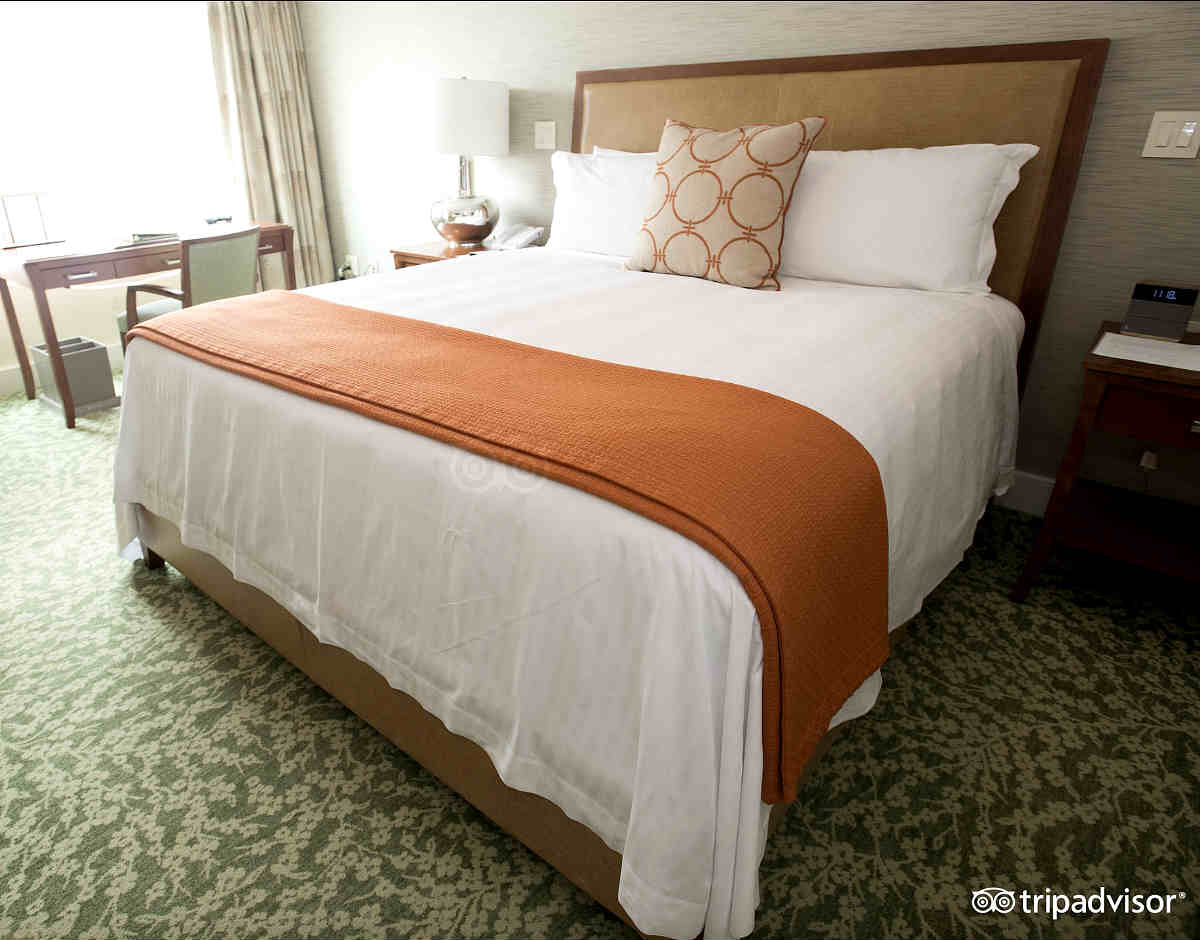 Boston Seaport Hotel ©TripAdvisor
Seaport Walk-In Rain Shower for 2 ©TripAdvisor
Boston Seaport Hotel - The gorgeous suites at this hotel feature walk-in rain showers and radiant heat floors. The mirrors are fog-free and have in-mirror televisions. Other luxuries include the plush robes and "pillow library". It's all right on the waterfront in the vibrant Seaport District of Boston. 2022 ERV Rating*: 94% - Excellent. (1 Seaport Lane, Boston MA  617-385-4000)  
See These Romantic In-Room Hot Tubs in MA: 
---
hotel showers for 2 in The South
hot springs, arkansas
Courtyard Marriott Hotel in Hot Springs, AR
Courtyard Marriott Hot Springs

- Tastefully decorated bathrooms in soft shades of grey, some with large walk-in showers. And there's a golf club only three miles away. 2022 ERV Rating*: 88% - Very Good. (200 Marriott Court, Hot Springs AR 501-651-4366)
florida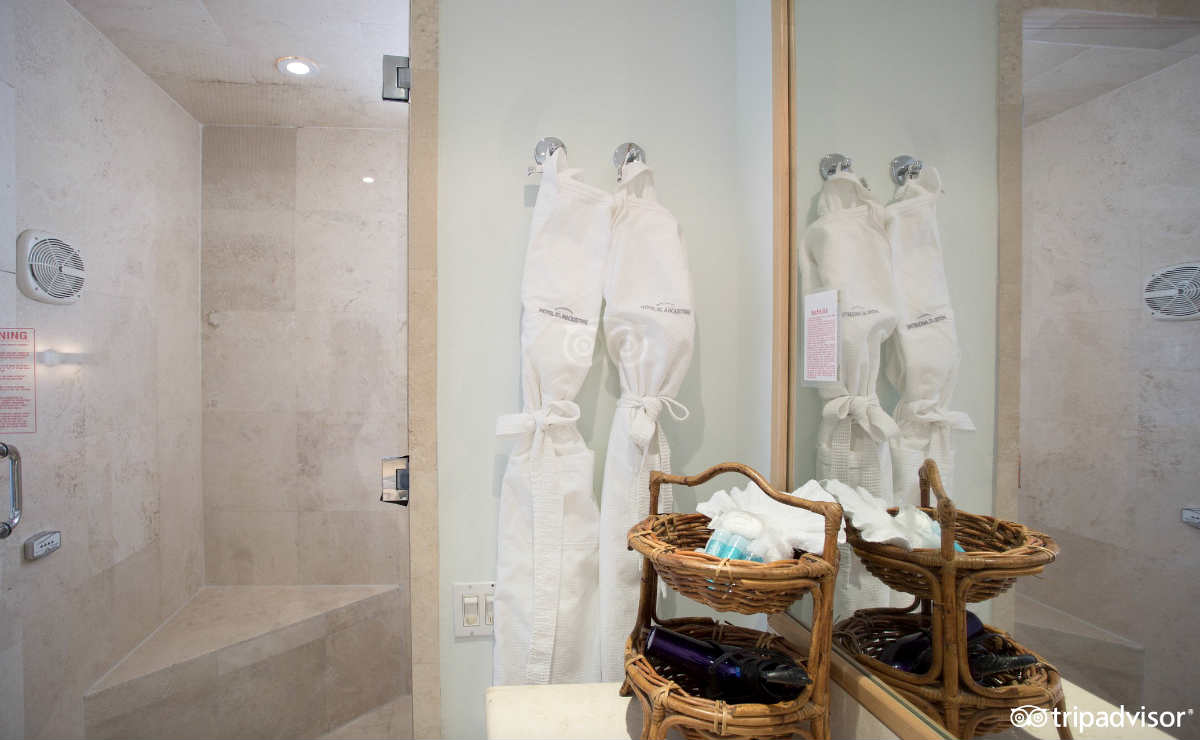 Romantic Shower - Hotel St Augustine, Miami ©TripAdvisor
Hotel St Augustine, Miami Beach - Everything in the bathroom here says "spa." Multi-jet showers for two persons are the main attraction, but the Italian tile and steam bath with speakers are nice touches too. Just grab some aromatherapy products from the spa bar, and you're set. 2022 ERV Rating*: 68% - Fair. (347 Washington Ave, Miami Beach FL  305-532-0570) 
Bayfront Marin House, St Augustine - The second-story suite called Stephanie's Hideaway has a huge walk-in shower with sprayer heads at each end. There's also a double whirlpool tub, fireplace and 4-poster bed to complete the feel of being in our own private oasis. (142 Avenida Menendez, St. Augustine FL  904-824-4301) 
atlanta, georgia
Stonehurst Place Atlanta Walk-In Shower ©TripAdvisor
Stonehurst Place Atlanta Walk-In Showers - The Gable's Suite used to be a nanny's quarters. We bet that nanny would love to stay now! Check out the heated bathroom floor, marble tiles and vanity, and of course the gorgeous walk-in shower for two. 2022 ERV Rating*: 96% - Excellent. (923 Piedmont Avenue NE, Atlanta GA 404-881-0722) 
lexington, kentucky
Hilton Lexington Downtown

- The Presidential Suite has one bedroom plus a full kitchen and separate living room. The spacious bathroom has a huge walk-in shower and overlooks the city or Triangle Park. 2022 ERV Rating*: 74% - Good. (369 W. Vine St, Lexington KY 859-231-9000)
charlotte, north carolina
Dunhill Hotel Spa Shower w/Massaging Jets ©TripAdvisor
Dunhill Hotel Charlotte

 - The Premiere-Queen room at this boutique hotel is truly fit for a queen! It's got a marble walk-in shower with a gigantic head and horizontal massaging jets. Be sure to check out the great southern food at Asbury restaurant too. 2022 ERV Rating*: 82% - Very Good. (237 North Tryon St, Charlotte NC 704-332-4141) 
The Westin, Charlotte NC

 - The "Heavenly Bath" in the traditional and deluxe suites offers rain showers, and the Executive Suite has what they call a "Heavenly Shower" and separate tub. It's a large 8-inch square showerhead that "creates the effect of a warm and gentle rain". The LYNX light rail system stops right at the hotel, making it a perfect location for sightseeing in Charlotte. 2022 ERV Rating*: 72% - Good. (601 S. College Street, Charlotte NC 704-375-2600)
virginia
Comfort Suites Beachfront, Virginia Beach

- This all-suite hotel, including some pretty nice walk-in shower facilities, is located right in the center of the action of the Boardwalk. And you get a free hot breakfast to start the day. 2022 ERV Rating*: 86% - Very Good. (2321 Atlantic Avenue, Virginia Beach VA 757-491-2400)
See Also: 
---
Southwest Hotel Rooms with 2 Person Showers
texas
Omni Hotel Dallas Shower ©TripAdvisor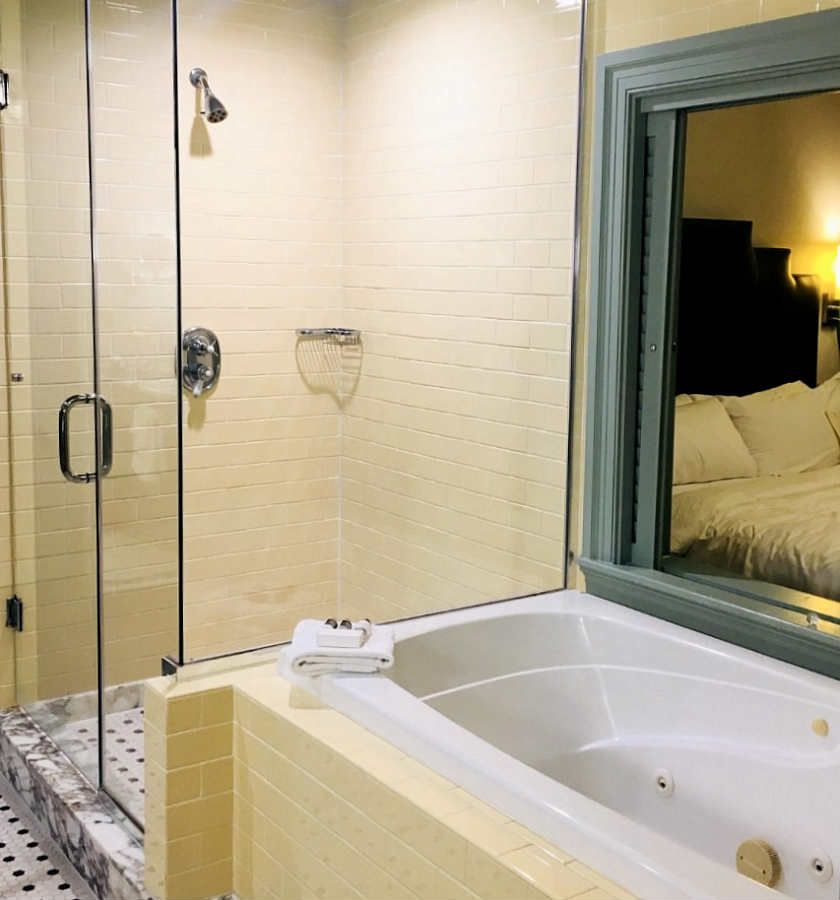 Hotel ICON Houston Walk-In Shower
Hotel Icon Houston

- The Standard King and Queen rooms here have rain showers, as do some of the suites. This is a Marriott Hotel in downtown Houston and was originally a bank built in 1911. Fully restored now, it's a beautiful landmark that lets you have a taste of Southern Hospitality. 2022 ERV Rating*: 84% - Very Good. (220 Main St, Houston TX 713-224-4266)
Omni Hotel Dallas

- Many of the suites here have large walk-in showers big enough for two, so ask about it when booking. There are some beautiful views of Dallas here, and it's close to some great restaurants, shops and the Art District. 2022 ERV Rating*: 90% - Excellent. (555 S. Lamar, Dallas TX 214-744-6664)
Embassy Suites San Antonio Riverwalk

- The Standard King Suites have walk-in showers, and you can get a small kitchen as well as some pretty nice River views. The hotel is set right on the banks of the San Antonio River, so you can't miss with this one. 2022 ERV Rating*: 84% - Very Good. (125 E. Houston St, San Antonio TX 210-226-9000)
sedona, arizona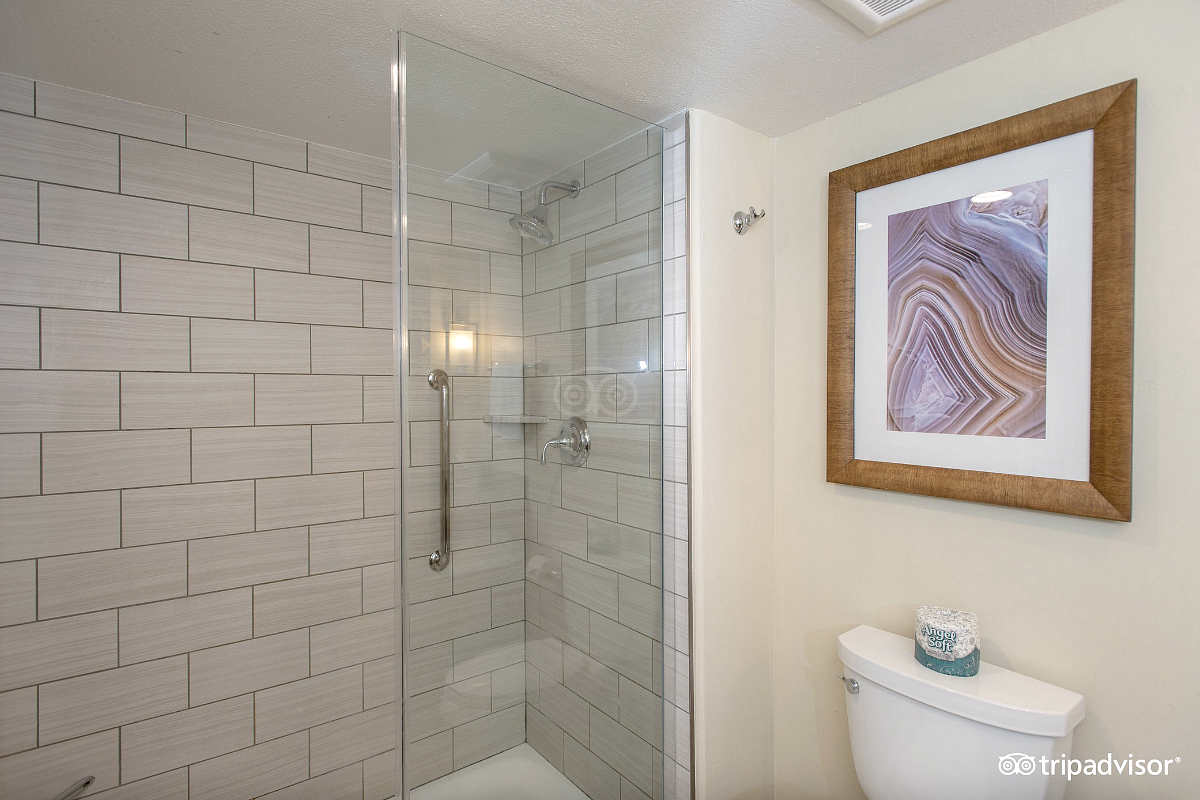 Hilton Sedona AZ Walk-In Shower ©TripAdvisor
Hilton Sedona Resort at Bell Rock - The spa tub suites at this Hilton are over 650 square feet of romantic luxury. In addition to the whirlpool in the bedroom area, there's also a separate walk-in shower for two! Add the stunning Red Rocks view, and it's all any couple could ask for. 2022 ERV Rating*: 74% - Good. (90 Ridge Trail Dr, Sedona AZ  928-284-4040)  
More SW Romantic Hotel Rooms:
---
Western USA Hotels with Romantic 2-Person Showers
los angeles, california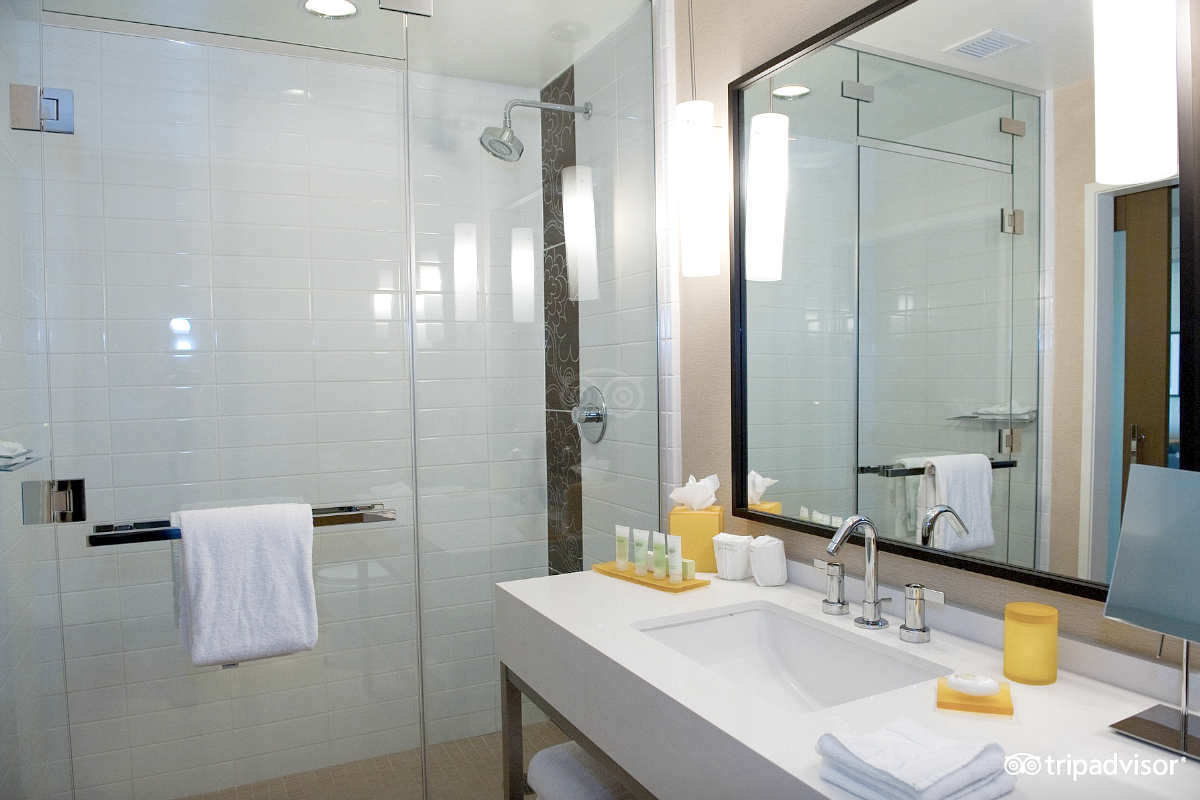 Walk-In Shower - JW Marriott Los Angeles ©TripAdvisor
JW Marriott Los Angeles L.A. LIVE - Wow…The JW King Suite at this hotel has a bathroom that, as the hotel name suggests, you could practically LIVE in! The huge shower heads and plush fluffy towels are just a bonus. And since the hotel is right downtown, you are always within walking distance of many great attractions. 2022 ERV Rating*: 84% - Very Good. (900 W. Olympic Blvd, Los Angeles CA  213-765-8600) 
lake tahoe, california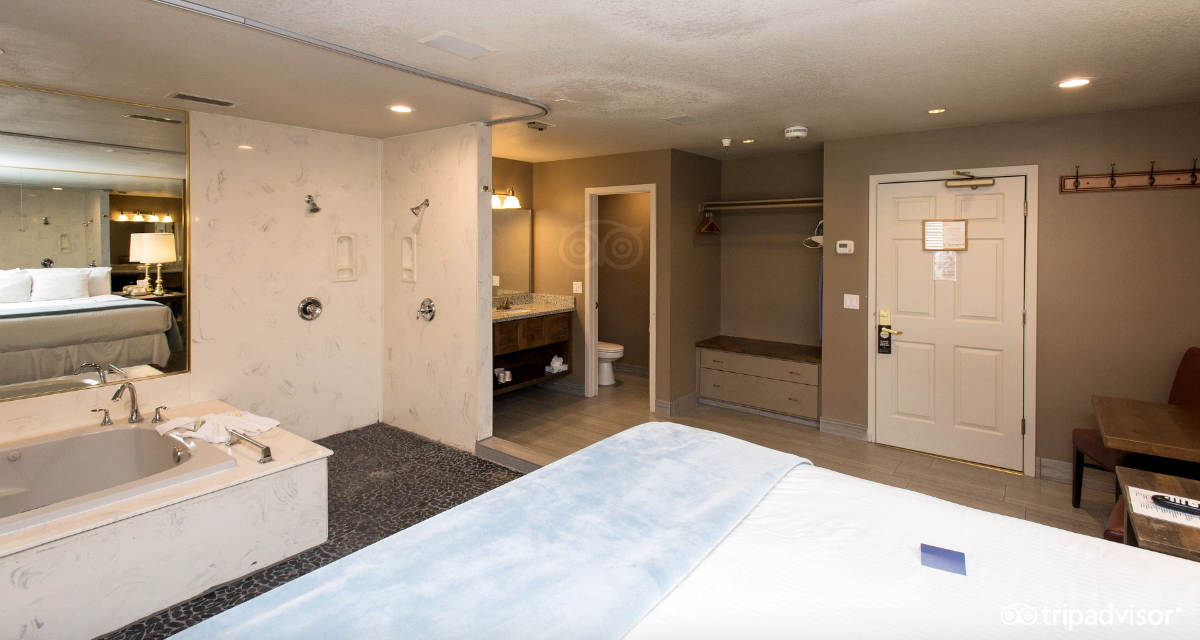 Postmarc Hotel Suite with Shower for 2 in South Lake Tahoe, CA ©TripAdvisor
Postmarc Hotel Spa Shower Suites Lake Tahoe

- You'll love the Watermark King suites or "wet rooms" here. The rain shower must be seen to be believed; it's like your own private spa. We embrace the dual shower concept and love the fact that this hotel is right across from the lake. 2022 ERV Rating*: 88% - Very Good. (3696 Lake Tahoe Blvd, S. Lake Tahoe Blvd, CA 530-541-4200)
napa valley, ca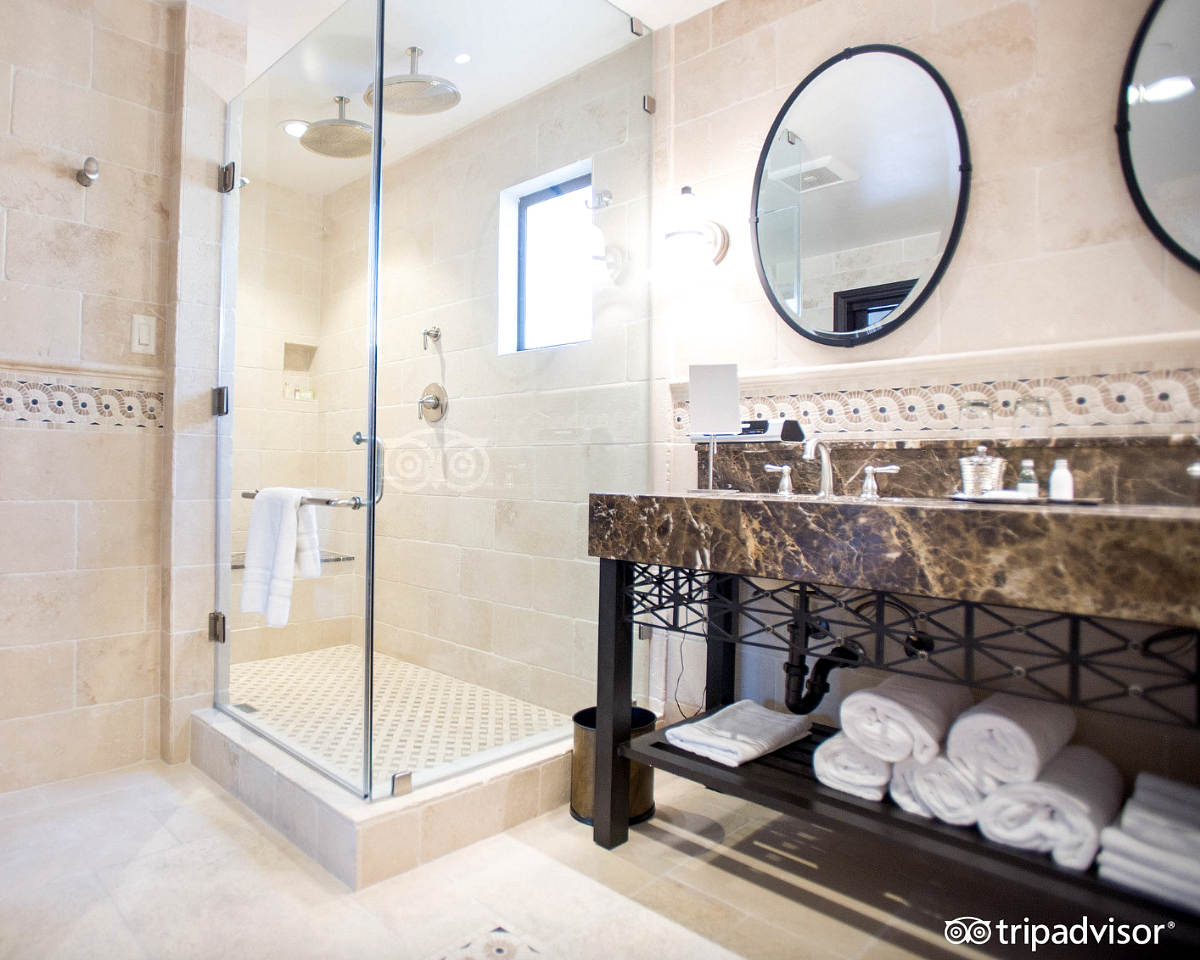 Luxury Rain Shower for 2 - Roman Spa Hot Springs Resort ©TripAdvisor
Roman Spa Hot Springs Resort at Calistoga

- The Whirlpool Suite is an oasis of etched stone, tile and marble that makes you feel like you've gone back to Roman times. The glassed walk-in shower has two 12-inch rain showers in addition to a regular shower head. We love the fact that music from the sound system fills the bathroom if you choose, but it's also romantic to just listen to the "rain". 2022 ERV Rating*: 86% - Very Good. (1300 Washington St, Calistoga CA 800-914-8957)
san francisco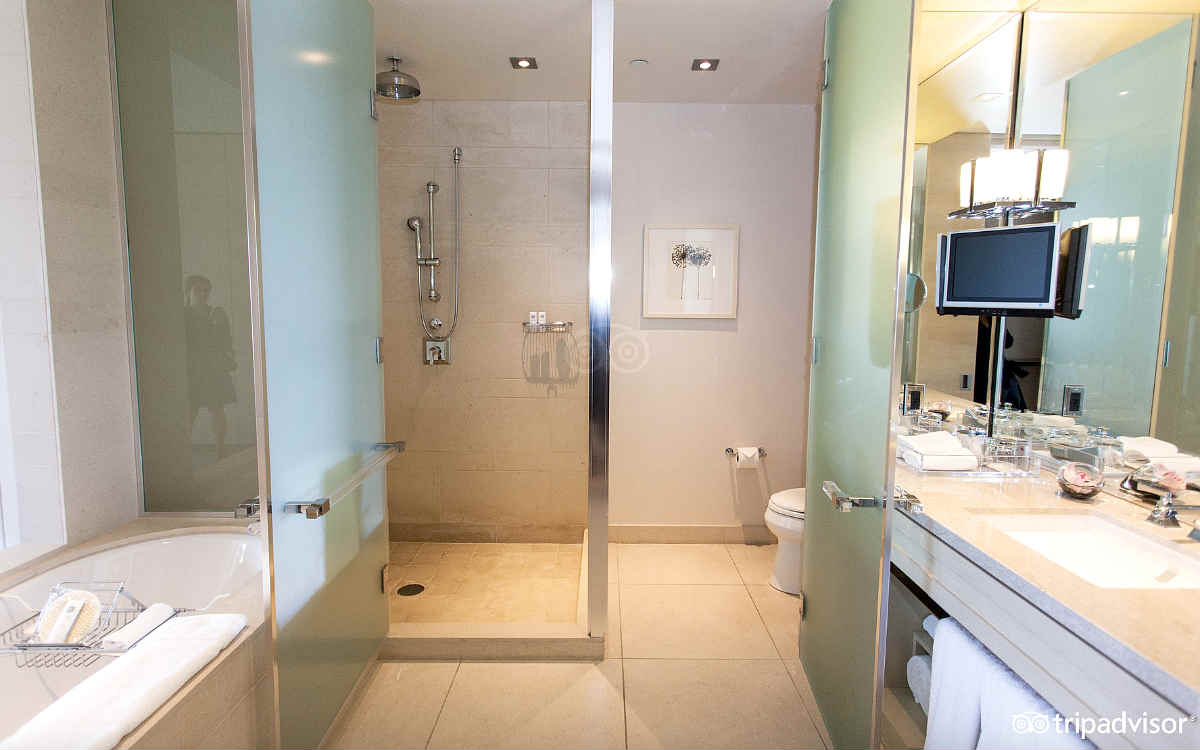 Suite With Luxury Walk-In Rain Shower, St. Regis Hotel ©TripAdvisor
St Regis San Francisco

- The Deluxe guest rooms here have deep soaking tubs as well as glass-enclosed showers with plenty of room for two. There's a mounted rainfall shower head and a detachable handheld shower. The St. Regis is located in vibrant area of downtown San Francisco and offers some pretty amazing views if you can pull yourself out of the shower for a few moments to look. 2022 ERV Rating*: 86% - Very Good. (125 3rd St, San Francisco CA 415-284-4000)
san diego
San Diego Mission Bay Resort

 - There are guest rooms, studios and 9 suites at this hotel. All the suites except the junior have walk-in showers and Whirlpool tubs with lovely marble vanities. You also get a private balcony and fantastic views. 2022 ERV Rating*: 72% - Good. (1775 E. Mission Bay Dr, San Diego CA 619-276-4010)
denver, colorado
ALOFT, Broomfield Denver

- Gorgeous loft-inspired rooms with walk-in showers, huge shower heads and luxury bath products. For golf enthusiasts, there are no less than 4 golf resorts within 7 miles of this hotel. Check out the nearby butterfly pavilion too. 2022 ERV Rating*: 72% - Good. (8300 Arista Pl, Broomfield CO 303-635-2000)
seattle, washington state
Four Seasons Seattle

- The City View Rooms, Bay View Rooms and Suites at this luxury hotel one block from the famous Pike Place Market, all have massive walk-in showers. In the summer, be sure to check out the rooftop infinity pool. 2022 ERV Rating*: 94% - Excellent. (99 Union St, Seattle WA 206-749-7000)
See More Romantic Hotel Rooms:
---
Hawaii
honolulu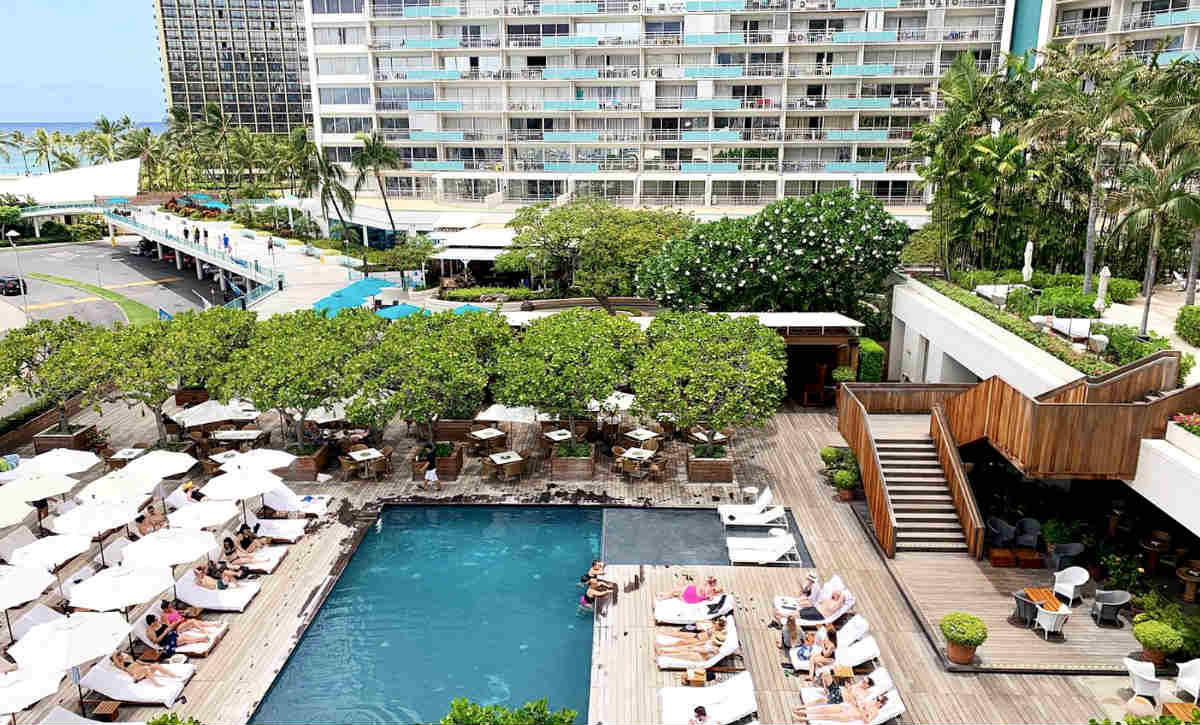 Modern Hotel, Honolulu HI
The Modern Honolulu - The bathroom in this suite features a huge walk-in shower with two shower heads, in addition to a separate tub. These hotel showers for two at the Modern are a short walk away from both the beach and some pretty great shopping at this location. 2022 ERV Rating*: 88% - Very Good. (1775 Ala Moana Blvd, Honolulu HI  808-450-3379)
More Romantic Hawaiian Accommodation:
*ERV Rating: our unique, non-scientific ratings for romantic accommodation include:
Amenities: including Whirlpool bath or 

JACUZZI

®

Tub

,

scenic view, fireplace, lounge, etc
Location: proximity of hotel to restaurants, pubs, downtown, etc
Clientele: demographic the hotel attracts (couples, families, business travelers, etc)
Popularity: based on social media & crowd-sourced reviews 
Value: product offered compared to room rate 
Please Note: percentage ratings are not absolute but for comparative use only  
top hotels, getaways & packages on ERV
---