Illinois Hot Tub Suites in Chicago Hotels, IL Honeymoon Cabins & more
Romantic Vacations Home › Hotel Hot Tub Suites › Illinois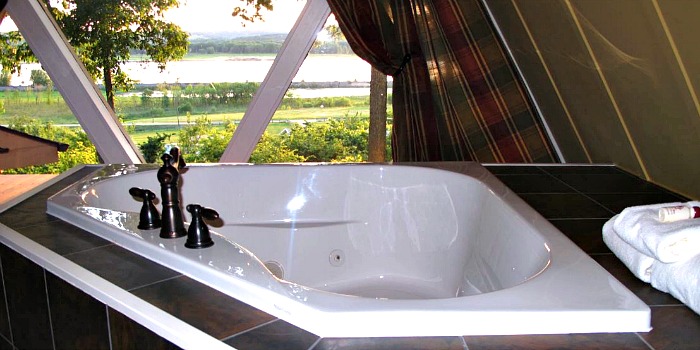 Romantic Heart-Shaped Whirlpool Tub with Water View at the Goldmoor Inn, Galena, IL
By Greg Mattson, ERV Editor - Updated: Nov 7, 2017
For your next romantic vacation or getaway in Illinois, we present this guide to the best Illinois hotel hot tub suites.
These romantic places to stay include hotels in Chicago, plus vacation rental cabins and luxury honeymoon suites in Northern, Central and Southern Illinois.
About these Illinois Hot Tub Suites: This is not a computer-generated list of accommodation. Instead, we research these hotels thoroughly (some we check out by actually staying in them!) to provide you with a comprehensive list of suites only with a JACUZZI® tub or jetted spa tub right in the room, or for romantic cabins, on your own private porch. 
Disclaimer: JACUZZI® is a registered trademark owned by Jacuzzi Inc. The use of the JACUZZI® trademark on this website is for informational purposes only. There is no relationship, connection or affiliation between this website and Jacuzzi Inc. or its related companies. As hotel rooms and amenities can change, please check with each individual accommodation property before making travel plans to ensure that the hotel room you have booked includes an authentic JACUZZI® brand hot tub. 
Chicago, Illinois Hot Tub Suites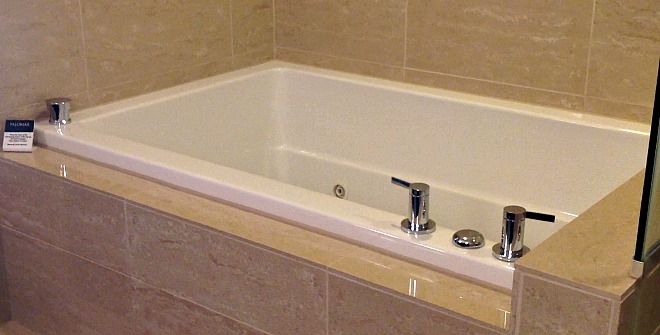 Large In-Room Jetted Soaking Tub for 2 Persons at the Hotel Palomar in Downtown Chicago, Illinois
Boutique Hotel Downtown:
Hotel Palomar Chicago Spa Tub Suites - one of Chicago's premier boutique hotels downtown has some of the largest in-room jetted spa tubs we have ever seen! We also loved 

the free wine reception every night (as usual at all Kimpton Hotels), rooftop heated pool and patio, and it's great location in downtown Chicago within walking distance to excellent restaurants and shopping.

What Other Couples Said:

"We Didn't Want to Leave"..."Great Vibe & Decor in the Lobby and Rooms"..."Good Pillows, Excellent Dining, Friendly Staff".

2016 Rating* for Romantic Chicago Hot Tub Suites:

 

96%

of Couples Rate It Excellent/Very Good.

(505 North State Street, Chicago, IL  877-731-0505)
More Chicago Area Hotel Rooms with Whirlpool Suites:
25 Minutes from Downtown Chicago:
Courtyard Chicago Elmhurst/Oakbrook - check into this Marriott and check out the Executive King Suite with a Whirlpool tub in the master bath. Amenities also include a heated pool, fitness room and Courtyard's excellent Bistro restaurant and lounge. 2016 Rating* for Whirlpool Tub Suite Close to Chicago:

 n/a

. 

(370 N IL Route, Elmhurst IL  630-941-9444)
Affordable & Updated: 
Aurora, IL Whirlpool Suites:
Hampton Inn & Suites Chicago/Aurora - great choice for a hotel with in-room whirlpool tub in Aurora. Like many Hampton Inns, this one is spotlessly clean with amenities that include a pool and free hot breakfast each morning. 2016 Rating* for Chicago IL Whirlpool Suites: 85% of Couples Rate It Excellent/Very Good.(2423 Bushwood Drive, Aurora, IL 630-907-2600)
Joliet, IL Hotels w/Hot Tub Suites:
Best Western Inn & Suites Joliet - an inexpensive option in Joliet for suites with romantic heart-shaped whirlpool tubs right in the privacy of your room. Located just a few minutes drive from many dining choices and area attractions. 2016 Rating* for Suburban Chicago Jetted Tub Suites: 79%

 of Couples Rate It Excellent/Very Good.

(4380 Enterprise Drive, Joliet, IL 815-730-7500)
---
Jetted Tub Hotel Suites Near Illinois: 
---
Whirlpool Suites in Central Illinois
Decatur, IL Hot Tub Suites:
Spa Suites in Springfield, IL:
Peoria, IL:
Bloomington, IL:
Country Inn & Suites Bloomington Normal West - dependable and affordable Country Inns offer clean and comfortable guest suites with Whirlpool

 

tubs, and this one in Bloomington is no exception. There's free Wi-Fi and breakfast as well as an indoor pool. 2016 Rating* for Bloomington IL Whirlpool Suites: 76% of Couples Rate It Excellent/Very Good. (923 Maple Hill Rd, Bloomington IL 309-828-7177)  
---
Romantic Illinois Cabins with Hot Tub
Southern Illinois Log Cabin with Private Hot Tub - this romantic honeymoon cabin near the Shawnee Hills Wine Trail has a large, comfortable and private hot tub out on a private deck. Full kitchen, flat-screen TV, and you get to enjoy the best of both worlds: privacy and seclusion, yet close to shopping, lots of wine tasting, and grocery stores. (Gurley Loop, Lick Creek IL)   
Illinois Hot Tub Cabins

- huge selection of romantic vacation rental cabins and cottages in Illinois with private hot tubs. 
---
Northern Illinois Hotel Hot Tub Rooms
Goldmoor Inn in Galena, Illinois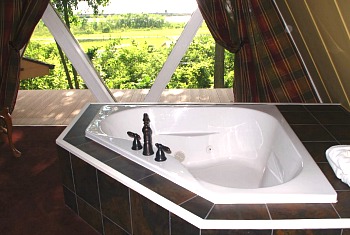 Romantic Whirlpool Suite in Galena, IL
 Hot Tub Suites In Galena, IL:
Goldmoor Inn - luxury country inn just a few miles south of Galena enjoys a perfect location near the banks of the Mississippi river. Cottage, log cabin and main lodge units all feature in-room, 2-person Whirlpool tubs. Perfect choice for a honeymoon in Northern Illinois. 2016 Rating* for Galen, Illinois Whirlpool Suites: 92% of Couples Rate It Excellent/Very Good. (9001 N. Sand Hill Road, Galena IL 800-255-3925)
Country Inn & Suites Galena - hot tub suites with fireplace are available in this Galena hotel in Northwest Illinois. Complimentary breakfast is included, as well as a games room and indoor water park for weekend getaway fun. 2016 Rating* for Galena, IL Hot Tub Suites: 85% of Couples Rate It Excellent/Very Good. (11334 Oldburg Lane, Galena, IL 815- 777-2400)
Rockford, IL Romantic Spa Tub Suites:
Hot Tub Suites in Illinois Amish Country
Comfort Suites Hotel Mattoon - just 15 miles from Illinois Amish Country, these hotel rooms with hot tubs include free internet, continental breakfast, and a location close to golf and restaurants. (1408 E. Broadway, Mattoon, IL 217- 235-6745)
*Based on TripAdvisor.com Ratings from Couples as of Nov 2016
Excellent Romantic Vacations - Top Pages
---