Wisconsin Whirlpool Suites
Wisconsin hot tub suites - romantic hotel rooms with private jetted tubs
FTC: This page uses affiliate links. More. 

---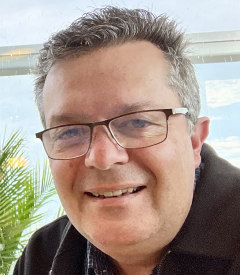 By: Greg Mattson, ERV Editor - Updated Sep 4, 2021
Our guide to Wisconsin's best jetted tub hotel suites has got everything you need for a great hot tub getaway in the Midwest at an affordable rate. Go ahead, have some bubbly fun in the Badger state!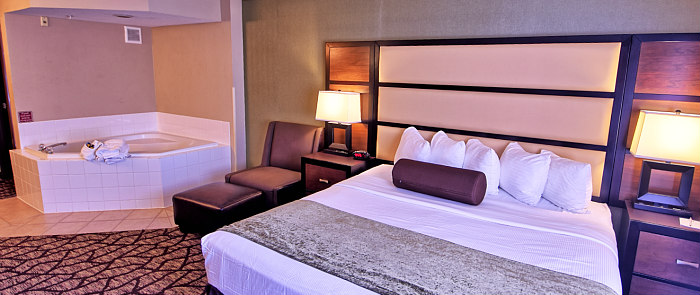 Make Your Reservations for a Great Stay in a Wisconsin Hotel Hot Tub Suite
What's Special About These Wisconsin Hot Tub Suites: they all include a private jetted spa or JACUZZI® Tub right in the room (not out by the pool), perfect for a romantic stay. Please Note: Hotel rates listed are approximate only, before taxes, and subject to change due to seasonal adjustments.
Disclaimer: JACUZZI® is a registered trademark owned by Jacuzzi Inc. The use of the JACUZZI® trademark on this website is for informational purposes only. There is no relationship, connection or affiliation between this website and Jacuzzi Inc. or its related companies. Rates shown are approximate only and subject to change. Hotel rooms, jetted tubs and amenities can change, and may not be exactly as shown, so please contact the hotel or inn before making travel plans.
---
Southern Wisconsin Hot tub suites
Milwaukee, WI
Spacious Whirlpool Tub at the Hampton Inn Milwaukee Downtown
Hampton Inn Milwaukee Downtown

- Close to downtown entertainment and dining, with Whirlpool tub suites, free hot breakfast, and a parking garage connected to the hotel. 2021 ERV Rating* for Milwaukee Spa Tub Suites: 62% - Fair. Rates from $162/night. (176 W. Wisconsin Ave, Milwaukee WI  414–271-4656) √ COVID Safety Plan: Yes
Best Western Plus Milwaukee West

- Affordable choice with hot tub rooms, plus complimentary hot breakfast and indoor heated pool. 2021 ERV Rating* for Milwaukee Hotel Suites w/Private Hot Tub: 74% - Good. Rates from $102/night. (5501 W National Ave, Milwaukee WI 414-671-6400) √ COVID Safety Plan: Yes
Towell Swans on a Hilton Spa Tub, Milwaukee Airport
Hilton Garden Inn Milwaukee Airport

- Look for their King Whirlpool Suite at this Hilton hotel less than 2 miles from MKE Airport (free shuttle available). For relaxation, enjoy a cocktail at the Garden Grill Restaurant, and check out their indoor pool and outdoor fire pit. 2023 ERV Rating*: 94% - Excellent. Rates from $214/night. (5890 South Howell Ave, Milwaukee WI 414-481-8280)
County Clare Irish Inn & Pub

- Irish-themed accommodation with music, food and drinks at the on-site restaurant & pub. After the Shepherd's Pie and Guinness, relax in a Queen or King Room with a double Whirlpool tub. 2021 ERV Rating* for Milwaukee Whirlpool Suites: 94% - Excellent. Rates from $91/night. (1234 North Astor St, Milwaukee WI  414-272-5273) √ COVID Safety Plan: Yes
Ambassador Hotel

- This elegant downtown Art Deco Milwaukee hotel has 10 Whirlpool Suite rooms, plus extras like on-site dining, cafe and cocktail lounge. 2021 ERV Rating* for Madison WI Spa Tub Suites: 82% - Very Good. Rates from $259/night. (2308 W. Wisconsin Ave, Milwaukee WI  877-935-2189) √ COVID Safety Plan: Yes
Near Milwaukee - Mequon, WI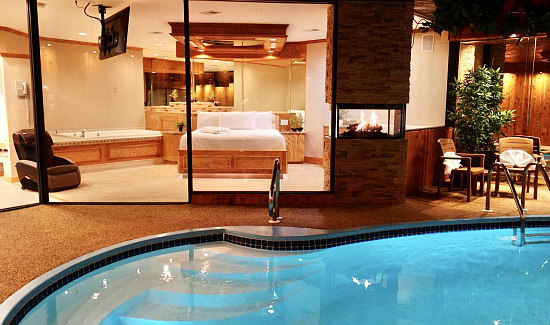 Romantic Sybaris Pool Suite with Whirlpool Tub, Mequon WI
Sybaris Pool Suites Mequon

- book an unforgettable getaway or anniversary in this romantic inn, only 20 minutes north of downtown Milwaukee. Enjoy one of their Whirlpool or Plunge Pool Suites with amenities like fireplace, steam room, and even a tropical waterfall! 2021 ERV Rating*: 82%

 - Very Good. 

(10240 Cedarburg Rd, Mequon WI  262-242-8000)
More midwest Getaways & Tubs:
---
Madison,wisconsin spa tub suites
Madison Courtyard East Bistro Restaurant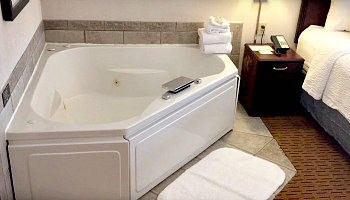 Book a Whirlpool Suite in Madison, WI
Courtyard Madison East

- You're going to love this Courtyard's Bistro Restaurant (with Starbucks Coffee), indoor pool, and King Whirlpool Suites with a jetted tub right beside the bed. 2021 ERV Rating* for Madison WI Spa Tub Suites: 92% - Excellent. Rates from $114/night. (2502 Crossroads Dr, Madison WI  608-661-8100) √ COVID Safety Plan: Yes
Hampton Inn & Suites Madison Downtown
King Suite Whirlpool Tub
Hampton Inn & Suites Madison Downtown

- Great location downtown close to shops, dining and Lake Monona, featuring King Suites with a Whirlpool tub in the bathroom. 2021 ERV Rating* for Whirlpool Tub Suites in Madison WI: 96% - Excellent. Rates from $127/night. (440 West Johnson St, Madison WI  608-255-0360) √ COVID Safety Plan: Yes
The Madison Concourse - Not only do their Deluxe King Whirlpool Guest Rooms and Suites offer a large jetted tub (the Suites also include a 20-inch flat-screen beside the tub!), but you get access to their Club Lounge with breakfast, cocktails, hors d'oeuvres and desert. 2021 ERV Rating* for Madison WI Spa Tub Suites: 92% - Excellent. Rates from $230/night. (1 West Dayton St, Madison WI  800-356-8293) √ COVID Safety Plan: Yes
Best Western Plus Inn Towner Madison

- Located in a quiet residential spot close to downtown, with King Whirlpool Suites and a free hot buffet breakfast. 2021 ERV Rating* for Madison WI Hotel Rooms with Jetted Tubs: 84% - Very Good. Rates from $149/night. (2424 University Ave, Madison WI  608-233-8778) √ COVID Safety Plan: Yes
---
lake geneva, wi suites with a jacuzzi® tub
Bella Vista Suites, Lake Geneva Wisconsin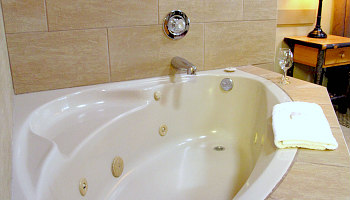 Book a JACUZZI® Tub Suite in Lake Geneva
Bella Vista Suites

- Luxury boutique hotel located right on Lake Geneva's terrific waterfront. For a romantic room with a 2-person JACUZZI

® 

tub, look for the following suites: St. Moritz, Governor, Presidential and Penthouse. 2021 ERV Rating* for Lake Geneva Waterfront Hotels with an In-Room JACUZZI® Tub: 78% - Good. Rates from $169/night. (335 Wrigley Dr, Lake Geneva WI  262-248-2100) 
Lazy Cloud Inn

- Book a honeymoon or getaway at this romantic B&B, and you'll be treated to a suite with a JACUZZI® tub, sparkling wine and chocolate covered strawberries. 2021 ERV Rating* for Lake Geneva Honeymoon Inns with a Private JACUZZI® Tub: 90% - Excellent. Rates from $278/night. (W4033 State Rd 50, Lake Geneva WI  262-275-3322) √ COVID Safety Plan: Yes
Maxwell Mansion, Lake Geneva WI
Whirlpool Tub - Maxwell Mansion
Maxwell Mansion

- Historic Mansion with many romantic amenities just perfect for a weekend getaway, including 2-Person Whirlpool Queen and King Suites. 2021 ERV Rating* for Lake Geneva Whirlpool Suites: 90% - Excellent. Rates from $195/night. (421 Baker St, Lake Geneva WI  262-248-9711) 
Geneva Inn

- Gorgeous lakefront inn, with panoramic views, romantic dining both inside and out on the patio. Selected rooms and suites come with Whirlpool tubs and some great water views. 2021 ERV Rating* for Lake Geneva Inns with an In-Room Spa Tub: 86% - Very Good. Rates from $195/night. (N2009 S. Lakeshore Dr, Lake Geneva WI  262-248-5680) √ COVID Safety Plan: Yes
Timber Ridge Lodge & Waterpark

- Suites at this family-friendly waterpark resort are configured with bathrooms that have a spacious Whirlpool tub. 2021 ERV Rating* for Lake Geneva WI Hotels with a Whirlpool Suite: 78% - Good. Rates from $195/night. (7020 Grand Geneva Way, Lake Geneva WI  262-249-3400) √ COVID Safety Plan: Yes
---
Wisconsin dells Hotel rooms with Jetted Tubs
Hilton Garden Inn Wisconsin Dells

- Located close to shopping, entertainment and tons of Dells attractions. Make sure to book one of the King Bed Rooms with Whirlpool Tub for a romantic stay. 2021 ERV Rating* for Wisconsin Dells Hotels with Jetted Spa Tub: 82% - Very Good. Rates from $107/night. (101 East Hiawatha Dr, Wisconsin Dells WI  608-253-1100) √ COVID Safety Plan: Yes
Black Hawk Motel & Suites

- Super budget-friendly and top-rated "Dells Motel", with recently renovated King & Queen Whirlpool Suites, and the added bonus of complimentary parking spots close to your unit. 2021 ERV Rating* for Wisconsin Dells Jetted Tub Hotel Suites: 94% - Excellent. Rates from $82/night. (720 Race St, Wisconsin Dells WI  608-254-7770)
Wingate by Wyndham Wisconsin Dells - Recently updated, this Wingate hotel offers free breakfast, Wi-Fi and indoor pool, as well as King Bed Suites with a private in-room hot tub. 2021 ERV Rating* for Wisconsin Dells Jetted Tub Hotel Suites: 70% - Good. Rates from $85/night. (1030 Wisconsin Dells Parkway, South Lake Delton WI 608-253-3803) √ COVID Safety Plan: Yes
Grand Marquis Waterpark Hotel & Suites

- Both Deluxe and Executive Suites are outfitted with a spacious JACUZZI®, and there's 2 pools along with no resort fees. 2021 ERV Rating* for Wisconsin Dells Hotel Suites with a JACUZZI® Tub: 76% - Good. Rates from $105/night. (840 Wisconsin Dells Parkway S, Wisconsin Dell WI 608-254-4843)
Ramada by Wyndham Wisconsin Dells

- Great budget choice, with King Bed Hot Tub Suites, close to Cascade Mountain skiing and more. 2021 ERV Rating* for Wisconsin Dells Hot Tub Suites: 70% - Good. Rates from $92/night. (1073 Frontage Rd East, Wisconsin Dells WI  608-254-2218) √ COVID Safety Plan: Yes
Sundara Inn & Spa

- Award-winning retreat features luxury suites with spa showers, Whirlpool tubs, fireplaces and much more. 2021 ERV Rating* for Wisconsin Dells Spa Tub Suites: 70% - Good. Rates from $199/night. (920 Canyon Rd, Wisconsin Dells WI 888-735-8181) √ COVID Safety Plan: Yes
Great Wolf Lodge - Themed suites at this waterpark resort, some with fireplace, include a romantic Whirlpool tub right in the room. 2021 ERV Rating* for Wisconsin Dells Jetted Tub Suites: 68% - Fair. Rates from $199/night. (1400 Great Wolf Dr, Wisconsin Dells WI 800-559-9653) √ COVID Safety Plan: Yes
Kenosha, wi
Comfort Inn & Suites Kenosha - affordable hot tub getaway near the Wisconsin Lake Michigan waterfront, with King Bed Suites w/ 2-person Whirlpool tubs, plus a free hot breakfast, with easy access to the interstate and shopping and restaurants. 2021 ERV Rating* for Kenosha, WI Spa Tub Suites: 68% - Fair. Rates from $132/night. (7206 122nd Ave, Kenosha WI 262-857-3450) √ COVID Safety Plan: Yes
---
Spa Tub Suites in Eastern Wisconsin
Door County, WI
Westwood Shores Resort Water View
Sturgeon Bay Jetted Tub Suite
Westwood Shores

- Every suite at this waterfront Sturgeon Bay resort on Lake Michigan includes a private bedroom, Whirlpool tub and sunset views of the bay. 2021 ERV Rating* for Sturgeon Bay, WI Jetted Tub Suites: 92% - Excellent. Rates from $84/night. (4303 Bay Shore Dr, Sturgeon Bay WI 920-746-4057) √ COVID Safety Plan: Yes
Edgewater Resort

- Beautiful waterfront suites here at the Edgewater come with a Whirlpool tub, fireplace and veranda to relax on. 2021 ERV Rating* for Whirlpool Suites in Ephraim, Wisconsin: 90% - Excellent. Rates from $159/night. (10040 Water St, Highway 42, Ephraim WI 920-854-2734) √ COVID Safety Plan: 

Yes

 
Ashbrooke Hotel

-  Signature Rooms and Grand Whirlpool Suites all include a jetted tub large enough for 2 people. Indoor pool, outdoor fire table and Wi-Fi are just a few of the amenities you'll find at this Door County boutique hotel. 2021 ERV Rating* for Wisconsin Door Country Spa Tub Suites: 94% - Excellent. Rates from $209/night. (7942 Egg Harbor Rd, Egg Harbor WI 877-868-3113) √ COVID Safety Plan: Yes
green bay, wi
Country Inn & Suites Bedroom
Whirlpool Suite, Green Bay Wisconsin
Country Inn & Suites by Radisson Green Bay North

- this Green Bay Hotel is dog-friendly, and along with Whirlpool Suites, you'll appreciate their free hot breakfast and heated pool indoors. 2021 ERV Rating* for Green Bay, WI Whirlpool Suites: 94% - Excellent. Rates from $160/night. (2308 Lineville Rd, Green Bay WI 920-884-2000) √ COVID Safety Plan: 

Yes

 
AmericInn by Wyndham Green Bay East

- Get a hot tub suite in Green Bay at this budget-friendly hotel, and enjoy the free breakfast and shuttle to local attractions. 2021 ERV Rating* for Green Bay WI Hot Tub Suites: 90% - Excellent. Rates from $118/night. (2628 Manitowoc Rd, Green Bay WI  920-241-6180) √ COVID Safety Plan: 

Yes

 
Oshkosh
Best Western Premier Waterfront Hotel

- You'll feel good upgrading to this Best Western's King Whirlpool/Fireplace Suites. There's great views of both Lake Winnebago and Fox River, as well as direct access to the Riverwalk. 2021 ERV Rating* for Jetted Spa Tub Suites in Oshkosh, WI: 94% - Excellent. Rates from $169/night. (1 North Main St, Oshkosh WI 920-230-1900) √ COVID Safety Plan: Yes
Appleton
CopperLeaf Boutique Hotel & Spa

- Platinum Suites here are honeymoon-ready with 2 person Whirlpool tubs, luxury bedding and bath amenities, and walk-in showers. 2021 ERV Rating* for Appleton, Wisconsin Honeymoon Suites with Jetted Tubs: 90%

 - Excellent. Rates from 

$144/night

. 

(300 W College Ave, Appleton WI 920-306-8830) √ COVID Safety Plan: Yes
---
Central Wisconsin jetted tub suites
Wausau, WI
Courtyard Wausau

- large King Rooms on the ground floor here have a very nice Whirlpool Tub in the corner close to the bed, and the lobby is a great spot for cocktails, Starbucks coffee and more at the Bistro Restaurant. 2021 ERV Rating* for Wausau, WI Whirlpool Tub Suites: 90% - Excellent. Rates from $156/night. (1000 South 22nd Ave, Wausau WI 715-849-2124) √ COVID Safety Plan: Yes
---
Western Wisconsin Whirlpool Suites
La Crosse / Onalaska
Holiday Inn Express Onalaska/LaCrosse

- Make reservations for their King Bed with an in-room JACUZZI

® 

tub, and enjoy complimentary HBO, indoor pool and free hot breakfast. 2021 ERV Rating* for La Crosse, Wisconsin Suites with a JACUZZI® Tub: 70% - Good. Rates from $107/night. (9409 State Rd 16, Onalaska WI 608-783-6555) √ COVID Safety Plan: Yes
Stony Creek Hotel & Conference Center La Crosse

- Top-rated hotel with with on-site pub, 2-person Whirlpool tub suites, plus easy access to La Crosse's downtown shops and restaurants. 2021 ERV Rating* for La Crosse, Wisconsin Hot Tub Suites: 88% - Very Good. Rates from $150/night. (3060 S Kinney Coulee Rd, Onalaska WI  608-781-3060) √ COVID Safety Plan: Yes
Eau Claire, WI
Econo Lodge Eau Claire - great budget option for Western Wisconsin. Choose between a Queen or King with Whirlpool tub, fireplace, cathedral ceiling and more. 2021 ERV Rating* for Eau Claire, WI Spa Tub Suites: 84% - Very Good. Rates from $103/night. (4608 Royal Dr, Eau Claire WI  715-833-8818) √ COVID Safety Plan: Yes
---
*ERV Rating: our unique, non-scientific ratings for romantic accommodation include:
Amenities: including Whirlpool bath or 

JACUZZI

®

Tub

,

scenic view, fireplace, lounge, etc
Location: proximity of hotel to restaurants, pubs, downtown, etc
Clientele: demographic the hotel attracts (couples, families, business travelers, etc)
Popularity: based on social media & crowd-sourced reviews 
Value: product offered compared to room rate 
Please Note: percentage ratings are not absolute but for comparative use only  
top hotels, getaways & packages on ERV
---