Iowa Whirlpool Suites
iowa hot tub suites - hotels with in-room Spa tubs for a great getaway
FTC: This page uses affiliate links. More. 

---
By: Greg Mattson, ERV Editor - Updated: Aug 17, 2021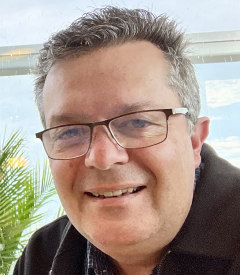 How about a hot tub suite getaway in Iowa? Even a one or two-night stay in a Des Moines, Cedar Rapids or Davenport hotel with a private in-room Whirlpool or JACUZZI® Tub can be a relaxing mini-break.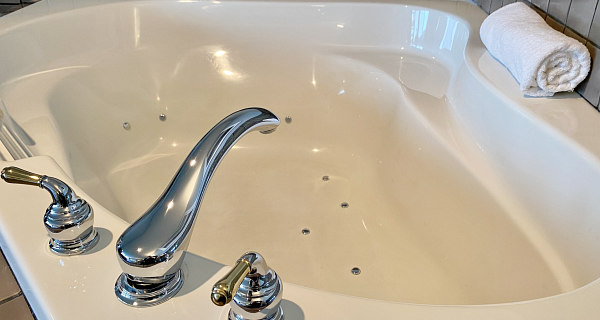 Grab a Great Deal on a Iowa Hotel with a Jetted Tub Suite
Our special collection of Iowa hot tub hotel suites is hand-picked to ensure that you get a relaxing night with a jetted tub right in your room (instead of sharing a hot tub with everyone out by the pool). Enjoy your getaway in Iowa!

Disclaimer: JACUZZI® is a registered trademark owned by Jacuzzi Inc. The use of the JACUZZI® trademark on this website is for informational purposes only. There is no relationship, connection or affiliation between this website and Jacuzzi Inc. or its related companies. Rates shown are approximate only and subject to change. Hotel rooms, jetted tubs and amenities can change, and may not be exactly as shown, so please contact the hotel or inn before making travel plans.
des moines, iowa Spa Tub Suites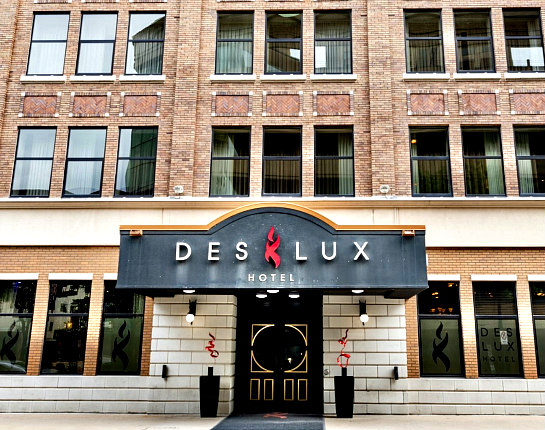 Des Lux Hotel, Des Moines IA
Downtown Des Moines IA Whirlpool Suite
Des Lux Hotel, Des Moines - top-rated, and an excellent choice for a downtown Des Moines honeymoon hotel. You'll want the King Whirlpool Suite with Fireplace, with luxury linens, robes, and a romantic jetted tub. 2021 ERV Rating*: 90% - Excellent. (800 Locust St, Des Moines IA 515-288-5800) √ COVID Safety Plan: Yes
Ramada by Wyndham Des Moines Airport

- no matter if you're coming, going or staying put, this Ramada is a fine budget-friendly choice. Indoor pool, free airport shuttle and breakfast, and they've got jetted spa tubs in their King Bed One-Bedroom Superior Suites. 2021 ERV Rating*: 70% - Good. (1810 Army Post Rd, Des Moines IA 515-287-6464) √ COVID Safety Plan: Yes
More jetted tubs near des moines
johnston, ia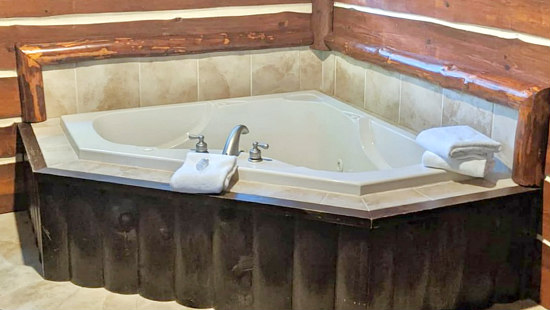 Hot Tub Suite in Johnston, IA
Stoney Creek Hotel & Conference Center - pet-friendly and award-winning, with an indoor/outdoor pool and on-site Bearly's Bar. The King, Premier and Theme Suites are all equipped with Whirlpool Tubs. 2021 ERV Rating*: 90% - Excellent. (5291 Stoney Creek Court, Johnston IA 50131  515-334-9000) √ COVID Safety Plan: 

Yes

 
west des moines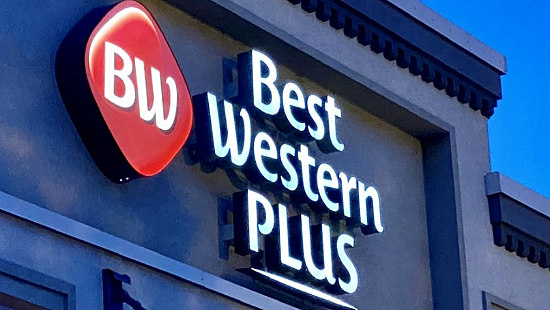 Check out a Des Moines West Spa Tub Suite
Best Western Plus Des Moines West

- situated near I-80 and I-35, and ready to welcome you with a complimentary full breakfast, indoor pool and spa. Look for their King Bed Rooms with a private hot tub. 2021 ERV Rating*: 80% - Very Good. (1450 NW 118th Street, Clive IA 515-221-2345) √ COVID Safety Plan: Yes
West Des Moines Marriott

- super-comfortable pillow top mattresses ensure a good night's sleep at this Marriott hotel, and dinner and drinks are on-site at the Two Rivers Grill and Lounge. Book the Larger Guest Room with King Bed and Whirlpool Tub for a great stay. 2021 ERV Rating*: 84% - Very Good. (1250 Jordan Creek Parkway, West Des Moines IA 515-267-1500) √ COVID Safety Plan: Yes
clive, IA
Country Inn & Suites by Radisson Des Moines West - just west of downtown Des Moines, with indoor pool and complimentary breakfast, as well as King Whirlpool Suites with tubs big enough for 2 people. 2021 ERV Rating*: 80% - Very Good. (1350 NW 118th St, Clive IA 515-223-9254) √ COVID Safety Plan: Yes
ankeny, ia
Country Inn & Suites by Radisson Ankeny

- this Ankeny IA hotel enjoys a nice quiet location by the water. King Suites are outfitted with French doors and a relaxing Whirlpool Tub. Don't forget their evening reception and breakfast each morning, both complimentary. 2021 ERV Rating*: 80% - Very Good. (2510 SE Tones Dr, Ankeny IA 515-965-2646) √ COVID Safety Plan: Yes
ames, ia
Country Inn & Suites by Radisson Ames IA

 - just a 10-minute drive to Main Street Cultural District, with amenities like free breakfast, indoor pool and outdoor patio area. Romantic Whirlpool Suites come with a 2-person jetted spa tub. 2021 ERV Rating*: 78% - Good. (2605 SE 16 St, Ames IA 515-620-4486) √ COVID Safety Plan: Yes
---
cedar rapids IA Whirlpool Suites
Book a Spa Tub Getaway at the Best Western in Cedar Rapids, IA
Best Western Plus Longbranch Hotel & Convention Center - complete rest and relaxation center, with fitness and indoor pool facilities, as well as a games room and picnic area. The choice rooms here are the King Bed Spa Suites with private hot tub and dry sauna! 2021 ERV Rating*: 84% - Very Good. (90 Twixt Town Road NE, Cedar Rapids IA 319-377-6386) √ COVID Safety Plan: Yes
Country Inn & Suites by Radisson, Cedar Rapids Airport

- travellers searching for a hot tub suite in Cedar Rapids will love this Country Inn & Suites with their King Whirlpool Suites. There's an indoor pool and fitness room, and they've got a free shuttle to both the airport and attractions within 5 miles of the inn. 2021 ERV Rating*: 68% - Fair. (9100 Atlantic Dr SW, Cedar Rapids IA 319-363-3789) √ COVID Safety Plan: Yes
More midwest hot tub getaways:
---
davenport IA hotel hot tub rooms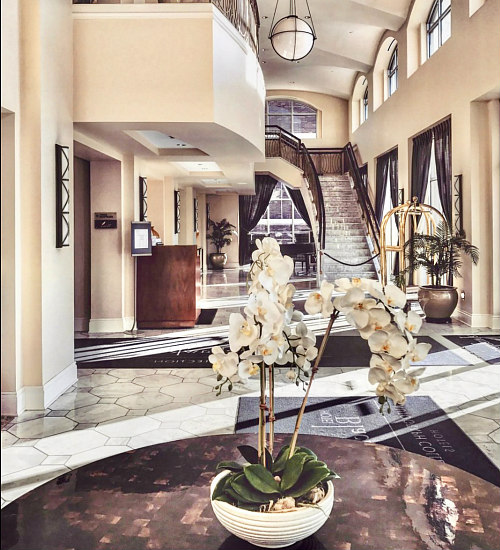 Beautiful Hotel Blackhawk, Davenport IA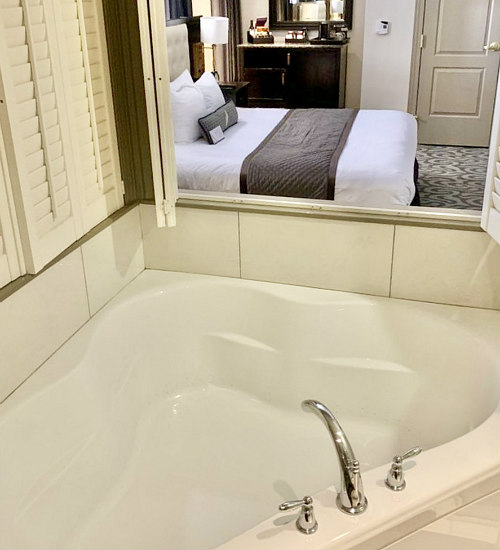 Hotel Blackhawk Whirlpool Suite, Davenport
Hotel Blackhawk - historic, luxurious and freshly renovated, with great amenities like a cocktail bar, bowling alley, indoor pool and more. Make your stay in Davenport ultra-romantic by selecting one of their King Guest Rooms with a Whirlpool Tub for 2. 2021 ERV Rating*: 92% - Excellent. (200 East 3rd St, Davenport IA 563-322-5000) √ COVID Safety Plan: Yes
Best Western Plus Steeplegate Inn

-  nice choice for a budget-friendly hotel in Davenport with in-room JACUZZI

®

 Tubs. Complimentary airport shuttle & breakfast, with lunch and evening drinks available in their newly refreshed bar & lounge. 2021 ERV Rating*: 80% - Very Good. (100 W 76th Street Davenport IA 563-386-6900) √ COVID Safety Plan: Yes
---
sioux city Spa Tub Suites
Reserve Your Spa Tub Getaway at the Stoney Creek Hotel in Sioux City IA
Stoney Creek Hotel & Conference Center

- recipient of TripAdvisor's Certificate of Excellence, and loaded with amenities like heated indoor/outdoor pool, on-site pub, and a fine location just a few minutes walk to downtown and the Missouri River. You'll find the hot tubs here in their King, Premier and Theme Suite with Whirlpool Rooms, which also have Keurig Coffee machines and luxury bath amenities. 2021 ERV Rating*: 92% - Excellent. (300 3rd St, Sioux City IA 712-234-1100) √ COVID Safety Plan: Yes
Hampton Inn North Sioux City

- quality you can count on from Hilton, offering large King Rooms with a Whirlpool Tub and their famously-comfortable Hampton bed. Downtown Sioux City only 10 minutes away, and free breakfast is included. 2021 ERV Rating*: 72% - Good. (101 S. Sodrac Dr, North Sioux City SD 605-232-9739) √ COVID Safety Plan: Yes
---
waterloo/Cedar Falls
Holiday Inn Express & Suites Cedar Falls/Waterloo

- expect a top-value stay at this Holiday Inn, and a romantic room with their Jetted Tub Suite, which a bubbly tub, separate living area and flat-panel HDTV. Indoor pool, Free breakfast bar (with Cinnabon Rolls!) and fast Wi-Fi are just a few of the extras here. 2021 ERV Rating*: 86% - Very Good. (1614 Technology Parkway, Cedar Falls IA 319-277-2400) √ COVID Safety Plan: Yes
Country Inn & Suites by Radisson Waterloo

- tough to beat for value, and their Premium Whirlpool Suite's jetted tub is large enough for 2. Lots of dining options nearby, and Crossroads Mall is only a 5-minute drive away. 2021 ERV Rating*: 76% - Good. (4025 Hammond Ave, Waterloo IA 319-233-2336) √ COVID Safety Plan: Yes
---
iowa city/coralville
Country Inn & Suites by Radisson Coralville

- need a budget-friendly getaway or anniversary in Eastern Iowa? This Country Inn has Whirlpool Suites with a 2-person jetted tub and King bed. There's free cookies, coffee and tea in the lobby, and a fire pit for relaxing after-hours. 2021 ERV Rating*: 76% - Good. (2571 Heartland Pl, Coralville IA 319-545-8464) √ COVID Safety Plan: Yes
---
council Bluffs
Hilton Garden Inn Omaha East/Council Bluffs

-  only 5 miles from downtown Omaha NB, with and indoor pool and 3 eateries, including JB's Cafe which is open round the clock. Pick from King Whirlpool Rooms: standard or 1 bedroom with separate living area. 2021 ERV Rating*: 76% - Good. (2702 Mid America Dr, Council Bluffs IA 712-309-9000) √ COVID Safety Plan: Yes
Springhill Suites Omaha East/Council Bluffs

- next door to Mid-America Center, with a free airport shuttle. Roomy suites include their Whirlpool Studio Room with a jetted tub for 2, and the hotel is just minutes from Old America Market and several dining options. 2021 ERV Rating*: 80% - Very Good. (3216 Plaza View Dr, Council Bluffs IA 712-256-6500) √ COVID Safety Plan: Yes
---
dubuque, IA
Hilton Garden Inn Dubuque Downtown

- situated 2 miles from downtown Dubuque on the Mississippi Riverfront. There's a hiking trail around the property, 2 restaurants, and Whirlpool Suites featuring King beds with adjustable firmness. 2021 ERV Rating*: 80% - Very Good. (1801 Greyhound Park Dr, Dubuque IA 563-585-5200) √ COVID Safety Plan: Yes
Best Western Plus Dubuque Hotel & Conference Center

- make a great hot tub choice and reserve a Whirlpool Suite with King Bed at thisBest Western just close to both the Mississippi and downtown Dubuque. Breakfast is free each morning, and the hotel is conveniently connected to Old Chicago Pizza & Taproom. 2021 ERV Rating*: 86% - Very Good. (3100 Dodge St Highway 20 W, Dubuque IA 563-557-8000) √ COVID Safety Plan: Yes
*ERV Rating: our unique, non-scientific ratings for romantic accommodation include:
Amenities: including Whirlpool bath or 

JACUZZI

®

Tub

,

scenic view, fireplace, lounge, etc
Location: proximity of hotel to restaurants, pubs, downtown, etc
Clientele: demographic the hotel attracts (couples, families, business travelers, etc)
Popularity: based on social media & crowd-sourced reviews 
Value: product offered compared to room rate 
Please Note: percentage ratings are not absolute but for comparative use only  
top hotels, getaways & packages on ERV
---