All About Excellent Romantic Vacations
Romantic Vacations Home › About Us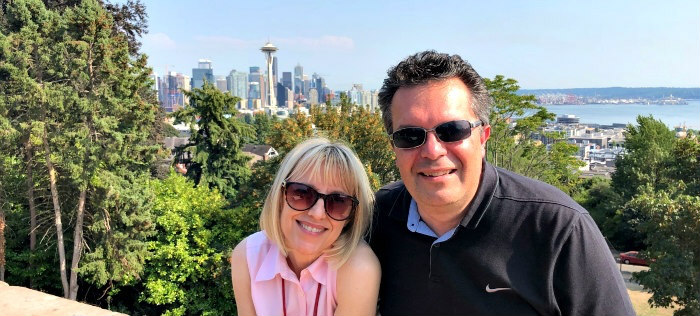 FTC Disclosure: If you make a purchase through a link on this page, we receive a small commission at no cost to you. We only recommend hotels we have used ourselves or researched thoroughly.
By Greg Mattson, ERV Editor - Updated: Dec 29, 2017
Thanks for visiting Excellent Romantic Vacations. Wondering who we are? Here's some information about us and this website…
Meet Our Writers:

Publisher and Founding Editor of ERV. Greg got his "wings" as a Travel Agent, graduating with a Travel & Tourism Diploma in 1987 and immediately started work selling tours and flights to the South Pacific with ANZA Travel. After a 17-year career with 2 major airlines and over 350,000 miles of travel, touring and researching, he settled in to travel publishing full-time in 2008. Favorite Destinations: Auckland, NZ, Ireland and New York City. Contact Greg here.  

Sales & Marketing, Staff Writer. Maureen is a published author and travel writer. She loves researching and visiting romantic destinations, and experiencing different cultures. Paros, Greece, Quebec City and Cairns, QLD rate as her most cherished travel memories. Maureen's favorite things include afternoon naps, historical fiction and vanilla ice cream. She lives in Vancouver BC. Contact Maureen here.  
Contributing Writer. DaleAnn lives with her husband Kerry in the Canadian Rocky Mountains, and has worked with words for more than two decades as a reporter, writer and newspaper editor. She lists her most romantic experiences as a cruise on an Arab dhow in the Indian Ocean, a stay in a 13th century castle in Spain, and an afternoon on the beach at Surveyor's Lake in southeastern British Columbia. Contact DaleAnn here.
Excellent Romantic Vacations.com:
Annual audience of over 1,000,000 readers.
Quoted, sourced and linked to by many digital and print media channels, including USAToday.com, San Jose Mercury News, Huffingtonpost.com and Chatelaine.com.
Our Home:
We're based in beautiful Vancouver, British Columbia, Canada.