Minnesota Whirlpool Suites
Minnesota Hot Tub Suites - Romantic Hotel In-Room Spa Tubs
FTC: This page uses affiliate links. More. 

---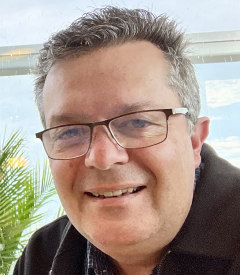 By: Greg Mattson, ERV Editor - Updated: Aug 1, 2023   

Making romantic hotel reservations for Minnesota? Consider a suite with an in-room JACUZZI® Tub. From the Twin Cities to Rochester to the Lake Superior Shoreline, we've got you covered for romantic accommodation here, with our latest choices of hotels, inns, cabins and rentals with an in-room Whirlpool tub or spa bath.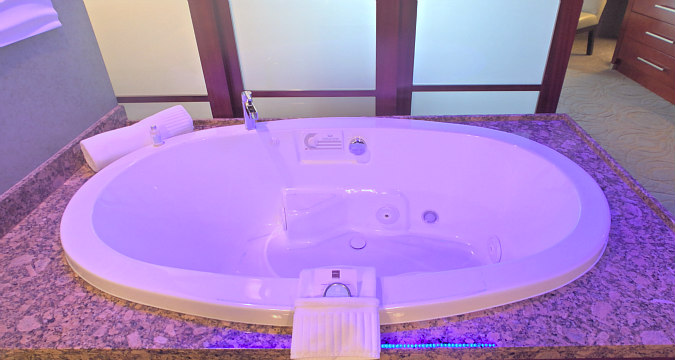 Reserve a Hotel Hot Tub Suite for Your Next Minnesota Getaway Weekend
What Makes our Minnesota Hot Tub Suites Guide Different - you won't find automated lists here, but rather our unique collection of hand-picked rooms and suites which we've thoroughly researched for romantic getaways and honeymoons. We only pick hotel suites with a jetted tub right in the room. 
Disclaimer: JACUZZI® is a registered trademark owned by Jacuzzi Inc. The use of the JACUZZI® trademark on this website is for informational purposes only. There is no relationship, connection or affiliation between this website and Jacuzzi Inc. or its related companies. Rates shown are approximate only and subject to change. Hotel rooms, jetted tubs and amenities can change, and may not be exactly as shown, so please contact the hotel or inn before making travel plans.
---
Minneapolis-Saint Paul Hotel Hot Tub Suites
hilton garden inn minneapolis downtown
Hilton Whirlpool Suite in Downtown Minneapolis
Hilton Garden Inn Minneapolis Downtown

- This downtown Minneapolis Hilton is close to the Convention Center and Nicollet Mall shopping, yet offers a quiet and comfortable stay. You'll be interested in one of their spotless King Rooms with Spa Bath, HDTV and Keurig coffee maker. 2023 ERV Rating* for Minneapolis Spa Tub Suites: 90%

 - Excellent. Whirlpool Tub Size:  

(1101 4th Ave S, Minneapolis MN 612-339-6644)  
---
Holiday Inn Express & Suites Minneapolis Downtown
Holiday Inn Express & Suites Minneapolis Downtown - One of the top choices for an affordable jetted tub suite in the Twin Cities. Check into their spacious King Bed Suites with Fireplace and Whirlpool tub for 2. 

2023 ERV Rating* for Minneapolis, Minnesota Whirlpool Suites: 80%

 - Very Good. (225 S. 11 St, Minneapolis MN  612-341-3300)  
---
davidson hotel Suites with JACUZZI® Tub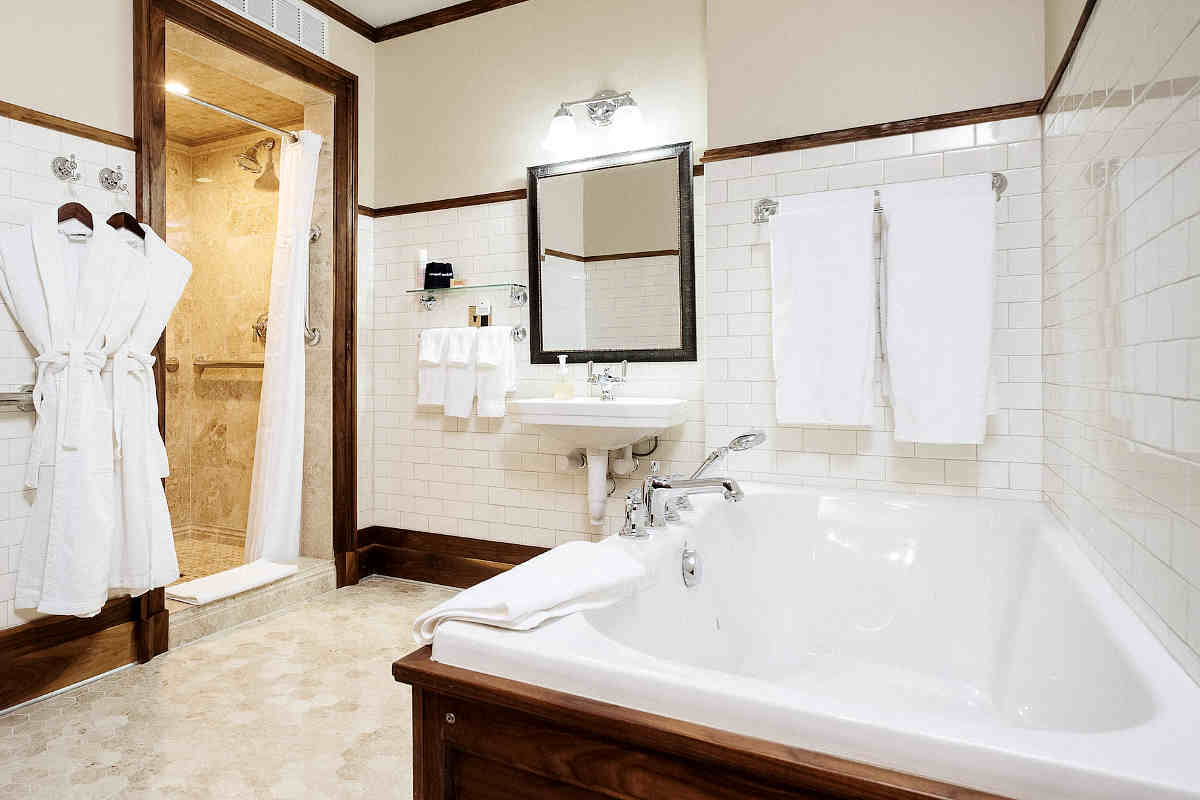 JACUZZI® Tub Suite - Davidson Hotel, St Paul MN
Davidson Hotel - Located on beautiful Summit Ave, the Davidson is regarded as one of the finest restored mansions in Minnesota. Most suites in this attractive boutique hotel have JACUZZI® Tubs, along with amenities that include Keurig coffee machines, A/C and free Wi-Fi. 2023 ERV Rating*: 96% - Excellent. Jetted Tub Size: 1-2 Persons. Room Rates from $189/night. (344 Summit Ave, St Paul MN 651-560-2009)
Near Minneapolis/St.Paul: country Inn & Suites Stillwater MN
Book an Affordable Stillwater MN Whirlpool Suite
Country Inn & Suites Stillwater

- Close to both the Mall of America and historic downtown Stillwater, this Radisson Hotel is a smart pick for budget getaways, and their King Whirlpool Suites come with free Wi-Fi and a hot breakfast. 2023 ERV Rating* for Budget-Friendly Spa Tub Suites Near Minneapolis: 62% - Fair. (2000 Washington Ave, Stillwater MN 651-275-1401)  
grandstay Hotel & Suites Stillwater
Grandstay Hotel Stillwater MN Jetted Tub Suite
Grandstay Hotel & Suites Stillwater

- Relax in one of the GrandStay's King Suites with Whirlpool Spa bath, and enjoy free breakfast and indoor pool, all just a 25 minute drive east from St.Paul. 2023 ERV Rating* for Stillwater MN Whirlpool Tub Suites: 66%

 - Fair. 

(2200 W. Frontage Rd, Stillwater MN  651-430-2699)  
---
Central MN Hotel Hot Tub Rooms
country inn & Suites St. Cloud East
St. Cloud MN Hot Tub Suite Hotel - Country Inn & Suites
---
Jetted Tub Suites on Eastern Minnesota's Lake Superior Shore
South Pier Inn on the Canal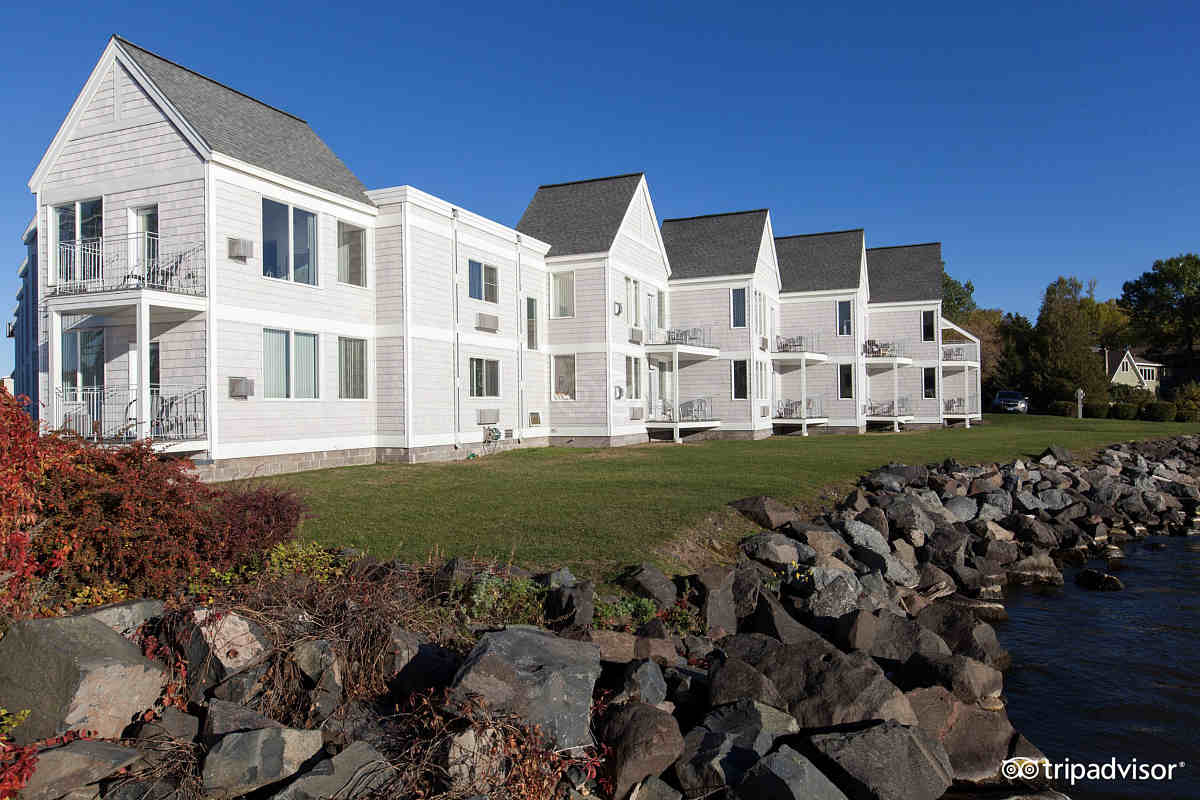 South Pier Inn on the Canal ©TripAdvisor
Duluth Waterfront Spa Tub Suite ©TripAdvisor
South Pier Inn on the Canal

- One of the best choices along Minnesota's Lake Superior waterfront for jetted tub suites. Terrific water views along with gas fireplaces, fine linens, and a quiet setting. Watch the ships on the Canal from the comfort of an Executive Suite, with your own 2-person in-room hot tub! A favorite of couples and honeymooners, and close to Canal Park and restaurants. 2023 ERV Rating* for Duluth MN Hotel Jetted Tub Suites: 94% - Excellent. (701 S. Lake Ave, Duluth MN  218-786-9007)  
---
hampton inn duluth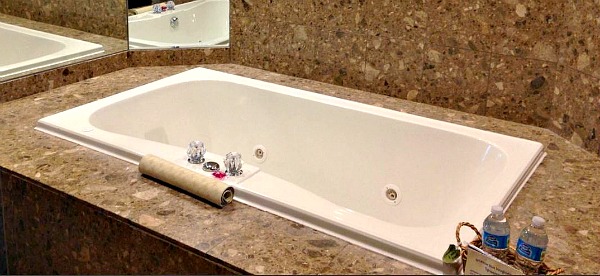 Spacious Whirlpool Tub for Two People at the Hampton Inn Duluth, MN
Hampton Inn Duluth Canal Park

 - Spend your getaway at this attractive Hampton Inn, located in Duluth's Canal Park just 200 ft from the water's edge of Lake Superior. When booking, look for their Lakeview King Bed Suite with a Whirlpool Tub. Bike rentals, free hot breakfast and Wi-Fi are just some of the amenities here. 2023 ERV Rating* for Duluth MN Suites With a Whirlpool Tub: 86%

 - Very Good. 

(310 Canal Park, Duluth MN  218-720-3000)  
grand Superior lodge
Grand Superior Lodge, Minnesota ©TripAdvisor
Log Home Suite w/Spa Tub ©TripAdvisor
Grand Superior Lodge

- Romantic lodge & log cabins with a great selection of waterfront suites with hot tubs. Book their Log Home Suite or One Bedroom Log Home, and enjoy a spacious spa tub and views overlooking Lake Superior. 2023 ERV Rating* for

Minnesota Lake Superior Waterfront Hot Tub Suites

: 80% - Very Good. (2826 Highway 61, Two Harbors MN 800-627-9565)  
lutsen resort on lake superior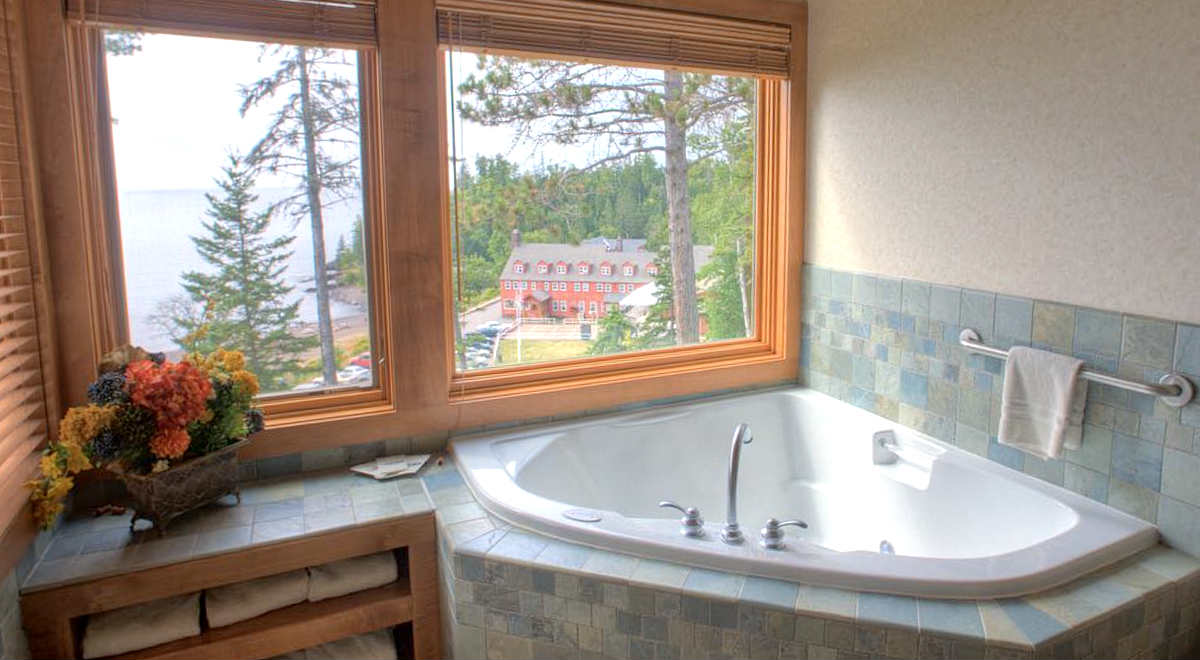 Lutsen Resort Spa Tub Suite, Minnesota
Lutsen Resort

- Selected condos and Cliff House Townhomes at this romantic resort come all outfitted with jetted tubs big enough for 2 people. 2023 ERV Rating* for Lutsen, Minnesota Hot Tub Suites: 72% - Good. (5700 W. Hwy 61, Lutsen MN  800-258-8736)
best western plus superior inn & Suites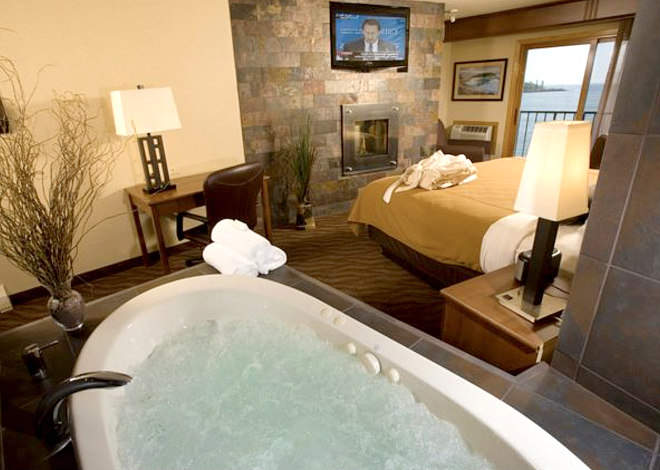 Lake Superior Waterfront Whirlpool Tub Suite - BW Plus Superior Inn
Best Western Plus Superior Inn - Relax with views and sounds of the the Lake Superior waves in this romantic inn. Not only do they offer lakefront Spa Bath Suites, but selected rooms have walk-in steam showers. 2023 ERV Rating* for Grand Marais MN Hotel Hot Tub Suites: 92% - Excellent. (104 1st Ave East US Hwy 61 E, Grand Marais MN  218-387-2240)  
---
Southern Minnesota Jetted Tub Suites
courtyard rochester mayo clinic area
Reserve a King Suite With a Whirlpool Tub at the Courtyard Rochester, MN
Courtyard Rochester Mayo Clinic Area - Treat yourself to one of the Courtyard's King Suites with a Whirlpool

 tub

 on your next getaway to Southeastern Minnesota. Like most newer Courtyard hotels, this Marriott now includes their Bistro Lounge and restaurant (great for a Starbucks coffee or a glass of wine), and you'll also find an indoor pool and fitness center. 2023 ERV Rating* for Rochester MN Suites with a Whirlpool Tub: 88% - Very Good. (161 13 Ave SW, Rochester MN  507-536-0040)  
stone mill hotel & Suites
Stone Mill Hotel, Lanesboro MN
2-Person Spa Tub Suite - Stone Mill Hotel
Stone Mill Hotel & Suites

- Wonderful choice of themed suites in this attractive downtown inn, complete with river views and unique finishings all steeped in captivating local history. Oh, of course, you're going to love the romantic in-room 2-person jetted tubs as well! 2023 ERV Rating* for Lanesboro MN Spa Tub Suites: 96% - Excellent. (100 E. Beacon St, Lanesboro MN  507-467-8663)
AmericInn by wyndham wabasha
Americinn by Wyndham Wabasha - A recently updated inexpensive Wabasha hotel, with flat screen TV's, indoor pool and sauna, and themed hot tub suites. A great base to discover historic Wabasha from. 2023 ERV Rating* for Wabasha MN Hot Tub Suites: 88% - Very Good. (150 Commerce Dr, Wabasha MN 651-565-5366) 
country Inn & Suites Albert Lea, MN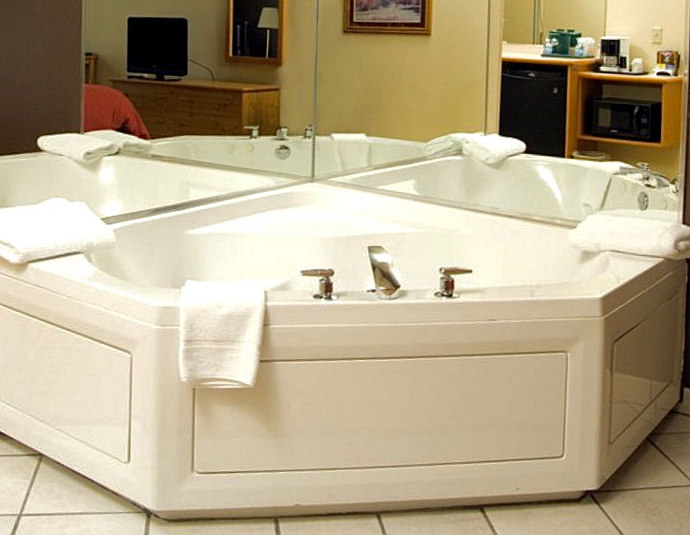 King Whirlpool Suite - Country Inn & Suites, Albert Lea MN
Country Inn & Suites Albert Lea

- This top-rated hotel in Albert Lea also happens to offer it's guests the option to check into comfortable and romantic suites featuring a Whirlpool

 Tub

. 

2023 ERV Rating* for Albert Lea MN Jetted Tub Suites: 90% - Excellent. (2214 E. Main St, Albert Lea MN 507-373-5513) 
see also:
---
Hotel Hot Tub Suites in Northern Minnesota
Country Inn & Suites Grand Rapids MN
Country Inn & Suites Grand Rapids

- One of the very best hotels in Grand Rapids can also offer you a Whirlpool

 tub in your 

suite for your Northern Minnesota getaway, anniversary trip or honeymoon. Book here and you're going to enjoy a fresh cookies, Wi-Fi, and indoor pool and hot breakfast as well. 2023 ERV Rating* for Grand Rapids MN Suites with a Whirlpool Tub: 94% - Excellent. (2601 S. Hwy 169, Grand Rapids MN  218-327-4960)  
---
c'mon inn, thief river falls mn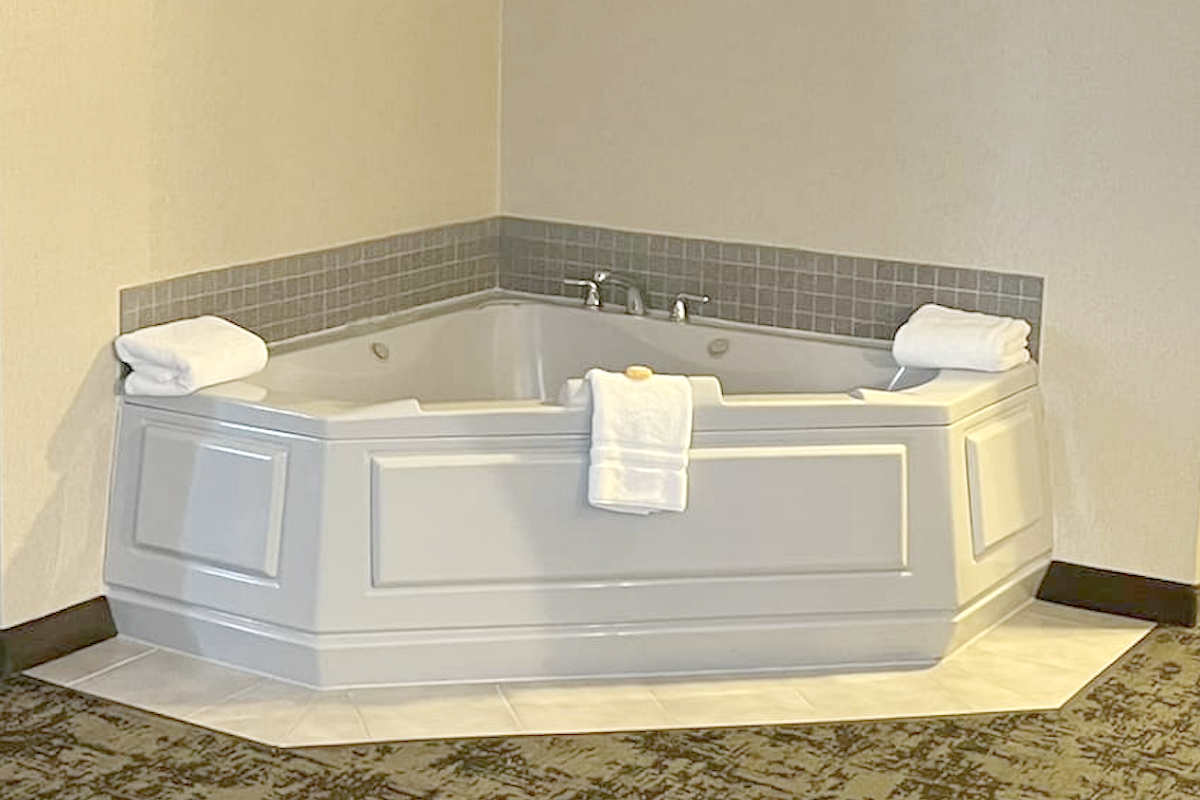 In-Suite Spa Tub for 2 - C'Mon Inn, Thief River Falls
C'Mon Inn

- The Jetted Tub Suite here will be the highlight of your Northern Minnesota getaway. Guests comment favourably about the inn's clean rooms and comfy King beds, as well as the free Wi-Fi and close location to several restaurants. 2023 ERV Rating* for Thief River Falls MN Jetted Tub Suites: 80% - Very Good. (1586 Hwy 59 South, Thief River Falls MN  218-681-3000)
---
Western Minnesota In-Room Jetted Tubs
country Inn & Suites fergus Falls, MN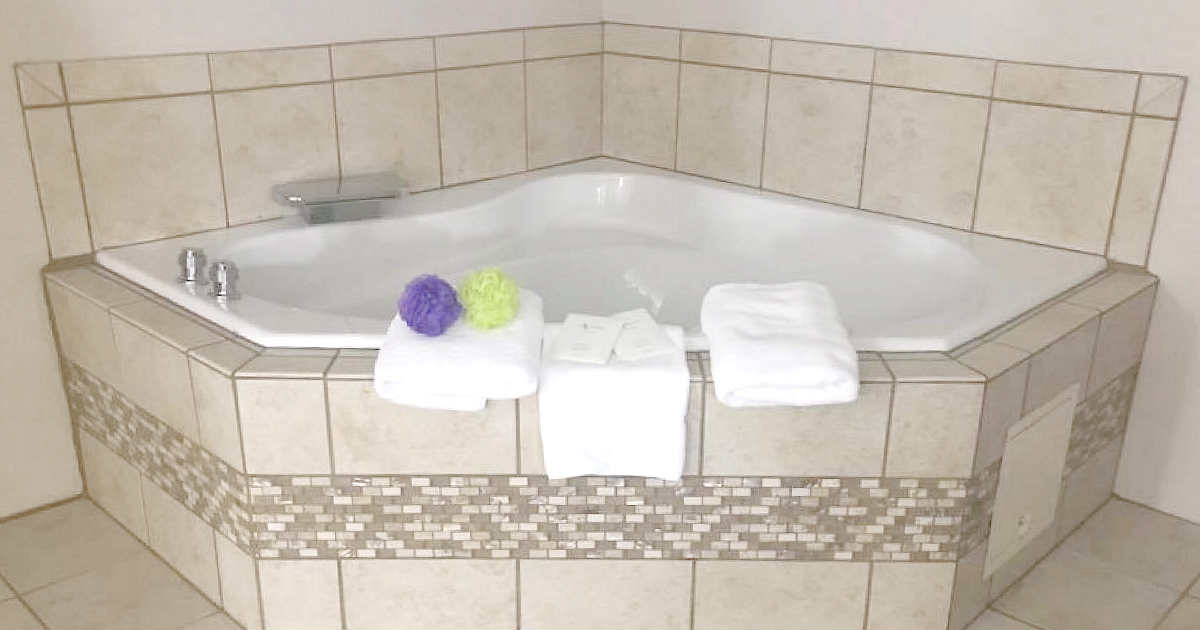 Country Inn & Suites Whirlpool Suite, Fergus Falls MN
Country Inn & Suites Fergus Falls

- Recently updated, this Best Western offers guests a hot breakfast buffet, large indoor pool, Spa Tub Suites, and friendly staff to welcome you at check-in. 2023 ERV Rating* for Ferguson Falls MN Jetted Tub Suites: 74% - Good. (925 Western Ave, Fergus Falls MN 218-739-2211)  
Americinn by wyndham alexandria MN
Americinn by Wyndham Alexandria - Inexpensive choice for a hotel hot tub suite getaway in central Minnesota. Amenities: Besides the Hot Tub suite, you'll enjoy free hot breakfast & Wi-Fi, and an indoor pool. 2023 ERV Rating* for Alexandria MN Hot Tub Suites: 70% - Good. (4529 Hwy 29 South, Alexandria MN  320-763-6808)  
*ERV Rating: our unique, non-scientific ratings for romantic accommodation include:
Amenities: including Whirlpool bath or 

JACUZZI

®

Tub

,

scenic view, fireplace, lounge, etc
Location: proximity of hotel to restaurants, pubs, downtown, etc
Clientele: demographic the hotel attracts (couples, families, business travelers, etc)
Popularity: based on social media & crowd-sourced reviews 
Value: product offered compared to room rate 
Please Note: percentage ratings are not absolute but for comparative use only  
top hotels, getaways & packages on ERV
---