Chicago
Chicago Hot Tub Suites & Hotels with In-Room Spa Tubs
FTC: This page uses affiliate links. More. 

---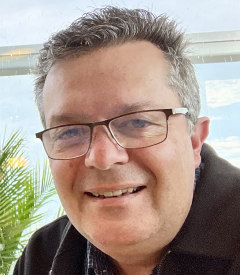 By: Greg Mattson, ERV Editor - Updated: Apr 1, 2022  

Chicago, Illinois is a great place for getaway, vacation or honeymoon. And we've got what you need to book a budget or luxury hotel suite with a Whirlpool or JACUZZI® Tub in Downtown Chicago as well the suburbs, including the North Side and Schaumburg, IL.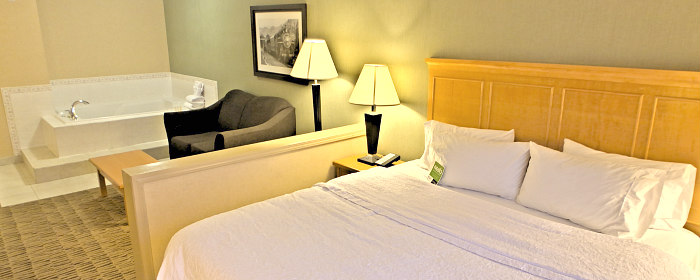 Enjoy Your Romantic Getaway or Honeymoon in a Hot Tub Suite in Chicago, IL.
About this Guide to Chicago Hotel Hot Tub Suites: We research and hand-pick these hotel rooms ourselves, so you get a reliable and updated guide to only private in-room suites with jetted tubs, not a hit-and-miss listing of outdoor hot tubs beside a pool.

Disclaimer: JACUZZI® is a registered trademark owned by Jacuzzi Inc. The use of the JACUZZI® trademark on this website is for informational purposes only. There is no relationship, connection or affiliation between this website and Jacuzzi Inc. or its related companies. Rates shown are approximate only and subject to change. Hotel rooms, jetted tubs and amenities can change, and may not be exactly as shown, so please contact the hotel or inn before making travel plans.
Quick Compare: 2022 Chicago Hot Tub Suites
video: ERV's top 5 Chicago spa tub suites
Downtown Chicago Hot Tub Suites
royal sonesta Chicago River North
Deluxe King Room - Royal Sonesta Chicago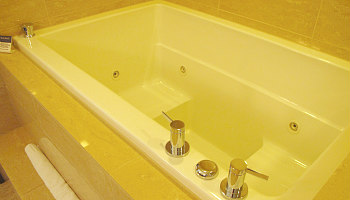 2-Person Spa Bath - Royal Sonesta Chicago
allegro Royal Sonesta Hotel chicago loop
the Drake - downtown spa tub suites with a view
Luxury Gold Coast Suite with Jetted Tub at the Drake Hotel, Chicago
The Drake Chicago Whirlpool View Suites - if an upcoming anniversary or honeymoon getaway in Chicago is making you feel like a splurge, do it in complete luxury at the Drake in one of their One Bedroom King Gold Coast Suites, which have jetted spa tubs and beautiful views of Lake Michigan. What Other Guests Liked: Stylish Rooms, Great Service and Location at the Top of the Magnificent Mile. Worth Knowing: Self-parking is $53/night and is across the street. 2022 ERV Rating*: 82% - Very Good. Spa Tub Size: 1 Person. Gold Coast Spa Tub Suite Prices from $1029/night. (140 E. Walton Pl, Chicago IL 312-787-2200) √ COVID Safety Plan: 

Yes
Budget-Friendly chicago spa tub suites:
Book a Hot Tub Suite at the BW Plus Hawthorne Terrace, Chicago IL
BW Plus Hawthorne Terrace - you're in for an affordable and comfortable stay at this Best Western, which offers King Rooms with Whirlpool

 

Tubs, as well as complimentary breakfast and fitness room. What Other Guests Liked: Great Belmont Theater District location...Just Steps to the Lakefront and 1/2 mile from Wrigley Field. Worth Knowing: some guests report noise issues in rooms near the elevator. 2022 ERV Rating*: 88% - Very Good. Whirlpool Tub Size: 1 Person. Room Prices from $220/night. (3434 North Broadway Ave, Chicago IL 773-244-3434) √ COVID Safety Plan: Yes
Perfect for a wedding night or anniversary getaway:
Villa D'Citta Two-Bedroom Suite
Chicago Whirlpool Suite - Villa D'Citta
Villa D'Citta B&B Whirlpool Suite - Book their King Room or Two-Bedroom Suite and your Chicago getaway or honeymoon will be perfect with it's King Canopy Bed, Whirlpool Tub and 25-head steam shower. What Other Guests Liked: Beautiful Boutique Inn with Italian Finishes Throughout...in the Heart of Lincoln Park District. Worth Knowing: $40 parking per day, or free on the street but observe all signs and tow zone rules (snow, street sweeping). 2022 ERV Rating*: 94% - Excellent. Whirlpool Tub Size: 1 Person. Suite prices from $199/night. (2230 North Halsted St, Chicago IL 312-771-0696) 
chicago VRBO rental with jetted tubs:
Art Deco Condo with Whirlpool Tub

 - quiet, secure & licensed luxury 2 bedroom unit with four-poster queen bed, gourmet kitchen/dining area, and Whirlpool tub in the main bath. Enjoy the private backyard garden, and convenient Rogers Park location with quick access to the Magnificent Mile and Lincoln Zoo. 2022 ERV Rating*: 88% - Very Good. (Chicago, IL)
please remember:
Have a great soak in your Chicago jetted spa tub. But please take note: only use the bath salts provided by the hotel. Some bubble baths can seriously damage the jets of the tub. Thank you!
---
travelers Ask:
Q: how much does it cost to stay in a Chicago Hotel With an In-Room Whirlpool Tub?
A: If you're OK with a spa tub suite in the Chicago suburbs, it can cost as little as $99/night. On the other hand, if you want to be downtown or in a neighborhood close by, the price id going to between $200 to $400 a night.
Q: what are the Best Chicago Hot Tub Suite hotels?
A: We like the Royal Sonesta Chicago River North and the Hampton Inn North Shore. The Sonesta for it's fabulously huge tub, and the Hampton for pure value for the dollar. Be sure to check our Quick Comparison Guide on this page to see how each of the hotels rate for price, tub size, and more. 
Q: How do I find & book a Jacuzzi® tub suite in Chicago?
A: Easy - just pick the hotel or inn that you like best on this page, and use the link provided which will enable you to check prices for that hotel and make a reservation for the hot tub suite you want. 
Chicago Bucktown B&B Spa tub suites
Ray's Bucktown B&B - a much-loved B&B in a popular Chicago neighborhood just 4 miles from downtown. The Superior and Superior Queen Rooms with Spa Bath are the ones you're looking for, and there's free breakfast and parking as well. What Other Guests Liked: Sparkling Clean Rooms...Great Location...Excellent Breakfasts. Worth Knowing: Fees apply for all cancellations. 2022 ERV Rating* for Chicago Bucktown Whirlpool Suites: 94% - Excellent. Spa Tub Size: 2 Persons. Spa Suit Prices from $199/night. (2144 N. Leavitt, Chicago IL 773-384-3245) √ COVID Safety Plan: Yes
---
Jetted Tub Suites Near Chicago O'Hare Airport ORD
Book a Comfortable Hot Tub Room Near ORD Airport at the Comfort Suites Schiller Park
Comfort Suites Schiller Park Chicago O'Hare - only 3 miles for O'hare Airport, with an on-site bar & grill, free airport shuttle and complimentary hot breakfast. When booking, look for the King Suite - Non Smoking with a Whirlpool Tub. What Other Guests Liked: Spacious Rooms...Next to Schiller Park Commons Shops and Restaurants. Worth Knowing: $15 fee for parking. 2022 ERV Rating* for ORD Airport Hotel Whirlpool Suites: 92% - Excellent. Whirlpool Tub Size: 2 Persons. King Suite prices from $113/night. (4200 North River Rd, Schiller Park IL 847-233-9000) √ COVID Safety Plan: Yes
Book a Best Western Whirlpool Suite near ORD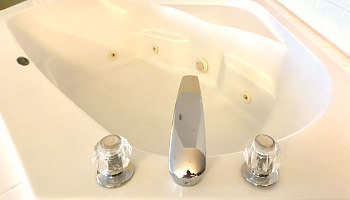 Hot Tub Suite - Best Western Hotel
Best Western Plus O'Hare International South - great choice for an affordable hotel room with hot tub close to Chicago Airport. Book their King Bed Whirlpool Suite, and enjoy extras like free hot breakfast and HDTV. What Other Guests Liked: Speedy Check-In/Check-Out...Starbucks, Outlet Shopping and Dining Nearby...24 Hr Shuttle to ORD. Worth Knowing: some guests reported street noise. 2022 ERV Rating*: 72% - Good. Whirlpool Tub Size: 2 Persons. King Suite prices from $135/night. (3001 Mannheim Rd, Franklin Park 847-233-9292) √ COVID Safety Plan: 

Yes

 
More Romantic Chicago, Illinois & Beyond on ERV:
Illinois Jetted Spa Tub Suites - check out more romantic hot tub bubbles in these hotels and inns in other destinations in Illinois, including Rockford, Springfield and Galena IL. 
---
Chicago North Shore Whirlpool Suites
Reserve a King Suite with Spa Bath at the Hampton Inn Chicago North Shore
Hampton Inn & Suites Chicago North Shore - close to the city in Chicago's attractive North Shore neighborhood, this Hampton offers spacious 1 bedroom suites with an in-room Whirlpool tub. What Other Guests Liked: Friendly, Helpful Staff...Recently Updated Rooms...Free Hot Buffet Breakfast. Worth Knowing: a few regular guests report quality of stays varying from trip to trip. 2022 ERV Rating* for Chicago North Shore Spa Tub Suites: 94% - Excellent. Whirlpool Tub Size: 2 Persons. Suite prices from $182/night. (5201 Old Orchard Rd, Skokie IL 847-583-1111) √ COVID Safety Plan: Yes
---
More Chicago Suburbs Spa Tub Suites: 
Oak Park IL B&B JACUZZI® tub suites:
Romantic Room at the Harvey House B&B
Oak Park IL B&B JACUZZI® tub
Harvey House B&B - close to shopping, and the L Train, with attractive theme suites, several of which include an JACUZZI

® T

ub. What Other Guests Liked:

 Excellent Hosts...Interesting, Delicious Breakfasts..

.Warm and Inviting Common Areas. Worth Knowing: some train noise may affect light sleepers. 2022 ERV Rating*: 90% - Excellent. JACUZZI® Tub Size: 1 Person. Jetted Tub Suite prices from $275/night.

 

(107 South Scoville Ave, Oak Park IL 708-848-6810) √ COVID Safety Plan: Yes
schaumberg, IL Country Inn & Suites jetted tub suites:
Whirlpool Tub, Country Inn & Suites Schaumburg
Country Inn & Suites by Radisson Schaumburg - check out the romantic spa tub suites at this Schaumberg Hotel just 40 minutes NW of downtown Chicago. What Other Guests Liked: King Beds with Goose-Down Bedding...Free Coffee & Cookies. Worth Knowing: Rooms facing the back of the hotel have less road noise. 2022 ERV Rating* for Affordable Hot Tub Hotel Suites: 86% - Very Good. Spa Tub Size: 2 Persons. Prices from $149/night. (1401 N. Roselle Rd, Schaumberg IL 847-839-1010) √ COVID Safety Plan: Yes
Geneva, IL spa tub rooms: comfort inn & suites
Whirlpool Tub at Comfort Inn & Suites, Geneva-West Chicago
Comfort Inn & Suites Geneva West Chicago - great choice for budget-friendly and highly rated hotel in the greater Chicago area, with King Bed Suites outfitted with Whirlpool tubs. What Other Guests Liked: Clean Rooms with Good Amenities...Staff Friendly and Helpful. Worth Knowing: 38 miles west of downtown Chicago. 2022 ERV Rating*: 86% - Very Good. Whirlpool Tub Size: 2 Persons. King Suite Prices from $99/night. (1555 E. Fabyan Pkwy, Geneva IL 630-208-8811) √ COVID Safety Plan: Yes
geneva IL: herrington inn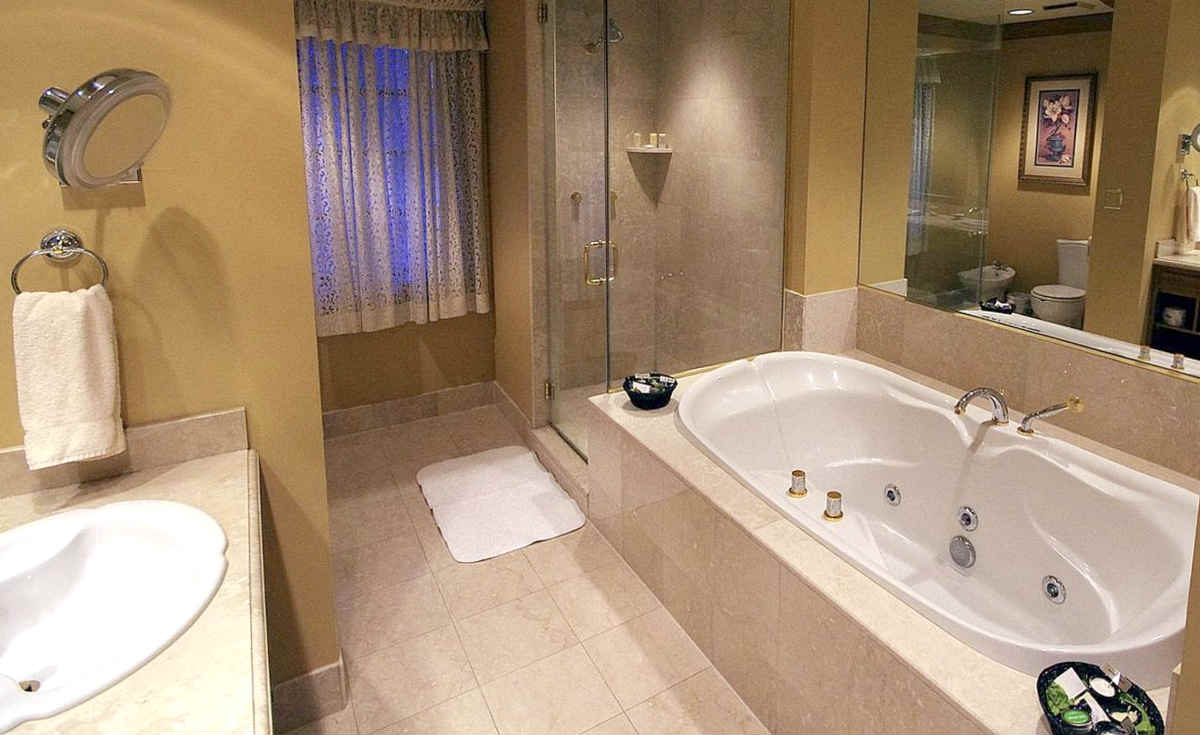 Suite with a Jetted Tub at the Herrington Inn, Geneva IL
Herrington Inn

- Try this boutique hotel, spa and restaurant for your next romantic getaway. Located on the waterfront, each room features a large jetted tub, fireplace and balcony. A complimentary continental breakfast is offered each morning in the grand lobby, plus parking and Wi-Fi are free. What Other Guests Liked: Nightly turndown service with cookies and milk. Onsite spa and high-end restaurant. Worth Knowing: The rooms are quite dimly lit. 2023 ERV Rating*: 86% - Very Good. Spa Tub Size: 1 and 2 Persons. Whirlpool Suite Price: From $179/night. (15 S River Ln, Geneva IL 630-208-7433)
homewood IL: la banque hotel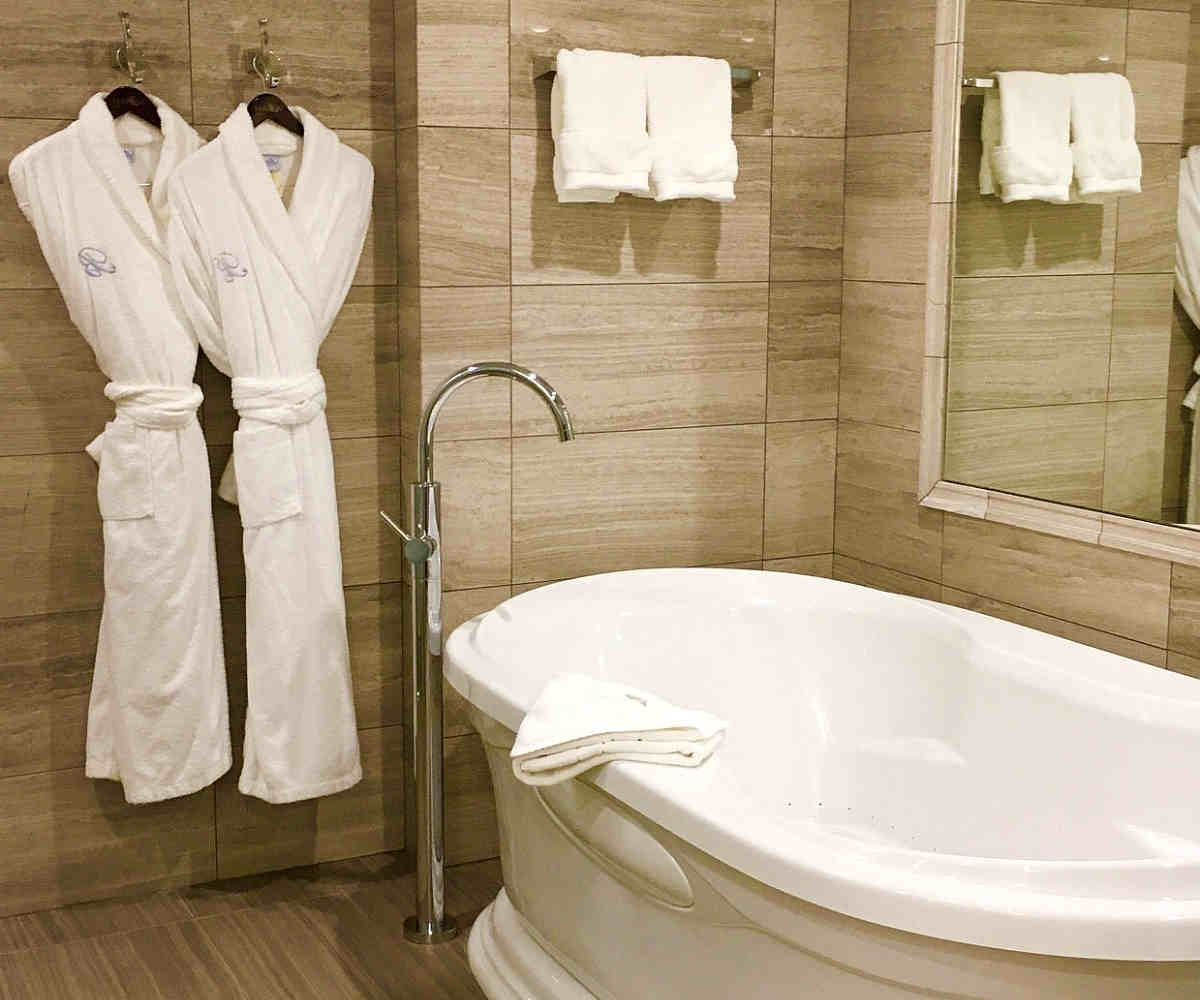 Spa Bath Suite at La Banque Hotel
La Banque Hotel

- Be sure to check out the King Corner Suites at this historic hotel to experience the romance of a suite with an in-room JACUZZI® Tub close to Chicago (only 26 miles from downtown). A former bank building (thus the name!), La Banque is now an upscale hotel with a French bistro and bar, and 18 romantic guest rooms. Your hot tub suite features a canopy bed and luxurious touches along with the JACUZZI® Tub and oversized shower. Enjoy a complimentary glass of bubbly upon check-in, as well as free daily breakfast. What Other Guests Liked: Within walking distance of shops and restaurants, 24-hour fitness room. Worth Knowing: No pets are allowed in the whirlpool suites. 2023 ERV Rating*: 92% - Excellent. JACUZZI® Tub Size: 2 Persons. Whirlpool Suite Price: From $249/night. (2034 Ridge Rd, Homewood IL 708-798-6000)
westmount IL: Best western plus
Best Western Plus Oakbrook Inn

- enjoy some luxuries on a budget at this Best Western hotel with goose-down pillows and comforters, full hot breakfast, and free parking. It's all even better when you're checked into one of their King Bed Suites with a jetted tub. What Other Guests Liked: cookies and milk nightly. Worth Knowing: hotel could use an update. 2022 ERV Rating*: 82% - Very Good. King Suite Prices from $136/night. (669 Pasquinelli Dr, Westmont IL 630-3230-1515) √ COVID Safety Plan: 

Yes
southwest chicago/boilingbrook: quality inn
Quality Inn Bolingbrook I-55 - known for value and repeat customers, Quality Inns offers this hot tub hotel conveniently located in the suburb of Bolingbrook in southwest Chicago. What Other Guests Liked: Good Value for Money...Buffet Breakfast. Worth Knowing: No pets allowed. 2022 ERV Rating*: 70% - Good. In-Room Hot Tub Size: 2 Persons. Suite prices from $135/night. (175 Remington Blvd, Bolingbrook IL. 630-378-5300) √ COVID Safety Plan: Yes
*ERV Rating: our unique, non-scientific ratings for romantic accommodation include:
Amenities: including Whirlpool bath or 

JACUZZI

®

Tub

,

scenic view, fireplace, lounge, etc
Location: proximity of hotel to restaurants, pubs, downtown, etc
Clientele: demographic the hotel attracts (couples, families, business travelers, etc)
Popularity: based on social media & crowd-sourced reviews 
Value: product offered compared to room rate 
Please Note: percentage ratings are not absolute but for comparative use only  
top hotels, getaways & packages on ERV
---