Chicago Private Pool Suites - Hotels and vacation Rentals
Chicago
FTC: This page uses affiliate links. More.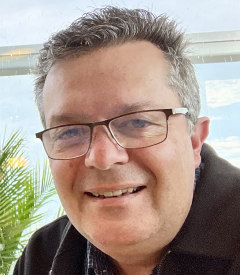 By: Greg Mattson, ERV Editor. Updated: Feb 26, 2023
Booking accommodation in the greater Chicago area with your own private pool can be a real challenge, so take a close look at this special selection of hotels and rentals with pools in the Windy City. 

Check Out a Romantic Private Pool Suite Near Chicago
These hotel and vacation rental units fit a wide variety of getaways, from couples to families and larger groups. They don't have lengthy minimum stay requirements, so they're perfect for a weekend getaway or short-term rental. And they all feature a private pool for your own use, not shared with anyone else. Have a great getaway! 

(Please Note: Guest use of swimming pools is unsupervised and at your own risk. Pool rules as established by the hotel or owner must be followed at all times. Never leave children unattended near a pool. Availability of pools and other amenities can be seasonal only and change at any time, so please check with the property before making firm travel plans.)

---
Chicago area Hotels with Private pools
Please Note: Children and Pets are not allowed at the following properties:
champagne lodge & suites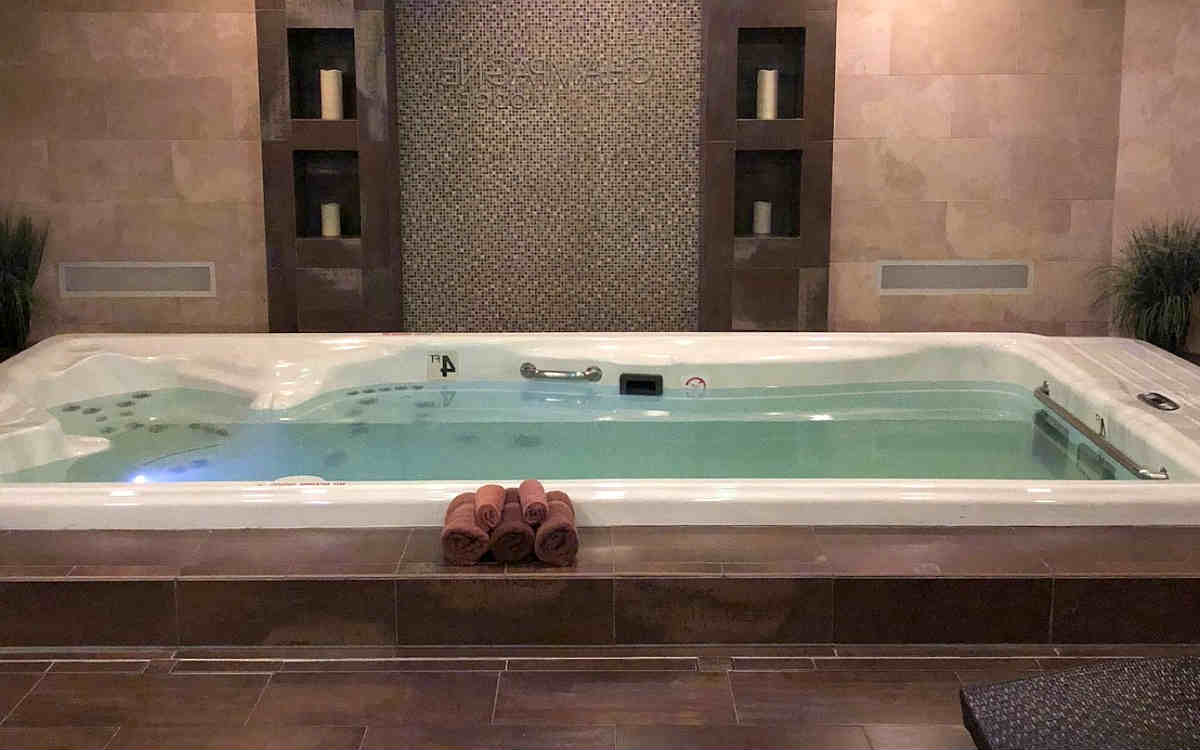 Swimming Pool Suite, Champagne Lodge, Willowbrook IL
Champagne Lodge & Luxury Suites - 

the Champagne Lodge's swimming pool suite is one of a kind, with spacious heated indoor pool surrounded by LED mood lights, steam room and shower, and gas fireplace will provide you with a romantic getaway you'll never forget. Just 17 miles southwest of Chicago, this is a boutique hotel featuring spa suites with private entrances. Package plans including dinner and massage can be arranged in advance. 

2021 ERV Rating*:70%

 - Good. 

(16 W 621 S. Frontage Rd, Willowbrook IL 630-455-0555)

 
sybaris pool suites, frankfort il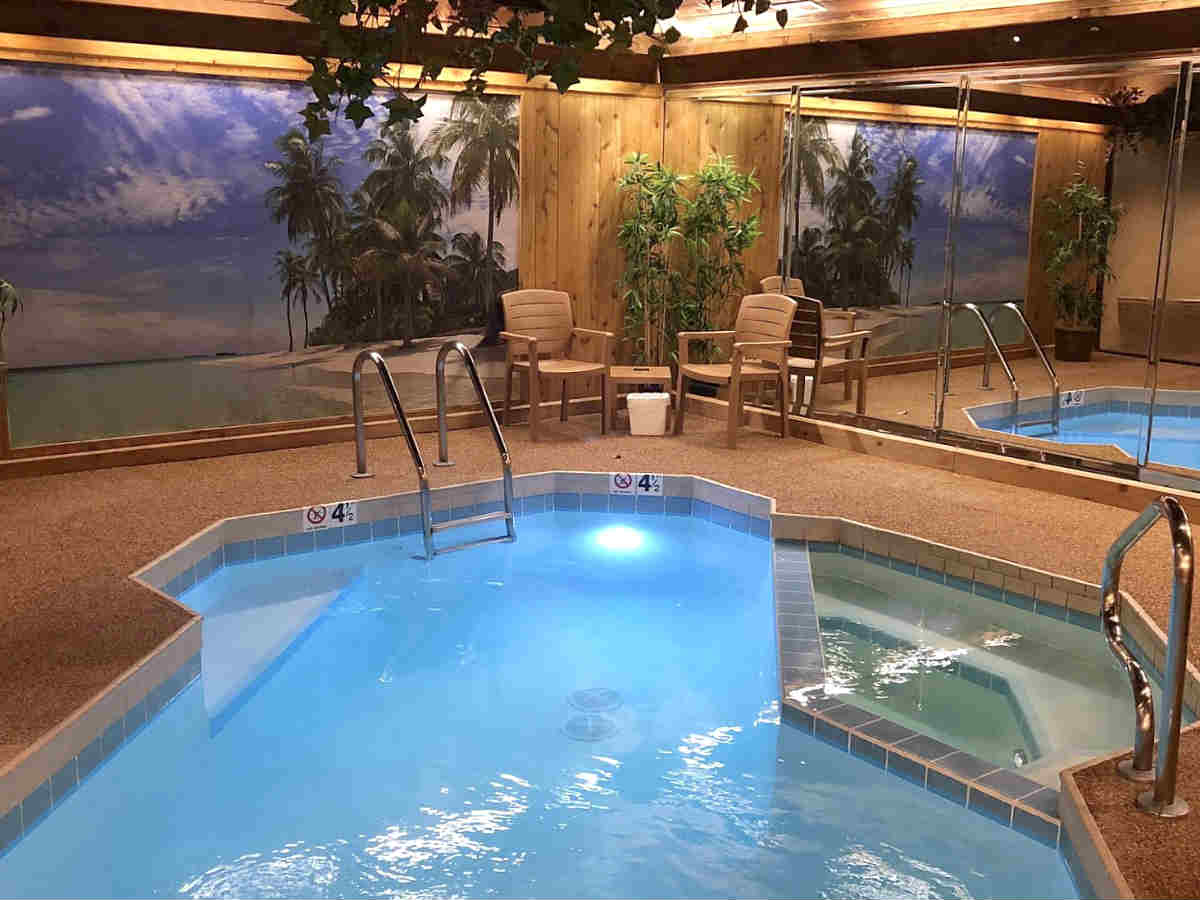 Romantic Pool Suite, Sybaris Frankfort IL
Sybaris Pool Suites, Frankfort IL 

- c

heck out this romantic paradise in Frankfort Illinois: Suites feature 20-22 foot private swimming pools, tropical waterfalls, Whirlpool tubs, steam rooms and cozy fireplaces. The Chalet Swimming Pool Suite even includes a bedroom loft with 10-foot waterslide! Massage chairs, spa robes, microwave and refrigerator provide extra convenience and relaxation. You'll find this hotel about 33 miles SW of Chicago in Frankfort, IL. 

2021 ERV Rating* for Private Pool Suites Near Chicago: 92%

 - Excellent. 

(7500 W. Lincoln Hwy, Frankfort IL 815-464-5000)

 
sybaris pool suites, northbrook IL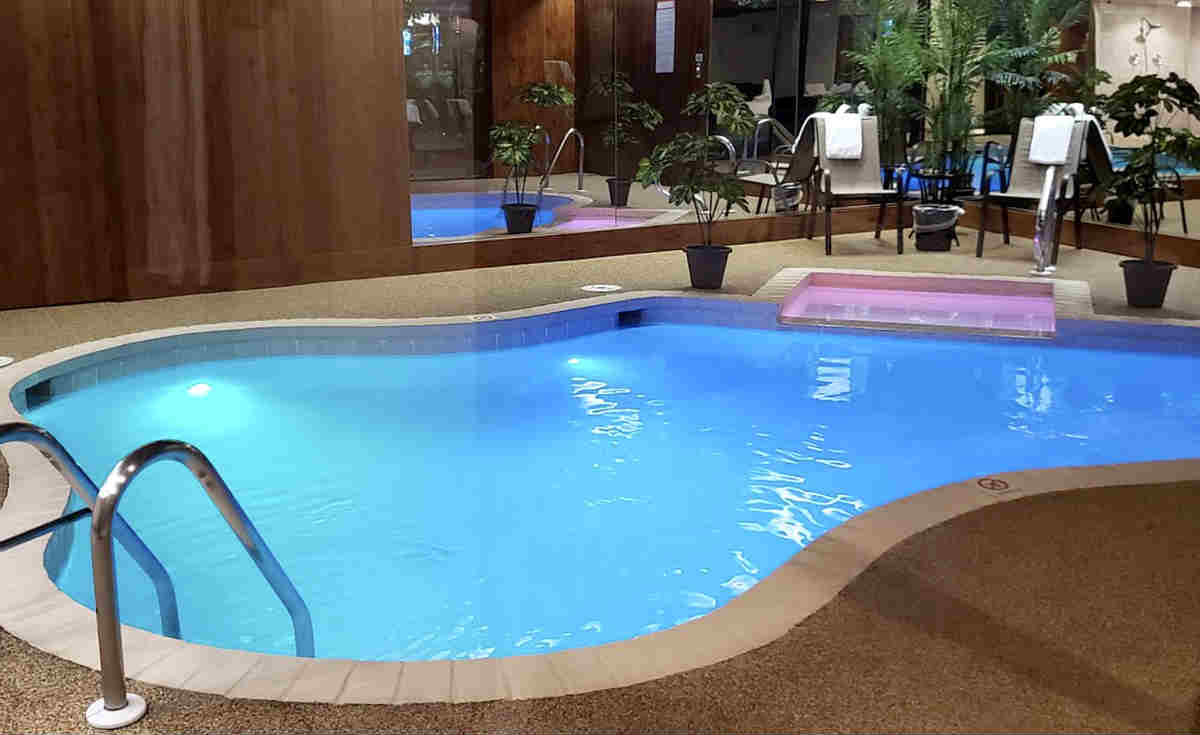 Plunge Pool Suite, Sybaris in Northbrook, Illinois
Sybaris Pool Suites, Northbrook IL - choice of 3 different private pool suites here, with the Chalet Suite even including your own private garage and loft bedroom with waterslide! All pools are heated to around 91 degrees at every Sybaris Suites for maximum comfort. 27 miles NW of downtown Chicago. 2021 ERV Rating* for Private Pool Suites Near Chicago: 84%

 - Very Good.  

(3350 Milwaukee Ave, Northbrook IL 847-298-5000)

 
sybaris pool suites downers grove il
Sybaris Pool Suites, Downers Grove IL - award-winning and a fun escape, Sybaris Suites Ogden, IL location offers 2 rooms with in-suite private pools: the Majestic and Paradise swimming pool suites. Both include a tropical waterfall, misting steam room, jetted tub and fireplace. Located about 22 miles west of downtown Chicago. 2021 ERV Rating* for Private Pool Suites Near Chicago: 66%

 - Fair. 

(600 Ogden Ave, Ogden IL 815-464-5000)

 
Chicago Vacation Rentals with Private Pool
Glenwood Estates, IL Vacation Rental w/Private Pool
Glenwood Estates Vacation Home with Private Pool - check out this Expedia rental for your next private pool suite getaway in Chicago. Enjoy the entire vacation home rental all to yourself, which includes master bedroom with king bed, Wi-Fi, full kitchen, fireplace, spa tub, and a private back yard with pool with patio. (Glenwood, IL) 
More Chicago on ERV:
*ERV Rating: our unique, non-scientific ratings for romantic accommodation include:
Amenities: including Whirlpool bath or 

JACUZZI

®

Tub

,

scenic view, fireplace, lounge, etc
Location: proximity of hotel to restaurants, pubs, downtown, etc
Clientele: demographic the hotel attracts (couples, families, business travelers, etc)
Popularity: based on social media & crowd-sourced reviews 
Value: product offered compared to room rate 
Please Note: percentage ratings are not absolute but for comparative use only  
top hotels, getaways & packages on ERV
---