Upstate NY Whirlpool Suites
upstate New York Hot Tub Suites & Hotel In-Room JACUZZI® Tubs
FTC: This page uses affiliate links. More. 

---
By: Greg Mattson, ERV Editor - Updated: Nov 23, 2021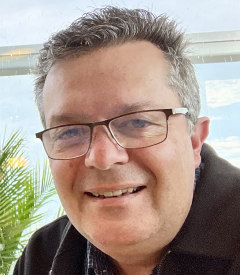 Finally! A guide to Whirlpool suites and hotels with an in-room JACUZZI® tub in Upstate New York. We've researched to find you the best and most romantic spa tub rooms in hotels, B&B's, inns and rentals in destinations like the Adirondacks, Albany, Hudson Valley and the Catskills.
Book an Upstate NY Getaway in a Romantic Hot Tub Suite!
About This Guide: Unlike other sites, we do thorough research and only list New York State hotel rooms with a Whirlpool Tub right in the room, not outside by the pool. And, these are jetted tubs, not simply deep soaking tubs. So you can count on a private and bubbly romantic stay!
Disclaimer: JACUZZI® is a registered trademark owned by Jacuzzi Inc. The use of the JACUZZI® trademark on this website is for informational purposes only. There is no relationship, connection or affiliation between this website and Jacuzzi Inc. or its related companies. Rates shown are approximate only. Hotel rooms, jetted tubs and amenities can change, and may not be exactly as shown, so please contact the hotel or inn before making travel plans.
---
explore our site: guides to NY state spa tub getaways in:
more upstate NY jetted tub getaways: 
hudson valley: springhill suites terrytown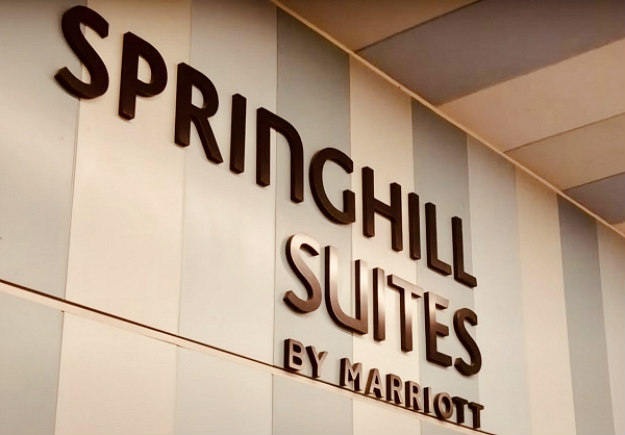 The Springhill Suites in Tarrytown NY has Spa Tub Suites
Springhill Suites by Marriott Tarrytown - this Marriott hotel with in-room Whirlpool suites in this historic Hudson River town is the prefect getaway from NYC. Besides the spa tubs, there's complimentary breakfast, evening beer and wine, and a late check-out time of 12 noon. 2021 ERV Rating* for Romantic Hudson Valley NY Whirlpool Suites:

 

84%

 - Very Good.

 (480 White Plains Rd, Tarrytown, NY  914-366-4600) √ COVID Safety Plan: 

Yes
Reserve a Marriott Courtyard Spa Tub Getaway
middletown ny: Courtyard by marriott
Courtyard by Marriott Middletown Goshen

- Convenient hotel with a microwave and refrigerator in every room, an onsite restaurant, indoor pool and fitness centre. Select rooms offer Whirlpool tubs and a king-sized bed. 2021 ERV Rating*: 86% - Very Good. (24 Crystal Run Crossing, Middletown NY 848-695-0606) √ COVID Safety Plan: Yes
nanuet, nY:
DoubleTree by Hilton Hotel Nanuet - The 2-Queen Premium Studio Suites and King Suites here both feature romantic Whirlpool tubs. The hotel also boasts an indoor solarium pool with retractable glass roof, two restaurants and a fitness centre. You'll be five minutes from rail links to NYC. 2021 ERV Rating*: 82% - Very Good. (425 E Route 59, Nanuet NY 845-623-6000)
Hampton Inn Nanuet, NY - this New York State hotel offers spa tub suites with king beds, free Wi-Fi and hot breakfast, all on the west side of the Hudson River Valley. 2021 ERV Rating* for Nanuet NY Jetted Tub Suites: 68% - Fair. (260 West Route 59, Nanuet, NY  845-623-0900) √ COVID Safety Plan: 

Yes
poughkeepsie, NY:
Hampton Inn & Suites Poughkeepsie

- Unwind and reconnect in a Studio Suite with Whirlpool tub at this inviting hotel. Pool, fitness centre, and free hot breakfast are some of the perks here. The waterfront, where you can take advantage of kayaking, fishing and boating opportunities, is only minutes away, and Hudson State Historic Park is within a 15 minute drive. 2021 ERV Rating*: 80% - Very Good. (2361 South Rd US-Route 9, Poughkeepsie NY 845-463-7500)
Catskills, NY Jetted Tub Suites:
The Kaaterskill

- A peaceful farm estate on 32 acres at the foot of the Catskills. The Dutch Barn offers six luxurious suites, each include stone fireplace, JACUZZI® Tub, private deck, and stunning views of the mountains.  There's a creek and pond, stables, barn and skate house to explore, or wander around to see the farm animals. Spa treatments and optional meal service is available to overnight guests.

2021 ERV Rating*: 82%

- Very Good.

(424 High Falls Road Ext, Catskill NY)

kingston, ny:
Hampton Inn Kingston - this beautiful Hampton Inn at the foot of the Catskill Mountains offers guests their King Bed Whirlpool Suites, along with free Wi-Fi, complimentary hot breakfast and an indoor saltwater pool to relax in. 2021 ERV Rating* for Romantic Catskills NY Whirlpool Suites: 90% - Excellent. (1307 Ulster Ave, Kingston NY  845-382-2600) √ COVID Safety Plan: Yes
forestburgh, NY: inn at lake joseph
Catskills NY Spa Tub for 2 - Inn at Lake Joseph
Inn at Lake Joseph

- boutique-style lakeside lodge only 2 hours from NYC. Luxury rooms include HDTV, Wi-Fi, fireplace and Whirlpool tubs for 2. Enjoy 2000 acres of forested wilderness with your own private lake. 2021 ERV Rating*: 88% - Very Good. (162 St. Joesphs Rd, Forestburgh NY 845-791-9506) √ COVID Safety Plan: 

Yes
windham, ny:
Albergo Allegria Hotel & Breakfast Restaurant

- The name means "Inn of Happiness" in Italian. Need we say more? A charming boutique hotel and world-class restaurant. Suites 13, 14 and 17-21 all come with Whirlpool Tubs. Lots of outside space for connecting with nature on your romantic getaway. 2021 ERV Rating*: 96% - Excellent (43 State Route 296, Windham NY 518-730-7978) √ COVID Safety Plan: 

Yes
catskills NY hot tub cabin rental
---
Albany NY Hotel Jetted tub suites:
Hilton Garden Inn albany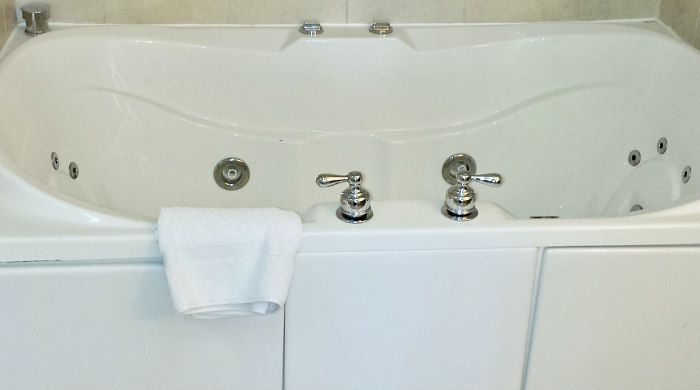 Hilton Garden Inn Albany NY Spa Tub
Hilton Garden Inn Albany / SUNY Area - You'll find an onsite pool, gym, and restaurant, free parking and WiFi, and the front desk is open 24-hours. The King Bedroom Suite is where you'll find the private jetted bathtubs, as well as a separate living room. 2021 ERV Rating*: 80% - Very Good. (1389 Washington Ave, Albany NY 518-453-1300) √ COVID Safety Plan: 

Yes
hampton inn albany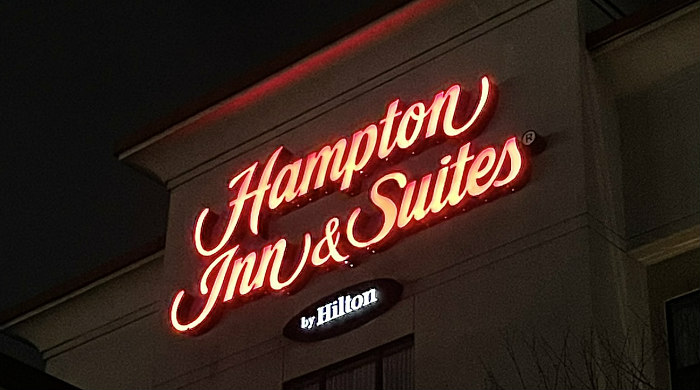 Soak Away in Hampton Inn Albany Jetted Tub
Hampton Inn & Suites Albany - a good choice of hotel with hot tub rooms in the Albany-Troy-Schenectady area of upstate NY. Whirlpool suites in this Hampton hotel come with Hampton Cloud Nine King beds, and free hot breakfast. 2021 ERV Rating* for Romantic Albany NY Whirlpool Suites: 80%

 - Very Good. 

(25 Chapel Street, Albany, NY 518-432-7000) √ COVID Safety Plan: Yes
fairfield Inn & Suites Albany Downtown
Fairfield Inn & Suites Albany Downtown - This is a thoughtfully designed hotel in the heart of NY's capital city. Breakfast and Wi-Fi are free, and it's just a short walk to dining and attractions. Upgrade to the Broadway Suite or Executive Guest Room with Fireplace for the private in-room hot tub experience. 2021 ERV Rating*: 78% - Good. (74 State St, Albany NY 518-434-7410) √ COVID Safety Plan: 

Yes
holiday inn express & Suites Albany Airport
Holiday Inn Express & Suites Albany Airport Area / Latham

- Conveniently located just off I-87 and close to the Albany International Airport, this smoke-free hotel has lots to offer: free breakfast, parking and WiFi, as well as an indoor pool and fitness room. The Queen Bridal Suite, Executive Suite and select King Bed Suites offer relaxing JACUZZI® Tubs and 37-inch flat screen TVs. 2021 ERV Rating*: 68% - Fair (400 Old Loudon Rd, Latham NY 518-783-6161) √ COVID Safety Plan: 

Yes
comfort inn East Greenbush albany
Comfort Inn And Suites East Greenbush Albany

- Daily shuttle service is offered to area restaurants at this Comfort Inn just east of Albany NY. Breakfast and Wi-Fi are free. The 1 Bedroom suite with king bed features kitchen facilities, a fireplace, 2 bathrooms, living area and a 2-person Whirlpool Tub. 2021 ERV Rating*: 68% - Fair (99 Miller Rd, Castleton On Hudson NY 347-382-9645) √ COVID Safety Plan: 

Yes
troy, ny Best Western whirlpool suites:

The Best Western Plus in Troy NY has King Suites with Spa Tubs
Best Western Plus Franklin Square Inn Troy/Albany - Located in the centre of historic Troy and just a short distance to the attractions in Albany, this 62-room hotel offers a King Suite with Spa Bath and living area. Full hot breakfast, use of the onsite gym, and parking are included. 2021 ERV Rating*: 84% - Very Good. (One 14th St, Troy NY 518-274-8800) √ COVID Safety Plan: Yes
---
Schenectady NY Hot TUb Hotel Suites: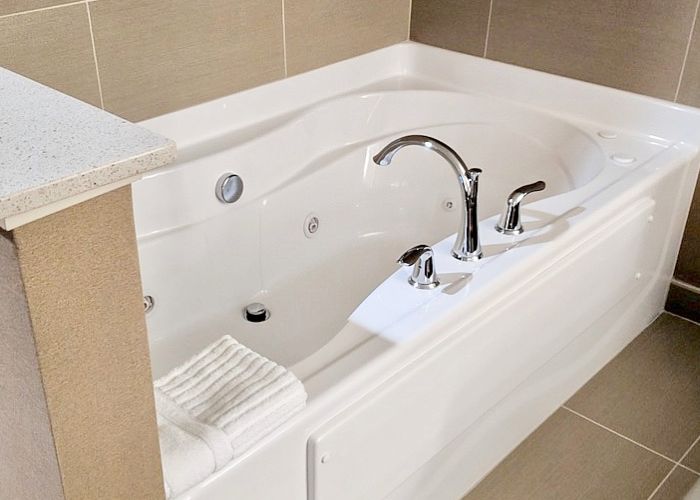 Whirlpool Suite Tub - Comfort Inn & Suites, Schenectady, NY
Comfort Inn & Suites Schenectady/ Scotia

- Free hot breakfast, Manager's reception, indoor heated pool, all just 5 miles from the Schenectady airport. There are plenty of activities and places to explore nearby. Whirlpool Suites here includes fireplace and king-sized bed. 2021 ERV Rating*: 96% - Excellent. (168 Sacandaga Rd, Schenectady, NY 518-348-5276) √ COVID Safety Plan: 

Yes
belvedere inn
Belvedere Inn

- Plenty of freebies at this boutique-style inn: coffee and tea, continental breakfast, WI-FI parking, and local gym access. It's all just 3 miles from downtown Schenectady. King Suites at the Belvedere Inn feature Whirlpool tubs, mini-refrigerators and microwaves. 2021 ERV Rating*: 78% - Good. (926 Curry Rd, Schenectady NY 518-630-4020) 
jacuzzi® Tubs in Saratoga Springs NY
stay saratoga
Stay Saratoga

- A lot of Victorian-era charm mixed with modern amenities such as fully-equipped kitchens, free Netflix, gas fireplaces, and suites with 2-person JACUZZI® Tubs. Free breakfast as well as scenic garden. 2021 ERV Rating*: 94% - Excellent (198 South Broadway, Saratoga Springs NY 518-584-4220)
saratoga arms
Saratoga Arms

- This elegant brick property dates to 1870, and has been meticulously restored to an award-winning, luxury B&B  in the heart of Saratoga Springs.  Several of the king suites here feature fireplaces and whirlpool tubs.  Full breakfast is included. 2021 ERV Rating*: 96% - Excellent. (497 Broadway, Saratoga Springs NY 518-584-1775)
---
utica ny Area
landmark Inn
Landmark Inn

- This 1886 building has been carefully restored to become a luxury boutique inn with just 11 elegant rooms. It's the Chance Suite you'll want for the jetted tub and Dream Shower for two. Full gourmet breakfast is served on antique china in the dining room daily, and the manicured grounds feature hammocks, a fire pit and meditation platform by a creek. 2021 ERV Rating*: 96% - Excellent. (64 Chestnut St, Cooperstown NY 607-564-8778)
inn at stone mill
The Inn at Stone Mill

- Housed in a former mill on the banks of the Mohawk River, this 9-room historic inn offers a unique atmosphere and comfortable common spaces. The romantic Sheard Suite overlooks the river and includes sitting area, refrigerator and microwave as well as a Whirlpool Tub a separate corner shower. 2021 ERV Rating*: 96% - Excellent. (410 Canal Pl, Little Falls NY 315-823-0208) √ COVID Safety Plan: 

Yes
---
ADIRONDACKS suites with JACUZZI® Tubs
friends lake inn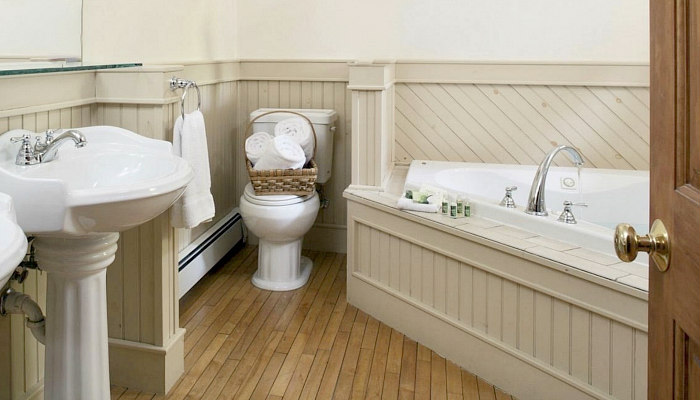 JACUZZI® Tub - Friends Lake Inn, Upstate NY
Friends Lake Inn

- Romantic loving with fine dining and made-to-order breakfast. Several of the upscale lake-themed rooms feature JACUZZI® Tubs. Private outdoor experiences include relaxing by the spring fed pond, sitting at the outdoor fireplace or hiking the trails behind the inn. 2021 ERV Rating*: 92% - Excellent. (963 Friends Lake Rd, Chestertown NY 518-430-5032)
alpine lodge
The Alpine Lodge

- Great lodging in the midst of the Adirondacks. Walk to restaurants and shopping, and it's just a 5-minute drive to Gore Mountain. Each of the unique and cozy guest rooms are alpine-chic and rustically luxurious. Luxury King suites include JACUZZI® Tub and gas fireplace, mini-refrigerator and coffee maker, plus Smart TV and voice controlled Alexa. 2021 ERV Rating*: 86% - Very Good. (264 Main St, North Creek NY 518-251-2451)
courtyard Lake Placid NY whirlpool suites:
Courtyard Lake Placid – a luxury inn located in the village of Lake Placid, NY. Whirlpool suites are available, and the hotel also includes a fitness center, indoor pool and spa facilities. The locale has many activities for couples in both winter and summer. 2021 ERV Rating* for Lake Placid Whirlpool Suites: 80%

 - Very Good. 

(5920 Cascade Road, Lake Placid NY  518-523-2900) √ COVID Safety Plan: Yes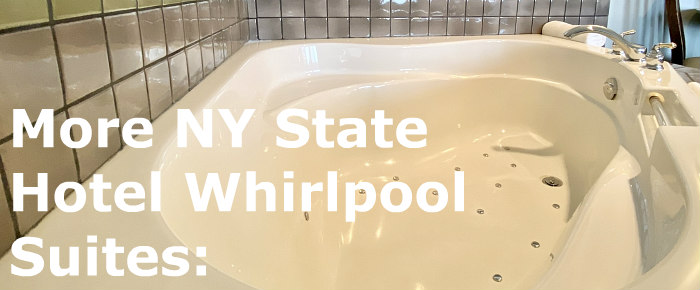 more getaways on erv:
rochester ny suites with jacuzzi® tubs: 
Inn on Broadway

- popular boutique hotel escape for couples in Rochester, with spacious rooms, flat-screen TV's, complimentary breakfast, and several suites with a JACUZZI

® 

tub

 to soak in. 2021 ERV Rating* for Rochester NY Hotel Rooms With a JACUZZI

®

 Tub: 80%

 - Very Good. 

(26 Broadway, Rochester NY 585-232-3595)
---
Thousand islands, NY spa tub suites
holiday inn express
Holiday Inn Express Hot Tub Suite Hotel
Holiday Inn Express Hotel & Suites Watertown Thousand Islands

- Watertown, the gateway to the 1000 islands is home to this Holiday Inn Express. It is located in a plaza with restaurants and convenient shopping spots, and many of the area's best attractions are just minutes away. Breakfast is complimentary, and there is a heated indoor pool and fitness room. Jetted tubs are available in select rooms and suites. 2021 ERV Rating*: 92%  - Excellent (1290 Arsenal Street, Suite 1, Watertown NY 315-779-1234) 
1000 Islands harbor
Thousand Islands NY Jetted Tub Suite
1000 Islands Harbor Hotel

- Located alongside the St. Lawrence River in the picturesque village of Clayton, this charming hotel offers nightly turn-down service complete with chocolate! There's an upscale restaurant and bar, and an outdoor patio or fire pit for summertime dining. The Double Queen Village View Whirlpool rooms, as well as Admiral and Commodore Suites feature jetted tubs and cozy robes. 2021 ERV Rating*: 92% - Excellent. (200 Riverside Dr, Clayton NY 315-686-1100) 
*ERV Rating: our unique, non-scientific ratings for romantic accommodation include:
Amenities: including Whirlpool bath or 

JACUZZI

®

Tub

,

scenic view, fireplace, lounge, etc
Location: proximity of hotel to restaurants, pubs, downtown, etc
Clientele: demographic the hotel attracts (couples, families, business travelers, etc)
Popularity: based social media & crowd-sourced reviews 
Value: product offered compared to room rate 
Please Note: percentage ratings are not absolute but for comparative use only  
√ COVID Safety Plan: identifies hotels and inns that clearly indicate they are taking measures to prevent the spread of COVID-19.
Excellent Romantic Vacations - Top Pages
---