Romantic Massachusetts Hot Tub Suites & Hotels with In-Room Hot Tubs
FTC: This page uses affiliate links. More. 

Massachusetts
By: Greg Mattson, ERV Editor - Updated: Sep 5, 2021  

Of all the hotel suites you can book in Massachusetts, a room with a private JACUZZI® tub or Whirlpool bath will add the most romance to your new England getaway. For your romantic trips to Cape Cod, Boston or other parts of the state, we've got some very romantic jetted tub suites to show you...
What's Different About our Massachusetts Jetted Tub Suites Guide? The suites you see and read about here on Excellent Romantic Vacations.com are hand-picked by us, and have been researched independently and thoroughly to ensure that you are guided to hotels only with an in-room spa tub. 
Disclaimer: JACUZZI® is a registered trademark owned by Jacuzzi Inc. The use of the JACUZZI® trademark on this website is for informational purposes only. There is no relationship, connection or affiliation between this website and Jacuzzi Inc. or its related companies. Hotel rooms and amenities can change, and may not be exactly as shown, so please contact the hotel or inn before making travel plans.
Cape Cod, Massachusetts Suite With JACUZZI® Tubs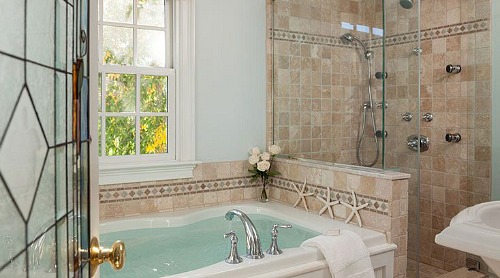 Suite With a JACUZZI® Tub in Massachusetts at the Provincetown Hotel
Gabriel's Provincetown Hotel - a favorite couples getaway in Cape Cod, located in a secluded garden just steps away from the center of historic Provincetown, MA. 

Luxurious and spacious, selected King, Queen & Penthouse suites here include a JACUZZI

® T

ub, as well as a fireplace, private balcony and free Wi-Fi. Guests rave about the delicious made to order breakfasts, and you'll appreciate the little extras like afternoon cookies, outdoor fire pit, and the Provincetown's free shuttle service to the airport. 

2021 ERV Rating* for Cape Cod, Massachusetts Suites With a JACUZZI® Tub: 94%

 - Excellent.

(102 Bradford St, Provincetown, MA  508-487-3232) √ COVID Safety Plan: 

Yes
---
More Cape Cod Jetted Tub Suites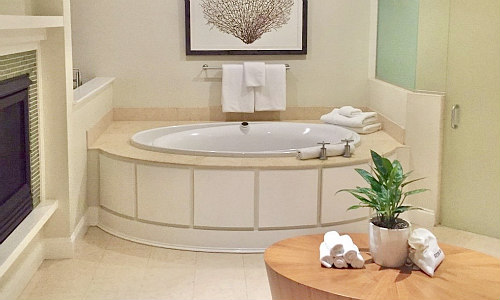 Luxurious Spa Tub Suite at the Chatham Bars Inn, Cape Cod MA
Chatham Bars Inn - arrive at one of these King Suites with Whirlpool, and you will relax and soak in what has got to be one of the nicest spa tub suites in Cape Cod or anywhere in Massachusetts. And these adults-only rooms don't stop with the jetted tub; there's also sauna, a steam shower and fireplace. 2021 ERV Rating* for Cape Cod MA Spa Tub Suites: 84% - Very Good. (297 Shore Rd, Chatham, MA  800-527-4884)
Holiday Inn Cape Cod - Hyannis - besides affordable, clean and up-to-date rooms, this Cape Cod Holiday Inn can set you up in an upper Loft Suite that has the added romantic feature of a jetted tub big enough for two. 2021 ERV Rating* for Hyannis, MA Jetted Tub Suites: 72% - Good. (1127 Lyannough Rd, Hyannis, MA  877-859-5095) √ COVID Safety Plan: 

Yes
Whirlpool Tub - Bayside Resort Hotel
Bayside Resort Hotel

- great views of Lewis Bay, with Whirlpool suites designed especially for couples, including water view suites with the tub in an alcove near the bedroom. 2021 ERV Rating* for Cape Cod Water View Hot Tub Suites: 80% - Very Good. (225 Route 28, West Yarmouth  MA  508-775-5669) √ COVID Safety Plan: 

Yes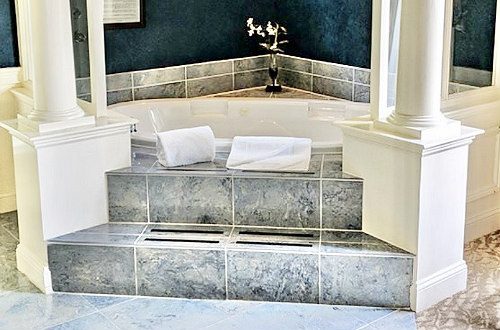 Hot Tub Suite - Dan'l Webster Inn & Spa
Dan'l Webster Inn & Spa

- 300 year old historic boutique inn steeped in romance, offering four-poster beds, fireplaces, heated floors and Whirlpool tubs. 2021 ERV Rating* for Cape Cod MA Spa Tub Suites: 84% - Very Good. (149 Main St, Sandwich MA  855-770-4491) √ COVID Safety Plan: 

Yes
Nantucket & Martha's Vineyard Spa Tub Suites

nantucket, ma
Hotel Pippa Jetted Tub, Nantucket, MA
Hotel Pippa

- this charming inn has their Two Bedroom Suite outfitted with a jetted

 

tub perfect for a romantic weekend in Cape Cod. Walking distance to downtown shops and restaurants, complimentary breakfast and much more. 2021 ERV Rating* for Nantucket MA Suite With a Whirlpool Tub: 82% - Very Good. (5

 Chestnut St, Nantucket MA  508-228-5300)
martha's vineyard
Reserve a Martha's Vineyard Spa Tub Suite
Menemsha Inn & Cottages - there are very few romantic hot tub suites in Martha's Vineyard, but this secluded inn has one of them. Book the Shell Cottage here, and you'll enjoy soaking in the hot tub off the Master bedroom. 2021 ERV Rating* for Martha's Vineyard MA Hot Tub Suites:

 

70%

 - Good.

 (1

2 Menemsha Inn Rd, Menemsha MA  508-645-2521) 
Boston Area Hotel Suites with Jetted spa Tubs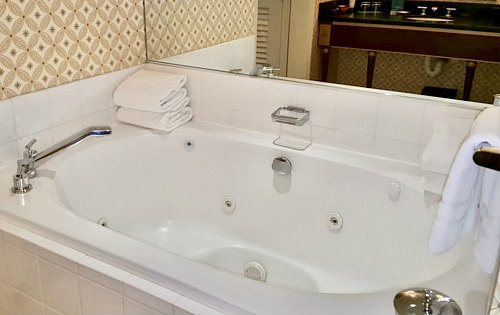 Jetted Tub - Kimpton Marlowe Hotel
Kimpton Marlowe Hotel - lots to love at this hotel in Cambridge MA with views of the Boston skyline: free bike & kayak rentals, evening wine reception, on-site romantic dining, and selected Specialty Suites with Fuji jetted soaking tubs. 2021 ERV Rating* for Boston Area Jetted Tub Suites: 92% - Excellent. (25 Edwin H. Land Blvd, Cambridge MA 617-868-8000) √ COVID Safety Plan: 

Yes
Marriott Courtyard Boston Woburn/North Boston - a good mix of luxury and low price for a Boston hot tub suite. Dependable Marriott Courtyard quality in the room, a corner Whirlpooltub for 2, on-site restaurant, and the usual AAA discounts. 2020 ERV Rating* for Boston MA Hotels With a Whirlpool Tub Suite: 80% - Very Good. (700 Unicorn Park Dr, Boston MA  781-938-9001) √ COVID Safety Plan: 

Yes
Battery Wharf Hotel - on special occasions like honeymoons and anniversaries, it's worth the splurge to go upscale and spend a bit more on your hotel suite. The Fairmont's luxury Harbor Suites fits that description, with spa tubs, King beds, lots of space and panoramic water views. 2020 ERV Rating* for Boston Spa Tub Suites: 82% - Very Good. (377 Commercial St, Boston MA  617-994-9000) √ COVID Safety Plan: 

Yes
Budget-friendly jetted tub rooms near boston:
Book a Comfort Inn Whirlpool Suite for 2
Comfort Inn Foxboro Mansfield - this Eastern Massachusetts Choice Hotel is both budget-friendly and full of amenities like Premium Wi-Fi, fitness room, free hot breakfast and King Bed Suites with 2-Person Whirlpool Tubs. 2020 ERV Rating* for Eastern Massachusetts Jetted Tub Suites: 70% - Good. (4 Fisher St, Foxboro MA 781-241-9152) √ COVID Safety Plan: 

Yes
Country Inn & Suites by Radisson
Country Inn & Suites by Radisson Brockton

- Country Inns are well know for reliable, inexpensive rooms, and this one has the added plus of Whirlpool

 

tub suites. There's a free hot breakfast, and several dining options close to the hotel. 2021 ERV Rating*: 66% - Fair. (50 Christy's Dr, Brockton MA 508-559-0099) √ COVID Safety Plan: 

Yes
---
Whirlpool Suites in Western & Southwest MA 
Best Western Berkshire Hills Inn & Suites - an inexpensive way to celebrate your romantic getaway in Western Massachusett's Berkshires is in one of the jetted tub suites in this Pittsfield, MA Best Western. For dining, there's free breakfast at the hotel and about 10 restaurants with a 5 mile radius. 2020 ERV Rating* for Western Massachusetts Jetted Tub Suites: 72% - Good. (1350 W Housatonic St, Pittsfield MA  413-442-8714) √ COVID Safety Plan: 

Yes
Hampton Inn Chicopee/Springfield  - although many Hampton Inn's are designed for the business traveler, you'll feel like this hotel is the perfect spot for your romantic weekend in Southwestern Massachusetts. It's got spacious rooms with a spa tub close to the King bed, complimentary breakfast, plus pool and fitness room. 2020 ERV Rating* for Southwest MA Hot Tub Suites: 86% - Very Good. (600 Memorial Dr, Chicopee MA 413-593-1500) √ COVID Safety Plan: 

Yes

 
---
Champagne Hot Tub Suites in MA
We're pretty sure that many of the hotels and inns we list on this page could supply you some champagne with your in-room jetted tub. Just in case you need to know for 100% certainty, these MA hotels either advertise or have confirmed with Excellent Romantic Vacations.com that they can provide a bottle of bubbly along with their hot tub experience:
*ERV Rating: our unique, non-scientific ratings for romantic accommodation include:
Amenities: including Whirlpool bath or 

JACUZZI

®

Tub

,

scenic view, fireplace, lounge, etc
Location: proximity of hotel to restaurants, pubs, downtown, etc
Clientele: demographic the hotel attracts (couples, families, business travelers, etc)
Popularity: based on social media & crowd-sourced reviews 
Value: product offered compared to room rate 
Please Note: percentage ratings are not absolute but for comparative use only  
√ COVID Safety Plan: identifies hotels and inns that clearly indicate they are taking measures to prevent the spread of COVID-19.
Excellent Romantic Vacations - Top Pages
---