Wilderness Vacations - Our Top 20 Spots for "Roughing It" in Romantic Luxury...
Our Top 20 Secluded Destinations with Romantic Lodges, Cabins and Resorts in the USA
Romantic Vacations Home › Ideas › Wilderness Vacations
FTC: This ERV page uses affiliate links. More. 

By: Greg Mattson, ERV Editor - Updated: Jan 18, 2020  

Need a romantic trip and a breath of fresh air? So do we! Here's some travel ideas for couples in more remote, secluded wilderness settings.

The "relaxation destinations" featured here highlight hotels & resorts, cabins, B&B's, and ranches away from the cities and crowds, but not so far off the beaten path you need a 4X4 and a machete! And even though you're in the woods, many of these resorts and lodges have comparable amenities to your favorite Marriott or Hilton hotel, for a sense of luxury in the wild...

Please Note: Prices are approximate only and subject to change. Please check with the hotel(s) before making bookings and firm travel plans.  
---
Romantic & Secluded Wilderness Lodging in the U.S. 
Alaska
Alyeska Resort, Alaska
Alyeska Resort

- luxury chateau-style resort set in a beautiful valley with both ocean and mountain views, and only 1 hr drive from Anchorage. Take advantage of on-site skiing, spa, dining, pool, as well as numerous nature trails and walking paths to explore the Alaskan wilderness. 2020 ERV Rating* for Alaska Wilderness Resorts: 88% - Very Good. Rates from $139/night. (

1000 Arlberg Ave, Girdwood AK 907-754-2111)
Arizona
Saguaro Lake Guest Ranch in Arizona
Saguaro Lake Guest Ranch

- a collection of 20 rustic cabins set next to the Bulldog Cliffs just 30 min drive east of Mesa, AZ. Activities include kayaking, tubing and horseback rides, and in the evening Ranch Dinners, Cowboy Cookouts and great desert sunsets. 2020 ERV Rating* for Secluded Arizona Resorts: 96% - Excellent. Rates from $189/night. (13020 N. Bush Hwy, Mesa AZ 480-984-2194)
California
Sunset at the Pool, Rush Creek Lodge at Yosemite
Rush Creek Lodge at Yosemite

- 3 hours from San Francisco and on the doorstep to Yosemite National Park, with rooms, suites and hillside villas outfitted with gas fireplaces and private decks. Activities include swimming, guided hikes, biking, fishing, s'mores around the fireplace and much more. 2020 ERV Rating* for California Wilderness Lodges: 86% - Very Good. Rates from $229/night. (34001 Hwy 120, Groveland CA 209-379-2373) 
Colorado
Gateway Canyons Luxury Colorado Resort
Luxury Suite at the Gateway Canyons Resort
Gateway Canyons Resort - in a state full of wilderness vacations and mountain resorts, our choice for a secluded getaway is this newly-updated luxury resort in Western Colorado's secluded Unaweep Canyon. There's accommodation in Lodge rooms or their new all-inclusive Casitas, and activities range from hiking, mountain biking and UTV riding to Colorado wine country tours. Amenities include 3 pools, hot tub, spa and Tesla charge stations. 2020 ERV Rating* for Wilderness Vacations in Colorado: 92% - Excellent. Rates from $219 /night. (43200 Colorado 141, Gateway CO 970-931-2458)
GEORGIA
Brasstown Valley Resort & Spa
Newlyweds in North Georgia Mountains
Brasstown Valley Resort & Spa - travelers from Atlanta seeking solitude usually head up to North Georgia, and that's exactly where you'll find this romantic Blue Ridge Mountains retreat. There's both lodge and cottage suites, and activities include swimming, hiking, golf, horseback riding, guided lake tours, rafting and much more. 2020 ERV Rating* for Georgia Wilderness Resorts: 82% - Very Good. Rates from $209/night. (6321 Hwy 76, Young Harris GA 800-201-3205) 
Idaho
Talus Rock Retreat, A Luxury Lodge in Sandpoint, IDaho
Talus Rock Retreat

- although it's only 1 mile from downtown Sandpoint ID, seclusion is easy to find at this luxury Idaho wilderness lodge. Just out the back door, there's a 30-acre woodland ideal for hiking, snowshoeing and mountain biking. For accommodation, there's themed rooms, the Hideaway Cottage, or the Signature Suite, a honeymoon favorite with a jetted Whirlpool tub for 2. 2020 ERV Rating* for Idaho Secluded Lodges: 94% - Excellent. Rates from $119/night. (

291 Syringa Heights Rd, Sandpoint ID 208-255-8458) 
ILLINOIS
Relaxing and Peaceful Goldmoor Inn, a Luxury B&B in Western Illinois
Goldmoor Inn - occupying a lovely secluded spot along the banks of the Mississippi River on the Illinois/Iowa border. We loved our stay at this luxury B&B, which has both suites and luxury cottages and cabins, some with in-room Whirlpool tubs. 2020 ERV Rating* for Romantic Illinois Country Inns: 94% - Excellent. Rates from $295/night. (9001 Sandhill Rd, Galena, IL  800-255-3925) 
MAINE
Secluded Maine Waterfront Inn - Inn by the Sea
Inn By The Sea

 - wilderness, luxury, oceanfront. That's the Inn by the Sea. And convenient, as it's located just 15 minutes from Portland ME. The Beach Suites are especially romantic, with patios, gas fireplace, soaking tubs and ocean views. Outside you'll find an unspoilt beach, pool, kite flying, complimentary bikes for lighthouse exploring, and evening s'mores by the fire pit. 2020 ERV Rating* for Maine Oceanfront Luxury Resorts: 92% - Excellent. Rates from $249/night. (40 Bowery Beach Rd, Cape Elizabeth ME 207-799-3134)
Michigan
Sunset, Bay Pointe Inn in Western Michigan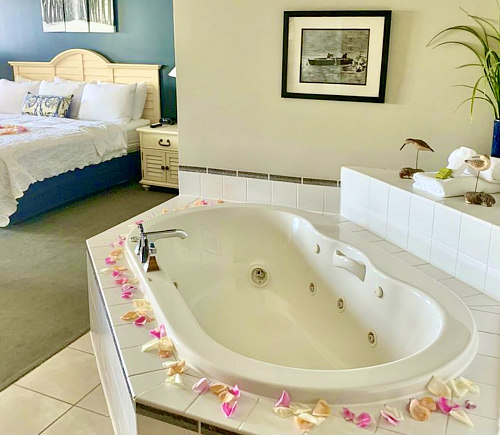 Whirlpool Suite - Bay Pointe Inn, Michigan
Bay Pointe Inn

- get set for a great vacation in Western Michigan's romantic outdoors! This luxury lodge is ready for you with an indoor pool & hot tub, pontoon boat and kayak rentals, an on-site award winning farm to table restaurant, and cottages and lakefront suites, all in a great waterfront location on the shores of Lake Gun in Western Michigan. 2020 ERV Rating* for Luxury Michigan Wilderness Lodges: 84% - Very Good. Rates from $149/night. (11456 Marsh Rd, Shelbyville MI  269-672-8111)
Minnesota
Lakefront at the Grand View Lodge, MN
Romantic Room at the Grand View Lodge, MN
Grand View Lodge

- historic lodge on Gull Lake in Central Minnesota, with dining, golf, an on-site spa, and a whole range of activities to choose from. The resort occupies several hundred acres, with over 2500 ft of beachfront area to explore and relax on. 2020 ERV Rating* for Minnesota Wilderness Vacations: 86% - Very Good. Rates from $189/night. (23521 Nokomis Ave, Nisswa MN 866-801-2951)
Montana
Lone Mountain Ranch, Big Sky Montana
Romantic Log Cabin in Big Sky, Montana
Lone Mountain Ranch

- Big Sky Country is home to some terrific wilderness experiences, and the Lone Mountain Ranch can offer a generous amount of both relaxation and adventure. Whitewater rafting, painting & photography, horseback riding, dog sledding, snowshoeing and lots more. Romantic log cabins are luxuriously outfitted with amenities such as wood stoves, clawfoot tubs, stone fireplaces and King beds. 2020 ERV Rating* for Montana Wilderness Lodges: 94% - Excellent. Rates from $369/night. (750 Lone Mountain Ranch Rd, Big Sky MT 406-995-4644)
New York State
Whiteface Lodge - NY Wilderness Resort
Room at the Whiteface Lodge
Whiteface Lodge

- luxurious, rustic, and romantic. Welcome to your NY State wilderness getaway at the Whiteface Lodge, just a short drive from Lake Placid but tucked away in a secluded spot surrounded by the Adriondack Mountains. Suites feature cast iron fireplaces, heated floors and private balcony, as well as amenities like robes and turndown service. Activity-wise, check out the indoor and outdoor pools and hot tubs, campfires, bowling alley (!), movie theater and skating rink. 2020 ERV Rating* for Upstate New York Wilderness Lodges: 92% - Excellent. Rates from $429/night. (7 Whiteface Inn Lane, Lake Placid NY 518-523-0505)
North Carolina
Greystone Inn, Blue Ridge Mountains NC
Suite at the Greystone Inn
The Greystone Inn

- historic and luxurious retreat on the shore of private Lake Toxaway, deep in NC's Blue Ridge Mountains. Fill your NC getaway with lake and mountain exploring, or stick closer to home with swimming, golf and spa services. Accommodation is in one of their Swiss-styled Mansion rooms, or in a luxury cottage overlooking the lake. 2020 ERV Rating* for NC Blue Ridge Mountains Luxury Inns: 84% - Very Good. Rates from $279/night. (220 Greystone Lane, Lake Toxaway NC 828-966-4700) 
Ohio
Hocking Hills, Ohio
Inn & Spa at Cedar Falls
The Inn & Spa at Cedar Falls

- ideally located in the heart of Ohio's Hocking Hills wilderness area, this inn offers a choice of lodging in luxury cabins, yurts, cottages or B&B rooms. A complimentary hot breakfast is yours each morning, there's an on-site full-service spa, and romantic dining at their Kindred Spirits restaurant. 2020 ERV Rating* for Ohio Wilderness Resorts: 90% - Excellent. Rates from $199/night. (21190 State Rte 374, Logan OH 740-385-7489)  
Oregon
Oregon - to find a real "get away from it all" spot in the Oregon wilderness, steer south of the well-traveled Newport-Seaside-Astoria strip of the Oregon Coast, and settle down south near Gold Beach, which is where the Tu Tu Tun Lodge is. You'll have no trouble relaxing in their luxury cabins beside the Rogue River, and some rooms have outdoor soaking tubs.
Price & Rating Comparison: rates start at $155/night. 95% of Couples Rated it Excellent/Very Good*. (96550 North Bank Rogue, Gold Beach, OR  877-999-0680) 
pennsylvania
Pennsylvania -  another Bear Mountain to tell you about, this one's called Bear Mountain Lodge. It's close to state parks and hiking (including Pennsylvania's "Grand Canyon), and just a couple of miles from historic Wellsboro PA, for those who prefer an accessible wilderness getaway. 
Price & Rating Comparison: rates start at $149/night. 99% of Couples Rated it Excellent/Very Good*. (8010 Route 6, Wellsboro, PA  570-724-2428) 
texas
Texas - Texas Hill Country is home to some of the state's most attractive landscapes, and over 300 acres of wilderness fun at The Inn at Dos Brisas. If wine tasting, spa treatments, stargazing and horseback rides sound good, this is the TX outdoors getaway trip for you.
Price & Rating Comparison: rates start at around $285/night. 93% of Couples Rated it Excellent/Very Good*. (10000 Champion Dr, Washington, TX  979-277-7750) 
Virginia
Luxury Suite - Primland, Virginia
Washington State
Couple at Sun Mountain Lodge
Sun Mountain Lodge - about 230 miles NE of Seattle, WA, and fully outfitted for both warm weather and winter activities. Lodge or lakefront cabins include fireplaces, Whirlpool tubs, private decks, with onsite dining just steps away. 2020 ERV Rating* for Washington State Nature Getaways: 84%

 - Very Good. 

Rates from $179/night. (604 Patterson Lake Rd, Winthrop, WA  800-572-0493)  
Wyoming
View from the Spring Creek Ranch in Jackson, WY
Spring Creek Ranch

- located on a wildlife sanctuary with amazing views of Wyoming's Teton Mountains. Choice of Inn, Townhouse or Villa accommodation, with summer and winter activities ranging from horseback riding to white water rafting and sleigh rides aND TUBING. 2020 ERV Rating* for Wyoming Ranch Getaways: 80% - Very Good. Rates from $191/night. (1600 N. East Butte Rd, Jackson WY 307-733-8833)
*ERV Rating: our unique, non-scientific rating formula for romantic hotels which includes:
Romantic Amenities: such as an in-room 

JACUZZI

®,

suites with a Whirlpool bath, scenic view, lounge, etc
Location: proximity of hotel to restaurants, pubs, downtown, etc
Clientele: demographic the hotel attracts (couples, families with kids, business travelers, etc)
Popularity with Couples & Honeymooners: based on variety of social media & crowd-sourced reviews.   
Excellent Romantic Vacations - Top Pages
---