Quiet Getaways
Quiet Romantic Getaways to Calm Your Soul
FTC: This page uses affiliate links. More. 

---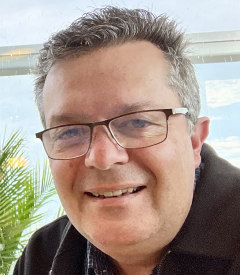 By: Greg Mattson, ERV Editor - Updated Sep 12, 2021

If you're tired of noisy hotels near the interstate, and need a break from resort vacations full of loud music and beach volleyball, check out these quiet, romantic holiday spots.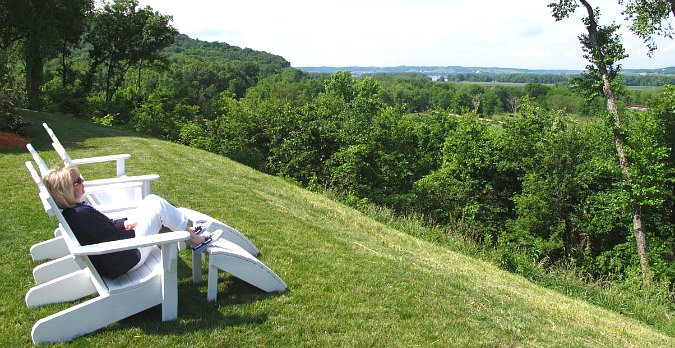 Let's Help You Find Some Quiet Getaway Spots like the Goldmoor Inn, Galena IL
For relaxation, seclusion, privacy and comfort, these resorts and small inns specialize in peace and quiet, and are located in places where you'll enjoy the great outdoors - without lining up!
Please Note: Rates listed are approximate, for comparative purposes only, and subject to change.
1. The Calming California Coast

The Crashing Surf of the Mendocino Coast is a Great Place to Calm Your Nerves
Romantic Mendocino, California occupies one of the most scenic spots on California's coast. The crashing surf and fresh breezes will soothe your nerves and revive your spirit like no other place in the Sunshine State. We're already planning to go back!
Where to Stay: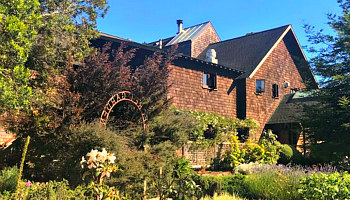 Quiet & Peaceful Brewery Gulch Inn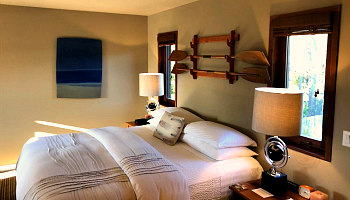 Room at the Brewery Gulch
Brewery Gulch Inn - To sample the best of this breathtakingly peaceful spot on Hwy 1, we suggest this award-winning wine country bed and breakfast. Oh, and it's not your average B&B: rates include not only a gourmet breakfast, but also a light buffet dinner with wine - almost an all-inclusive Northern California mini-resort! 2021 ERV Rating* for Relaxing California Coast Resorts: 96% - Excellent. Rates from $519/night. (9401 North Highway 1, Mendocino CA  707-937-1279) √ COVID Safety Plan: 

Yes

 
---
2. Oregon's Amazing coast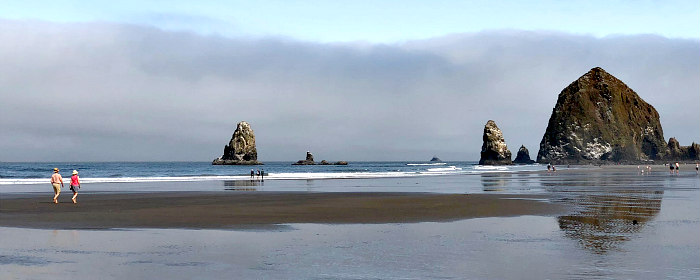 Oceanfront Perfect for Long Walks Near Canon Beach, OR
With over 350 miles of public coastline, the Oregon Coast is a favorite for romantic getaways. It can get busy in the summer months, but there are still peaceful areas and quiet little towns where you can make footprints in the sand hide away at a romantic inn.

The town of Gearhart is just 3 miles north of the popular Seaside. It's a lovely quiet town with no traffic lights, plenty of bikes and loads of unspoiled beach.
Where to Stay:
Gearhart Ocean Inn

 - a boutique hotel with 12 cozy and tranquil attached cottages, landscaped back yard and direct beach access. Keep the windows open and let the gentle sounds of nature soothe you to sleep. 2021 ERV Rating* for Peaceful Oregon Coast Resorts: 96% - Excellent. Rates from $199/night. (67 N. Cottage Ave, Gearhart OR 503-738-7373) √ COVID Safety Plan: 

Yes
---
3. Lakefront Michigan serenity

Fantastic Lake Michigan Waterfront - A Great Weekend Escape
Far from the hustle and noise of the city, Ludington is a little harbour town in Mason County, West Michigan. With romantic sunsets, 28 miles of sandy coastline, scenic waterfalls and even an occasional visit from the Aurora Borealis, the beauty of this serene location is sure to relax you in all 4 seasons.
Where to Stay:
Cartier Mansion Bed and Breakfast

-  Our recommendation for your quiet getaway in Ludington is this neoclassical mansion originally built in 1905. Furnished with elegant antiques, it's just a short walk to beaches, restaurants and shops. Hint: The King Suite has a jetted tub!  2021 ERV Rating* for Quiet Michigan Inns: 96% - Excellent. Rates from $135/night. (409 E. Ludington Ave, Ludington MI 231-843-0101) 
---
4. MIDDLESEX COUNTY Connecticut 

Quaint and unique, the quiet little rural town of Chester is located alongside the Connecticut River. The pleasant main street, theatres, 19th century shops, and restaurants are ideal for a quiet and restorative getaway.

The Nature Conservancy calls East Haddam "one of the last great places." Only 2 hour's drive from Boston and New York, it's got everything you need to unplug and recharge while reconnecting as a couple. Be sure to do a quick trip to nearby Gillette Castle. Take a picnic lunch and enjoy the views.
where to stay:
Boardman House Inn

- Originally built in 1860, this luxurious yet quaint inn is perfect for a quiet romantic getaway in any season. Old world charm meets modern convenience and gracious hospitality. 2021 ERV Rating* for Quiet Connecticut Getaway Inns: 96% - Excellent. Rates from $229/night. (8 Norwich Rd, East Haddam CT  860-873-9233) 
---
5. lewes, Delaware
The quaint old beach town on the Delaware Bay has relaxed vibe and a welcoming, calm atmosphere. Just a 20-minute drive north of Rehoboth Beach, Lewes has 12 miles of beach, and plenty of biking and walking trails, but none of the amusement parks, boardwalks and large crowds of other nearby towns.
where to stay:
Savannah Inn - Relaxing Getaway
Romantic B&B Room in Lewes, DE
Savannah Inn Bed and Breakfast

- This brick Victorian mansion was built in 1914 and has been artfully and meticulously restored. Great location (just a 2-minute walk to the beach), gourmet breakfast, and in-house massage services make it ideal for a quiet getaway any time of year. 2021 ERV Rating* for Quiet Delaware Getaway Inns: 96%

 - Excellent. Rates from 

$110/night.

 

(330 Savannah Rd, Lewes DE  302-645-0330) 
6. Caribbean Bliss

Steer clear of the overcrowded all-inclusives and find the tropical calmness you crave in the Turks & Caicos Islands, BWI. The island of North Caicos has perfect weather, few people, and the quiet and breezy Hollywood Beach Suites. The 4 oceanfront units all face the beautifully warm ocean, and feature luxury bedding, full kitchens and patios. Other dining options include cooked meals delivered to your suite, or you can stroll along the beachfront to some romantic restaurants nearby.
---
7. Florida for the Laid-Back
The Florida Keys are an Ideal Spot for Quiet Romantic Getaways Near the Sea
Like pearls bobbing out of the ocean all lined up in a row, the Florida Keys entice relaxation-seekers with excellent weather and a no-rush "Caribbean-in-America" lifestyle. About 1/2 way between Miami and Key West, you'll find the very discreet Moorings Village & Spa in Islamorada, FL. This ex-coconut plantation hasn't lost any of it's bliss since 14 cottages were tucked underneath the palms in front of the private beach. You can explore the Atlantic on a kayak, go for a nice walk or a swim, or just sit on the porch and enjoy doing nothing in this little slice of South Florida heaven.
---
Relaxing Waterfall Destinations
8. Relaxation Made in Kauai
Take the quiet Hawaiian Island of Kauai, locate a romantic resort on the quiet north shore, remove all TV's and phones, and add 5 acres of secluded picturesque beachfront, and you've found the Hanalei Colony Resort. The Ocean view condos offer splendid sunsets, there's terrific snorkeling, surfing & swimming, and the resort can organize horseback riding tours through lush island trails.
---
9. Romance & Seclusion on Vancouver Island, Canada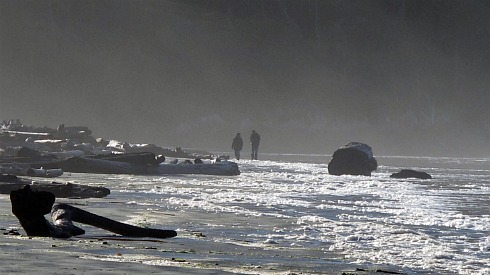 Relaxing Romantic Getaway By the Pacific - Long Beach, Vancouver Island, BC.
Canada's Vancouver Island, particularly Long Beach, BC, tops our list of quiet and secluded couple's destinations. For luxury, privacy and access to secluded beaches, Pacific Sands Beach Resort fits the bill nicely.
The beachfront one bedroom villas have outdoor decks, gas fireplaces, and heart-shaped jetted spa tubs for two. The wild Pacific Ocean is just steps away, fronted by a secluded and spectacular stretch of sand perfect for long walks, beach combing and wildlife viewing.
---
Quiet Weekend Escapes in NY, Illinois, Texas & D.C.  
If you're stuck in the city and can't get away for more than a weekend, but desperately NEED some calm and relaxation for a day or two, here's some ideas for quiet escapes from the city to romantic spots in:
See More Relaxing Spots On ERV:
top hotels, getaways & packages on ERV
---