Quiet Romantic Getaways to Calm Your Soul
FTC Disclosure: If you make a purchase through a link on this page, we receive a small commission at no cost to you. We only recommend hotels we have used ourselves or researched thoroughly.
Romantic Vacations Home › Romantic Vacation Ideas › Quiet Getaways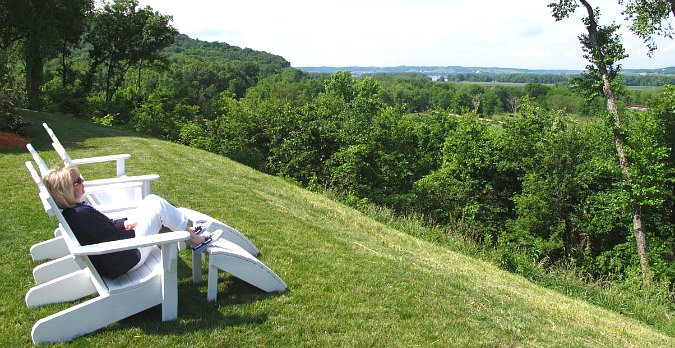 Let's Help You Find Some Quiet Getaway Spots like the Goldmoor Inn, Galena IL
By: Greg Mattson, ERV Editor - Updated Jul 10, 2017

If you're tired of noisy hotels near the interstate, and need a break from resort vacations full of loud music and beach volleyball, check out these five quiet, romantic holiday spots.
For relaxation, seclusion, privacy and comfort, these resorts and small inns specialize in peace and quiet, and are located in places where you'll enjoy the great outdoors - without lining up!
1. The Calming California Coast
Romantic Mendocino, California occupies one of the most scenic spots on California's coast. The crashing surf and fresh breezes will soothe your nerves and revive your spirit like no other place in the Sunshine State. We visited here in October of 2011, and we're already planning to come back!
To sample the best of this breathtakingly peaceful spot on Hwy 1, we suggest the Brewery Gulch Inn, an award-winning wine country bed and breakfast. Oh, and it's not your average B&B: rates include not only a gourmet breakfast, but also a light buffet dinner with wine - almost an all-inclusive Northern California mini-resort!
2. Caribbean Bliss
Steer clear of the overcrowded all-inclusives and find the tropical calmness you crave in the Turks & Caicos Islands, BWI. The island of North Caicos has perfect weather, few people, and the quiet and breezy Hollywood Beach Suites. The 4 oceanfront units all face the beautifully warm ocean, and feature luxury bedding, full kitchens and patios. Other dining options include cooked meals delivered to your suite, or you can stroll along the beachfront to some romantic restaurants nearby.
3. Florida for the Laid-Back
The Florida Keys are an Ideal Spot for Quiet Romantic Getaways Near the Sea
Like pearls bobbing out of the ocean all lined up in a row, the Florida Keys entice relaxation-seekers with excellent weather and a no-rush "Caribbean-in-America" lifestyle. About 1/2 way between Miami and Key West, you'll find the very discreet Moorings Village & Spa in Islamorada, FL. This ex-coconut plantation hasn't lost any of it's bliss since 14 cottages were tucked underneath the palms in front of the private beach. You can explore the Atlantic on a kayak, go for a nice walk or a swim, or just sit on the porch and enjoy doing nothing in this little slice of South Florida heaven.
---
New for 2017: Relaxing Waterfall Destinations
---
4. Relaxation Made in Kauai
Take the quiet Hawaiian Island of Kauai, locate a romantic resort on the quiet north shore, remove all TV's and phones, and add 5 acres of secluded picturesque beachfront, and you've found the Hanalei Colony Resort. The Ocean view condos offer splendid sunsets, there's terrific snorkeling, surfing & swimming, and the resort can organize horseback riding tours thru lush island trails.
5

. Romance & Seclusion on Vancouver Island, Canada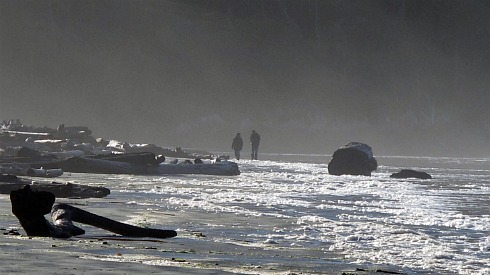 Relaxing Romantic Getaway By the Pacific - Long Beach, Vancouver Island, BC.
Canada's Vancouver Island, particularly Long Beach, BC, tops our list of quiet and secluded couple's destinations. For luxury, privacy and access to secluded beaches, Pacific Sands Beach Resort fits the bill nicely.
Inside, the beachfront one bedroom villas which have outdoor decks, gas fireplaces, and heart-shaped jetted spa tubs for two. Outside, the wild Pacific ocean is just steps away, fronted by a secluded and spectacular stretch of sand perfect for long walks, beach combing and wildlife viewing.
Quiet Weekend Escapes in NY, Illinois, Texas & D.C.  
If you're stuck in the city and can't get away for more than a weekend, but desperately NEED some calm and relaxation for a day or two, here's some ideas for quiet escapes from the city to romantic spots in:
See More Relaxing Spots On ERV:
Excellent Romantic Vacations - Top Pages
---