Top Anniversary Vacation Ideas - Celebrate Your Special Date with Travel
Super-Romantic 1st, 5th, 10th or 25th Wedding Anniversary Vacation Ideas, plus Hotel & B&B Anniversary Packages for an Affordable Getaway
Romantic Vacations Home › Anniversary Trips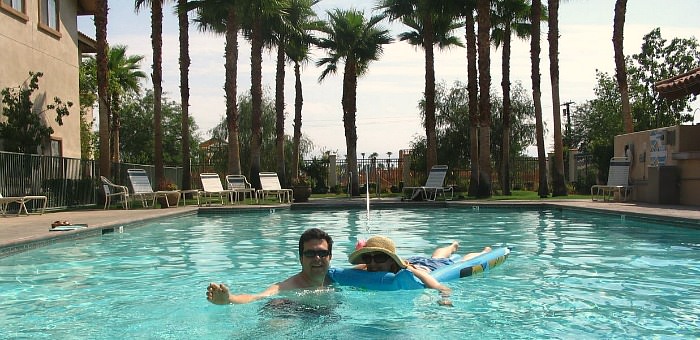 In the Pool for our 10th Anniversary Vacation in Sunny Southern California
By Greg Mattson, ERV Editor - Updated: Dec 9, 2016
Anniversaries are special. The date of your marriage is an occasion worth celebrating, and going away together seems only natural. And if you're like us, you look forward to researching and planning your annual anniversary vacation getaway, form a weekend getaway to a week or longer.
Here's a few ways to make your special day a "celebration vacation" to remember on almost any budget. We've included our top 5 romantic hotel anniversary packages, 5 big-city hotel getaways, as well as a selection of packages put together for anniversary getaways in several romantic Bed & Breakfast Inns in the U.S. and Canada.
Anniversary Vacation Ideas:
Warm Spots for Your 5th or 25th
For those special trips, like your 25th wedding anniversary, not just any old vacation to the lake will do. At the very least, save up enough for a special trip to one of the "Big 3": 
Hawaii: For a unique anniversary travel gift you'll both remember, the north coast of Kauai has some of the most romantic beaches in Hawaii.
California: Cozy Carmel, CA is a distance of just 120 miles from San Francisco, and has been one of our favorite spots for a romantic anniversary on the California coast.
10th Anniversary Getaways
10th Anniversary Vacations - see our newest guide to ideas for your tenth anniversary getaway: vacations with or without kids, beach destinations, cheaper budget-friendly hotels in California and Vermont, resorts & much more. 
25th Anniversary Vacation Ideas
25th Anniversary Getaways - celebrating 25 years of marriage calls for something extra-special, and so check out our carefully chosen selection of destinations, resorts, hotels and trip ideas designed to make your twenty-fifth anniversary vacation a memory to last a lifetime. 
---
Anniversary Hotel Getaways in Big Cities:
New York, NY:
New York City French Quarters Guest Apartments – part of the fun of an anniversary vacation is dining out, and you'll be celebrating your special date perfectly right on NYC's Restaurant Row when you book into this romantic Guest House in Midtown Manhattan. Rooms and suites are elegant and nicely updated with flat-screens and Wi-Fi, and theirs a complimentary continental breakfast each morning. 2017 Rating* for Romantic NYC Guest Houses: 96% - Excellent. (346 W 46 St, New York NY  212-359-6652)
Chicago, IL:
Chicago Kimpton Burnham Hotel - romance and this Kimpton kind of go together, and the Burnham is a great place to spend an anniversary weekend in Chicago. It's got a great downtown location (Chicago Loop), lovely wine reception every evening, in-house romantic dining at the Atwood (just steps from the front lobby), and little extras like complimentary shoeshine, along with morning coffee and tea. 2016 Rating* for Romantic Downtown Chicago Hotel: 95% - Excellent. (1 W. Washington St, Chicago IL  312-782-1111)
Houston, TX:
Houston TX Anniversary Getaways at the Hotel Icon –  downtown Houston is a fun place to celebrate your anniversary with stays at this beautiful Marriott boutique hotel. You can park the car because restaurants and pubs are just steps away, and you'll also be right on the Metro Line for quick access to the downtown, the Museum District and Herman Park. Jetted tubs and walk-in showers for 2 are just some of the romantic in-room amenities available. 2017 Rating* for Luxury Hotel Getaways in Houston: 85% - Very Good. (220 Main St, Houston TX  713-224-4266)
Los Angeles, CA:

Los Angeles CA Romance Getaways at the Brentwood Inn  – many high-end hotels in L.A. are expensive, but not necessarily romantic enough for your 10th or 25th anniversary trip. We think the cozy cottage-style units at the Brentwood Inn are a refreshing alternative. Boutique-styled rooms have luxury bath amenities, Wi-Fi and flat-screens. Expect a friendly welcome with complimentary cookies and free parking, and the inn is nicely placed in upscale Brentwood with good access to restaurants. 2017 Rating* for Los Angeles Boutique Inns: 93% - Excellent. (12200 W. Sunset Blvd, Los Angeles CA  800-840-3808)
Washington, DC:

Avery Hotel in Washington DC -  planning a wedding anniversary in the DMV?  We think the Avery hotel is a perfect destination for any anniversary trip in the nation's capital. Guests enjoy free breakfast, plus a complimentary wine and craft beer reception each evening. We recommend the Avery King Tub Suite with relaxing soaker tub and private patio. All of this nestled in Georgetown, one of the most attractive spots for an anniversary getaway in the D.C./Maryland/Virginia area. 2017 Rating* for Washington DC Anniversary Getaway Inns: 94% - Excellent. (2616 P St NW, Washington DC  202-827-4390)
---
Tips For an Affordable Anniversary Vacation
If you're budget is limited and you need a cheap anniversary getaway this year that you'll still look forward to, here's two anniversary vacation ideas you might try:
Anniversary Trip Idea No.1: Choose a great city for walking, like San Francisco. Check the deals for a romantic weekend hotel package in the Bay Area, pack light, and grab a shuttle or taxi from the airport to the hotel. Forget about renting a car, doing tours or standing in line for high-priced attractions. 

Keep it simple and relaxing, like sleeping in, going for a long walk by the water, window shopping and enjoying a cappuccino in a downtown cafe. Inexpensive, memorable and fun!
---
Special Anniversary Vacation If You Never Had a Honeymoon: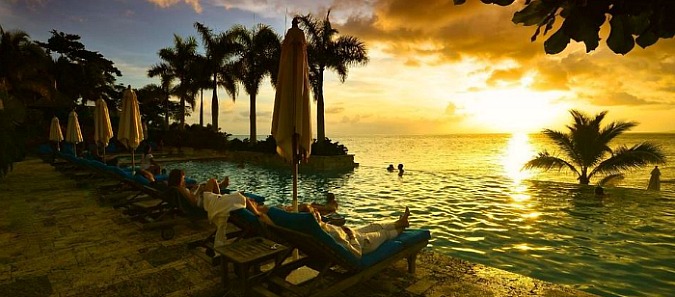 Imagine Spending Your 10th, 20th or 25th Wedding Anniversary Vacation at a Caribbean Resort
---
B&B & Lodge Anniversary Getaways
Pennsylvania B&B: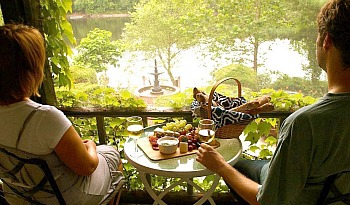 Wine & Cheese by the Delaware River
River Suite at the Bridgeton House
Bridgeton House on the Delaware - a few nights stay along the Delaware River would most certainly be one of the Northeast's most romantic anniversary getaways. Bucks County's award-winning Bridgeton House offers it's guests luxury and relaxation. Jetted tub suites, wine & cheese by the river and cozy fireplace evenings give you an idea of what awaits at this romantic inn. What Other Couples Liked:

 Relaxing River Views...Walk to the Private Dock...Friendly, Sparkling Clean...Delicious Breakfast, Bonfire at Night.

2017 Rating* for Pennsylvania Romantic Inns: 95% - Excellent. (1525 River Rd, Upper Black Eddy  PA  610-982-5856) 
Minnesota Romantic Lodge Package:
---
Trip Ideas by Years of Marriage:
Every anniversary is special, and an opportunity to adapt traditional wedding anniversary gifts into ideas for travel!
1st Wedding Anniversary Vacation: Paper - some newlywed couples stick close to home the first year, paying off bills and saving for the future. A fun paper gift to add to your anniversary at-home: a gift certificate at a romantic inn.
5th Wedding Anniversary Getaway: Wood - for a romantic vacation in a log cabin, Forest Hills Mountain Resort have romantic cabins in Georgia perfect for an anniversary getaway. 
10th Wedding Anniversary Holiday: Tin - Tin Wis Resort is a very romantic resort on Canada's rugged west coast in Tofino, BC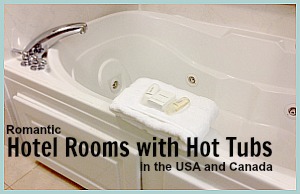 20th Wedding Anniversary Trip: China - after 20 years of vacations, experience a new romantic travel destination together in exotic China. (We did it after only 5 years of marriage, but we'd do it again for sure!)
25th Wedding Anniversary Vacation: Silver - for this special wedding anniversary, fall in love all over again in paradise at the Silver Oaks Ranch, a guest ranch with spectacular views and romantic cottages in Kona, on the Big Island of Hawaii.
50th Wedding Anniversary Holiday: Gold - the grand occasion of a 50th brings to mind two truly golden locations: Australia's Gold Coast (the sun-baked vacation mecca in and around Surfers Paradise, Queensland) and Florida's Gold Coast, the holiday strip between Fort Lauderdale and Miami.
---
Small Inns and B&B Anniversary Packages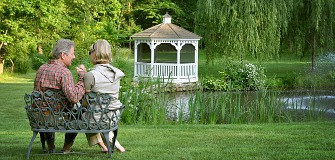 Pennsylvania:

The Inn at Bowman's Hill -

from your first year together to a 50th Golden Anniversary vacation, make it a celebration to remember at New Hope, PA's 

Inn at Bowman's Hill, rated one of the Top 10 Bed and Breakfasts in the USA. Pennsylvania's gorgeous Bucks County is the setting for this ultra-romantic inn, with rooms and suites offering fireplaces, 2-person whirlpool tubs and private balconies. Bowman's specializes in B&B packages for anniversaries, with extras like roses, champagne and strawberries, in-suite massages and romantic dining. (518 Lurgan Rd, New Hope, PA  215-862-8090) 
Ohio - Donna's of Berlin Anniversaries: One of Ohio's most romantic inns specializes in anniversary vacation ideas, with flowers, chocolates and a special anniversary cake, followed by a night in a luxury suite and a full breakfast the next morning.
Minnesota - A.G. Thomson House Anniversaries: This romantic Duluth MN B&B (voted by TripAdvisor readers as the no. 1 B&B in the U.S! ) has an anniversary add-on that includes wine with 2 souvenir glasses,flowers, and a tray of their special chocolate truffles. See More of this B&B package here.
Pennsylvania - Berry Patch Bed and Breakfast, for just $99: flowers, a bottle of wine, a cheese and cracker plate, and your bed done up with rose petals. More on this anniversary package here.
*ERV Rating for Couples: our unique rating formula for romantic hotels which includes:
Romantic Amenities: such as an in-suite 

JACUZZI

®

tub or Whirlpool bath, scenic view, lounge, etc
Location: proximity of hotel to restaurants, pubs, downtown, etc
Clientele: demographic the hotel attracts (couples, families with kids, business travelers, etc)
Popularity with Couples & Honeymooners: based on variety of social media & crowd-sourced reviews.   
Excellent Romantic Vacations - Top Pages
---