Connecticut Hot Tub Suites & Romantic Hotels With In-Room with Jetted Tubs
Romantic Vacations Home › Hotel Suites With Hot Tubs › Connecticut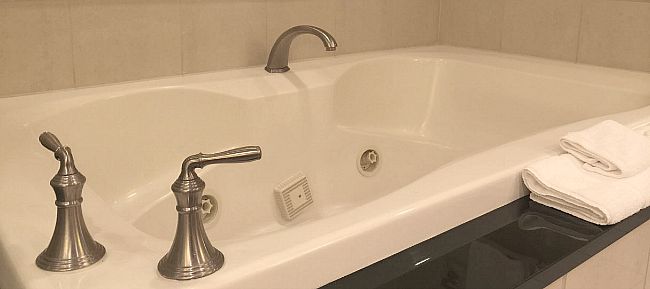 Spice Up Your Connecticut Honeymoon or Getaway in a Spa Tub Suite
By: Greg Mattson, ERV Editor - Updated: Dec 26, 2017   

Connecticut hotels and inns provide the perfect spa tub suites for a weekend getaway in the northeast. Just a few hours drive from NYC, Boston and Washington DC, you can enjoy an excursion by the seaside, and then check into a romantic room with a Whirlpool or jetted tub suite. 

Why This Connecticut Hot Tub Suites Guide is Unique: We handpick these rooms and suites ourselves (we don't simply re-produce other listings), so you can be sure you'll find a hotel suite in Connecticut with a jetted tub right in the room. We also include our Ratings by Couples* to help you choose just the right jetted tub suite for your budget and taste.
Disclaimer: JACUZZI® is a registered trademark owned by Jacuzzi Inc. The use of the JACUZZI® trademark on this website is for informational purposes only. There is no relationship, connection or affiliation between this website and Jacuzzi Inc. or its related companies. As hotel rooms and amenities can change, please check with each individual accommodation property before making travel plans to ensure that the hotel room you have booked includes an authentic JACUZZI® brand hot tub. 
---
Hartford CT
Hilton Garden Inn Hartford South/Glastonbury - just 10 minutes drive from downtown Hartford, this Affordable Hilton has lots to like, including free cooked to order breakfasts, indoor pool, fitness center and room service. For romantic soaking, their King Deluxe rooms have bathrooms with a Whirlpool tub and walk-in shower. 2017 Rating* for Hartford Hotel Hot Tub Suites: 89% - Very Good. (85 Glastonbury Blvd, Glastonbury CT 860-659-1025)
Spa Tub Suites Near Hartford: 

Courtyard Hartford Manchester

 - located in the leafy suburbs east of Downtown Hartford, and close to shopping at Buckland Hills. Their Bistro restaurant has wine and craft beers on tap, there's an indoor pool, and their King guest rooms offer luxury bedding and a beautiful Whirlpool tub. 

2017 Rating* for Hartford CT Whirlpool Suites: 98%

 - Excellent. 

(225 Slater St, Manchester CT 860-533-8484)
---
Coastal Connecticut Hot Tub Suites
Mystic CT
Holiday Inn Express Mystic - fitness center, indoor pool and free hot breakfast top the amenities at this popular Holiday Inn on the CT coast. Inside their Whirlpool suites are the usual amenities (WiFi, flat-screen TV), plus an attractive large spa tub in the corner near the bed. 2017 Rating* for Mystic, Connecticut Whirlpool Suites: 78% - Good. (6 Coogan Blvd, Mystic CT 877-859-5095)
Hilton Mystic - situated perfectly close to all of Mystic's best attractions (and they have a free shuttle to take you anywhere within a 5 mile radius!). Book one of their 6 Whirlpool Suites and you'll be relaxing in a fully equipped suite with a bathroom offering heated towel racks, couples robes and an over sized jetted spa tub. 2017 Rating* for Mystic, Connecticut Spa Tub Suites: 73% - Good. (20 Coogan Blvd, Mystic CT 860-572-0731)
*For More Connecticut Romance Travel*:
Connecticut Getaway Planner for Couples - Discover Connecticut's Most Romantic Boutique Hotels, Honeymoon Resorts, Great Beaches and Scenic Spots.
Vermont Getaways:
Romantic Vermont Jetted Tub Suites - best accommodation for hotel hot tub getaways in Stowe, Middlebury, Brattleboro VT and other romantic spots.
More Jetted Tub Suites Near the Oceanfront in Connecticut:
Stamford CT:

Courtyard Stamford Downtown - this boutique-style Marriott hotel in downtown Stamford has been updated to include complimentary WiFi, luxury bedding and very comfortable 

Whirlpool 

tubs large enough for 2 people. 2017 Rating* for Stamford CT Hotel Suites with Spa Tubs: 91% - Excellent. (275 Summer St, Stamford CT 203-358-8822)
Bridgeport CT:

Holiday Inn Bridgeport - a high-rise Holiday Inn that's suited for couples getaways, with an on-site restaurant and martini lounge, indoor pool and fitness center. Bathrooms are outfitted with a romantic spa tub. 2017 Rating* for Connecticut Spa Tub Suites: 71% - Good. (1070 Main St, Bridgeport, CT 877-859-5095)
Greenwich CT:

Stanton House Inn - their gorgeous Sackett Suite contains a 2-person 

Whirlpool 

tub, and this romantic B&B has some extra amenities you'll love, including an outdoor pool and delicious breakfasts served on the open-air patio (in-season). 2017 Rating* for Greenwich CT Whirlpool Suites: 94% - Excellent. (76 Maple Ave, Greenwich CT 203-869-2110)
Madison CT:

Scranton Seahorse Inn - this award-winning B&B in Madison, Connecticut specializes in relaxing and charming escapes from the city. The Madison Getaway Suite includes a fireplace and spacious hot tub for 2 people, and couples rate the inn's gourmet breakfasts, location and innkeeper Michael all as top-rate. 2017 Rating* for Scranton CT Hotel Hot Tub Suites: 98% - Excellent. (818 Boston Post Rd, Madison, CT 203-245-0550)
Norwalk Connecticut Hotel Suite with a JACUZZI® Tub
Book a JACUZZI® Tub For Your Norwalk, CT Getaway
Norwalk Inn & Conference Center - give your southwestern Connecticut getaway a romantic touch with one of the Norwalk Inn's suites with a King JACUZZI

® tub

. Newlyweds will be interested in the Honeymoon Suite which also features an in-room jetted tub and can be booked as part of their wedding package. 2017 Rating* for Connecticut Suites With a JACUZZI® Tub: 71% - Good. (99 East St, Norwalk CT 203-838-2000)
---
More Hotel Bubbles:
Also:
Western CT Spa Tub Suites
Litchfield CT Suites With a JACUZZI® Tub:

Winvian - one of the top choices for couples in search of a honeymoon cottage with a JACUZZI® Tub in Connecticut. This luxury resort enjoys a secluded spot in the woods, and each of these romantic cottages is designed around a theme, with several including very romantic jetted tubs. 2017 Rating* for Litchfield CT Hot Tub Cabin Suites: 83% - Very Good. (155 Alain White Rd, Morris CT)
Bristol CT:

DoubleTree by Hilton Hotel Bristol - perfect for newlyweds planning to splurge on their honeymoon suite! The Double Tree's Presidential Suite on the hotel's top floor is 2000 sq ft of luxury, and you can even watch movies on the 60-inch mirror/TV from the bubbly comfort of a 

Whirlpool 

tub in the main bathroom. 2017 Rating* for Connecticut Whirlpool Suites: 95% - Excellent. (42 Century Dr, Bristol CT 860-589-7766)
Waterbury CT:

Hampton Inn Waterbury - the no.1 choice for a spa tub suite in Waterbury, CT. You'll also enjoy waking up to a free hot breakfast after a great night in one of Hampton's famously comfortable beds. 2017 Rating* for Waterbury CT Suites with Jetted Tubs: 70% - Good. (777 Chase Pkwy, Waterbury CT 203-753-1777)
---
Whirlpool Suites in Eastern Connecticut
Norwich, CT:

Courtyard Norwich - this Mystic-area hotel has Marriott's new on-site Bistro restaurant serving meals and drinks. Spacious rooms are outfitted with pillow-top mattresses and WiFi, and selected King Suites feature a beautiful in-room Whirlpool tub for 2. 2017 Rating* for Norwich CT Whirlpool Suites: 67% - Fair. (181 W. Town St, Norwich CT 860-886-2600)
*ERV Rating: our unique, non-scientific rating formula for romantic hotels which includes:
Romantic Amenities: such as an in-room 

JACUZZI

®,

suites with a Whirlpool bath, scenic view, lounge, etc
Location: proximity of hotel to restaurants, pubs, downtown, etc
Clientele: demographic the hotel attracts (couples, families with kids, business travelers, etc)
Popularity with Couples & Honeymooners: based on variety of social media & crowd-sourced reviews.   
Excellent Romantic Vacations - Top Pages
---