Vermont Whirlpool Suites
Vermont Hot Tub Suites - Romantic Hotels & Inns with Whirlpool & JACUZZI® Tubs
FTC: This page uses affiliate links. More. 

---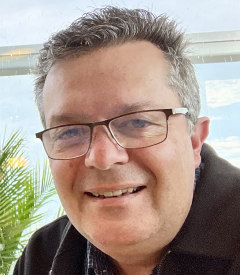 By: Greg Mattson, ERV Editor - Updated: Jun 25, 2022  

Vermont for a getaway? Great choice! Next, book a suite with a bubbly JACUZZI® Tub or romantic in-room Whirlpool tub in a cozy inn or hotel. 

Book a Hotel or Inn with a Cozy Whirlpool or JACUZZI® Tub For Your Next Vermont Getaway
Why Our Guide to Vermont Hot Tub Suites is Better: All of the inns and hotels listed here feature private jetted tubs right inside the suite - not huge tubs beside a swimming pool. Much better suited for your romantic weekend in Vermont & New England.

Disclaimer: JACUZZI® is a registered trademark owned by Jacuzzi Inc. The use of the JACUZZI® trademark on this website is for informational purposes only. There is no relationship, connection or affiliation between this website and Jacuzzi Inc. or its related companies. Rates shown are approximate only and subject to change. Hotel rooms, jetted tubs and amenities can change, and may not be exactly as shown, so please contact the hotel or inn before making travel plans.
---
Southern Vermont Inns with Jetted Tubs
brattleboro, vt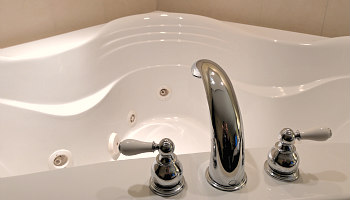 Book a Brattleboro Hampton Inn Whirlpool Suite
Hampton Inn Brattleboro

- book your weekend getaway in a King Whirlpool Studio Suite here, and take advantage of their pool and hot breakfast buffet each morning. What Other Guests Liked: Short walk to popular stores and restaurants as well as Saxton's River Distillery. Worth Knowing: Parking is not covered or secure. 2022 ERV Rating*: 78% - Very Good. Whirlpool Tub Size: 2 Persons. Whirlpool Suite Prices:  From $183/night (1378 Putney Rd, Brattleboro VT  802-254-5700) √ COVID Safety Plan: Yes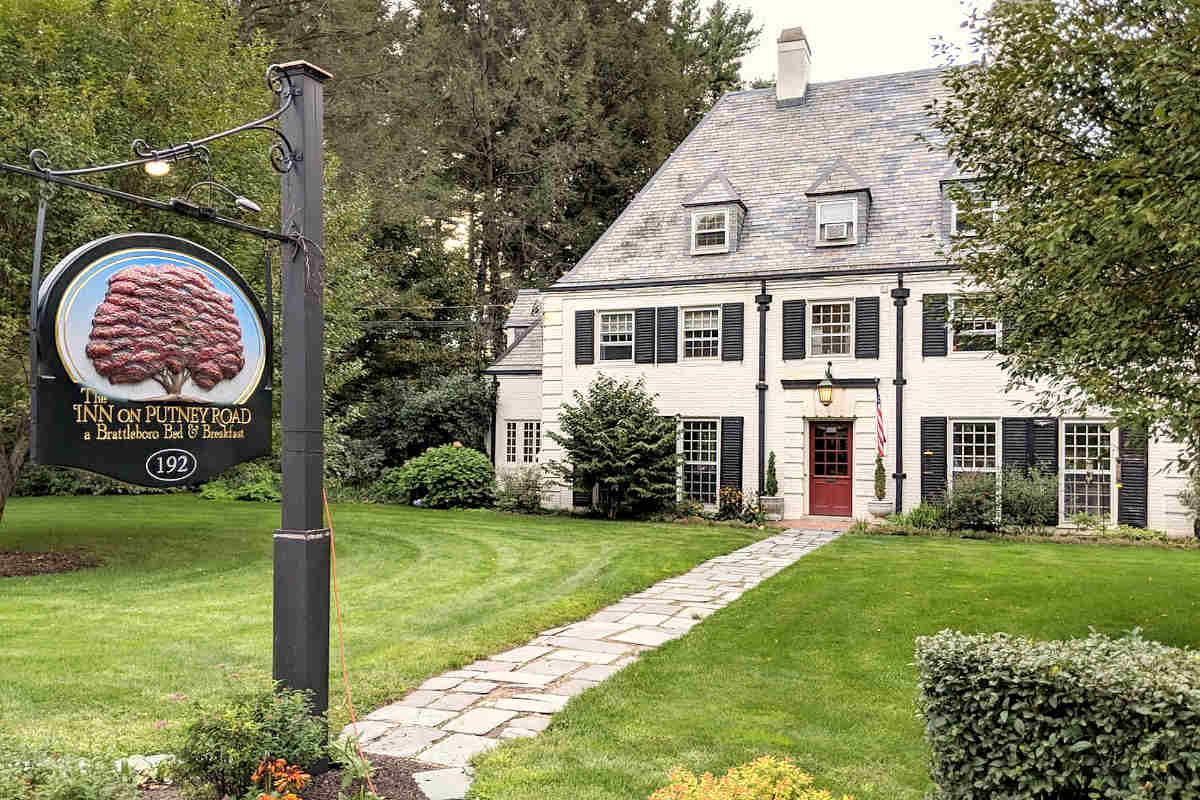 The Inn on Putney Road has JACUZZI® Tubs in Brattleboro, VT ©TripAdvisor
Inn on Putney Road

- Check out the Red Maple Room here, which is complete with a fireplace and comfortable 2-person JACUZZI® tub. What Other Guests Liked: Daily gourmet breakfast is included. Beautiful gardens, plus sunroom, library and billiards table. Worth Knowing: Two or even 3 night stays are required for certain dates. Not appropriate for very young children. 2022 ERV Rating*: 96% - Excellent. Whirlpool Tub Size: 

2 Persons. 

Whirlpool Suite Price: From $224/night. (192 Putney Rd, Brattleboro VT  802-536-4780) √ COVID Safety Plan: Yes
manchester, VT Spa Tub Suites
Inn at Ormsby Hill ©TripAdvisor
Manchester VT Spa Tub Suite ©TripAdvisor
The Inn at Ormsby Hill

- This romantic B&B offers 10 beautiful themed suites with 4-poster King beds, JACUZZI® tubs, shower/steam sauna,  and fireplaces. What Other Guests liked: flat screen TV with Apple TV, Worth Knowing: No children under the age of 13. No pets. 2022 ERV Rating*: 94% - Excellent. Whirlpool Tub Size: 

2 Persons. 

Whirlpool Suite Prices: From $330/night. (1842 Main St, Manchester Center VT  802-362-1163) √ COVID Safety Plan: Yes
Pool at the Manchester View
Inn at Manchester Romantic Suite
Inn at Manchester Whirlpool Tub ©TripAdvisor
The Inn at Manchester

- 

This country-chic inn dates from the late 1800s and consists of 21 rooms and suites in 2 buildings on a large landscaped property. The Sage Suite features a jetted tub, cozy sitting area and fireplace. What Other Couples Liked: Full breakfast, onsite pub, outdoor pool, and front porch with rocking chairs and hammocks. Worth Knowing: Although someone will always be able to take your bags upstairs, the Sage Suite is on the third floor and there is no elevator. Not suitable for kids under the age of 13. 2022 ERV Rating*: 96% - Excellent Whirlpool Tub Size: 

One Person

. 

Whirlpool Suite Price: From $235/night. (3967 Main St, Manchester VT 802-273-4149)
Bennington, VT
Hampton Inn Bennington

- Charming Bennington is home to covered bridges, farm stands and antique shops. Finish your day with a relaxing soak in one of the Hampton's King Whirlpool Suites, complete with HDTV and complimentary hot breakfast in the morning. What Other Guests Liked: Suites include microwave and mini-fridges. Parking is free. Worth Knowing: There is only one elevator, so it can be slow during busy periods. 2022 ERV Rating*: 84% - Very Good. Whirlpool Tub Size: 

2 Persons. 

Whirlpool Suite Price: From $258/night. (1842 Main St, Bennington VT  802-440-9862) √ COVID Safety Plan: Yes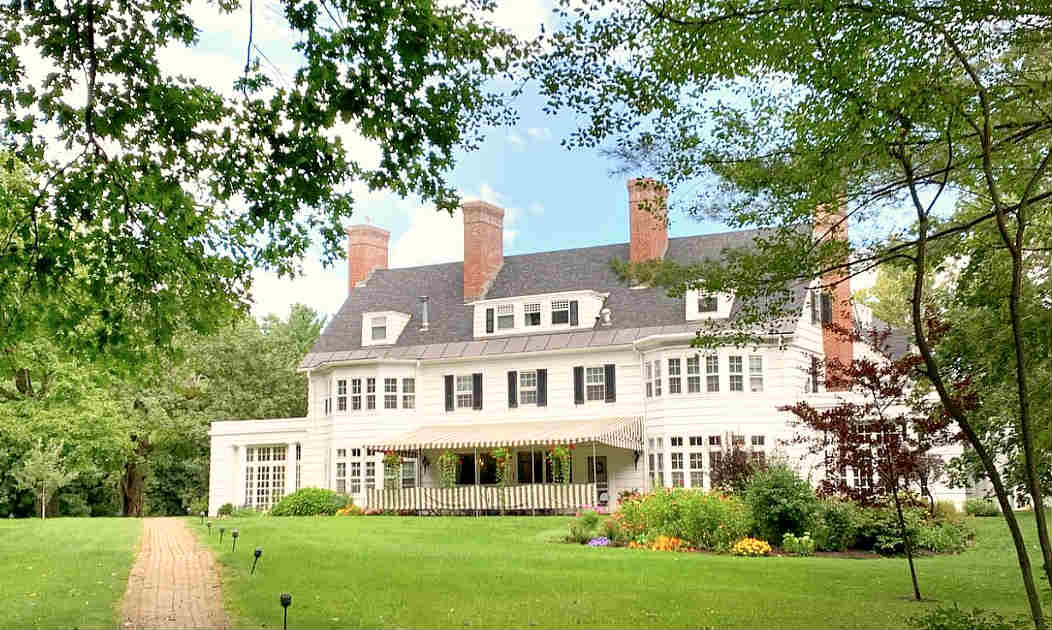 Four Chimneys Inn, Bennington VT
Four Chimneys Inn - Gorgeous bed and breakfast tucked away on a picturesque estate in Old Bennington. Jetted tubs are featured in rooms 1,3,6 and 9. Eleven cozy rooms include romantic touches like 4-poster beds, chandeliers, private porches and dormer windows. What Other Guests Liked: Couples rave about the friendly innkeepers and delicious breakfasts. Worth Knowing: Ask about a room facing the large garden area in front, as the car park is in the rear of the building. 2022 ERV Rating*: 92% - Excellent. Whirlpool Tub Size: 

N/A. 

Whirlpool Suite Prices: From $229/night.  (21 West Rd, Bennington VT  802-447-3500) √ COVID Safety Plan: Yes
Central Vermont Jetted Tub Suites
rutland
Hampton Inn Rutland

- Enjoy your getaway to Vermont's Green Mountains in a 1 Bedroom King Whirlpool Suite at this inexpensive Hilton hotel. Free hot buffet breakfast, pool and fitness room are just some of the amenities here. What Other Guests Liked: Microwaves, coffee makers, and mini-fridges in rooms. Free parking. Worth Knowing: Parking lot is not covered and can be a bit overcrowded in the evenings. 2022 ERV Rating*: 90% - Excellent. Whirlpool Tub Size:

 2 Persons. 

Whirlpool Suite Price: From $198/night. (47 Farrell Rd, Rutland VT  802-773-9066) √ COVID Safety Plan: Yes
woodstock, VT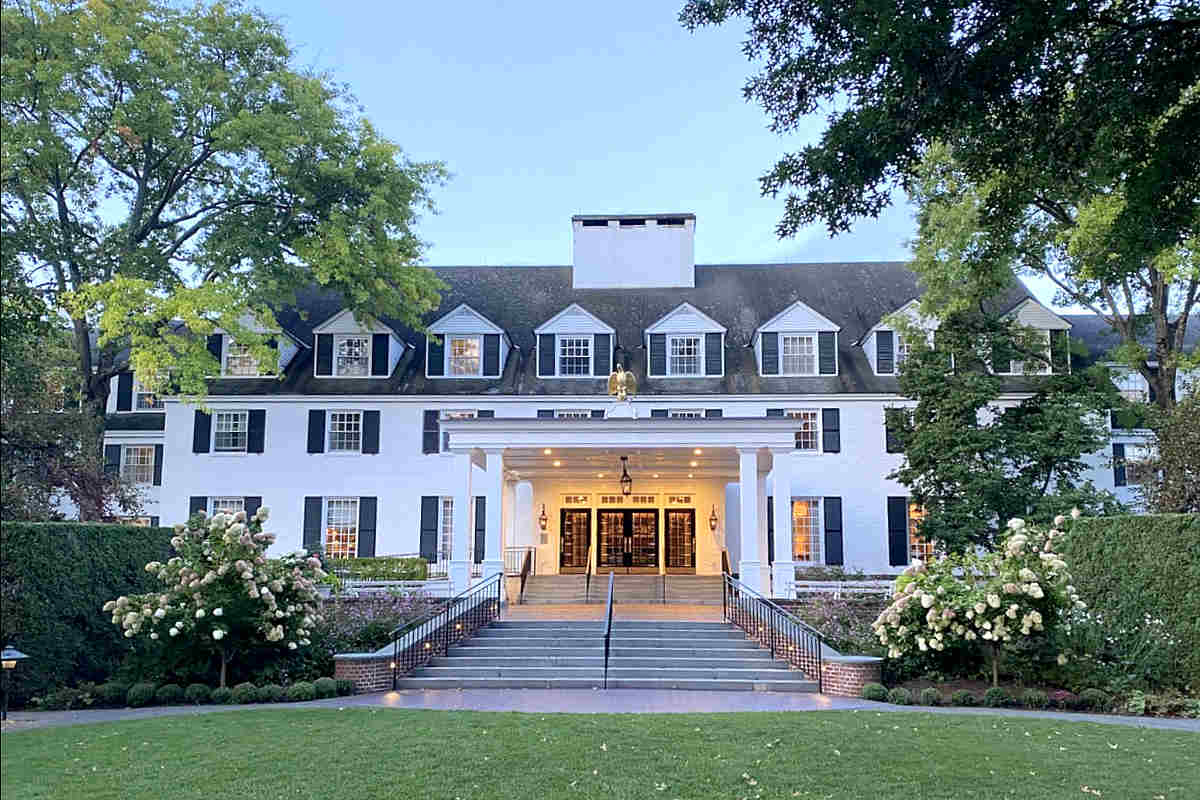 Woodstock Inn & Resort
Woodstock Inn & Resort

- 

A welcoming 19th century mansion with white pillars - perfect for a luxurious romantic getaway in Vermont. The award-winning spa provides treatments 7 days a week, and there are 4 gourmet restaurants onsite. The Spa Room features a Whirlpool tub, turndown service on request, plush robes and chocolates. What Other Guests Liked:   Private wine tasting paired with Vermont cheeses. Worth Knowing: Resort fee of $35/day. Minimum length of stay may be required for some dates. 2022 ERV Rating*: 86% - Very Good. Whirlpool Tub Size:

 2 Persons. 

Whirlpool Suite Price: From $460/night. (14 The Green, Woodstock VT 802-688-1153)
The Village inn of Woodstock

- Reserve a weekend getaway in one of this boutique inn's Fireplace Rooms, with their private entrance, marble bathrooms, luxury linens and Whirlpool tubs. You can enjoy breakfast at your own individual table, or on their  outdoor terrace (summer months). What Other Guests Liked: Antiques, candlelight breakfast, terrace with a pond and perennial garden. There is also a fully-licensed onsite tavern. Worth Knowing: No candles, incense or scented oils may be brought in. No children under the age of 8. 2022 ERV Rating*: 96% - Excellent. Whirlpool Tub Size: 

2 Persons. 

Whirlpool Suite Prices: From $295/night (41 Pleasant St, Woodstock VT  802-457-1255)
middlebury, vt
Swift House Inn ©TripAdvisor
Swift House Inn Spa Tub Suite ©TripAdvisor
Swift House Inn

- An historic former governor's mansion surrounded by 4 acres of lovely gardens. Choose from the Main House or Carriage House Rooms, several of which feature jetted tubs and fireplaces. Coffee, cookies, and breakfast are included. What Other Guests Liked: sauna, steam shower and wine bar. Worth Knowing: Dogs are not allowed to stay with you in the Main House. 2022 ERV Rating*: 96% - Excellent. Whirlpool Tub Size:

1 & 2 Persons. 

Whirlpool Suite Price: From $179/night. (25 Stewart Ln, Middlebury VT 802-388-9925)
Courtyard Middlebury

- Reliable Marriott quality, with selected King rooms equipped with sofa, fireplace and Whirlpool tub. The on-site Bistro Restaurant has drinks and cocktails, as well as Starbucks coffee. What Other Guests Liked: Swimming pool, fitness room, free parking. Great location across from a shopping center. 12:00 noon checkout. Worth Knowing: Some street noise. 2022 ERV Rating*: 80% - Very Good. Whirlpool Tub Size: 

2 Persons

. Whirlpool Suite Price: From $199/night. (309 Court St US Rte 7, Middlebury VT  802-388-7600) √ COVID Safety Plan: Yes
Middlebury Inn

- 

Open for business since 1827, this historic inn is convenient to many attractions and surrounded by the Green Mountain National Forest. Comprised of 4 brick buildings, some of the Deluxe rooms have romantic 4-poster beds and/or whirlpool tubs. The front porch offers beautiful views of Middlebury's town green. What Other Guests Liked: Parking, afternoon tea and morning coffee are included, and there is an onsite restaurant and day spa, as well as nearby gym. Worth Knowing: Although there is an elevator, it is only to be operated by staff. They recommend using the stairs if possible. ERV 2022 Rating*: 80% - Very Good. Whirlpool Tub Size: 

1 Person

. Whirlpool Suite Price: From $189/night. (14 Courthouse Square, Middlebury VT 802-388-4961)
More Getaways for Couples:
Northern Vermont Hot Tub Suites
Stowe, VT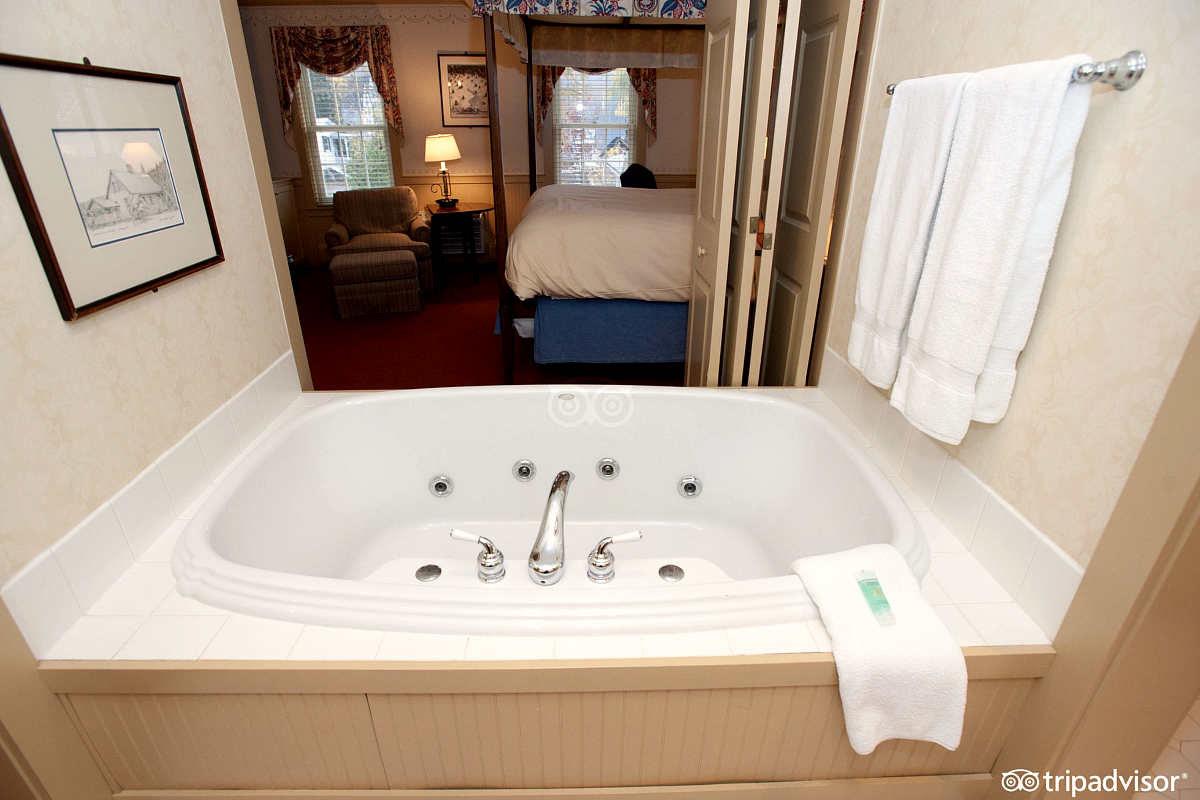 JACUZZI® Tub Suite - Green Mountain Inn, Stowe VT ©TripAdvisor
Green Mountain Inn

- Check into this historic inn in the heart of Stowe and you'll discover luxury rooms that are very nicely outfitted with Keurig coffee makers, HDTV, four poster King beds, and a beautiful JACUZZI® tub near the fireplace. What Other Guests Liked: Located in the heart of scenic Stowe, year-round outdoor pool, game room, fire pits and onsite Bar and Grill. Worth Knowing: Room service is not available. 6% Resort Fee is added to the bill. 2022 ERV Rating*: 92% - Excellent. Whirlpool Tub Size: 

2 Persons. 

Whirlpool Suite Price: From $239/night. (18 Main St, Stowe VT 802-253-7301) √ COVID Safety Plan: Yes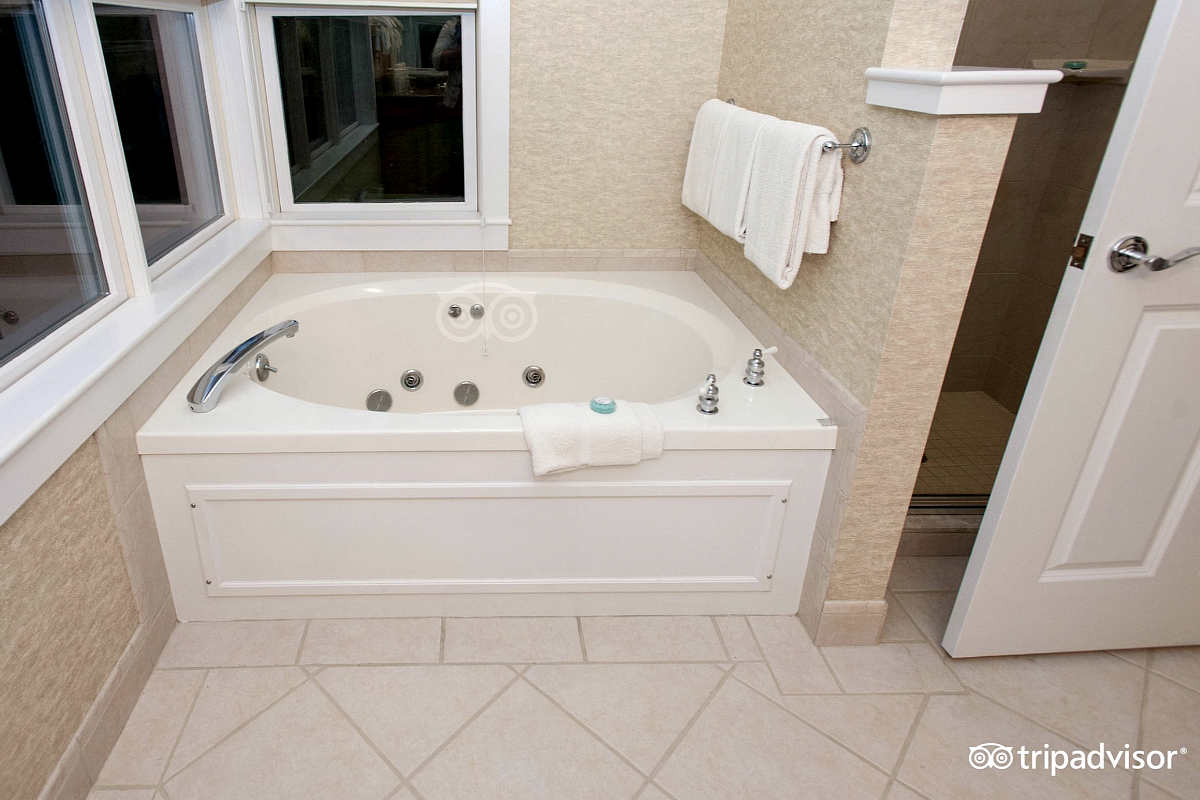 Spacious Whirlpool Tub - Stoweflake Mountain Resort ©TripAdvisor
Stoweflake Mountain Resort & Spa - Cozy suites include living area, dining tables, balconies, and Whirlpool tubs, and some also feature fireplaces. The award-winning restaurant and pub has an outdoor deck, and there is a tennis court and golf course for guest use. What Other Guests Liked: Onsite spa with indoor waterfall and mineral soaking pool. Indoor and outdoor pools allow year 'round swimming. Worth Knowing: A few updates are in order. 2022 ERV Rating*: 76% - Good. Whirlpool Tub Size: 

2 Persons. 

Whirlpool Suite Price: From $278/night. (1746 Mountain Rd, Stowe VT 802-253-7355)
Stone Hill Inn

- All 9 rooms at this secluded inn offer a fireside JACUZZI® Tub big enough for two, as well as complimentary 3-course gourmet breakfast, Wi-Fi, parking and popcorn. What Other Guests Liked: Lovely gardens, complimentary pre-dinner appetizers and hot or cold drinks. In-room massage is available for a fee. 2022 ERV Rating* for Stowe VT Jetted Tub Suites: 98% - Excellent. Whirlpool Tub Size: 

2 Persons. 

Whirlpool Suite Price: From $339/night. (89 Houston Farm Rd, Stowe VT 802-253-6282) √ COVID Safety Plan: Yes
waterbury, VT:
Best Western Plus Waterbury

- you'll find a fireplace, walk-in shower and Whirlpool tub in the King Suites at this Best Western in Northern Vermont, along with advance purchase deals and discount rates for AAA members. Free hot breakfast and parking. What Other Guests Liked:  fitness room and heated indoor pool.  Worth Knowing: Steep driveway and access road can be slippery in wintertime. 2022 ERV Rating*: 90% - Excellent. Whirlpool Suite Size: 

2 Persons. 

Whirlpool Suite Price: From $233/night. (45 Blush Hill Rd, Waterbury VT  802-244-7822) √ COVID Safety Plan: Yes
burlington VT Spa Tub Suites
Whirlpool Suite - Courtyard Burlington Harbor
Courtyard Burlington Harbor - completely refreshed and updated, this Marriott in Northern Vermont is perfectly located close to both downtown Burlington and Lake Champlain. Several suite choices here feature a Whirlpool tub (some with Mountain and lake views), and don't miss Sunday brunch at their on-site restaurant. 2022 ERV Rating* for Burlington VT Whirlpool Suites: 84% - Very Good. (25 Cherry St, Burlington VT  802-864-4700) √ COVID Safety Plan: Yes
Hotel Vermont

- A renowned romantic inn with amenities like electric car plug-in, fire pit, complimentary evening cheese & crackers, and fresh croissants in the morning. The King Whirlpool is the room you want here, and you can just step out the hotel's front door for a walk to several romantic dining options on Cherry Street. What Other Guests Liked: gas fireplaces in Whirlpool rooms, spa treatments and/or romance package available. Worth Knowing: Minimum stay required for some dates. 2022 ERV Rating*: 90% - Excellent. Whirlpool Tub Size: 

2 Persons. 

Whirlpool Suite Prices: From $379/night. (41 Cherry St, Burlington VT 855-650-0080) √ COVID Safety Plan: Yes
saint johnsbury vt hot tub suites
Themed Luxury Hot Tub Suite - Rabbit Hill Inn ©TripAdvisor
Rabbit Hill Inn - An award-winning B&B with 19 exceptional rooms and suites, each with a unique decor style. Eight Luxury Rooms feature 2-person Whirlpool/hydromassage tubs, covered, private porches or sundecks, and amazing mountain views. What Other Guests Liked: Complimentary afternoon sweets, full candlelit breakfast included. Worth Knowing: Gratuities are factored into the cost. Tipping is not expected. Two-night minimum stay required on weekends and a 3 night minimum is required for some holidays. 2022 ERV Rating*: 96% - Excellent. Whirlpool Tub Size: 

2 Persons. 

Whirlpool Suite Prices: From $359/night. (48 Lower Waterford Rd PO Box 55, Saint Johnsbury VT 802-748-5168)
*ERV Rating: our unique, non-scientific ratings for romantic accommodation include:
Amenities: including Whirlpool bath or 

JACUZZI

®

Tub

,

scenic view, fireplace, lounge, etc
Location: proximity of hotel to restaurants, pubs, downtown, etc
Clientele: demographic the hotel attracts (couples, families, business travelers, etc)
Popularity: based on social media & crowd-sourced reviews 
Value: product offered compared to room rate 
Please Note: percentage ratings are not absolute but for comparative use only  
top hotels, getaways & packages on ERV
---