New Jersey Hot Tub Suites & Hotel Rooms with Whirlpool Tubs
Romantic Vacations Home › Hotel Hot Tub Suites › New Jersey
FTC Disclosure: If you make a purchase through a link on this page, we receive a small commission at no cost to you. We only recommend hotels we have used ourselves or researched thoroughly.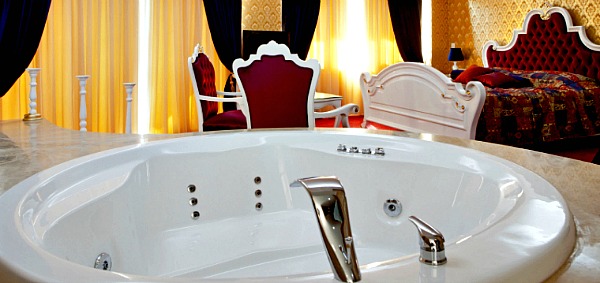 New Jersey Has Some Very Romantic B&B Hot Tubs and Hotel Suites With a Jacuzzi® Tub
By: Greg Mattson, ERV Editor - Updated: Mar 8, 2019   

Here's a handy guide to New Jersey hotel rooms with a JACUZZI® tub inside, or a private hot tub just for you and your partner. We cover the most romantic destinations, including Atlantic City, Cape May and accommodation in places like Frenchtown, NJ and spots along the Jersey shore.
Why This Guide to New Jersey Hotel Hot Tub Suites is Different: We do our very best to include only hotels, inns and B&B's in NJ that have a jetted tub right in the room for maximum privacy. Most honeymooners and couples want more than just a hot tub out by the pool, so enjoy this hand-picked selection of whirlpool tubs and jetted tub suites in Northern, Central and Southern New Jersey. 
Disclaimer: JACUZZI® is a registered trademark owned by Jacuzzi Inc. The use of the JACUZZI® trademark on this website is for informational purposes only. There is no relationship, connection or affiliation between this website and Jacuzzi Inc. or its related companies. As hotel rooms and amenities can change, please check with each individual accommodation property before making travel plans to ensure that the hotel room you have booked includes an authentic JACUZZI® brand hot tub. 
Atlantic City NJ Area Hotel Suites With a JACUZZI® Tub
JACUZZI® Tub - Atlantic City Holiday Inn Express
Holiday Inn Express Absecon-Atlantic City Room
Holiday Inn Express Absecon-Atlantic City Area - with a location near Atlantic City (just 5 miles from the Boardwalk Casinos), this Holiday Inn and it's spacious, bright rooms with a JACUZZI

® 

tub are a great choice for romantic accommodation on the NJ shore. 2019 ERV Rating* for Hotel Rooms Near Atlantic City NJ With a JACUZZI® Tub: 87%

 - Very Good. 

(655 White Horse Pike Route 30e, Absecon NJ  877-660-8550)
Atlantic City & Area Hot Tub Suites
Deluxe Suite - Wyndham Skyline Tower
Book an Atlantic City Jetted Tub Suite!
Wyndham Skyline Tower - make your reservations for a 1 Bedroom Deluxe Suite at this Atlantic City hotel, and you'll enjoy a full kitchen, bedroom with separate living room, and a romantic Whirlpool

 

Tub. 2019 ERV Rating* for Atlantic City Suites With a Whirlpool Tub:

 

74%

 - Good. 

(100 S North Carolina Ave, Atlantic City NJ  609-449-4200)
Marriott Fairway Villas - luxury 2 bedroom villas are nicely outfitted with fireplace, balcony, full kitchen, Wi-Fi, and a jetted tub in the master bath. Great location too in New Jersey's Absecon Highlands, just minutes from the lights and fun of Atlantic City. 2019 ERV Rating* for New Jersey Hot Tub Suites: 97%

 - Excellent. 

(500 East Fairway Lane, Galloway NJ  609-748-4700)
Hot Tub Rooms in Northern New Jersey
Newark, NJ:
Country Inn & Suites, Newark International Airport

- a hotel that's in the right place for a night or two in a jetted tub before jetting off from Newark Intl Airport on your honeymoon! 2019 ERV Rating* for Romantic Newark NJ Jetted Tub Suites: 70% - Good. (100 International Blvd, Elizabeth NJ 908-282-0020)
Jersey City, NJ:
Jersey City: The Westin Jersey City Newport - only the spacious Presidential Suite includes it's own private spa tub, so this room is not for any run-of-the-mill weekend getaway. But for an expensive honeymoon splurge or special anniversary getaway, it will mesmerize you with it's luxury and full kitchen & dining area. And it all comes with a panoramic view of Manhattan's skyline twinkling in the distance. It can't be booked online, so call well in advance for reservations. 2019 ERV Rating* for Jersey City, NJ Spa Tub Suites: 88%

 - Very Good. 

(479 Washington Blvd, Jersey City NJ  201-626-2900) 
Edison, NJ:
Fairfield Inn & Suites Edison/South Plainfield - romantic travelers looking to check in to a hot tub hotel in the Perth-Amboy & New Brunswick NJ areas will appreciate this Marriott and the Whirlpool

 

tub in the master bath which are large enough for 2 people. 2019 ERV Rating* for Edison, NJ Hotel Rooms with a Whirlpool Tub: 63%

- Fair

. 

(875 New Durham Road, Edison NJ  732-650-0011)
---
Northern New Jersey Suites With a JACUZZI
® 

Tub

Stanhope, NJ:
The Whistling Swan Inn – this historic and romantic honeymoon B&B in Northern New Jersey has elegant suites with a 2-person JACUZZI® tub. Located just off of Interstate 80 in Stanhope, NJ. 2019 ERV Rating* for Northern NJ Rooms with a JACUZZI® Tub: 94% - Excellent. (110 Main St, Stanhope NJ 973-347-6369)
---
Find More Romantic Hotels With Whirlpool Suites in:
Paramus, NJ:
Comfort Inn & Suites Paramus NJ - an affordable and romantic place to stay near New York City (just 15 minutes away) with a jetted tub big enough for two people right in the room. 2019 ERV Rating* for Paramus, NJ Spa Tub Suites: 84% - Very Good. 

(211 Route 17 South Paramus NJ  877-587-6266)
---
Whirlpool Suites Along the New Jersey Shore
Wilbraham Mansion Cape May NJ Spa Tub Suite
Atlantis Inn Whirlpool Suite, Ocean City NJ
Cape May, NJ:
Wilbraham Mansion 

-

 selected suites in this romantic Cape May Bed and Breakfast are outfitted with a JACUZZI

® 

tubs, two-person showers and warm gas fireplaces. 2019 ERV Rating* for Cape May NJ Spa Tub Suites: 94%

 - Excellent.

 (133 Myrtle Ave, Cape May NJ 609-884-2046)
Ocean City, NJ:
Atlantis Inn - this inn's hot tub suites, fireplaces and ocean views combine to make it one of the most romantic B&B's on the South Jersey Shore. 2019 ERV Rating* for Ocean City NJ Spa Tub Suites: 80%

 - Very Good.

 (601 Atlantic Avenue, Ocean City NJ  609-399-9871)
Long Beach Island, NJ:
The Sand Castle B&B - laid back elegance and romance keep couples coming back to this cozy B&B just 2 short blocks from the ocean. Both the Lighthouse & Sunset Vista Suites have 2-person JACUZZI

® 

tubs, and the inn also has a heated pool and rooftop deck. 2019 ERV Rating* for Romantic Jersey Shore Jetted Tub Suites: 99% - Excellent. (710 Bayview Avenue, Barnegat Light NJ  609-494-6555)
Point Pleasant Beach, NJ:
The Tower Cottage

- this luxury B&B is a top choice for couples in the Point Pleasant Beach/Bay Head/Sea Girt area of the Northern New Jersey Shore. The Versailles, Tuscan Dreams and Tower Suites rooms all have Whirlpool tubs for 2 people.

2019 ERV Rating* for Romantic Point Pleasant NJ Whirlpool Suites: 99% - Excellent. (203 Forman Avenue, Point Pleasant Beach NJ  877-766-2693)
Spring Lake Beach, NJ:
Chateau Inn & Suites - look into one of their romantic Parlor Suites here, which include kIng beds and an oversized in-suite JACUZZI

® 

tub. This romantic and historic boutique hotel is popular with couples and honeymooners for getaways along the Jersey Shore. 2019 ERV Rating* for Spring Lake NJ Suites with a JACUZZI® tub: 83% - Very Good. (500 Warren Ave, Spring Lake NJ  877-974-5253)
New Jersey Whirlpool
 

Suites - Near Philadelphia

Westampton, NJ:
Best Western Burlington Inn- for a romantic and affordable hot tub suite in Western New Jersey near Philadelphia, you'll enjoy the Best Western's rooms which feature fireplace and whirlpool tubs. The hotel is just 1/2 hr drive from Six Flags Great Adventure, and comes with free HBO Movie channel and WiFi. 2016 Rating* for New Jersey Spa Tub Suites Close to Philadelphia: 76%

 of Couples Rate It Excellent/Very Good.

 (

2020 Route 541, 

Westampton NJ  609-261-3800)
*ERV Rating for Couples: our unique, non-scientific rating formula for romantic hotels which includes:
Romantic Amenities: such as an in-suite 

JACUZZI

®

tub or Whirlpool bath, scenic view, lounge, etc
Location: proximity of hotel to restaurants, pubs, downtown, etc
Clientele: demographic the hotel attracts (couples, families with kids, business travelers, etc)
Popularity with Couples & Honeymooners: based on variety of social media & crowd-sourced reviews.   
Excellent Romantic Vacations - Top Pages
---