Maryland Whirlpool Suites
Maryland Hot Tub Suites & Hotels with Romantic In-Room Spa Tubs
FTC: This page uses affiliate links. More. 

---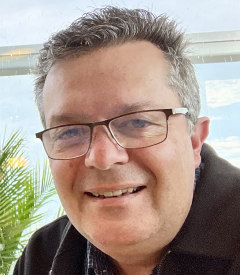 By: Greg Mattson, ERV Editor - Updated: Nov 21, 2022   

Got a getaway in Maryland planned for 2022? You can make it even better with this selection of romantic suites with jetted tubs, in all the places most visited by couples. We try to include in our listings hotels, small inns and B&B's with spa tub suites. 


See Our Listing of Hotels With In-Room Hot Tubs in Baltimore, Annapolis and Ocean City MD
What Makes This Guide to Maryland Hot Tub Suites Better: it's compiled by us! Yes, rather than use software, we research and hand-pick these suites very carefully to ensure you get a hotel room with either a JACUZZI® Tub, Whirlpool tub or jetted tub right in the suite, and not anywhere else.   

Disclaimer: JACUZZI® is a registered trademark owned by Jacuzzi Inc. The use of the JACUZZI® trademark on this website is for informational purposes only. There is no relationship, connection or affiliation between this website and Jacuzzi Inc. or its related companies. Rates shown are approximate only and subject to change. Hotel rooms, jetted tubs and amenities can change, and may not be exactly as shown, so please contact the hotel or inn before making travel plans.
---
hotel monaco baltimore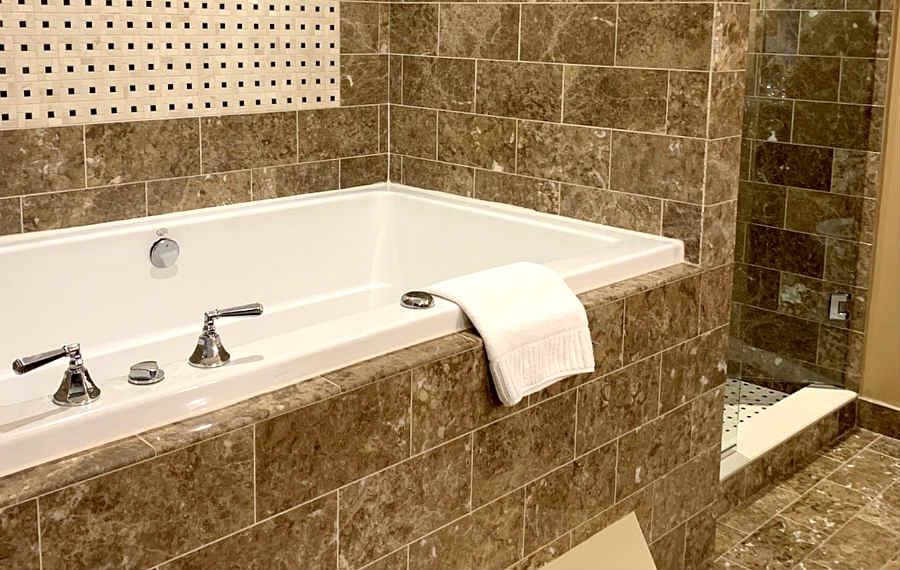 Luxury Spa Tub Suite - Hotel Monacao Baltimore
Hotel Monaco Baltimore Inner Harbor - this beautiful Kimpton hotel would be our no. 1 choice for honeymoon and anniversary trips to Baltimore. After you enjoy their free evening wine reception followed by dinner at the on-site American Brassiere, relax back upstairs in one of their romantic King Rooms or Luxury Suites with Spa Bath Tubs for 2. 2022 ERV Rating* for Baltimore MD Hot Tub Suites: 90% - Excellent. (2 North Charles St, Baltimore MD  443-692-6744) √ COVID Safety Plan: Yes
springhill suites Bwi Airport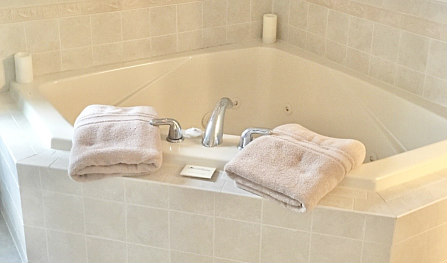 Book a Hot Tub Suite Near BWI Airport
Springhill Suites Arundel Mills BWI Airport – if you need a nice, romantic jetted tub before jetting out of BWI on your getaway or honeymoon, this Springhill Suites is a good choice. The rooms include a pantry area with microwave, small fridge and coffee maker, and there's a free airport & shopping shuttle. 2022 ERV Rating* for Hotel Whirlpool Tub Suites Close to BWI:86%

 - Very Good. 

(7544 Teague Rd, Hanover MD  410-799-7100) √ COVID Safety Plan: 

Yes
sleep inn & suites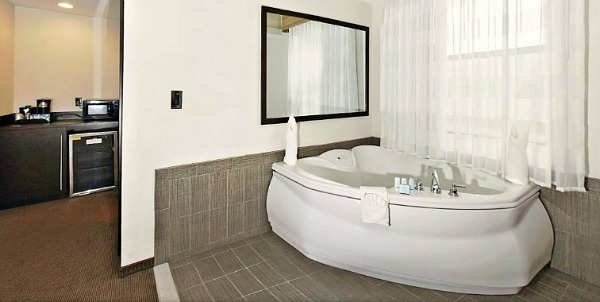 Budget-Friendly: Hot Tub Suites at the Sleep Inn & Suites, Downtown Baltimore
Sleep Inn & Suites Downtown Inner Harbor – stay in this budget downtown Baltimore hotel, and you'll not only get cheaper rates (from $124/night), but also a great location and King Suites with a 2-person jetted tub right in the room. 2022 ERV Rating* for Baltimore Jetted Tub Suites: 66% - Fair. (301 Fallsway, Baltimore MD  410-779-6166) √ COVID Safety Plan: Yes
Annapolis MD Hotels With JACUZZI
® 

Tubs 
springhill suites annapolis
Springhill Suites Annapolis Maryland King Whirlpool Suite
Springhill Suites Annapolis – We knew we hit the bulls eye when we checked into this Annapolis in-room hot tub suite (see our video of this suite below). The hotel was completely remodelled, including their King Studio rooms with Whirlpool, which have a jetted tub near the King bed, free breakfast, free and dependable Wi-Fi, and windows you can open for fresh air. What We Liked: Free parking, indoor pool and fitness room, laundry facilities and nice late 12:00 checkout time. Worth Knowing: No airport shuttle. 2022 ERV Rating*: 88% - Very Good. Whirlpool Tub Size: 2 Persons. Whirlpool Suite Price: From $185/night. (189 Admiral Cochrane Dr, Annapolis MD  443-321-2500) √ COVID Safety Plan: Yes
our video: springhill suites Jetted tub suite
hilton garden inn annapolis
Hilton Garden Inn Annapolis MD
Hilton Garden Inn King Suite Spa Bath
Hilton Garden Inn Annapolis Whirlpool Suites - This convenient hotel has both an onsite restaurant and "hospitality centre" featuring a microwave, small refrigerator and coffee maker in each room. The King 1 bedroom Suite with Whirlpool Tub has a separate living area and relaxing jetted tub. What Other Guests Liked: Outdoor pool, signature cocktails at the Garden Grille and Bar, 12:00 noon checkout time. Worth Knowing: Onsite restaurant does not serve lunch. 2022 ERV Rating*: 80% - Very Good. Whirlpool Tub Size: 2 Persons. Whirlpool Suite Price: From $200/night. (305 Harry S Truman Pkwy, Annapolis MD  410-266-9006) √ COVID Safety Plan: Yes
country inn & Suites annapolis
Country Inn & Suites 2 Person Whirlpool Tub in Annapolis ©TripAdvisor
Country Inn & Suites Annapolis, MD - Free cookies and coffee or tea are just the start. Wi-Fi is included and there's an indoor pool, weekend and evening shuttle to local areas, fitness room, and free hot breakfast. The Whirlpool Room includes a king-sized bed, large jetted tub, fireplace, mini fridge, microwave, and coffee/tea maker. Parking is also on the house. What Other Guests Liked: Located just 7 km from the Annapolis waterfront. Nearby restaurants and shopping.Rocking chairs on the front porch. Worth Knowing: HVAC can be a bit noisy at times. 2022 ERV Rating*: 82% - Very Good. Whirlpool Tub Size: 2 Persons. Whirlpool Suite Price: From $150/night. (2600 Housley Rd, Annapolis MD 410-571-6700)
eastern maryland jetted tub suites
chestertown md
Spa Tub Suite at Brampton Inn, Chestertown MD
Brampton Inn - A boutique inn set of a peach plantation, this B&B offers lush gardens, spacious guest rooms, suites and secluded cottages. Marley's Cottage and Mulberry Cottage feature jetted tubs, as well as fireplaces, steam showers, scrumptious homemade breakfasts, and afternoon tea. Three suites in the Manor House also feature in-room jetted tubs. What Other Guests Liked: Hammocks, front porches with swings, scenic views. Worth Knowing: No children under 12. 2022 ERV Rating*: 96% - Excellent. Whirlpool Tub Size: 1 & 2 Persons. Whirlpool Room Prices: From $269/night. Whirlpool Cottage Prices: From $399/night. (25227 Chestertown Rd, Chestertown MD 410-778-1860) √ COVID Safety Plan: Yes
easton MD
Hummingbird Inn

- A gorgeous Queen Ann Victorian mansion dating from 1865 offers 6 luxurious and uniquely furnished rooms in historic Easton. The St Michaels room features a large bathroom with bubble-jet clawfoot tub, plus a separate shower room with massaging rainfall shower head and heated towel bar. Guests rave about the 3-course gourmet breakfast served in the dining room, and wine on the wrap-around porch. What Other Guests Liked: Free parking and Wi-Fi, use of the inn's bicycles, and the leafy residential neighbourhood. Worth Knowing: No elevator. 2022 ERV Rating*: 96% - Excellent. Whirlpool Tub Size: 1 Person. Whirlpool Suite Price: From $250/night. (14 North Aurora Street, Easton MD 410-376-5632)
---
Ocean City MD Spa Tub Suites
hilton ocean city oceanfront suites
Hilton Oceanfront Suites ©TripAdvisor
Hilton Ocean City Whirlpool Suite ©TripAdvisor
Hilton Ocean City MD Oceanfront Whirlpool Suites - It's been called the nicest hotel in Ocean City, and this oceanfront Hilton high-rise hotel has fantastic views of the beach and ocean. Hot tub travelers will want to book the King and King Corner Oceanfront Suites here, which have oversize in-room jetted tubs and galley kitchens. There's also a Sundeck, swimming pool and swim up bar in the adult pool. What Other Guests Liked: convenient to restaurants, nightclubs, amusement parks and golf courses. Just 5 blocks from the boardwalk. Worth Knowing: Rooms could do with some updating. 2022 ERV Rating* 82% - Very Good. Whirlpool Tub Size: 2 Persons. Whirlpool Suite Prices: From $212/night. (3200 N. Baltimore Ave, Ocean City MD 410-289-6444) √ COVID Safety Plan: Yes
comfort suites ocean city
Comfort Suites Ocean City ©TripAdvisor
Comfort Suites Jetted Tub Suite ©TripAdvisor
Comfort Suites Ocean City

 – If you like outlet shopping, this affordable hotel is across the street from Tanger Outlet, and just 2 miles from the famous boardwalk. Fitness room, game room, and outdoor pool are nice additions, and breakfast and parking are free. Relax in their King Jetted Tub Suite, which includes a fireplace and heart-shaped hot tub. What Other Guests Liked: Microwave, small fridge and tea/coffee maker in each room, guest laundry. Worth Knowing: The pool is very popular with kids. 2022 ERV Rating*: 72% - Good. Whirlpool Tub Size: 2 persons. Whirlpool Suite Price: From $104/night. (12718 Ocean Gateway, Ocean City MD  410-213-7171) √ COVID Safety Plan: Yes 
inn on the ocean
Inn on the Ocean

- Situated on the Ocean City Boardwalk, this 6-unit B&B offers free onsite parking, wireless internet in public places, and a sundeck/terrace. Three of the suites feature spa tubs and some have lovely sea views. What Other Guests Liked: Nearby restaurant choices, several outdoor activities and attractions can be enjoyed in the surrounding area. Worth Knowing: No blackout curtains, so in the summer months, sunlight can awaken you quite early. 2022 ERV Rating*: 78% - Good. Whirlpool Tub Size: 1 Person. Whirlpool Suite Prices: From $246/night. (1001 Atlantic Ave, Ocean City MD  410-289-8894) 
comfort inn gold coast ocean city
Comfort Inn Gold Coast ©TripAdvisor
King Jetted Tub Room ©TripAdvisor
Comfort Inn Gold Coast - Located right across the street from the beach on Assawoman Bay. Each room includes high speed internet, microwave, refrigerator, coffee maker, parking, and HBO. Take advantage of their indoor pool, sundeck, guest laundry and fitness room, and choose the room with King Jetted Tub Room for a romantic getaway in Ocean City. What Other Guests Liked: convenience market in the lobby, onsite restaurant, nearby mall and other stores. Worth Knowing: Bring your own towel for the beach. 2022 ERV Rating*: 68% - Fair. Whirlpool Tub Size: 1 Person. Whirlpool Suite Price: From $95/night. (11201 Coastal Hwy., Ocean City MD 410-524-3000)
More romantic getaways in maryland & nearby:
---
Central Maryland Hot Tub Suites
germantown, MD
Holiday Inn Express & Suites Germantown Gaithersburg

- All rooms here offer mini-fridges, microwaves and Keurig coffee makers. The King Suite with Jetted Tub is what you'll want to reserve for your romantic vacation in Maryland. Breakfast, local shuttle service and parking are complimentary, and there is a gym and outdoor pool. What Other Guests Liked: Guest laundry facilities and gift shop. Worth Knowing: Decor is a bit dated. 2022 ERV Rating*: 84% - Very Good. Whirlpool Tub Size: N/A Whirlpool Suite Price: From $162/night. (20260 Goldenrod Lane, Germantown MD 301-428-1300)
Fairfield Inn & Suites Germantown Gaithersburg

– This Marriott, just 30 min NW of Washington DC has a great King Whirlpool Guest Room, which has a large jetted tub for the two of you. Plus, you'll get all the usual amenities including some pretty nice bath products, and complimentary Wi-Fi. There's an indoor pool and hot tub, and parking is complimentary. What Other Guests Liked: Several restaurants within walking distance. In-room microwave and mini-fridge. Worth Knowing: Parking lot is shared with nearby restaurant, so it can occasionally be difficult to find a space. 2022 ERV Rating*: 86% - Very Good. Whirlpool Tub Size: 2 Persons. Whirlpool Suite Price: From $254/night. (20025 Century Blvd, Germantown MD  301-916-0750) √ COVID Safety Plan: Yes
Rockville, MD
Hilton Garden Inn Rockville Gaithersburg

- Conveniently located near Fallsgrove Village Center shopping and Metro links, this Hilton Garden Inn has lots to offer. There's a fitness room, indoor pool and onsite restaurant, plus Wi-Fi and parking are on the house. There's also an onsite restaurant and 24-hour market. The King Bed Whirlpool Suite includes a refrigerator and microwave, sofa bed and living room. What Other Guests Liked: Adjustable "Garden Sleep System Bed" in the Whirlpool Suite. Worth Knowing: Hotel shares the lobby with Homewood Suites. 2022 ERV Rating*: 86% - Very Good. Whirlpool Tub Size: 1 Person. Whirlpool Suite Price: From $244/night. (14975 Shady Grove Rd, Rockville MD 240-507-1800) √ COVID Safety Plan: Yes
columbia, MD
Spa Tub for 1 Person - Columbia Inn
2-Person Jetted Tub Suite - Columbia Inn
The Columbia Inn at Peralynna – winner of numerous awards, this romantic inn specializes in Central Maryland spa tub suite getaways and honeymoons. You can select from no less than 10 themed suites outfitted with in-room spa tubs, and enjoy their evening wine and cheese and the hot gourmet breakfasts in the morning. What Other Guests Liked: Quiet location but close to shopping and dining. Worth Knowing: Interior decor a bit dated. 2022 ERV Rating* for Columbia, MD Hotel Room with Jetted Tub: 74% - Good. Whirlpool Tub Size: 1 & 2 Persons. Spa Tub Suite Prices: From $165/night. (10605 Route 108, Columbia MD  877-737-2596) √ COVID Safety Plan: Yes
Elkridge, MD
Holiday Inn Express Hot Tub Suite Hotel in Elkridge, MD
Holiday Inn Express & Suites Columbia East Elkridge

- Just a few minutes from Columbia and 20 minutes from Baltimore, this modern hotel features rooms with microwaves, coffee makers, and mini fridges. Hot breakfast and parking are included in your stay. Whirlpool Suites include living area and wet bar plus spacious jetted tubs. Exercise room, guest laundry and heated indoor pool are nice additions. What Other Guests Liked: Restaurants and grocery store within walking distance. Worth Knowing:

R

ooms opposite the highway are likely to be quieter. 2022 ERV Rating*: 88% - Very Good. Whirlpool Tub Size: 2 Persons. Whirlpool Suite Price: From $185/night. (6064 Marshalee Dr Behind Exxon Station, Elkridge MD 410-579-8888) √ COVID Safety Plan: Yes
---
Northeastern Maryland 
elkton, MD
Romantic Hot Tub at the Elk Forge B&B in Maryland
Elk Forge Maryland B&B Hot Tub Suites

 – 

A romantic Colonial Manor House turned inn nestled into 5 secluded acres of beautiful wilderness at the tip of Chesapeake Bay and less than an hour from both Baltimore and Philadelphia. Eleven of the 14 genteel rooms and suites include Whirlpool Tubs, antiques and fireplaces, as well as features like canopy beds, dormer windows, and panoramic views. Some have kitchens. What Other Guests Liked: Free breakfast served in the sunroom, and an onsite day spa. Worth Knowing: Some of the furniture is a bit worn out. 2022 ERV Rating*: 72% - Good. Whirlpool Tub Size: 2 Persons. Whirlpool Suite Prices: From $139/night. (807 Elk Mills Rd, Elkton, MD 410-392-2954)
Hampton Inn Elkton

- You'll want to book the Whirlpool Suite at this convenient hotel just off I-95 and Highway 279 in Elkton. Complete with 37-inch HDTV, mahogany furniture, microwave, mini-fridge and coffee maker, you'll be able to soak your cares away in the in-room jetted tub. The hotel offers complimentary hot breakfast as well as indoor pool and fitness room. What Other Guests Liked: Guest laundry facilities. Worth Knowing: There are limited restaurants within walking distance of the hotel. 2022 ERV Rating*: 84% - Very Good. Whirlpool Tub Size: N/A Whirlpool Suite Price: From $188/night. (2 Warner Road, Elkton MD 410-398-7777)
edgewood MD
In-Room Whirlpool Tub at the Holiday Inn Express, Edgewood MD
Holiday Inn Express Edgewood-Aberdeen-Bel Air

- All you've come to expect from Holiday Inn: Free breakfast buffet, free parking, free Wi-Fi, an indoor heated pool and fitness centre. All rooms include microwaves, small fridges and coffee makers. Whirlpool Suites features king-sized be, living are and sofa bed, along with large jetted tub. The location, just 25 miles from Baltimore and close to great food and attractions, is also a great draw. What Other Guests Liked: only 6 miles from Jerusalem Mill, a restored 18th century village. Worth Knowing: The onsite restaurant is not open for lunch. 2022 ERV Rating*: 76% - Good. Whirlpool Tub Size: 2 Persons. Whirlpool Suite Price: From $143/night. (2118 Emmorton Park Rd, Edgewood MD 410-612-1200)
Hampton Inn Whirlpool Suite in Edgewood, MD
Hampton Inn & Suites Edgewood/Aberdeen-South - This Hampton Inn is just off the I-95 and includes free parking, hot breakfast, and indoor pool and fitness room. All rooms have coffee makers, mini-fridges and microwaves. Whirlpool Suites give you plush sofa beds, 42-inch HDTV, and jetted tubs for a little more pampering. What Other Guests Liked: Guest laundry and proximity to downtown Baltimore and the inner harbour(30 minutes drive). Worth Knowing: Ask for a quieter room away from the elevator. 2022 ERV Rating*: 92% - Excellent. Whirlpool Tub Size: 2 Persons. Whirlpool Suite Price: From $201/night. (2110 Emmorton Park Road, Edgewood MD 410-670-6000)
taneytown, MD
Beautiful Antrim 1844 Inn
Jetted Tub Suite at the Antrim 1844
Antrim 1844

- A beautiful estate set on 24 acres of land, this restored property reflects its origins from 1844. The 40 uniquely themed rooms and cottages are spread among 11 buildings, and most feature jetted tubs. Fireplaces, private decks, 4-poster beds….you get the idea. Breakfast, afternoon tea, and evening snacks are included. There's also an award-winning restaurant, outdoor pool, and elegant gardens. What Other Guests Liked: Free parking, outdoor games, walking paths along a stream. Worth Knowing: Buildings are quite spread out with some distance between them. 2022 ERV Rating*: 86% - Very Good. Whirlpool Tub Size: 1 & 2 Person. Whirlpool Suite/Cottage Prices: From $215/night. (30 Trevanion Rd, Taneytown MD 410-756-6812)
westminster, mD
Best Western Westminster Hotel

- Great budget hotel located near a couple of attractions. Free Wi-Fi, mini-fridges, microwaves and coffee makers are included with your room. Whirlpool Suites offer King-sized beds and jetted tubs. Continental breakfast and parking are on the house, and there's an indoor pool for guests to enjoy. What Other Guests Liked: Grocery store across the street for stocking up on snacks and drinks. Worth Knowing: 2 floors but no elevator, so if stairs present a challenge, request a room on the first floor. 2022 ERV Rating*: 76% - Good. Whirlpool Tub Size: 1 Person. Whirlpool Suite Price: From $113/night. (451 WMC Dr, Westminster MD 410-857-1900)
bel air md
Homewood Suites by Hilton Bel Air - On the shores of lovely Chesapeake Bay, you'll be glad you chose the Whirlpool Suite at this Homewood Suites hotel. It's got a comfortable living room, fully-equipped kitchen, dining area, and 2 flat-screen TVs, along with that romantic jetted tub. A hot breakfast and light dinner with drinks (Mon-Thurs) is complimentary. What Other Guests Liked: Being at the center of Harford County and all the nearby activities. Worth Knowing: The hotel sometimes hosts kid's baseball teams. 2022 ERV Rating*: 80% - Very Good. Whirlpool Tub Size: 2 Persons. Whirlpool Suite Price: From $109/night. (4170 Philadelphia Rd, Bel Air MD 410-297-8585)
Havre de grace MD
Vandiver Inn

- A charming Victorian-style B&B within 3 separate houses, just blocks from the Susquehanna River. Each uniquely decorated room and suite offers free Wi-Fi, and many have features like stained-glass windows, fireplaces and porches. The lovely gardens include a romantic gazebo, and the front porch has rocking chairs for quiet relaxation. Three accommodations feature one and two person jetted tubs, and breakfast is always included in your stay. What Other Guests Liked: Free parking, located on a quiet street, surrounded by historic homes. Worth Knowing: Since weddings are hosted at the inn's pavilion, music and guest conversation may be heard throughout the property. Events end around 9pm. 2022 ERV Rating*: 92% - Excellent. Whirlpool Tub Size: 1 or 2 Persons. Whirlpool Suite Prices: From $ 104/night. (301 S Union Ave, Havre de Grace MD 410-939-5200) 
---
Western Maryland Hotel Rooms with Jetted Tubs
hagerstown, md
Country Inn & Suites by Radisson

- You will be close to the beautiful Western Maryland Rail Trail and shopping options when you stay at this Radisson in Hagerstown. Indoor pool, fitness room and free hot breakfast will keep you healthy and fuelled up. Choose from the Whirlpool Suite or Studio Suite with Whirlpool if you want a spacious jetted tub, and you'll also get a microwave and mini-fridge for added convenience. What Other Guests Liked: Less than an hour's drive to historic Gettysburg PA. Worth Knowing: The pool can be a bit chilly. 2022 ERV Rating*: 70% - Good. Whirlpool Tub Size: 2 Persons. Whirlpool Suite Prices: From $124/night. (17612 Valley Mall Road, Hagerstown MD 301-582-5003)
middletown,md
Inn at Stone Manor

- This romantic 18th-century inn is located on beautiful grounds that include a pond, bubbling fountain, fire pit, bridge and gazebo. Several suites offer 2-person jetted tubs, with amenities like fireplace, luxury robes and Wi-Fi. What Other Guests Liked: Full breakfast served daily, lovely antiques, pastoral views, evening turn down service. Worth Knowing: Weddings and other events occasionally hosted at the inn. 2022 ERV Rating*: 92% - Excellent. Whirlpool Tub Size: 1 or 2 Persons depending on suite. Whirlpool Suite Price: From $200/night. (5820 Carroll Boyer Rd, Middletown MD  301-271-0099)  
frederick, md
Comfort Inn Frederick

- Spacious rooms include microwaves and mini-fridges at this Frederick hotel that is about an hour outside of Baltimore. It's also located just a few minutes away from the Westview Promenade with its pedestrian-friendly shopping and dining destinations, as well as a scenic park and a mall. King Whirlpool Suites up the romance of your stay, and a "grab & go" breakfast is complimentary. What Other Guests Liked: Noon checkout, free parking. Worth Knowing: No pool. 2022 ERV Rating*: 64% - Fair. Whirlpool Tub Size: 2 Persons. Whirlpool Suite Price: From $111/night. (7300 Executive Way, Frederick MD 301-668-7272)
lavale, md
Comfort Inn & Suites LaVale MD
Comfort Inn & Suites LaVale

- A casual and comfortable hotel close to the historic town of Cumberland and the Western Maryland Scenic Railroad. All rooms and suites include coffee makers, small refrigerators and microwaves. Wi-Fi, parking and breakfast are included. Whirlpool Suites are comfortable and romantic with large jetted tubs. There's also an indoor heated pool and fitness room for guest use. What Other Guests Liked: Noon checkout means you can sleep in a bit. Worth Knowing: Make sure the dial on your mini-fridge is turned on. 2022 ERV Rating*: 94% - Excellent. Whirlpool Tub Size: 2 Persons. Whirlpool Suite Price: From $112/night. (1216 National Hwy, LaVale MD 301-729-6400)
frostburg, md
Hampton Inn has Whirlpool Suites in Frostburg, MD
Hampton Inn Frostburg - A nice little getaway from the city, Frostburg has plenty of small town appeal. This Hampton Inn is close to a museum and the Western Maryland Scenic Railroad. Amenities include free Wi-Fi, as well as an indoor pool and exercise room. Whirlpool Suites include easy chair with ottoman, coffee maker, and relaxing jetted tub. What Other Guests Liked: Free breakfast. Worth Knowing: Only fast food restaurants are within walking distance of the hotel. 2022 ERV Rating*: 94% - Excellent. Whirlpool Tub Size: 2 Persons. Whirlpool Suite Price: From $121/night. (11200 New Georges Creek Road, Frostburg MD 301-689-1998)
Quality Inn & Suites Frostburg

- See the best of Western Maryland from your base at this Quality Inn and Suites in Frostburg. All rooms include microwaves, refrigerators, coffee makers, and flat-screen TVs. Whirlpool Suites add sofa beds and jetted tubs big enough for two. Breakfast and Wi-Fi are complimentary and there's a fitness centre and guest laundry. What Other Guests Liked: Located close to the Evergreen Heritage Centre and The Great Allegheny Passage. Worth Knowing:

There is no elevator. 

2022 ERV Rating*: 62% - Fair. Whirlpool Tub Size: 2 Persons. Whirlpool Suite Price: From $ 128/night. (11100 New Georges Creek Rd, Frostburg MD 301-689-2050)
mcHenry, md
Lake Pointe Inn

- A "romantic couple's resort" at Deep Creek Lake, close to several state parks, this upscale B&B has lots to offer. The ten rooms and suites feature gas fireplaces, lake-view balconies and plush robes. Parking, Wi-Fi and a lovely 2-course breakfast are complimentary, as are bike canoe and kayak rentals and afternoon wine and snacks. Outdoors, you'll find a fire-pit and wraparound porch with rocking chairs. King and Queen Whirlpool Suites available. What Other Guests Liked: Quiet hours are observed between 11pm and 7am, and cel phone use is not allowed in common areas. Worth Knowing: No children under the age of 17. 2022 ERV Rating*: 96% - Excellent. Whirlpool Tub Size: 2 Persons. Whirlpool Suite Prices: From $258/night. (174 Lake Pointe Dr, McHenry MD 301-387-0111)
*ERV Rating: our unique, non-scientific ratings for romantic accommodation include:
Amenities: including Whirlpool bath or 

JACUZZI

®

Tub

,

scenic view, fireplace, lounge, etc
Location: proximity of hotel to restaurants, pubs, downtown, etc
Clientele: demographic the hotel attracts (couples, families, business travelers, etc)
Popularity: based on social media & crowd-sourced reviews 
Value: product offered compared to room rate 
Please Note: percentage ratings are not absolute but for comparative use only  
top hotels, getaways & packages on ERV
---