Baltimore, MD
Baltimore Hot Tub Suites - Great soaks from $169/Night
FTC: This page uses affiliate links. More. 

---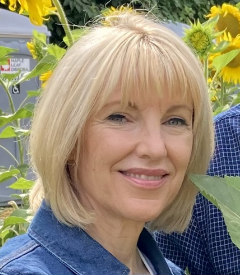 By: Maureen Mattson, ERV Asst Editor - Posted Aug 11, 2022
What has Baltimore, Maryland got for romantic hotels with an in-room spa or JACUZZI® Tub? Glad you asked!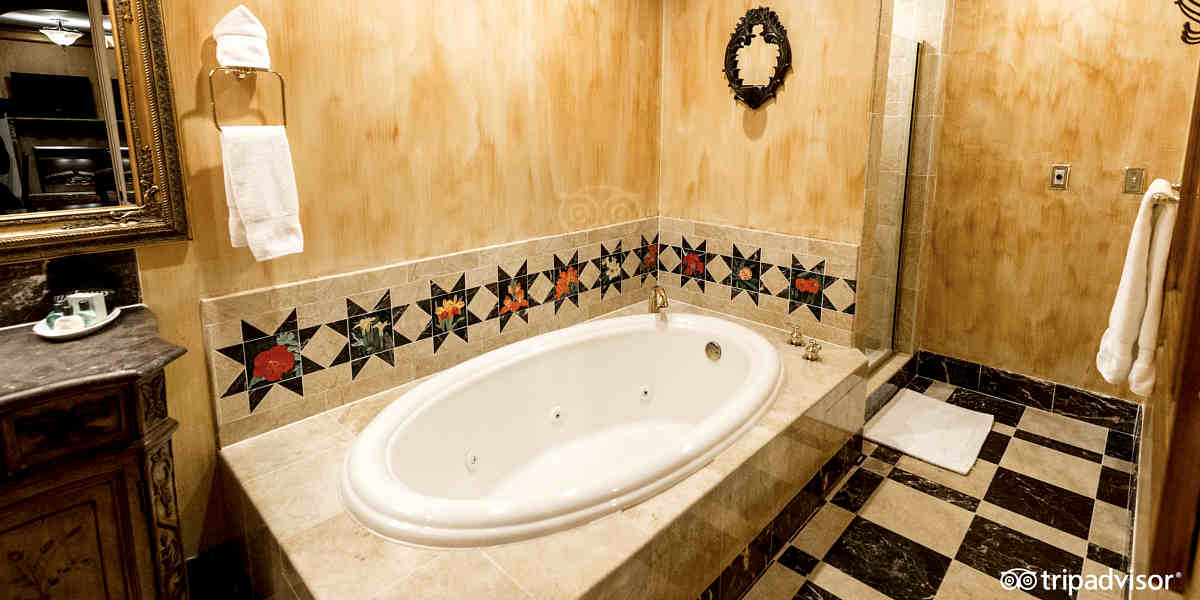 Spa Tub Suite - 1840s Carrollton Inn, Baltimore ©TripAdvisor
Disclaimer: JACUZZI® is a registered trademark owned by Jacuzzi Inc. The use of the JACUZZI® trademark on this website is for informational purposes only. There is no relationship, connection or affiliation between this website and Jacuzzi Inc. or its related companies. Rates shown are approximate only and subject to change. Hotel rooms, jetted tubs and amenities can change, and may not be exactly as shown, so please contact the hotel or inn before making travel plans.
downtown baltimore spa tub suites
hotel monaco baltimore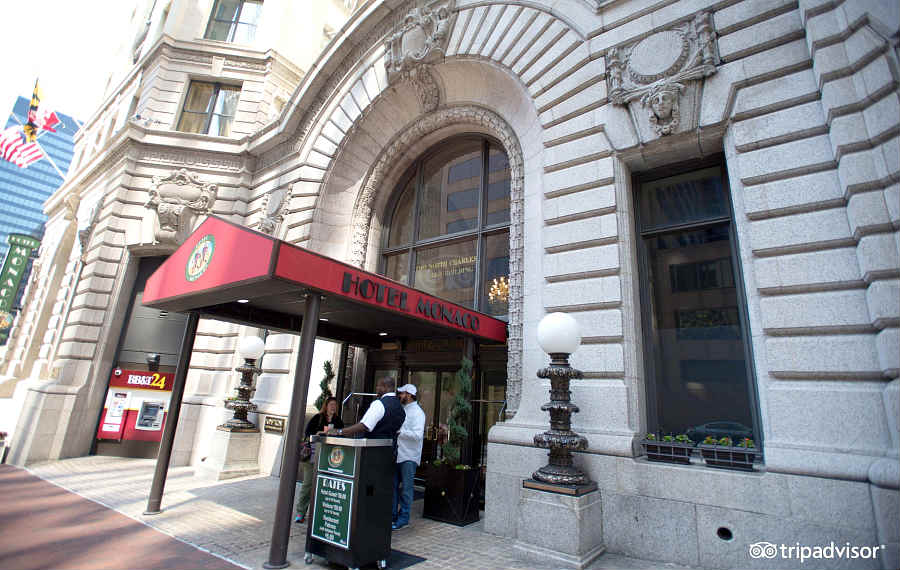 Hotel Monaco Baltimore ©TripAdvisor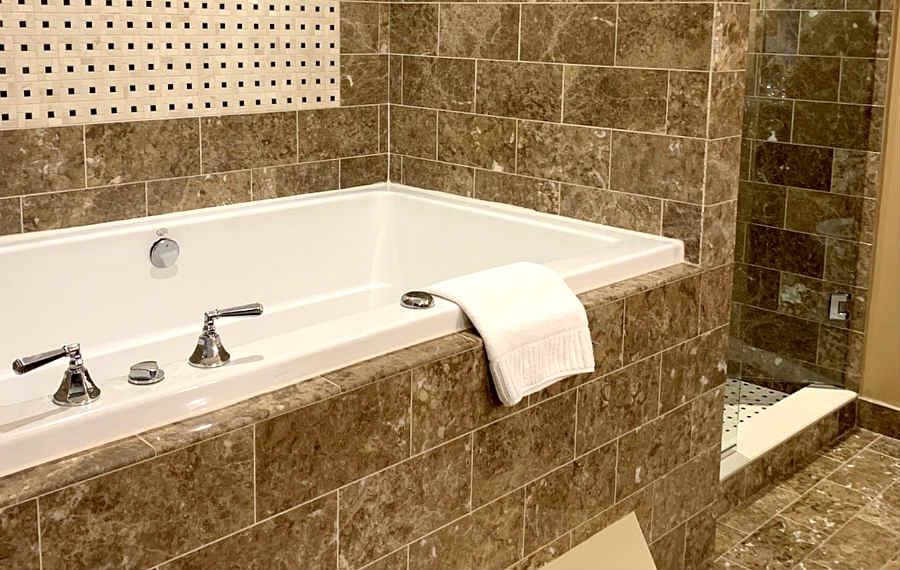 Hotel Monacao Premium King Room Spa Tub
Hotel Monaco Baltimore Inner Harbor - Gorgeous boutique property right on Baltimore's Inner Harbor. A favorite for romantic getaways, honeymoons and anniversaries in Baltimore, the Monaco is loaded with extras like free morning coffee and free bike rentals. And before you get comfortable in one of their Premium King Rooms with Spa Tubs, make your way downstairs for the traditional Kimpton 

free evening wine reception. 

What Other Guests Liked:

Good location: Close enough to walk many places you want to see. Beautiful architecture.

Worth Knowing:

Weak water pressure has been reported. No room service.

2022 ERV Rating*: 82%

- Very Good.

Whirlpool Tub Size:

2 Persons. Whirlpool Suite Prices: From

$169/night

.

(2 North Charles St, Baltimore MD 443-692-6744) √ COVID Safety Plan:

Yes
sleep inn & suites downtown inner harbor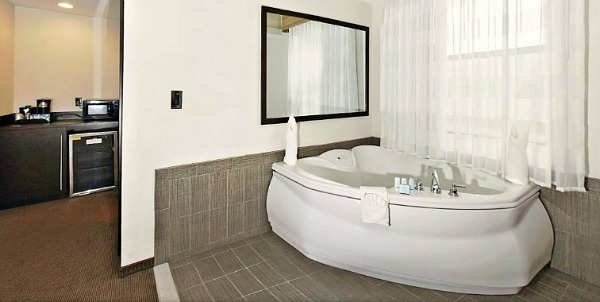 Sleep Inn & Suites King Suite with Hot Tub
Sleep Inn & Suites Downtown Inner Harbor – If you're searching for a downtown Baltimore hotel with jetted tub suites AND cheap rates, this Sleep Inn is a good choice. Rooms offer a 2-person tub, the Harbor is close, and you can enjoy a later check-out time of 12:00 noon. What Other Guests Liked:

Free breakfast, guest laundry, workout room, cool water feature at the main entrance.

Worth Knowing:

Parking fee of $15/night. Some quality & cleanliness issues reported. 

2022 ERV Rating: 66%

- Fair.

Whirlpool Tub Size:

2 Persons. Whirlpool Suite Price: From

$173/night. (301 Fallsway, Baltimore MD 410-779-6166) √ COVID Safety Plan:

Yes
blancnoir B&B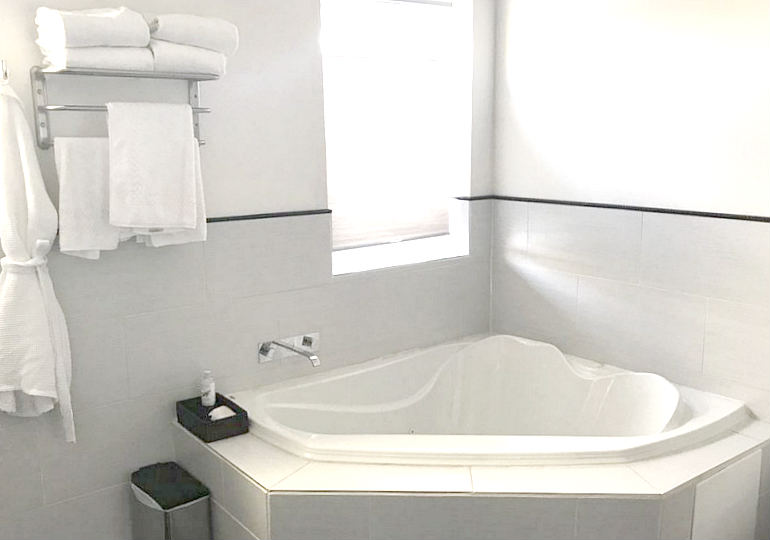 King Room with Spa Bath at the BlancNoir B&B, Baltimore
BlancNoir Bed and Breakfast - An upscale B&B townhouse with a cool black and white theme, the BlancNoir is set in little Italy and is close to the National Aquarium and Walters Art Museum. Just 4 romantic rooms here, two of which are King Rooms with jetted spa baths. You also get a hot breakfast to enjoy in the dining room or on the patio or deck. There's a lounge with gas fireplace, and sitting areas with books and games. What Other Guests Liked: Amazon Alexa speaker system in room, plush robes, rain shower with 12 spray jets. Worth Knowing: Minimum stay rules may apply. No children under the age of 12. 2022 ERV Rating*: 96% - Excellent. Whirlpool Tub Size: 2 Persons. Whirlpool Suite Prices: From $215/night. (210 S High St, Baltimore MD 410-212-5056)
inn at the colonade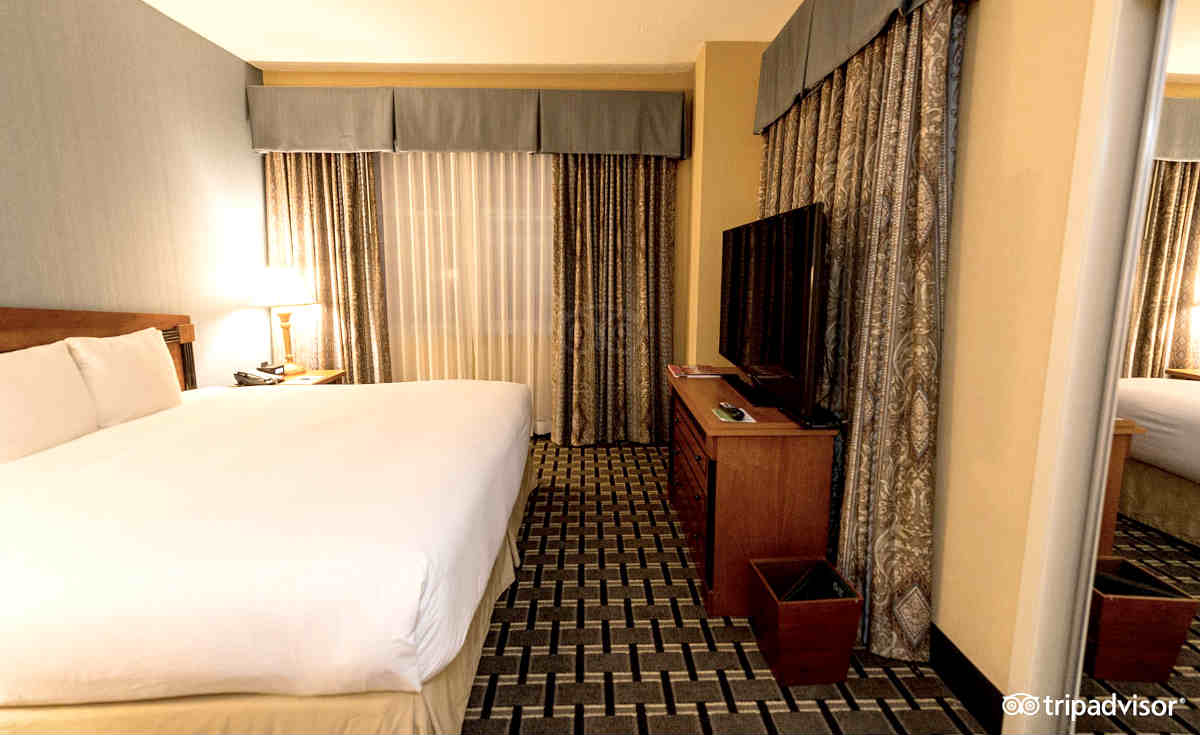 Inn at the Colonnade Baltimore ©TripAdvisor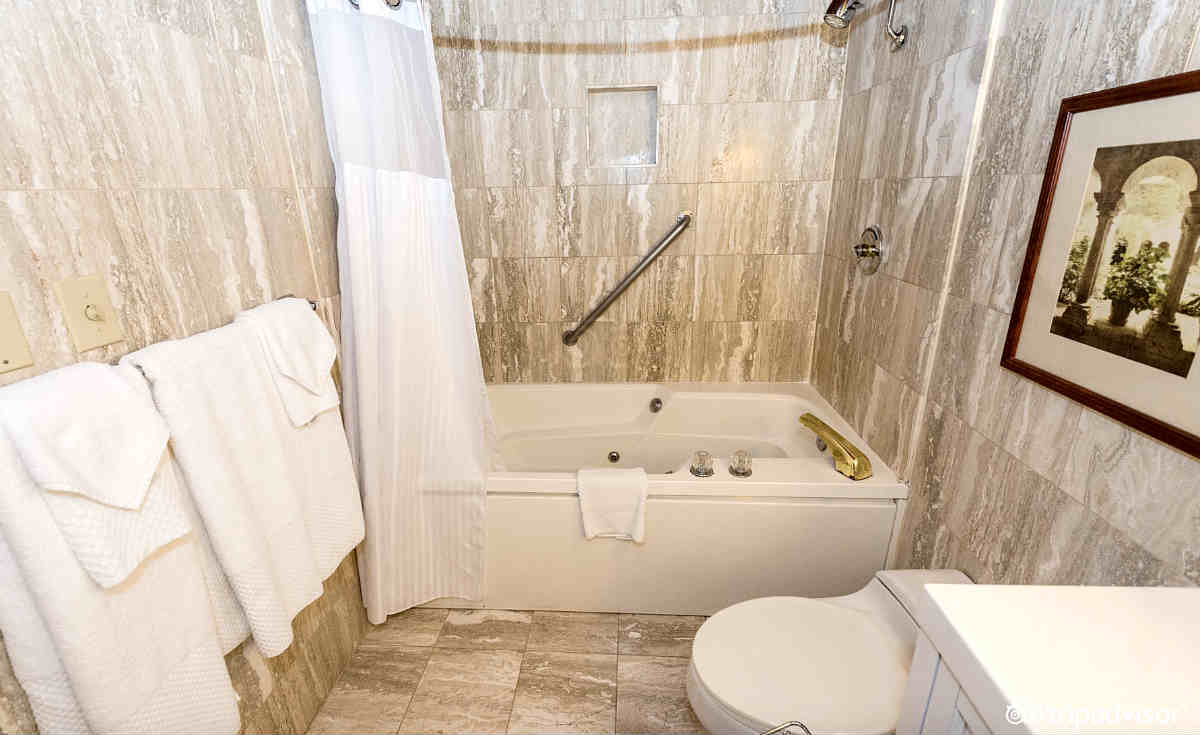 King Suite w/Whirlpool ©TripAdvisor
Inn at The Colonnade Baltimore - Located less than 4 miles from Baltimore's historic Inner Harbour, this Hilton Doubletree hotel is convenient to many attractions, fine dining, antique shops and entertainment venues. The King Suite with Whirlpool features a jetted tub as well as refrigerator, microwave, and coffee maker. The Queen Whirlpool Suite is a slightly cheaper and scaled-down version but still includes a jetted tub. What Other Guests Liked: The lobby includes marble floors and hand-painted domed ceilings. Worth Knowing: The property does not have a pool. 2022 ERV Rating*: 70% - Good. Whirlpool Tub Size: 2 Persons. Whirlpool Suite Prices: From $336/night. (4 W University Pkwy, Baltimore MD 410-235-5400)
best western plus baltimore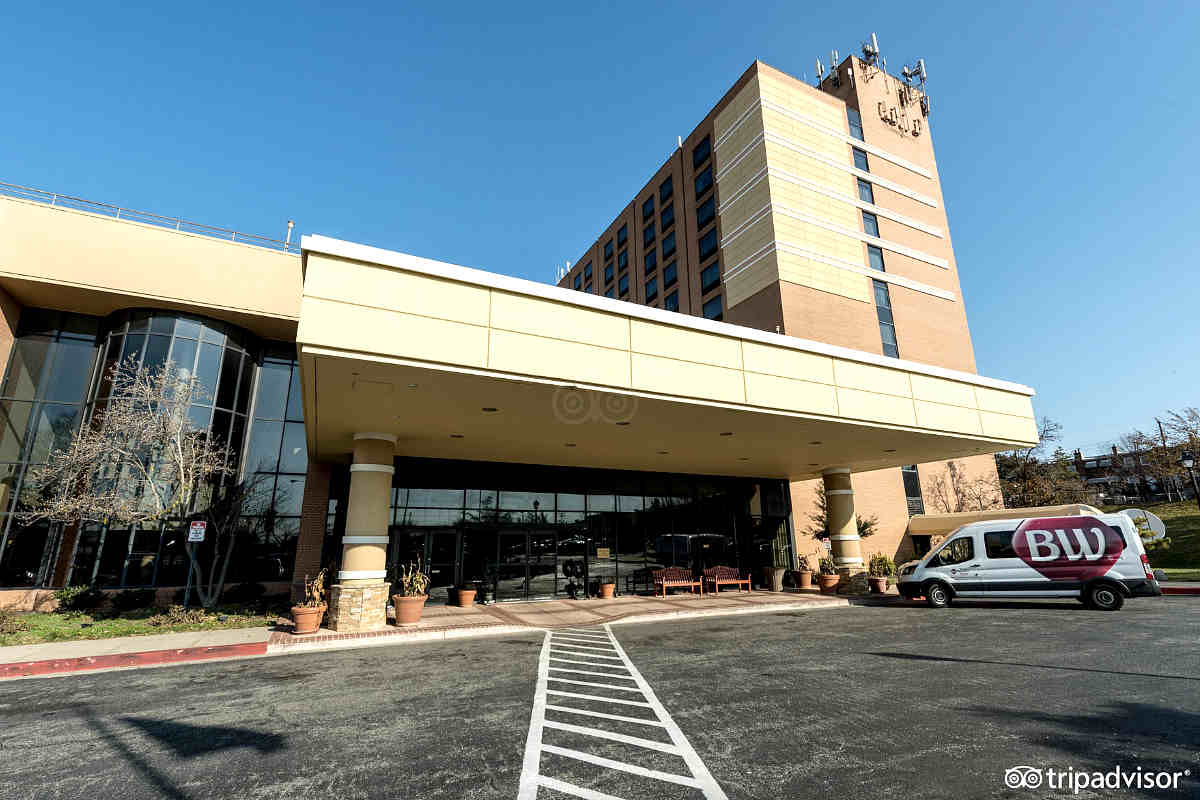 Best Western Hot Tub Suite Hotel in Baltimore © TripAdvisor
Best Western Plus Hotel & Conference Center

- There's plenty included in your stay at this Best Western In Baltimore: in-room mini fridge, fitness room, indoor heated pool, onsite restaurant and cocktail lounge, plus parking. The spacious Suite with King Bed and JACUZZI® Tub is great for a little romantic retreat. What Other Guests Liked: Free hot breakfast, guest laundry, free shuttle to nearby locations. Worth Knowing: Parking can be hard to find after 7:30 pm as a night club shares the parking lot with the hotel. 2022 ERV Rating*: 66% - Fair. Whirlpool Tub Size: 2 Persons. Whirlpool Suite Price: From $208/night. (5625 O'Donnell St, Baltimore MD 410-633-9500)
1840s carrollton inn
1840s Carrollton Romantic Suite ©TripAdvisor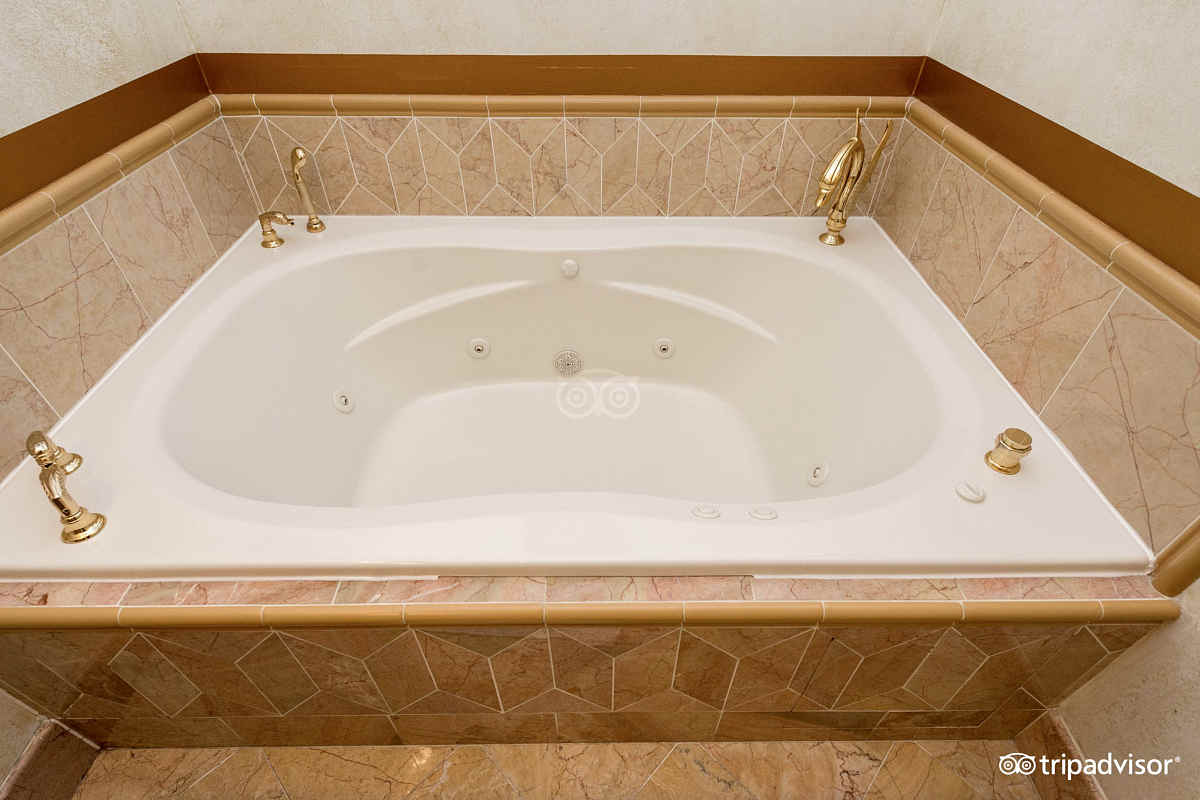 1840s Carrollton In-Room Spa Tub ©TripAdvisor
1840s Carrollton Inn - A hidden gem in the heart of historic Jonestown, and just blocks from the Inner Harbour. Also steps away from Little Italy, Restaurant Row at Harbour East, and Fells Point. It's made up of a series of 13 interconnected row homes that date back to the 18th and 19th century, decorated with quality antiques and boutique furnishings. Each suite features a fireplace, mini fridge and microwave, as well as a romantic Whirlpool bath. Daily gourmet breakfast is included, and romance packages are available. What Other Guests Liked: 4-poster beds, chandeliers, marble and granite bathrooms, French Bonaparte furniture. Worth Knowing: Some street noise reported; no luggage carts. 2022 ERV Rating*: 96% - Excellent. Whirlpool Tub Size: 1 or 2 Persons, depending on the suite. Whirlpool Suite Prices: From $175/night. (50 Albemarle St, Baltimore MD 410-385-1840)
hot tub suite getaways near Baltimore:
pier 5 hotel baltimore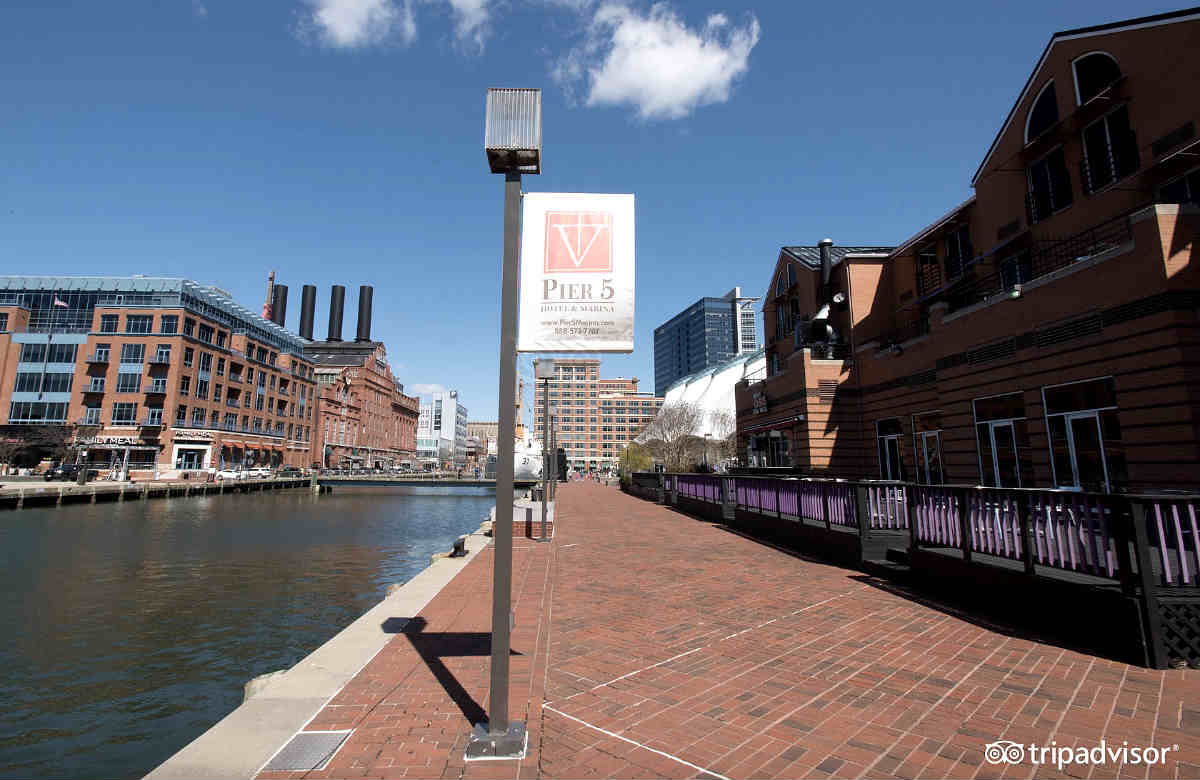 Pier 5 Waterfront Hotel Baltimore ©TripAdvisor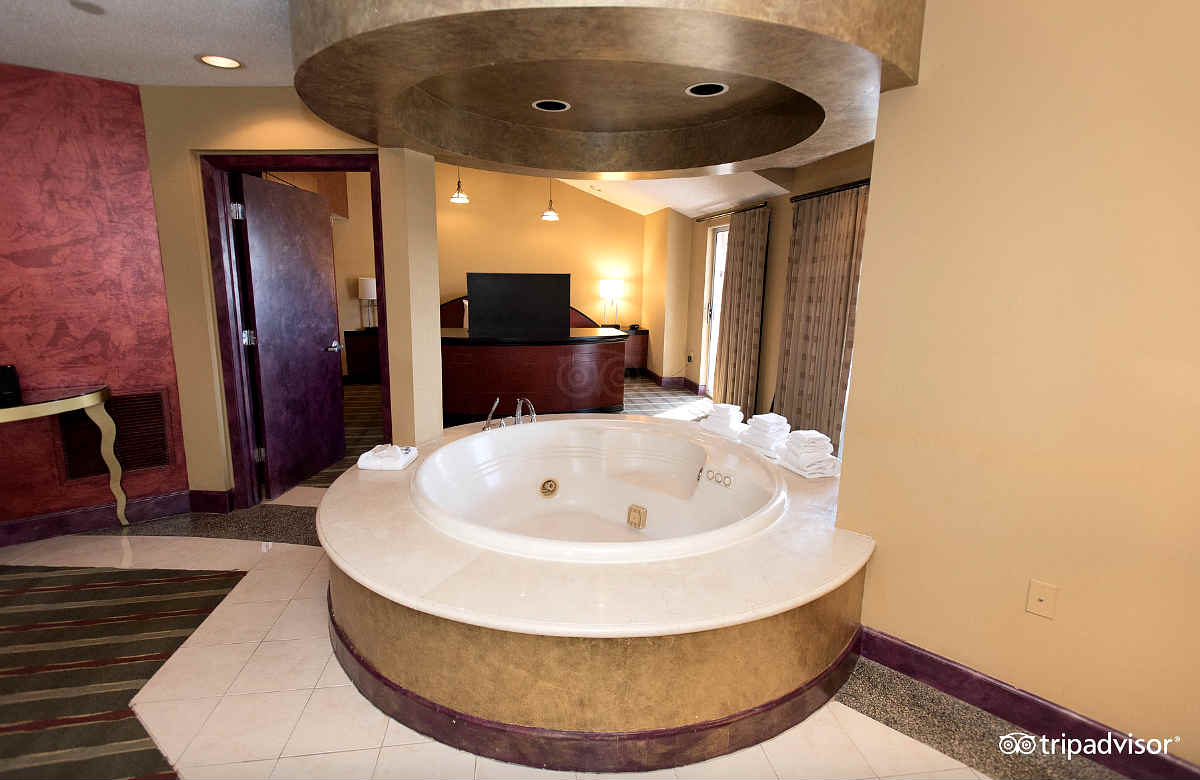 Pier 5 Baltimore Jetted Tub Suite ©TripAdvisor
Pier 5 Hotel Baltimore Jetted Tub Suites

- Upscale waterfront hotel close to the Aquarium and Oriole Park. Free shuttle to Fells Point. The King Suite with Jetted Tub & Presidential Suite are honeymoon-ready with spacious spa bath tubs for 2, turndown service and more. What Other Guests Liked: Some rooms have balconies, harbour views and wet bars. Worth Knowing: Additional daily charge to include hotel service fee and 2% Baltimore Tourism Assessment. Self-parking is $23/night and valet is $38/night. 2022 ERV Rating*: 76% - Good. Whirlpool Tub Size: 2 Persons. Whirlpool Suite Prices: From $339/night. (711 Eastern Avenue, Baltimore MD 410-539-2000)
holiday inn express baltimore downtown
Holiday Inn Express Baltimore ©TripAdvisor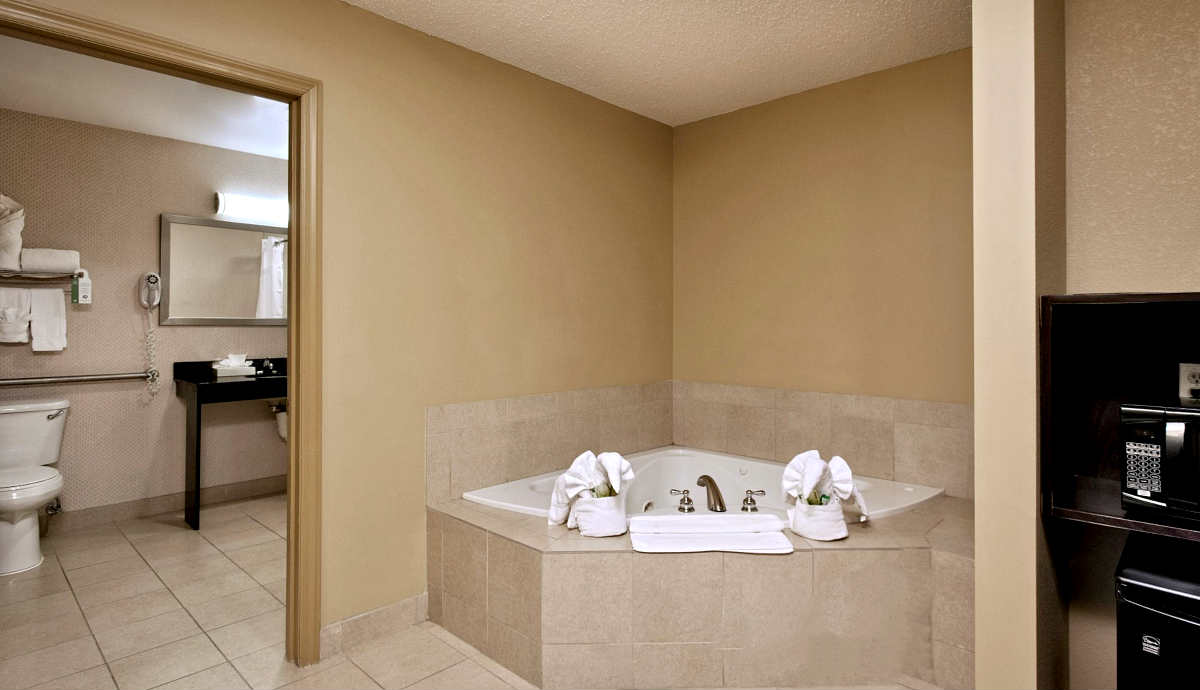 Holiday Inn Baltimore Whirlpool Suite
Holiday Inn Express Baltimore-Downtown - Located in a beautiful historic bank building, this hotel is just a few minutes from the Inner Harbour and other attractions you'll want to see. Free Wi-Fi access and complimentary shuttle to and from the cruise port, as well as fitness room are great additions for your stay. Check out the suite with Whirlpool Tub if you want to take the romance up a notch. What Other Guests Liked: Free breakfast. Worth Knowing: No pool. Self-parking is $15/day. 2022 ERV Rating*: 90% - Excellent. Whirlpool Tub Size: N/A Whirlpool Suite Price: From $164/night. (221 N Gay St, Baltimore MD 410-400-8045)
---
hot tub suites near baltimore airport BWI
country inn & suites BWI airport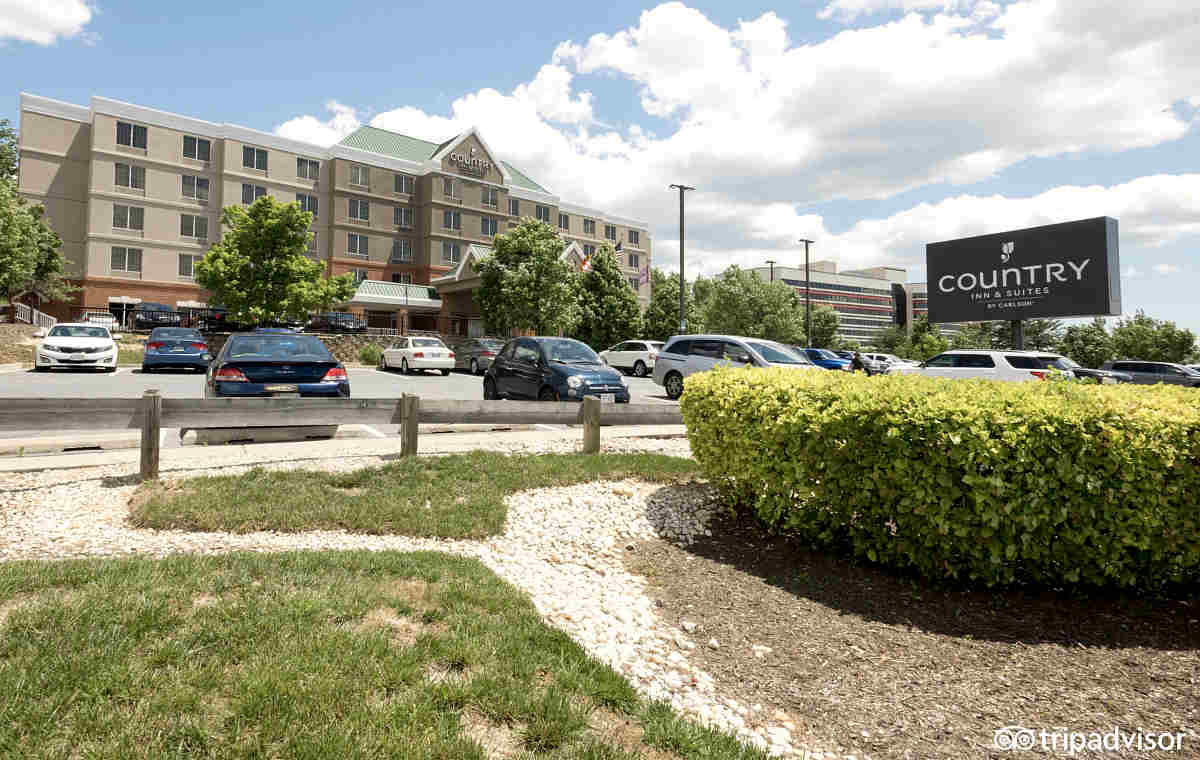 Country Inn & Suites BWI Airport ©TripAdvisor
Country Inn & Suites by Radisson, BWI Airport

- This all-suite hotel is just 2 miles from BMI Airport, and offers a free shuttle to and from there or other nearby destinations. Most rooms have small fridges and microwaves, and the Whirlpool Suite comes with a king-sized bed, wet bar and large jetted tub. There's also a free hot breakfast, lending library and parking. What Other Guests Liked: 12:00pm checkout time. Worth Knowing: Could be time for an update/renovation. 2022 ERV Rating*: 86% - Very Good. Whirlpool Tub Size: 2 Persons. Whirlpool Suite Price: From $153/night. (1717 W Nursery Rd, Linthicum Heights MD 410-981-9997)
springhill Suites arundel mills bwi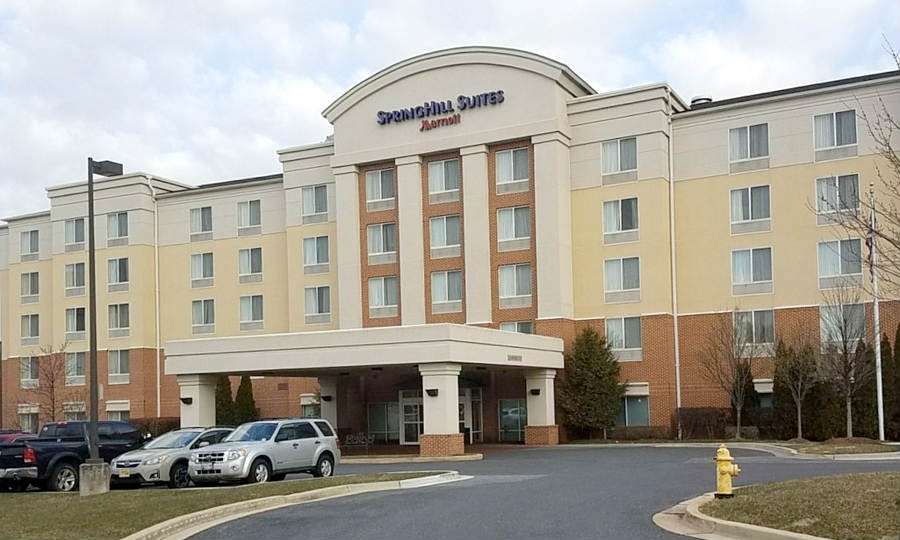 Springhill Suites Hot Tub Suite Hotel Near BWI Airport
Springhill Suites Arundel Mills BWI Airport

– Comfort and convenience are the name of the game here at Springhill Suites. Free Wi-Fi and hot buffet breakfast, and the hotel is located close to outlet shopping and the airport (free shuttles to both). Room-wise, what you'll be looking for here are their 1 bedroom suites with a spacious Whirlpool Tub in the corner. What Other Guests Liked: Close to restaurants, indoor pool, fitness room, and free breakfast. Worth Knowing: Guests have mentioned that a few more electrical outlets in the rooms would be nice. 2022 ERV Rating*: 74% - Good. Whirlpool Tub Size: 2 Persons. Whirlpool Suite Price: From $175/night.(7544 Teague Rd, Hanover MD 410-799-7100) √ COVID Safety Plan: Yes
---
hotels near baltimore: stevenson md
gramercy mansion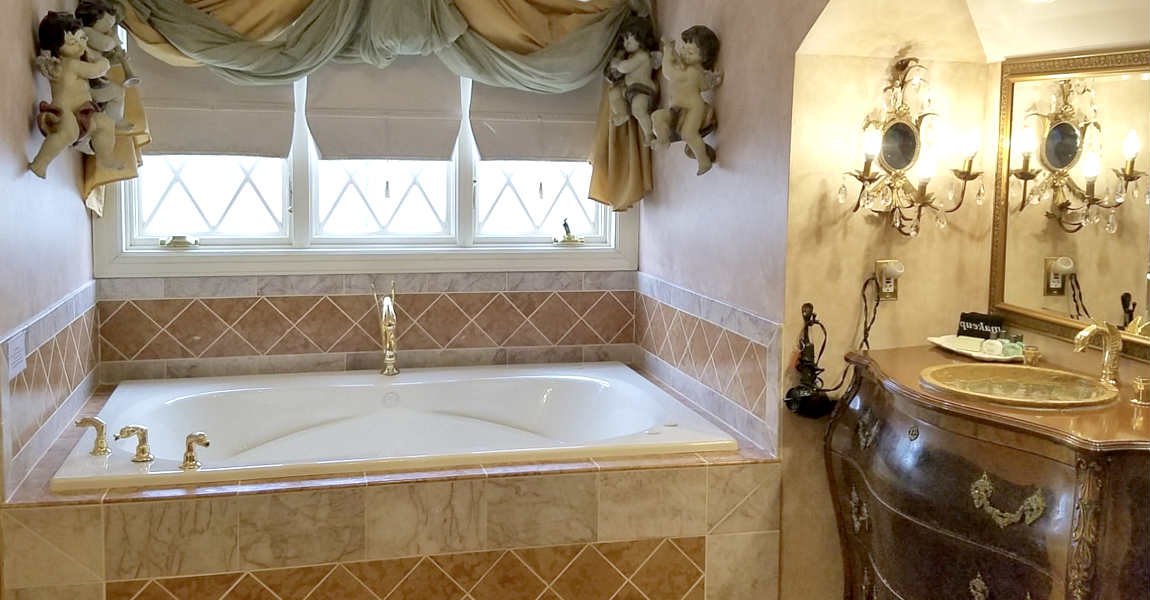 Deluxe Suite with Spa Bath at Gramercy Mansion, Baltimore
Gramercy Mansion - Set on a lovely property with an organic farm and wildlife preserve, this historic inn was built as a mansion in 1902, and is perfect for a romantic getaway. All eleven rooms here include a full breakfast, fireplace, refrigerator, microwave, Wi-Fi, fresh flowers, and robes. Romance and spa packages are available, and guests are welcome to use the tennis courts, swimming pool, and croquet sets, or book an in-room massage. Five of the suites feature Whirlpool tubs: Bar Harbor Room, Country Room, Hunt Room, Tower Room and Tudor Room. What Other Guests Liked: Antique-filled rooms, oriental carpets, hand-carved 4-poster beds. Worth Knowing: The venue hosts weddings many weekends, with music that can be heard till late. 2022 ERV Rating*: 96% - Excellent. Whirlpool Tub Size: 1 or 2 Persons, depending on the suite. Whirlpool Suite Prices: From $165/night. (1400 Greenspring Valley Road, Stevenson MD 410-486-2405)
*ERV Rating: our unique, non-scientific ratings for romantic accommodation include:
Amenities: including Whirlpool bath or 

JACUZZI

®

Tub

,

scenic view, fireplace, lounge, etc
Location: proximity of hotel to restaurants, pubs, downtown, etc
Clientele: demographic the hotel attracts (couples, families, business travelers, etc)
Popularity: based on social media & crowd-sourced reviews 
Value: product offered compared to room rate 
Please Note: percentage ratings are not absolute but for comparative use only  
top hotels, getaways & packages on ERV
---